It's fair to say that the battle royale genre has peaked by this point. It's still one of the biggest moneymakers in gaming, but in order to make an impact, you now have to do something interesting, innovative and bold in order to get somewhere. Fortunately, Rumbleverse has such a unique selling point, which is "what if battle royale with wrestlers," and the way that Iron Galaxy have executed that premise is nothing short of excellent.
At its core, Rumbleverse is a battle royale through and through. Players customise their characters before being launched via a cannon into a decently sized urban map. There's 40 players to begin with, but the field slowly gets whittled down as other players are KO'd or "counted out" by being outside of the ring for 10 seconds. Instead of the bullet shooting guns though, Rumbleverse's contests are decided with the better type of guns: the 24 inch python kind.
Despite being a brawler with a heavy-influence from wrestling and fighting games, the controls couldn't be simpler. There's two main attacks, a strike and a "vicious attack" which acts as grapple, letting you suplex or irish whip your opponent, or as a powerful combo finisher. You can block, dodge, climb walls like you're The Hulk, and utilise the surprising verticality of the game's map to unleash powerful elbow drops on anyone unfortunate enough to be below you.
While Rumbleverse might sound like a game where players can just throw out moves and hope for the best, there's a rock-paper-scissors mechanic at play that'll be immediately familiar to any fighting game fan: blocks are beaten by throws, throws are punished with strikes but strikes can't penetrate blocking. There's some differences and exceptions when it comes to the prioritisation of moves, but Rumbleverse does a great job of giving you the information right out of the gate, despite the fact that the game's only at the Network Test stage right now. The final product will probably have more pronounced onboarding mechanics.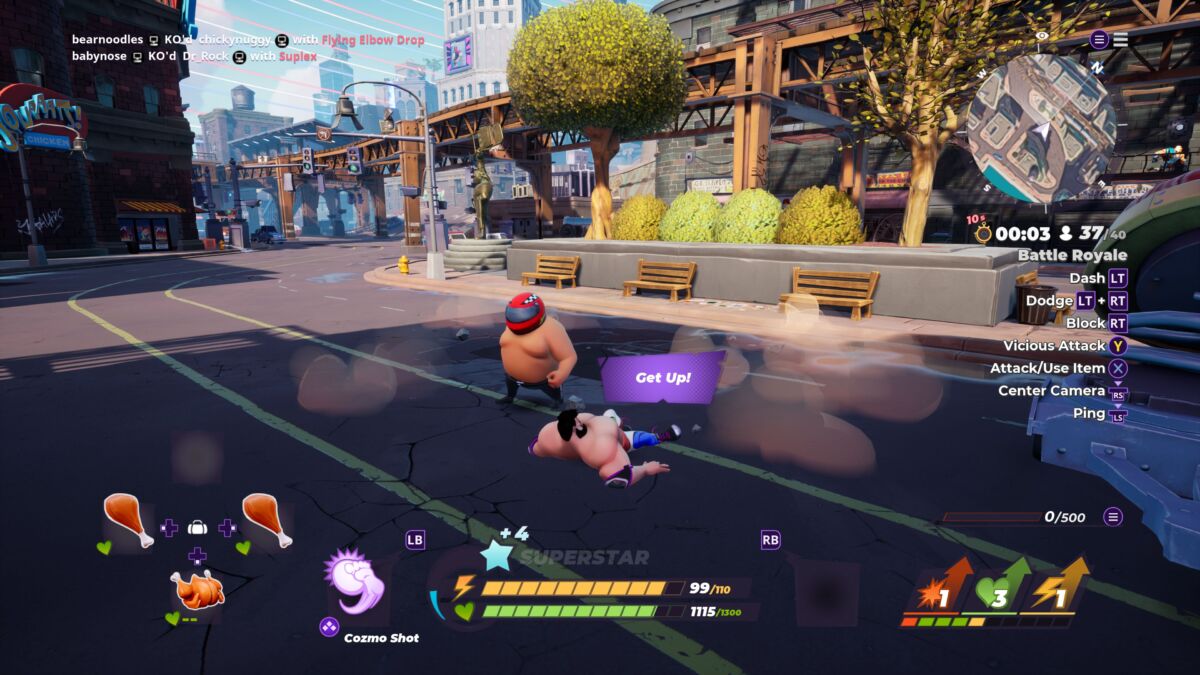 So if Rumbleverse is a battle royale game but with fists instead of firearms, how does loot work? There's still loot crates to be found scattered across the map of Grapital City, and inside are healing items, weapons like folding chairs or bats, or special moves. These special moves, which can either be powerful strikes or bigger vicious grapples, allow you to get an edge on your opponent, particularly in the later stages. Some moves will send an opponent flying, and in the closing sections of the game, that can be really dangerous. Winning by count out is a legitimate strategy, after all.
Almost immediately, you can tell that Rumbleverse is a game made with love by fans. Sure, there's suplexes and spears, but you've also got poison mist attacks, Stone Cold Stunners (with a legally different name, of course), and you can also shoryuken people off buildings. The super move everyone can use is also basically Zangief's spinning piledriver. It's probably not an accident that it also deals 720 base damage. The references and the love is embedded into Rumbleverse's DNA, which makes the game more enjoyable if you're a fan of either one of those niche interests.
Rumbleverse also takes cues from the better Battle Royale games in the genre, chiefly Apex Legends, as there are multiple mechanics in play that encourage the player to be aggressive. The Superstar meter acts like a big comeback mechanic, and filling it requires either exploring and picking up stars, which would take forever, or you can get stuck into the action and watch the meter fill rapidly.
Once the meter is full, you can trigger it immediately to do more damage, heal over time and utilise your powerful Super attack, or you can hold on to it so that you'll be revived whenever you lose all your health. The fact it can be used either way gives Rumbleverse a sense of strategy or decision making, allowing you to press the advantage or ensure that you live to fight another day.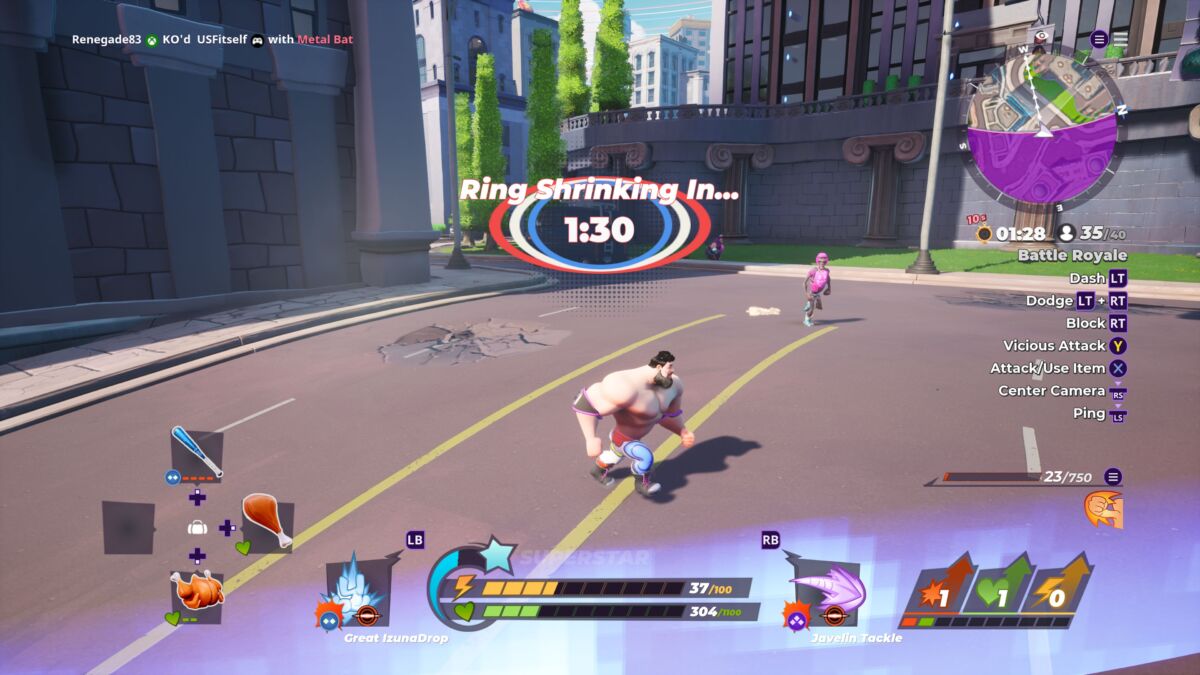 The other way Rumbleverse encourages players to engage instead of hanging back is via perks. Similar to how Apex Legends gives you better shields for dealing damage, Rumbleverse offers perks for hitting set damage milestones in a game. These perks are random, but can offer increased health gain from healing items, the ability to heal by doing damage, reduced stamina costs and more. They're always helpful to have, but the only way to get them is to deal some damage. It's a nice, rewarding system that encourages you to be proactive in your gameplay.
When Rumbleverse gets going, and you start taking on opponents like you've just hit a hot tag in a wrestling match, there's nothing else like it. One moment in the beta at the start of a round saw me go for a German suplex to someone, which caused them to fly off the top of the tower, only for me to hit a 50ft diving elbow drop and immediately eliminate them from the round. It's been days since it happened and the thought of it is still entertaining.
There's no doubt that Rumbleverse is fun, but the game is also infuriating in the way only a battle royale could be. The random loot can make certain games feel like a waste, because you're angling for your ideal loadout that never comes. Plus, it feels like the ever present possibility of getting third partied is more prevalent in Rumbleverse. No 1v1 fight is safe from an intruder, nor should it be in fairness, but it's always infuriating to be on the receiving end of it, especially when said third party Izuna Drops you into the ocean, knocking you both out of the game. If you're a fan of "Ganoncides" in Super Smash Bros., you'll have plenty of fun here, unless it happens to you, of course, then it's unfair and broken. Patch it, Iron Galaxy. God.
One real issue with the combat that players should be aware of is the dropkick. It's activated by sprinting and attacking, and it's given priority over nearly every attack, making it a pretty amazing option to pull out whenever you want, and while the stamina cost and recovery frames makes it risky, it's an option many go for when starting to attack. It's not broken, as it can be beaten, but you need to play smart and either hit your own dropkick to trigger a clash and return to neutral, or block/dodge so you can go for big damage while they recover. Essentially, the dropkick is Rumbleverse's equivalent of spamming fireballs from full screen. People will spam and claim they're God's greatest gift, but there's ways and means to negate it.
It'll be interesting to see how Rumbleverse fares when it launches later this year, as gimmicky multiplayer games tend to have a shorter shelf-life compared to traditional multiplayer shooters, particularly in the battle royale genre. There's enough space for Rumbleverse to become a great success as a battle royale, but whether it finds its audience remains to be seen. I've got my fingers crossed.
READ MORE: 11 Battle Royale Games You Forgot Even Existed
Some of the coverage you find on Cultured Vultures contains affiliate links, which provide us with small commissions based on purchases made from visiting our site. We cover gaming news, movie reviews, wrestling and much more.