Bird's Eye Games' Regiments introduces some novel modes, features, and mechanics that may send unfamiliar players for a loop, making each mission fresh. However, these new modes and mechanics can make the game quite the frustrating challenge, especially for players new to the strategy genre. With that in mind, here are some Regiments tactics and tips to ease you into commanding your very own regiment.
Spend Operational Authority
The Operations mode is the cornerstone of Regiments' gameplay. They're essentially multi-mission mini-campaigns split into stages and phases with persistent resources, troops, and deployment. The main way players can affect the force they're assigned for the operation is through Operational Authority, a resource earned through holding designated objectives and completing missions.
You can spend Operational Authority on replenishing damaged platoons, calling in and upgrading Task Forces, or even improving your deployment points, supplies, tactical support gain, and engineering points. Whenever you have the chance to use Operational Authority, make sure to spend as much of it as possible, as there's little reason to stockpile it. In fact, the earlier you spend these points the sooner you'll get advantages on the battlefield, which should bring you even more Authority to prepare you for the really difficult missions.
Task Forces Fill in Gaps
In every stand-alone skirmish mission or persistent operation, you'll be assigned a regiment, a kind of jack-of-all-trades conglomeration of units capable of responding to most battlefield threats. However, different classes of regiments have their own specialty that makes them better at a particular style of combat. For example, armored regiments have more tanks and so are more suited for open ground maneuver warfare.
To help deal with weaknesses in your designated force composition, you'll have the option to call in up to three additional task forces that can augment your regiment with small packages of troops you may not have had access to initially. For skirmishes, based on the combat situation, choose task forces that best respond to the threats you're facing, while in the operations mode, call in task forces that'll best help you with fulfilling the various scenario objectives.
Manage Negative Events
Before heading into the next combat phase of an operation, the game will prompt you to choose an event out of a possible four. These are randomized effects that can have negative (red card), neutral (black card) or positive (blue card) effects on the entire phase.
It's highly likely that you'll be dealt some negative effects, so you'll need to play them at some point. Ensure that you activate a negative in such a way that its effect is minimal on your ability to complete mission objectives.
Learn the Hotkeys
Regiments may not be as micro-intensive as Company of Heroes or WARNO, but it's still critical to quickly respond to combat situations and give your units appropriate orders. Effectively learning the hotkeys for movement commands can go a long way in improving your battlefield performance and keeping your units safe and combat effective.
Press C for LOS Tool
The hotkey for this tool by default is the C key. Regiments doesn't do the best job of explaining some of its concepts and its tools. One of the handiest tools is the Line-of-Sight tool, which allows you to check distances for weapons and sight ranges for units at any given position – perfect for finding the right position for an ambush or a fortification.
Check Unit Facing
The game sports a directional damage system and since vehicles are the core units in Regiments, the direction you're facing can mean the difference between getting quickly overrun or leading a tenacious defense. Most vehicles, especially tanks, have heavier armor to the front, so it's important to keep the front of units facing the biggest threat. You can check the facing of the unit by either looking at the individual light blue triangles denoting direction or a dashed green triangle that represents the overall facing of the entire platoon.
Call in What You Need
During any given mission, your resources will likely be limited in that you won't be able to field every single unit at your disposal, even including task forces. It's a wise approach to decide on a core of units that'll be your spearhead, perhaps between 30 and 60 percent of your points, while the rest should be spent on troops that'll best respond to the changing tactical situation.
Recon is Life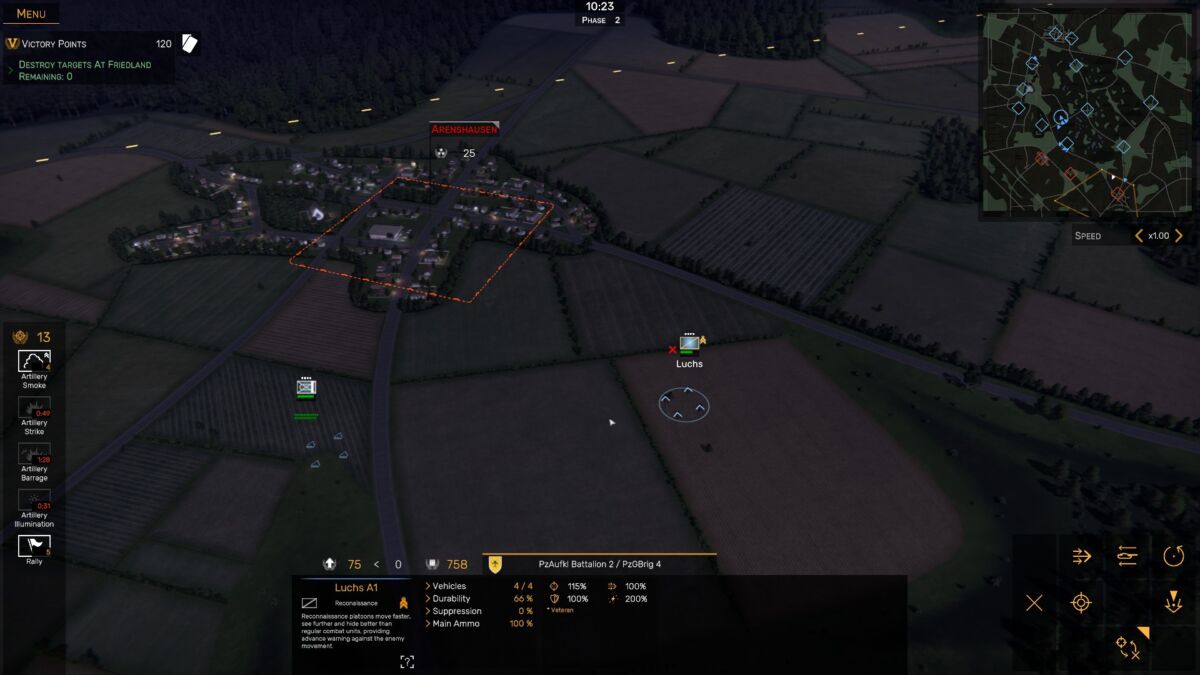 Most units have incredibly short detection ranges, so it makes it quite hard to detect where an enemy offensive or counter-attack is coming from. Recon units, while not heavily armed or armored and typically not numerous, are absolutely crucial, as they have half-way decent vision that can help find enemy dug-in positions or discover an enemy maneuver force and give you time to prepare.
This means recon units should be one of the lead elements when advancing to find targets to overrun, flank, or avoid. If on the defensive, recon units can safely go where you least expect an enemy attack, such as gaps in your line or on the flanks. It's also generally a sensible idea to keep their weapons on hold fire mode, due to their overall low level of lethality.
Spend Tactical Support
The tactical support system in Regiments allows you to spend points in battle to call in higher-level ability packages, such as airstrikes, heavy artillery, reconnaissance, or smoke on a target area. These points will accrue over time and it's highly advised to spend them as soon as the situation arises, as even the smallest advantage can help turn an engagement in your favor.
Suppress With Artillery
Tanks might get all the attention and glory, but they are just one small piece of a combined arms force with artillery acting as the most important support element of your force. Artillery, be it mortars, howitzers, or rockets, have a potent suppressive effect on enemy positions, which reduces their accuracy.
Artillery is particularly useful when you're assaulting a fortified position held by infantry in a town or woodland area. Artillery can help clear out the infantry with area-of-effect attacks, while keeping their weapons shut off, allowing you to quickly bypass them or overrun them with your lead elements.
Counterbattery With Artillery or TacAid
The AI really quite likes using artillery and will actively shell your positions when it gets the chance or sees your forces. Luckily, it's relatively easy to see from where artillery is firing, even without physically seeing the platoon. You find enemy artillery positions by following the trails of their shells or if you notice a red exclamation mark and pulsing red zone on the battlefield.
If you have your own heavy artillery or available tactical support like an air strike or off-map artillery, use it to counterfire the detected positions. You can quickly neutralize enemy artillery as it doesn't have much armor and a few lucky shots will knock them out.
Assault Cover With Infantry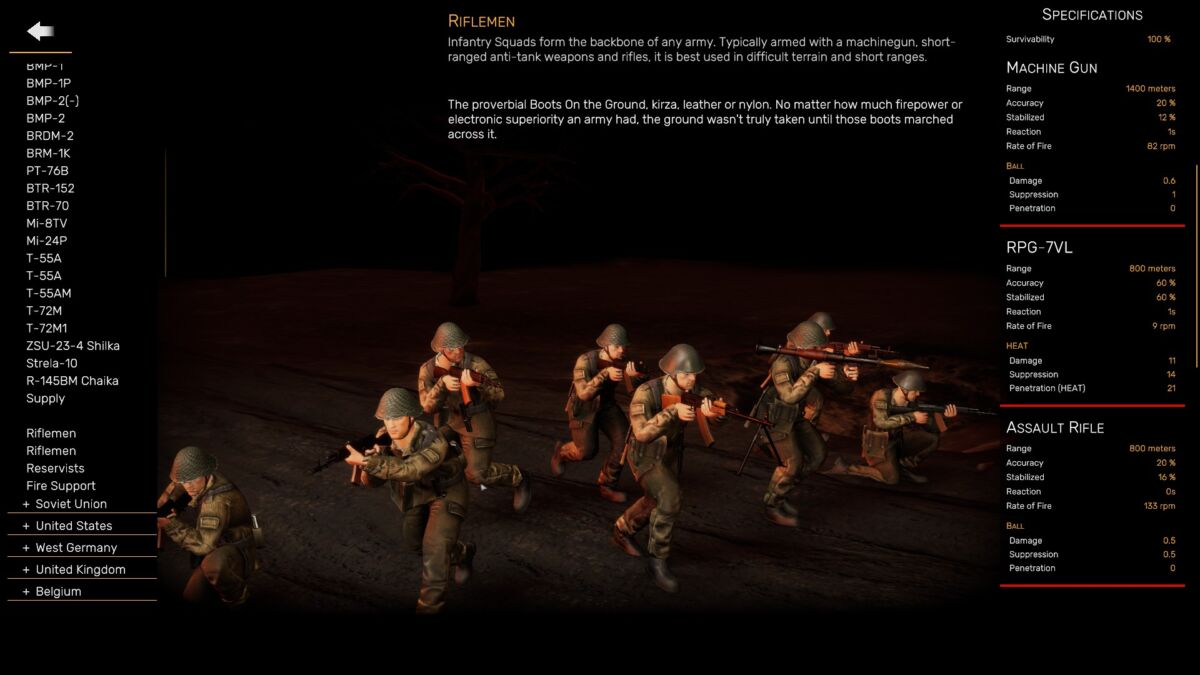 Though the Cold War is all about maneuver warfare with armies being heavily mechanized and motorized, there's still a place for the humble infantryman. The most prominent role of infantry in an offensive role is to assault enemy positions in cover, such as towns, cities, and woods, as vehicles lose their mobility advantage and their fire is inefficient against entrenched targets. Defensively, infantry is also great in cover as they get a cover bonus on top of their ability to entrench an additional level compared to dedicated vehicle platoons.
Flank Where Possible
Flanking is the name of the game in Cold War mobile warfare. This is especially relevant when dealing with fortified enemy positions, as there's nothing stopping you from going around them and hitting from an unexpected angle, which will deal with more damage. A typical assault force that can pin flank is made up of two or three platoons – one to pin from the front and draw fire and the other platoons go around the flank to quickly wrap up any resistance.
Regiments is available on PC.
READ NEXT: 50 Best Strategy Games of All Time
Some of the coverage you find on Cultured Vultures contains affiliate links, which provide us with small commissions based on purchases made from visiting our site. We cover gaming news, movie reviews, wrestling and much more.