The industry knows what a powerful developer and publisher Rockstar games is. Even before the tumble-weed and tombstone days of 2010 when Rockstar released what is arguably their most loved and critically acclaimed game, the company always demanded to be watched. What they did next was always a stop-in-your-tracks event, unparalleled in this history of modern video games.
But what is more important is that a wide audience outside of the games industry – even far from it – know who Rockstar is and what they do. Even if that acknowledgment is as as simple as, "oh, of course. They're the "GTA guys."" Their overall remit is one which is not far from the hands of everyday consumers of popular culture. It's a powerful message that Rockstar are close to, if not, a global phenomenon. At least, in the western hemisphere.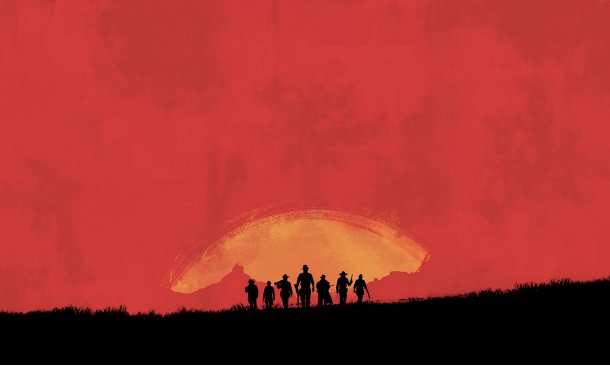 Thus, if there was any surprise at all about Rockstar's recent reveal for Red Dead Redemption 2, it was that not only can Rockstar effectively manage to instigate an incredible amount of hype with few marketing resources, but it demonstrated what a powerful brand the Red Dead Redemption franchise is.
Rockstar had only released a couple of unassuming, yet somewhat completely familiar images on social media for the world to take notice. To wait with baited-breath as to whether the long-awaited sequel would finally arrive. In less than an hour, the first teaser image that Rockstar shared had 17.5 thousand retweets and 21.8 thousand likes on Twitter and over a thousand shares and comments on Facebook. The image was the simple R of the Rockstar logo against a textured, red background. In less than an hour, "Red Dead" was the 9th highest trend in the world on Twitter. It demonstrated that the power of the brand of the Red Dead Redemption franchise was not one to be underestimated.
As of writing, those images have reached around 125 thousand retweets and 226 thousand likes. Since releasing the images, the company have dropped a short teaser trailer and have announced a partnership with Sony for the sequel, which will be released in the Fall of 2017.
Those mass social interactions with fans have not been cultivated through a carefully orchestrated, complex marketing campaign, however. Just two simple images, with a short reveal and trailer announcement that followed. Because a drawn-out marketing campaign of complexity is not something that Rockstar needed to create. The power of the company allows them to release only what is necessary. And the internet explodes. The simplicity of the reveal shows a marriage to the simplicity of the company's ability to instantly capture the attention of millions of individuals globally.
What sets Rockstar's reveal apart from other recent "hyped" games is this certain simplicity. To seemingly achieve recognition within a broad and mainstream audience for Mafia 3, Hanger 13 and 2K released an abundance of information and gameplay and allowed journalistic access into their world to the point where they seemed to saturate their own ability to convey what the game was about, how it played and what experience to expect. Regardless of the post-release reception of the game, it felt like the experience was over before the game had even been released.
Similarly, the somewhat ill-fated release of No Man's Sky was bogged down by unrealistic fan expectations, straight-forward confusion about what the game actually "was" and the fact that the game was essentially independent yet it found itself being marketed to a mainstream audience by one of the biggest games corporations in the world. No Man's Sky, like the what the game itself entailed, attempted to reach the stars, yet never even managed to get half-way.
Rockstar will not release Red Dead Redemption 2 for almost a full year. And that's without considering a delayed release date. But, for now, the reveal signified that Rockstar are a company that almost seem to transcend the normal "rules" of the games industry. They are more than part of that industry. At least to some, they're a cultural juggernaut and the upcoming sequel will only do more to set in concrete their influence on popular culture.
Some of the coverage you find on Cultured Vultures contains affiliate links, which provide us with small commissions based on purchases made from visiting our site. We cover gaming news, movie reviews, wrestling and much more.