Well, everyone, we did it.
I finally get to rank a film series that has been a meaningful part of my life for as long as anything else I associate with the best of what movies mean to me.
This has been a long time coming for Make the Case. I've wanted to rank these films for a while now, beginning with the 1979 success of The Muppet Movie. Well-liked movies in my childhood, the Muppet films have in adulthood become some of the most impressive films and entertaining films I've ever seen. Entertaining because the best moments feature fun characters, utter chaos, a variety of humor styles, and joyous, clever music. Impressive because of how much emotion and sincerity, not to mention inventiveness, you can get from a collection of creatures made from felt.
The Muppets at their best have told several uniquely satisfying cinematic stories, in addition to appearing in other forms of media over the years. Even under the ownership of a company that doesn't seem to really care about them, there are at least enough Muppets fans holding on to keep these films in the public consciousness. I love them all, to one degree or another, but some are better than others by leaps and bounds.
The best films in this month's Make the Case, ranking every Muppets movie from worst to best, I think can stand as some of my favorite movies of all time. That's a pretty long list, but some of the Muppets movies qualify with flying, weird-as-hell colors.
Let's get this Muppetational ranking going then, shall we?
And good news, I promise that's going to be the only time I use "Muppetational" in a sentence.
Muppets Movie Ranking
10. The Muppets' Wizard of Oz (2005)
Director: Kirk Thatcher
While director Kirk Thatcher does his best with The Muppets' Wizard of Oz, it becomes clear early on that this TV movie musical is going to be tough to get through. One of the problems boils down to the songs being lackluster more often than not, although "Kansas" and "The Witch is in the House" are both good. It also dooms The Muppets' Wizard of Oz to the bottom and this and most other lists that the Muppets themselves feel very incidental to everything going on here.
While the movie does a pretty admirable job of creating its own distinctive work from the iconic 1939 film adaptation of L. Frank Baum's novel, it also doesn't seem to have much for the Muppets to actually do. They get plenty of screen time, but rarely seem to exhibit any actual influence over the tone and pacing of the film itself, with the pacing being particularly messy.
Drowning in dated pop culture references, anyone would have worked just fine for this Ashanti vehicle. She's solid as Dorothy, with fun supporting performances by Queen Latifah and Jeffrey Tambor, but it's ultimately barely a Muppet movie. Thatcher would later direct the excellent Muppets Haunted Mansion, which builds on a lot of the things The Muppets Wizard of Oz gets right.
9. It's a Very Merry Muppet Christmas Movie (2002)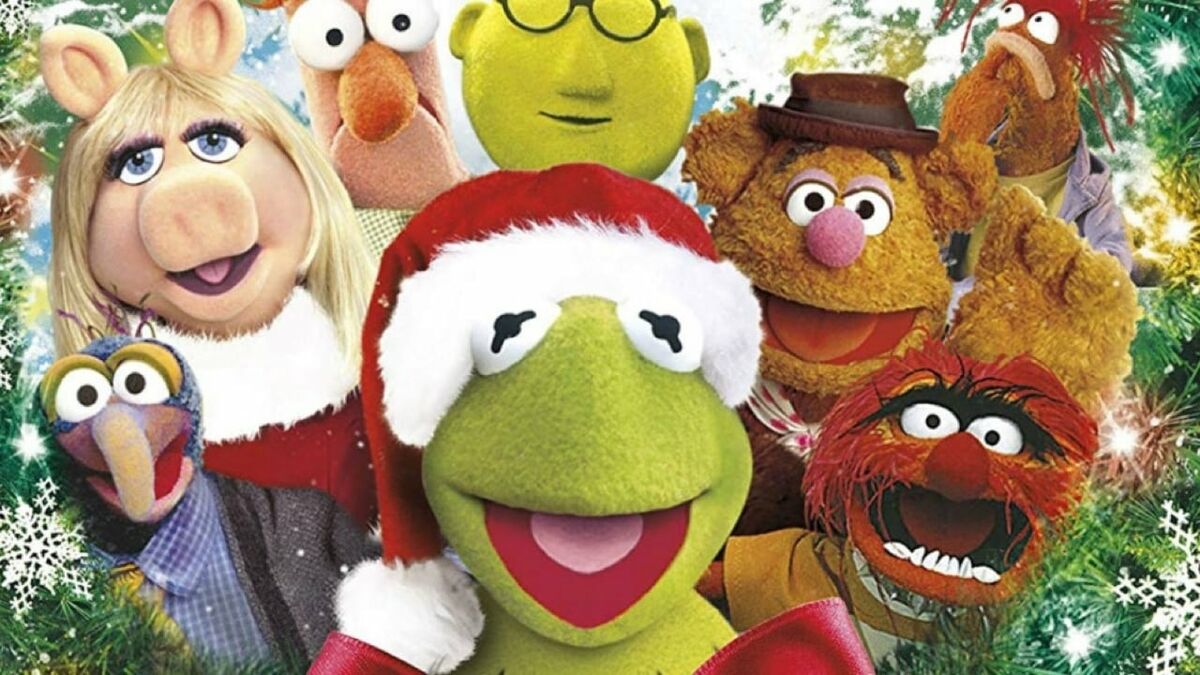 Director: Kirk Thatcher
While still pretty far down the list of movies, there's actually quite a bit to like about It's a Very Merry Muppet Christmas Movie.
On its own terms, the movie is a charming retelling of It's a Wonderful Life, offering few surprises along the lines of the first few Muppets films. Kermit gets to be James Stewart, Fozzie is Uncle Billy, and so on. The story beats are about the same, as well, with Kermit briefly succumbing to the pressure of trying to save the Muppet Theater before it's turned into a nightclub. If you wanted to call everything in this film a little on the standard side, you wouldn't be wrong.
However, what's honestly wrong with that? While It's a Very Merry Muppet Christmas Movie doesn't quite measure up to most of the feature length Muppet films, it's worth repeating that this is a very likable Christmas movie with appealing songs, fun character stuff with Kermit, and humorous human performances from Joan Cusack, David Arquette, and others.
Perhaps more important than that, and unlike the previous entry, It's a Very Merry Muppet Christmas Movie actually feels for the most part like a Muppets project. The vital anarchy of these characters has been largely subdued, but much like 2011's The Muppets, it's just nice to have everyone back and center stage.
8. Muppets from Space (1999)
Director: Tim Hill
A Muppets movie without original songs was a bold enough idea. Then you add the entire movie's effort to tell a Gonzo story with the entire ensemble in supporting roles. It's not hard to see why many critics and even longtime fans criticized the movie for feeling like a hollow effort all around. I've always thought that was a bit harsh. While this film would represent the last real connections these characters had to their creators, with Frank Oz departing on this note, and while the movie drags far too often, Muppets from Space is too sweet to actually hate.
Focusing on Gonzo's search for his true origins, Muppets from Space gets a lot of mileage out of science fiction tropes and references. It doesn't always work, but the film at its best still features long stretches of the pleasure of just watching these characters interact. Or interact with human beings, which is also where Muppets from Space really shines. Jeffrey Tambor as the head of a government UFO agency and Andie MacDowell as a UFO tabloid newscaster both seem to be having a lot of fun here. That doesn't always translate to a consistently enjoyable movie, but the genuinely moving heart of this movie, that being Gonzo's journey to finding his true family, also drowns out most of my objections.
Muppets from Space might catch you at its best on a rainy day with minimal expectations.
7. The Muppets (2011)
Director: James Bobin
Now that more than a decade has gone by since this film's highly successful release, perhaps we can all start to agree that Frank Oz makes some good points. This is perhaps one more example of a Muppets movie being so earnest and appreciative of the Muppets that it's easy to overlook some of its downsides.
To be sure, this is a very welcome return for The Muppets, who had not been in a movie of their own in several years. Co-written by and starring Jason Segal as Gary, who shares a love of all things Rainbow Connection adjacent with his best friend and Muppet Walter, The Muppets is essentially a love letter to the characters. This carries through to the meeting of Walter and Gary, continuing as they learn of a plan to destroy the Muppet Theater, reach out to Kermit, and plan a telethon to save the day.
It's so much a love letter to the series, in fact, that it isn't much of anything else. A lot of the narrative attention goes to Walter (which generally works) or is thoroughly wasted on Gary and his girlfriend Mary (a nonetheless hilarious Amy Adams). Very little originality exists within this film, except when The Muppets are given a rare opportunity to appeal to audiences entirely on their own.
Those moments, particularly in many of the knock-down-spectacular musical sequences, are why this movie places well enough on this Muppet movies ranked list.
6. Muppet Treasure Island (1996)
Director: Brian Henson
While it was perhaps a mistake to keep The Muppets in adaptations of other stories for more than a decade, Muppet Treasure Island is still an incredibly enjoyable movie.
Taking advantage of a cast that includes Billy Connolly and Tim Curry as Long John Silver, the movie also benefits from only using the success of 1993's The Muppet Christmas Carol as a template. Muppet Treasure Island may feel a little too plotless at times, but it's good to see the characters being used deliberately in this fashion. The songs reflect this, as well as the movie's willingness to mess with its source material, narrative structure, and even its own legacy characters.
Playfulness is one of the cornerstones of these films. It has to be combined with a disarming kindness that also hides an element of being dangerous to your expectations. Muppet Treasure Island gets this right by letting Tim Curry go for broke, and for giving equal attention to the wide range of available Muppets.
Director Brian Henson (son of creator Jim Henson) displays time and time again as the director a fundamental understanding of what makes these characters work. It doesn't hurt either that we're still at a point in the series in which most of the original team is still intact. Everyone's still working at their very best, and the result is something that stands nicely apart from the other movies on this list, and yet is very much part of the best Muppet movies.
5. The Muppets Take Manhattan (1984)
Director: Frank Oz
Frank Oz's first solo venture as a director with The Muppets Take Manhattan proved you could do relatively darker, more psychologically compelling storytelling with The Muppets. More importantly, you could do these things without effectively sacrificing everything people love about these characters. It's not perfect in the execution of these things, with occasionally sluggish pacing that slows down the momentum of the story, but that doesn't stop The Muppets Take Manhattan from being an impressive achievement.
Obviously, Frank Oz has gone on to do some pretty remarkable dark comedies, as well as complex family films and even action heist thrillers. The fact that Oz also turns in some fantastic work as a performer of some of the characters is also quite frankly incredible. Jim Henson as Kermit is worth noting here. The darker moments of the story allow him in particular to tap into acting depth he generally didn't get a chance to display.
Watching The Muppets truly struggle with failure and doubt means it's not exactly a comfort movie. But it's something that I can point to when I start rambling on and on about why these characters still matter. Jim Henson believed these characters were far deeper than some people gave them credit for. The Muppets Take Manhattans has warmth and plenty of humor, but it also proves just how right Henson was.
4. Muppets Most Wanted (2014)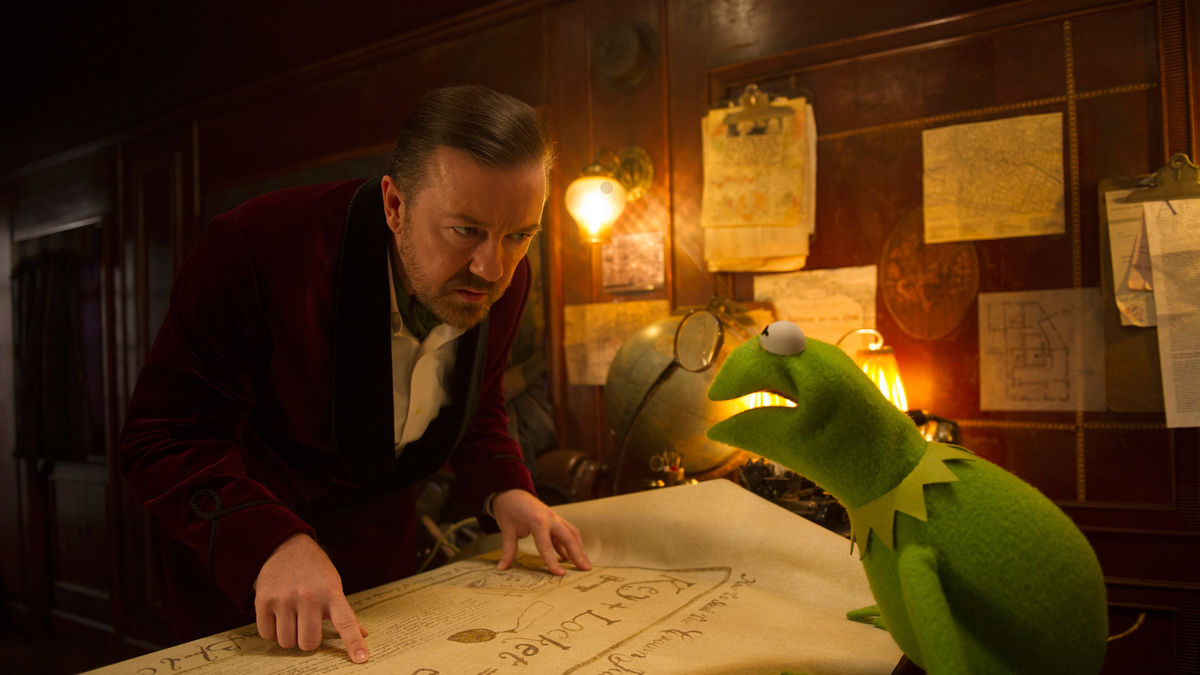 Director: James Bobin
When I reviewed Muppets Most Wanted some seven years ago, I liked it fine. I was also disappointed by what felt like a disjointed, sometimes listless sequel. Perhaps no one expected The Muppets to do as well as it did in 2011, leaving the door open to a sequel that couldn't quite figure out what it wanted to be.
The best part about being a film critic is absolutely the part where you get to prove you were wrong over and over again. To that end, I was wrong in almost all of my criticisms of Muppets Most Wanted. There is serious and substantial love and care for the core of The Muppets in this film. It took a recent watch to affirm that where I saw a movie lacking in focus or a coherent plot was in fact an exceptional framework in which The Muppets could be, well, The Muppets.
The use of celebrities in the film is really what drives that home for me. Everyone, including Tina Fey as a prison guard and Ricky Gervais as a career criminal, are characters contributing to the story. An original story at that, one free of literary adaptation or straight parody. After a stunning and hilarious opening musical number, our story shifts to Kermit becoming the target of jewel thieves. However, even as the story often focuses on Kermit, almost every major character gets ample screentime or a full-fledged arc to support the main thread. This is particularly true when the film takes the relationship between Kermit and Miss Piggy into surprisingly fresh territory.
Time has been kind. Muppets Most Wanted is now a top-tier Muppet movie, shadowed only by three absolutely perfect films.
3. The Muppet Movie (1979)
Director: James Frawley
It might be a little controversial to some to rank The Muppet Movie anywhere but number one. It's worth mentioning that the upper 5 portion of this ranking consists of movies that are either perfect, or very, very close to it. The top 3 movies, in my opinion, do not have a single thing wrong with them. We're really just getting into the weirdness of personal perspective right now.
The success of The Muppet Movie in 1979 was beyond the expectations of most. So unsure their characters would translate to the big screen, Frank Oz and Jim Henson shot some outdoor test footage. The resulting film, much like the TV show that built a global fanbase for The Muppets in short order, was unlike anything people had really seen before. Puppets were and continue to be a medium that doesn't generally impress people, particularly movie audiences. There's so much more to The Muppets than their foundation in puppetry.
As this film proves with one incredible song after another, pure anarchic humor, a gaggle of well-timed celebrity cameos and performances (Charles Durning as the villainous Doc Hopper is one of the best from one of the best), and timeless visual effects, The Muppets are capable of anything. This is why the movie continues to be successful and relevant year after year.
The journey of The Muppets to fame and fortune as entertainers is a classic, constantly deconstructed underdog story. Its sweetness is constant, as is the potential for something strange and dangerous beneath that surface. This might in fact be somewhere on a top 30 or 40 favorite movies ever list for me. I've been watching The Muppet Movie for decades. It still flies by much too quickly, as pure joy often does.
2. The Great Muppet Caper (1981)
Director: Jim Henson
The only Muppet film actually directed by Henson himself, The Great Muppet Caper was my favorite of the movies growing up. Only eventually surpassed by the number entry, the film is a relentlessly chaotic exercise in the comedic versatility of the characters and their performers. The London setting is particularly well-suited and even atmospheric. As the TV show was shot in London, there is something about England and these distinctly American characters that has worked well in various forms over the years.
The setting also informs most of the celebrities who appear in this film. Among them are John Cleese as the dullest man in England, meeting Kermit and Miss Piggy with his equally daft wife, Diana Rigg as a fashion design mogul Lady Holiday (amazing performance), Peter Ustinov, and Robert Morley. Charles Grodin also shows up to display his usual flawless comedic timing and energy as Lady Holiday's no-good brother. There's also Jack Warden as the editor of the newspaper that employs, fires, and eventually sends Kermit, Gonzo, and Fozzie to England to investigate a jewel robbery. Warden's scene in particular sets us up for one of the best running gags in Muppet history, with Kermit and Fozzie as twin brothers.
The twin brothers' joke is silly, but it's one of the many clever, crazed touches that define The Muppets once again succeeding by telling a fairly straightforward story in the most unpretentious and unruly way imaginable. The overall soundtrack for the musical side of The Great Muppet Caper is also perhaps the best of them all, with "Happiness Hotel" and "Piggy's Fantasy" offering hysterical lyrics and unreal visual energy from the physical Muppet performers.
1. The Muppet Christmas Carol (1992)
Director: Brian Henson
Perhaps it's simply that The Muppet Christmas Carol gets to the top of this list because it was the only theatrical Muppet movie released during my actual childhood. My 2nd grade class even watched it during an assembly close to Christmas break. Those are pretty pure memories at this point, and it's difficult for anything reasonable to compete with them.
At the same time, I watch these movies pretty routinely in adulthood. The Muppet Christmas Carol in particular is played at least once a year, around the holidays. One thing that's interesting about this film, which as the title suggests reimagines the Charles Dickens classic with Muppet characters and a few humans (most notably Michael Caine as Scrooge, giving quite possibly the best performance of his distinguished career), is that it's beloved by different people. This is among the few Christmas or holiday-adjacent movies that even people who don't like either of those things seem to be fond of.
I think I understand why that is. One of the most fascinating components to these characters is their ability to win over people who weren't expecting to be won over. Time and time again through the remarkable talents of writers, puppeteers, and everyone else, Kermit and the gang have proven that their appeal is difficult to define and near universal. All of this helps The Muppet Christmas Carol, but it's also important to keep in mind that the movie itself is a complete masterpiece. This extends to its opening with Gonzo and Rizzo as our narrators, and continues by subverting, riffing on, and ultimately celebrating the source material as a vehicle for The Muppets. The songs, performances, acting, cinematography, special effects, and dialog reveals the sum total of one of the greatest assemblies of talent ever brought to a film.
Is that a lot to throw on some pieces of felt? Maybe. But The Muppet Christmas Carol is nonetheless a perfect movie, the best Christmas Carol adaptation ever (and there are so many of those, dear god), and one of the best cinematic adaptations of a literary work that anyone will ever make.
READ NEXT: Ranking The Toy Story Movies From Worst To Best
Some of the coverage you find on Cultured Vultures contains affiliate links, which provide us with small commissions based on purchases made from visiting our site. We cover gaming news, movie reviews, wrestling and much more.