People who think Bridgerton is just all frothy romance haven't really been paying attention. There's always been a layer of tragedy and darkness laced into the beautiful, romantic spaces of the series. The Duke of Hastings had to deal with the cruelty of his own father, Anthony Bridgerton watched his own father die from a bee sting, and with that death was thrust into all the duties that came with being the eldest son. Let's not forget Marina's tragic storyline in Season 1, and the lengths she was driven to.
When I heard they were working on a prequel revolving around a young Queen Charlotte, I knew that it wouldn't be a very happy story. After all, we all know what happens to King George, and the responsibility Charlotte had to shoulder in her marriage to him. While I did hope there would be more joyful moments in the show before his condition worsened, it still does a competent job in setting up with the relationship between Charlotte and George, and their beautifully tragic love story.
The show begins with Charlotte (India Amarteifio) receiving the news of her betrothal. It is an arrangement she never asked for, but nonetheless has to accept. Why? Well, when the King of England comes knocking, you don't say no. In Charlotte's story we see the fate of women at the time, that even with her higher social status, she still cannot command her own fate, and is maneuvered around a chess board by the whims of men. Charlotte's worries about marrying a stranger compound when she realises none of the King's subjects will speak about him. She feels something is amiss, and decides to try and escape the marriage – consequences be damned.
Serendipitously, just as she's figuring out how to go about climbing over the garden wall, she meets George (Corey Mylchreest) himself. This scene was released as a teaser clip long ago, and that brief interaction is filled with so much chemistry and possibility. So she doesn't run away. She marries the King of England, and becomes the Queen, but it isn't the union she envisioned.
The very best thing about the show are the young actors at the centre of it. Amarteifio and Mylchreest have such electric chemistry together. We feel it in every single look they share, every moment their hands come together for the briefest touch. There is quite a bit of heat and sizzle, and those who wander into this Bridgerton spin-off series seeking that out will not be left disappointed.
What is most impressive is Amarteifio's ability to channel Golda Rosheuvel's essence as the older Queen Charlotte, in speech as well as physicality. It feels like we're watching her younger self strut around on screen. But the heart of the show is truly Mylchreest's performance as George. He is perfection as the romantic lead – he always looks in awe of Amarteifio's Charlotte and truly like a man in love. His depiction of King George's mental health struggles are utterly heartbreaking – his despair at his perceived deformity, his worries about how his affliction will impact Charlotte and their life together.
The scenes of him receiving medical treatment are so unbearable to watch. We know of the barbaric treatments patients were forced to endure during those times, when there was no understanding of these afflictions of the mind. The show does a great job of portraying his condition, and the poignant reality of it all. Did his struggles come about because he was expected to bear the weight of a nation from a young age? Did his mind crack from the heavy responsibility of knowing that the rise and fall of a nation depends on him? There is no way of knowing, and the most heartbreaking part of it all is witnessing the impact of his condition on his marriage.
In this mini series, we also get to see the younger selves of Lady Danbury (Arsema Thomas) and Violet Bridgerton (Connie Jenkins-Greig). It does bother me that Violet is in this, since she shouldn't be born yet. But I guess since Queen Charlotte: A Bridgerton Story does transition quite a fair bit to current Bridgerton times and interactions between the three women, that's why they feel they needed to include her. Lady Danbury's storyline is absolutely tragic. Her husband is a much older man, with nothing redeeming about him. Sex with him is a marital duty, something she is forced to endure, and these scenes are simply painful for the viewer to be privy to. He doesn't see her wit, her cleverness, just a mere pretty ornament on his arm, when she is actually the one responsible for their social rise and success.
It does help us understand her character a little better, and why she looks at marriage more as an obligation and duty rather than with any romantic inclinations. It's a reminder to us that what the Bridgerton family are fortunate enough to have is not something extended to all. Violet was lucky enough to be able to marry for love, and because she experienced that, desires love matches for all her children as well. And sometimes, even when two people manage to find love with each other in an arranged marriage, like Charlotte and George, it's not all sunshine and roses.
Bridgerton Season 1 and 2 were a roaring success, and I'm happy to say that Queen Charlotte: A Bridgerton Story doesn't break that momentum. Let's hope Penelope and Colin's love story keeps the love train going, because I simply can't get enough of Bridgerton.
READ NEXT: 11 Best New TV Shows of 2022
Some of the coverage you find on Cultured Vultures contains affiliate links, which provide us with small commissions based on purchases made from visiting our site. We cover gaming news, movie reviews, wrestling and much more.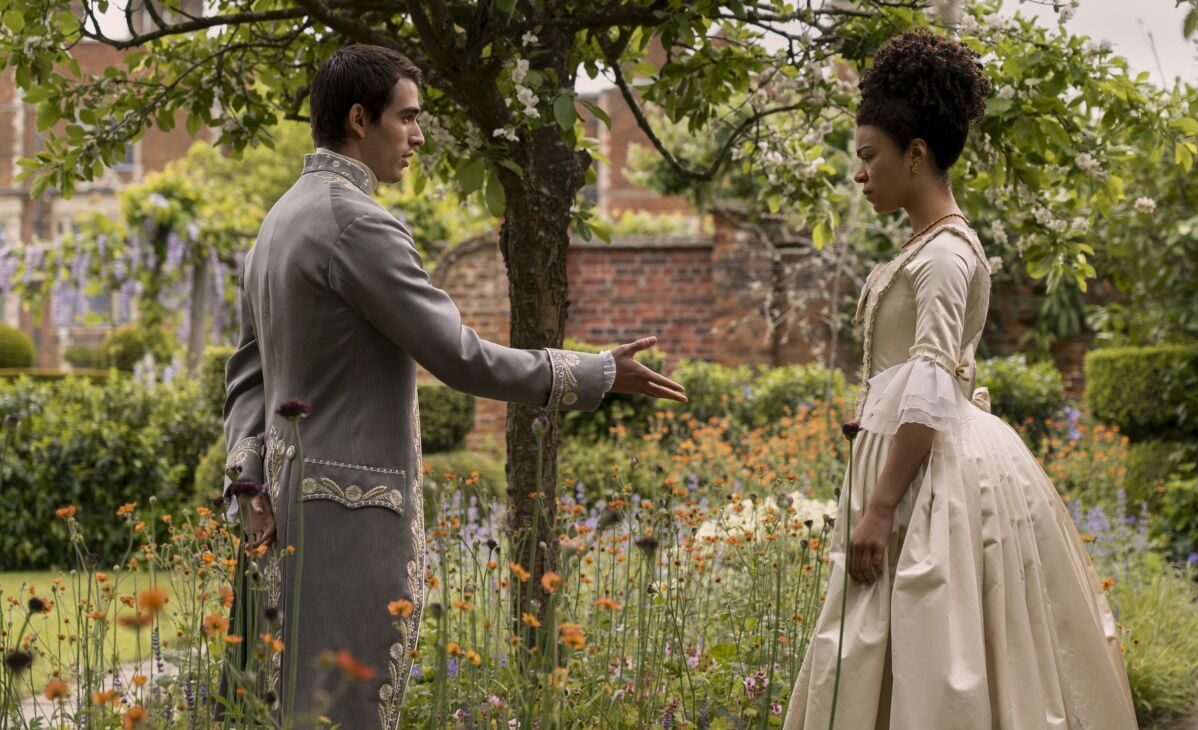 Verdict
Queen Charlotte: A Bridgerton Series isn't quite the same frothy concoction Bridgerton is - somehow, it is better.