WWE have put together some pretty solid content this week, starting with an exceptional Elimination Chamber pay-per-view and subsequent episodes of Raw and Smackdown Live. We've seen excellent storytelling mixed with some welcome fresh-faces stealing the flagship shows. This leaves Wrestlemania 35 open to some very interesting prospects, with the landscape having changed so dramatically within the space of a few days.
It's time to put our fantasy hats on and start dreaming up some potential WrestleMania cards, with just over a month left before this year's Mania weekend in New York, here's my thoughts on what we're going to be treated to at Metlife Stadium.
Becky Lynch vs Ronda Rousey vs Charlotte Flair
This match is practically confirmed now, with Becky returning from an 'injury' sustained at a SmackDown live event and attacking both Charlotte and Ronda at Elimination Chamber. Becky Lynch is indeed the hottest product in the company right now and deserves this megastar moment to take place at WrestleMania, where she defeats Ronda Rousey and wins the Raw Women's Championship.
With Rousey's exit plans doing the rounds in the rumour mill, it seems like the natural time for her to drop the title and bow out a hero to the WWE universe. Charlotte Flair is the X-Factor here, providing that small modicum of doubt towards whether they'll fully pull that trigger on Lynch in the potential main event of the show.
Regardless, this match is going to be the hypest thing on the card. Expect it to be confirmed within the next week or two.
Daniel Bryan vs Kofi Kingston (or a returning superstar)
For those living under a rock, The New Day's Kofi Kingston has been garnering a lot of attention as of late. The veteran superstar has climbed back into singles competition and was a hair's reach from the WWE Championship during the Elimination Chamber match. Everyone believed for just a few moments that Kofi might have usurped the planet's champion, Daniel Bryan. Although unfortunately it wasn't quite the case, and we are left waiting on the next chapter of Kofi's career at Fast Lane.
My gut tells me that Kofi is going to be granted the long-awaited championship run at the next pay-per-view, in true Eddie Guerrero style, just before WrestleMania. What a moment it would be, but I don't see it lasting too long. Daniel Bryan is of course as popular as always and seems to fit the role of the heel champion, logic would suggest that WWE wouldn't want to see Seth, Becky and Kofi (all three babyfaces) prevail in the same night, potentially taking away from each other's moment. Whether or not Kingston actually captures the title between now and the show of shows, it would make for an endearing climax to his career thus far.
Alternatively, SmackDown Live could see a new face added to the main event in the coming weeks. The 'moody' Aleister Black could start climbing the ranks towards a championship match, albeit a little soon. Kevin Owens has also teased a return within the month and there's also the looming Bray Wyatt that has been kept out of sight and out of mind. I think there's potential for any of these names to challenge Bryan at WrestleMania, lending itself to the moniker of Smackdown Live being the 'land of opportunity'.
Finn Balor vs Ricochet
A match that was apparently set for Monday night but cancelled at the last minute because it has too much potential. The new Intercontinental Champ Finn Balor and the One and Only Ricochet both hold that distinct quality of being diamonds in the rough, giving them a showdown at this year's WrestleMania could prove to be the modern equivalent of Ricky Steamboat and Randy Savage from 'Mania 3.
Ricochet is one of the four call-ups from this week that are apparently set in stone. Ricochet hadn't quite accomplished everything there was to do in NXT, but you must question whether the Prince of Flight is more suited for the main roster already. Finn Balor beckons an opponent that can bring out the best in his style. Now that he holds singles gold for the first time since his debilitating relinquishment of the Universal title, he has a lot of hype to live up to. Ricochet is one of those guys that could make Balor look like a million bucks, even if that means taking the title off him in the process.
Should WWE be wanting to make a star out of Ricochet sooner rather than later, then giving him the win over Balor at WrestleMania would be a great start.
Sasha & Bayley vs Trish & Lita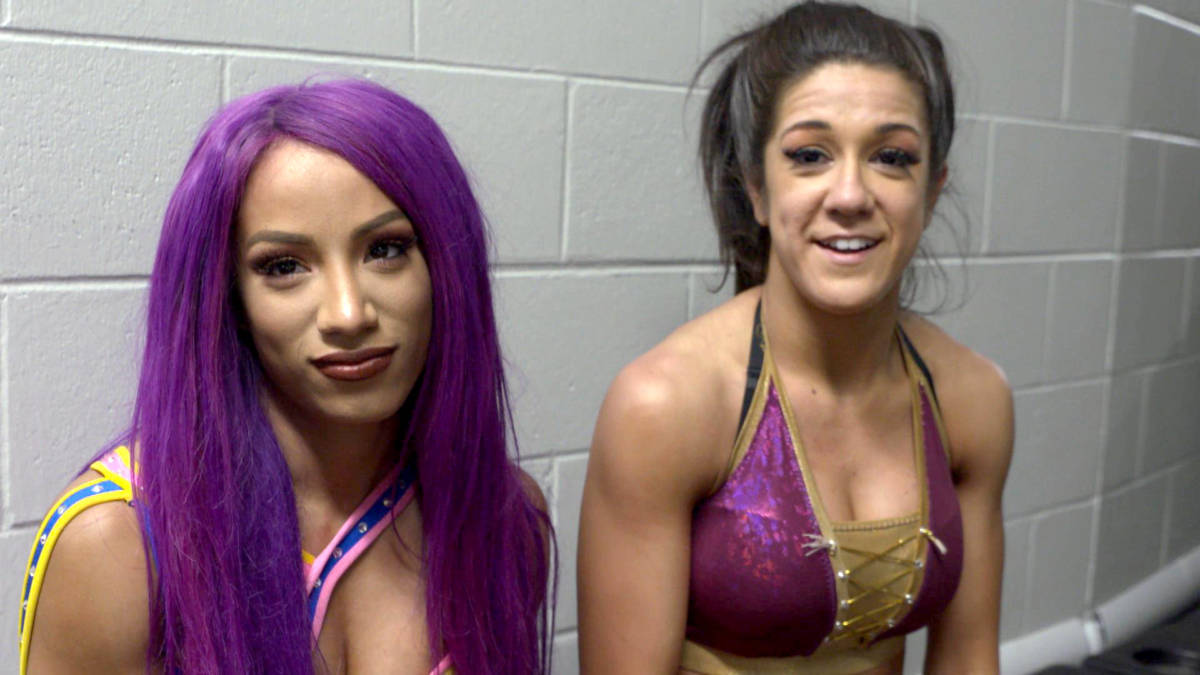 The Women's Tag Team championships are officially integrated into the division. With Sasha and Bayley outlasting both brand's best female teams at Elimination Chamber, now is the time for them to represent their division and their gender on a massive stage. Plenty of comparisons have been made to Trish Stratus and Lita, both of whom have proven in recent memory that they can indeed still put a match together. What a moment it would make to see these two teams do battle at WrestleMania.
The Tag titles deserve to be put on a pedestal, giving them the hype of seeing two alumni facing off with the biggest faces of the Raw roster would do the new titles justice.
Of course this is purely a vehicle to build the Boss and Hug connection as this generation's superstars, so I wouldn't expect for 'Team Bestie' to take the titles off them, but it'd be cool to see.
The Miz vs Shane McMahon
All good tag teams in WWE must come to an end, with an inevitable blood-feud. Shane and Miz's tag title reign came to an abrupt end at Elimination Chamber thanks to the Usos, which isn't something that's totally out of the realms of logic. The rematch is set for Fast Lane, but my money is on the titles staying exactly where they are. The Miz is on the brink of being a main-eventer, but can never quite make it through the gate around WrestleMania season. This year however, I see them granting him the 'McMahon feud'.
Whether it be Miz embracing his heel character again or Shane snapping, this team ain't making it past Fast Lane. Miz and Shane might not be the most exciting match on paper, but you can always guarantee that Shane's going to do something silly to make for a fun moment. Besides, Miz needs that singles push.
Asuka vs Kairi Sane
Bit of a far-out prediction I'm going with here. With Triple H going on a call-up spree on the main roster, it wouldn't shock me if we see The Pirate Princess make her presence felt on Smackdown Live in the coming weeks. Asuka has kind of faded into the background despite being the brand's champion, so she needs a big match to pep her up a little. Kairi would make for a dream opponent for Asuka, calling back to their days in Japan.
Both former NXT champions might not light the world on fire at first but I suspect the match itself to bring out the best in both women. With the spotlight of the women's division belonging to the Raw Women's championship picture, it leaves a lot of room for the women of Smackdown Live to steal it back.
Braun Strowman & partners vs Baron Corbin, Drew McIntyre & Bobby Lashley
Yet another WrestleMania where it seems Braun Strowman is going to be on the hunt for tag partners — here's hoping it's not another 10 year old child. Elimination Chamber saw the trio of Corbin, McIntyre and Lashley come together again to dominate Strowman. Let's assume that this feud is going to persist throughout the next month and suppose that Strowman is going to need to call on some friends to help him out.
The question is, who? Well take your pick from the litany of superstars left meandering about Monday Night Raw at the moment: Dean Ambrose, Elias, hell even Aleister Black might be a good fit for this little tandem.
This definitely feels like fodder for a typical Monday night in Green Bay Wisconsin, but nevertheless, there doesn't seem to be much else coming their way at the moment.
Randy Orton vs AJ Styles
A very subtle build happening between AJ Styles and Randy Orton seems to be occurring on Smackdown Live. With AJ now clear of the title picture and Randy needing a new babyface to do some horrible things to, these two seem to be coming together quite nicely. A dream match for some, Orton is one of the few people that Styles has yet to face in singles competition, so it does have that quality that's made for WrestleMania weekend.
I definitely see these two slowly building into a big feud for Smackdown Live over the coming weeks, a nice break from all the hullabaloo of championship bouts and big money matches.
So there you have my predictions for the WrestleMania 35 card, of course there's a few big names that are currently absent, but chances are a lot of our favourites might find themselves heading towards the Andre The Giant and WrestleMania Women's battle royals. Perhaps a few more feuds will unravel as time goes by: Ciampa and Gargano for example seem to be breaking into the tag team division, abd Rey Mysterio and Andrade still have an open feud, so there's still a lot of potential left to discover.
Have I missed out any of your big predictions? Let us know in the comments below.
Some of the coverage you find on Cultured Vultures contains affiliate links, which provide us with small commissions based on purchases made from visiting our site. We cover gaming news, movie reviews, wrestling and much more.