Developer: Obsidian Entertainment
Publisher: Versus Evil
Platform: PC
Review code provided
Back in 1999, there was a boy who argued with his mother to buy a little game called Baldur's Gate on the premise that it contained a lot of text and would encourage reading. She relented and a lifelong love for the infinity engine games and computer RPGs was born. Following Baldur's Gate there were some exceptionally good years for the CRPGs and Bioware was king of the DnD mountain. It did not last however, and the introduction of 3D almost killed the old genre off in favor of more action-oriented Mass Effects and Old Republics. Until, of course, Kickstarter came along and Obsidian's Pillars of Eternity breathed new life into the old genre with its beautifully painted 2D backgrounds and new snazzy 3D effects. In the wake of Pillars of Eternity others followed: the good but slightly hobbled Tyranny, the exceptional Original Sin and the interesting Torment: Tides of Numeria, to name a few.
Now the time has come for Pillars Of Eternity II: Deadfire and, boy, is it a follow up on everything that was great with the predecessor.
Forsaking the first game's more traditional Tolkien-esque western European setting, Deadfire brings you to a sunny Caribbean Sea. And yes, here be pirates and monsters with all of what that entails of booty, muskets and grog. After years of Disney exploitation and a few Assassin's Creed games, however I feel they circumvent some of the more obvious pitfalls with the setting. There is pirate speak, but not the lame "yarr shiver me timbers matey" and more the kind of sing song tunes of a Welsh accent using pretty filthy words. Since it is a fantasy game, it can also afford to freshen up the setting with some sea monsters and more creative creatures. What if the South American pyramids actually had some dark secrets buried within them when explorers and privateers found them in the jungles? In Deadfire, you can explore those thoughts.
Deadfire takes place a few years after the first game and is set in motion by a gigantic statue waking up under your castle, destroying it and killing hundreds. Your character survives by the intervention of the "gods" and is set on a quest to follow the statue that apparently has been possessed by the presumed to be dead god Eothas. This brings you to the titular fantasy Caribbean region and ships are indeed an important aspect and the most innovative part of the gameplay in Deadfire.
Your boat is the main mode of traversing the region and is done on a map that reminds me of a simplified version of Sid Meier's Pirates. The first game had you restore and upgrade an old castle to its former glory and this time you do much the same with your ships because, yes, you can own and make use of more than one. The Castle was a great idea in Pillars of Eternity but in the end, it felt unnecessary and just something to sink your gold into. This time around though, the ship impacts gameplay since you will be partaking in ship-to-ship battles and boarding actions. Bigger ships can house more deck crew and have more cannons while smaller vessels might be faster and have cannons in the front and rear of the ship. Crew members are separate from your main party but still gain experience and rank up by partaking in combat and other activities.
Ship-to-ship combat is managed via a minimalistic menu system which sadly doesn't feature much in terms of graphical representation to the action that is going on. Whenever you encounter a ship at sea, you get the option to either attack or board the enemy vessel. Combat is then played out in turns where you can fire canons, turn, jibe and reassign injured crew members. At first, the lack of direct action put me off, but once I got a taste for the ship battles I have to admit that despite their stripped-down representation, what is there makes for nail biting combat. You keep staring at the distance meter and the orientation of the ships and hoping that your next shot will injure a crew member or start a deck fire so that the enemy will be busy dealing with that instead of aiming and firing at you.
You also have the option to board ships, which will play out much like the normal battles on land with the exception that all character and party members traveling with you will be there to help out. Once an encounter is resolved by sinking or boarding the ship, you will divvy up the booty with the crew for morale or keep it for yourself if you want.
Normal combat plays out pretty much as you are used to in computer RPGs in the style of the old Bioware games. It is tactical and can at times be brutal with things like positioning and proper use of your abilities being important for success. This time around, you can also choose to make the world level up with you providing a constant balanced difficulty, like Bethesda games. Personally, I outright despise this since I want to encounter things that are way above my ability to engage with but still beatable with clever tactics and spells. Moreover, coming back to old areas and feeling like I have become stronger since I was there before adds a certain sense of progression. It is nice to have the option though, I suppose. You also have the option of instead of pausing combat, you can have it slow down to a crawl while you issue orders. It doesn't affect much in my opinion, but I ended up sticking with the old model of full pause.
It is easy to see what Obsidian have been up to these years and why Tyranny felt a little half-baked because Deadfire is absolutely enormous. The main city is one of the biggest I have ever seen in one of these games and I think it even rivals Amn in BG2. And it is not just big for the sake of being big: there are so many characters to meet and quests to do that it can be outright overwhelming when you look at the quest log. he amount of voiceover for the characters you encounter is also staggering. I think pretty much all dialogue in the game is fully voiced and some of the ambient descriptions have a narrator as well. With all this ground to play around with, it is a good thing that it is so beautiful to look at. The backgrounds are in beautiful high resolution and the 3D elements add a sense of place to the world since trees and other things will react to weather or magic effects that just makes the world feel more vibrant than many similar games.
Though having a lot of content in your games is generally a good thing, I cannot help but feel like a katamari at times, rolling through areas letting loot, quests and characters stick to me as I go along. Clutter can easily become a problem and I recommend anyone who plays Deadfire not to hoard but to sell off any gear they are not going to use the money is needed for ship upgrades anyway. I have also run into a few technical problems along the way; Mostly minor but still irritating. Chief among these is the mouse pointer being too precise in certain menus, making it hard to properly click on the option you want. It is something that might be patched out pretty easily but if not, it can lead to some frustration. Another thing that bothered me was that during a ship battle the enemy ship fled and ran away ending the encounter. I followed the vessel and initiated a new combat and then they had been fully healed while I was still suffering from all the battle damage from our previous bout. I imagine that balancing this might be tricky since it might be wide open to abuse, but maybe just having the ship disappear from the world map for a while after fleeing would have been a more elegant solution.
The story is quite interesting and touches on a broad array of subjects from colonialism to organized religion. There are a lot of tropes borrowed from our own history with exploited natives and greedy trading companies that makes for some interesting choices and encounters. Each side has their own motives and interests and you as a player can choose to align yourself with any one of them or try to balance your allegiance between them to some extent. Even the pirates feel like they have some moral justification for their actions and are not all bloodthirsty and greedy red-handed murderers.
Since you are following a living god that through the story has a penchant for sucking souls out of people, leaving only ash behind, there are some interesting conversations about religion and what it means to be a follower of something that is obviously horrific to be had. People try to bend over backwards to defend their choice of deity and see to the perceived good that it does, something that echoes familiarly in today's political climate. "Sure, he slaughtered thousands and destroyed cities, but just you wait, he has a plan for us all and with all this, it will all be great and glorious in the end, just you wait" characters say without possibly having any solid reason to believe it to be so.
The party characters also have a lot of interactions with each other and even if is ultimately false, it feels like they have some sort of agency over their development. One such relationship I enjoyed greatly was between Edér and Xoti. The former, a veteran who after the first game holds the gods with almost the same amount of respect as a certain tattooed Spartan. The latter, a young bright-eyed follower of Eothas. Their relationship together and how it develops is one of the more enjoyable elements in Deadfire. It is very refreshing to see a roster of characters that feels like characters with their own storylines that cross and intermingle rather than just serve as people to populate the player's sex dungeon. Of course, you can steer and interfere at certain points and there are still the "loyalty" quests for the characters but the illusion is maintained to a much higher degree here than pretty much any other RPG in recent memory.
Pillars of Eternity II: Deadfire is an enormous, amazing game. It has breadth and depth for countless hours of enjoyment and the new ship mechanics are fun and add a great deal of variety. After countless hours with the game though, it is its story, the presentation and above all the characters that have made the biggest impact on me, as they should in any role-playing game.
Some of the coverage you find on Cultured Vultures contains affiliate links, which provide us with small commissions based on purchases made from visiting our site. We cover gaming news, movie reviews, wrestling and much more.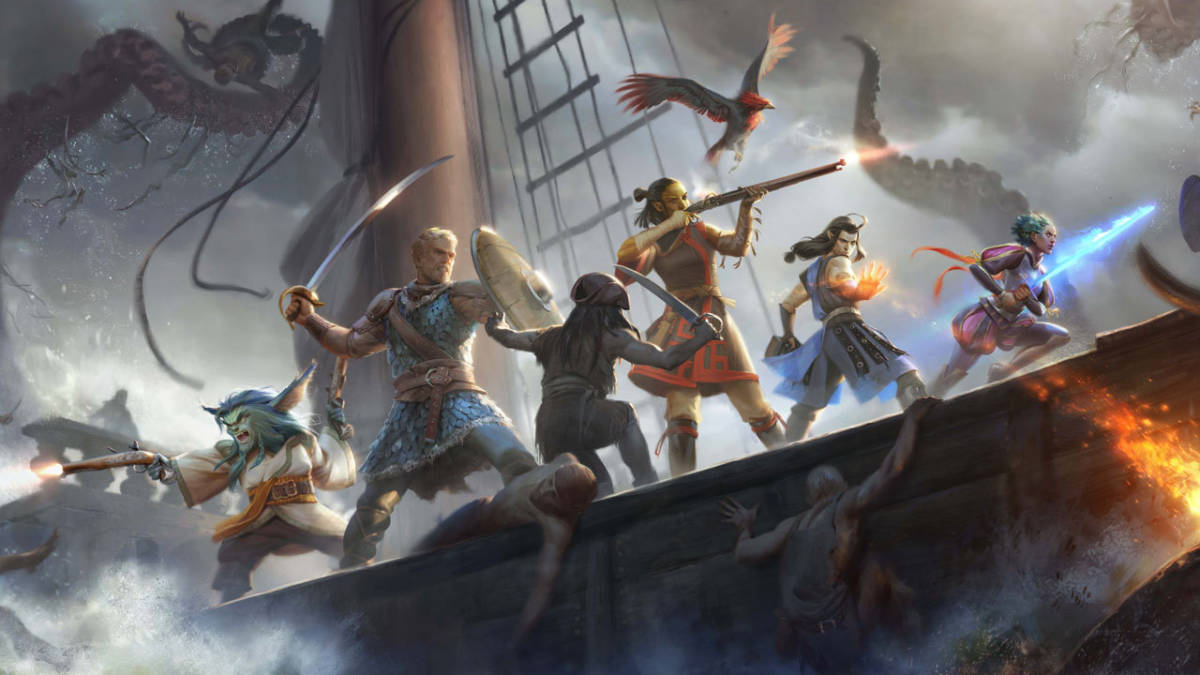 Verdict
Pillars of Eternity II: Deadfire is an excellent game with a few minor hiccups that keep it from being perfect. Microtransactions: none