Now that we're heading into the final stretch before the various critics groups sound off on their winners, it's time to update everything with Oscar predictions. However, one aspect yet to be covered is the technical categories, and how they are shaping up. This is where we'll start, and we'll cover the top categories, as well as Animated and International Film in a separate article.
Best Visual Effects
Predictions:
Alita: Battle Angel
Avengers: Endgame
The Lion King
Star Wars: The Rise of Skywalker
The Irishman
It's been a fairly good year for visual effects, so I expect this to be a competitive category. As far as why I'm picking these five, Alita comes from producer James Cameron, whose films usually win this category, so one he produces fits into that mold. Since almost every year a Marvel film is nominated, I feel Endgame will be included, too.
We also usually have a Best Picture nominee, and of these five, The Irishman will take that slot. The Lion King may have been split critics and some fans down the middle, but all revered its effects, and as we've seen with every other Disney-produced Star Wars film, Visual Effects has been a standard nomination, so I don't see Rise of Skywalker falling short.
A couple of other films to look out for are Ad Astra, Captain Marvel, Gemini Man, Spider-Man: Far From Home, 1917 and Ford v Ferrari.
Best Sound Editing
Predictions:
1917
Ad Astra
Avengers: Endgame
Ford v Ferrari
Star Wars: The Rise of Skywalker
The Sound Editing category is more about sound effects and how they are utilized, but as we saw last year with Bohemian Rhapsody, even non-traditional "loud" movies can win here. That being said, I have these "loud" movies being nominated this year. Since 1917 is a war film, and war films tend to do very well in these sound categories, it will be a likely winner.
Ford v Ferrari, with all the racing scenes, will also have a strong vote, as will the blockbuster fare of Star Wars and Avengers. And space movies also are well-liked in this category, so also watch out for Ad Astra.
In this category, I'd look out for The Irishman, Joker, Once Upon a Time in Hollywood, and Rocketman.
Best Sound Mixing
Predictions:
1917
Ad Astra
Avengers: Endgame
Ford v Ferrari
Star Wars: The Rise of Skywalker
With one exception last year, these categories lined up perfectly. For now, I'll give the same arguments for mixing the sound, though it does stand to reason that musicals usually end up being nominated here over some of the "loud" movies.
So in addition to these five, I have my eyes on Rocketman, Cats, The Irishman, Once Upon a Time in Hollywood, and Joker.
Best Costume Design
Predictions:
Dolemite is My Name
Downton Abbey
Little Women
Once Upon a Time in Hollywood
Rocketman
Sometimes this category boils down to most costumes or flashiest costumes, so I have Dolemite and Rocketman among the nominees for those reasons. Also a couple of Best Picture hopefuls, Little Women and Hollywood, since their costumes are pretty front and center. Downton Abbey was also a big hit at the box office, and is a period film, so I'd say that also has a great chance of being nominated.
I am leaving out The Irishman in this category, which may easily slip in. We saw that with The Revenant four years ago, a movie where the costumes weren't exactly front and center. I'd also say that Jojo Rabbit, Cats, Harriet, 1917, and Judy will be competing for attention in this race.
Best Production Design
Predictions:
1917
Jojo Rabbit
Little Women
Once Upon a Time in Hollywood
The Irishman
I see this category as a bit competitive this year, too. The Academy does like their war films, so 1917 also fits into this category, and once again the period-set Little Women, Irishman, and Hollywood benefit. As does Jojo Rabbit, which also has a nice quasi-fantasy element to its look, which may also light up the voters.
In addition, I'd point out some other contenders like Cats, Ad Astra, Joker, Downton Abbey, and Ford v Ferrari.
Best Original Score
Predictions:
1917
Jojo Rabbit
Joker
Marriage Story
Star Wars: The Rise of Skywalker
Ever since it was announced that Thomas Newman would be working again with Sam Mendes on 1917, I liked the idea of him winning his first Oscar for this film. Come on, he's been nominated for 13 previous scores and one previous song, but still doesn't have a single win? If he doesn't do it this time, I'd be a little worried.
Otherwise, Joker and Rise of Skywalker seem like sure bets, and Marriage Story does have 20-time nominated (and twice winning) composer Randy Newman behind it, so that feels pretty safe. That fifth slot is a bit more open, and for now I have Michael Giacchino's score for Jojo Rabbit making it.
It's otherwise been a solid year for movie scores, so watch out for Us, Little Women, A Beautiful Day in the Neighborhood, and Ad Astra.
Best Film Editing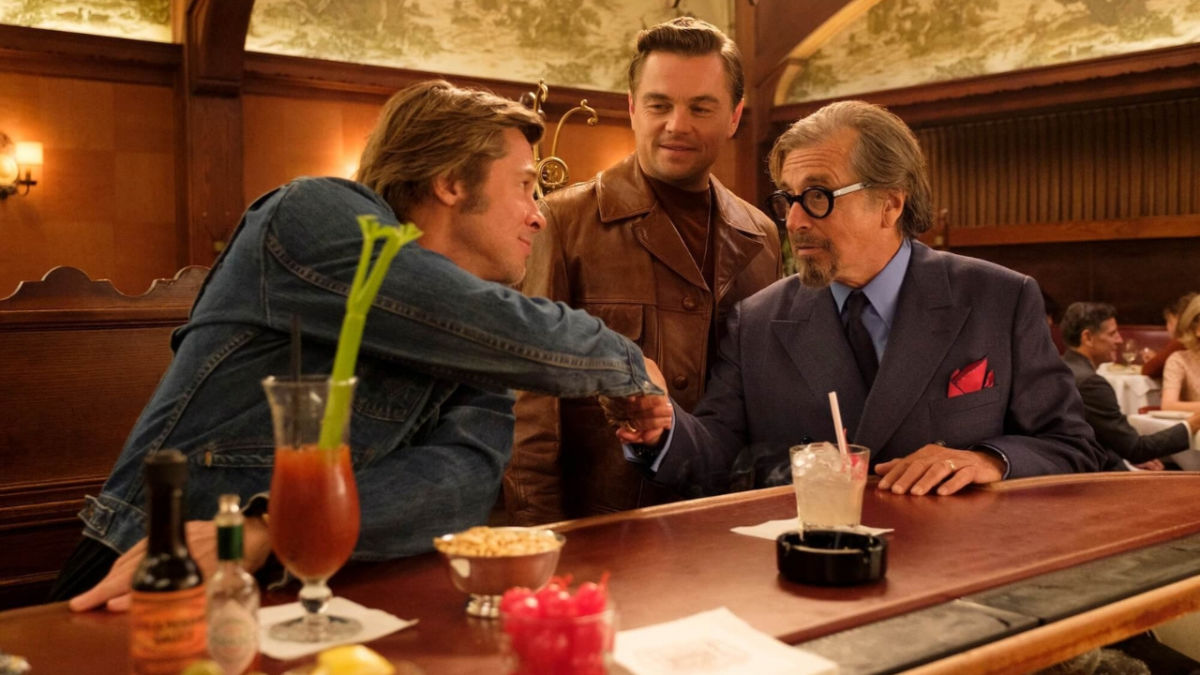 Predictions:
Ford v Ferrari
Jojo Rabbit
Marriage Story
Once Upon a Time in Hollywood
The Irishman
I'm thinking that since Ford v Ferrari is all about motion, and can be equated as the "most edited" film, it's out front. However, there is some fine work in editing for both The Irishman and Once Upon a Time in Hollywood, so they are admirable foes.
Jojo Rabbit and Marriage Story feel like two very popular picks overall with the Academy, and that's usually how this category goes: a few popular picks and then the films with the most editing.
That's why I'm not picking a more obvious film, 1917, which is staged to look like one shot. That decision is what kept films like Roma and Birdman from being included in this category in the past, though all the long takes in Alfonso Cuaron's Gravity didn't hurt (it ended up winning in this category).
In addition to 1917, a few more contenders are Parasite, Joker, Bombshell, and Little Women.
Best Cinematography
Predictions:
1917
A Hidden Life
Once Upon a Time in Hollywood
The Irishman
The Lighthouse
This also feels like a very stacked category, but make no mistake: Roger Deakins will win his second Oscar for 1917, again due to the one-shot style Mendes chose for the project. Scorsese and Tarantino regulars Robert Richardson and Rodrigo Prieto will also likely be among the nominees here.
I also have the black-and-white cinematography by Jarin Blaschke included, and that branch has loved the black-and-white films this decade (Nebraska, Ida, Cold War and Roma). My fifth slot is Terrence Malick's A Hidden Life, which feels like that oddball pick the cinematographer's branch likes to nominate, like Never Look Away, The Grandmaster, and The White Ribbon.
A few other films with a shot are Joker, Ad Astra, Parasite, Ford v Ferrari, Jojo Rabbit, and Little Women.
Best Animated Feature
Predictions:
Frozen II
How to Train your Dragon: The Hidden World
Missing Link
Toy Story 4
Weathering with You
While this category will likely again be dominated by Pixar/Disney, that doesn't mean there isn't a lot of great work this year. The two previous Dragon movies were nominated, so it makes sense for number three to make this cut, and Laika's Missing Link was well-received by critics and the company has a large following in the Academy. Then there's Weathering with You, from Japan, who always has at least one of their films nominated.
A couple other contenders include I Lost My Body and Klaus.
Best International Feature Film
Predictions:
Les Misérables
Monos
Pain and Glory
Parasite
The Traitor
Like last year, this category will be all about Parasite, and we know it early. That's no disrespect to the other films, but unfortunately this will be about figuring out which other films make the cut and less about competition.
Pain and Glory from Spain will be a likely contender in other categories, so that shouldn't have too much trouble being nominated here. Otherwise, I'll go with Italy's The Traitor, Colombia's Manos, and France's Les Misérables, which would be the country's 38th time being nominated, extending their record.
A few other possibilities are Brazil's The Invisible Life, Senegal's Atlantics, Out Stealing Horses for Norway, and I'll also throw in The Domain from Portugal, one of the few countries never to be nominated here.
MORE MOVIES:
– 25 Best Post-Apocalyptic Movies You Should Watch
– 12 Best South Korean Movies You Should Watch
– 15 Best Horror Movies On Shudder You Should Watch
Some of the coverage you find on Cultured Vultures contains affiliate links, which provide us with small commissions based on purchases made from visiting our site. We cover gaming news, movie reviews, wrestling and much more.