A fervent meditation on grief and legacy, Child of Kamiari Month is another stunning entry in the Netflix Original anime film offerings. The Japanese animated fantasy drama, directed by Takana Shirai and animated by LidenFilms, unpacks its heady themes by filtering them through the supernatural.
Sixth-grader Kanna, a girl who lost her mother, finds it difficult to enjoy things in life. In a beautiful opening sequence punctuated by soft music, young Kanna chases her smiling mother as they run on an open landscape that morphs into endless white space. The younger version of Kanna can't keep up with her mother as she begins fading away in this dream-like episode. It's a prophetic scene foreshadowing how the past implicates hidden secrets in Kanna's future.
The real story kicks in after several more scenes where the audience slowly pieces together the bereavement and trauma Kanna endures because of her mother's untimely death. Although her mother loved running, Kanna only competes in school marathons to honor her mother's legacy. She spends her time alone talking to rabbits about the internalized feelings she cannot express to her best friend or her loving father.
After moments that plainly distinguish the extent of Kanna's grief and panic over disappointing everyone around her, the film throws a fantastical reveal into the mix: Kanna learns she is an Idaten on her mother's side, a descendant of the gods. Kanna must take up her mother Yayoi's mantle and responsibilities.
Her mentor enters the body of the rabbit Kanna had previously confided in. Whoever designed the rabbit knew how to draw an utterly adorable version of the already cute creature. Significantly, the white rabbit acts as Kanna's guide and information source. One can't help but think how the character is redolent of the white rabbit from Alice in Wonderland – except you'd want to take home and cuddle this bunny. Ultimately, the rabbit informs Kanna she must collect food offerings from various deities and deliver them in time for the gods' great gathering at Izumo.
When anime films integrate fantasy into their narratives, they embrace the supernatural with open arms. Through the power of her mothers' bracelet, time slows down to the point where raindrops appear nearly frozen in midair and people resemble stone statues. Child of Kamiari Month captures the essence of time beautifully through this fantasy trope. By almost stopping the clock completely, the animators allow the sumptuously painted backgrounds to stand still while playing up the fluidity and urgency of movement when Kanna runs across Japan's streets.
Child of Kamiari Month is gorgeous to look at throughout, with detailed linework put into the (mostly) animal deities colouring and character designs. The film slows time down to show how taking a step back from the racing world around us can foster an appreciation for life's complex beauty.
Studio-Ghibli-esque piano or string-based tracks expectedly play at any given time. Opposingly, horror-adjacent notes, booming drum-beat tracks, and even a song that sounded Lain-influenced regulate the mood in scenes. From the score to the animation, thoughtful choices inundate this film, creating an absorbing experience.
Although a cliche phrase, the adage, "It's a marathon, not a sprint" applies here. Even though Kanna needs to run quickly in an allotted period, she uncovers truths about herself along the way. The film takes its time establishing relationships between characters, exploring Kanna's grief, and leisurely roaming through still shots of the painted backgrounds.
Child of Kamiari Month shows us how contemplation and reflection are possible when we stop running away from acknowledging grief.
READ NEXT: The Best Japanese Movies of All Time
Some of the coverage you find on Cultured Vultures contains affiliate links, which provide us with small commissions based on purchases made from visiting our site. We cover gaming news, movie reviews, wrestling and much more.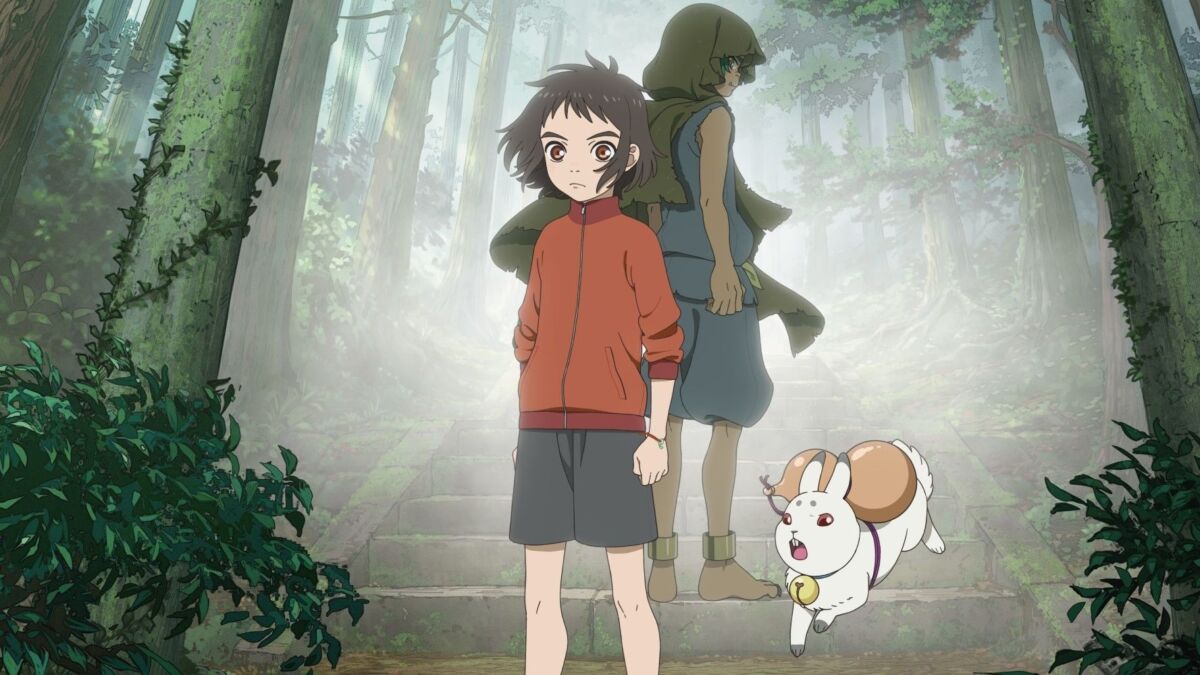 Verdict
Child of Kamiari Month merges humourous elements like Japanese gods, a cute bunny, and marathon running into a timeless story about grief.