The annual Canadian Music Week festival has brought hundreds of artists of all genres to Toronto to perform, and capping off the week would be a special Mother's Day performance by 2 Chainz. Easily the most famous hip-hop artist at the festival, 2 Chainz would be returning to Rebel Nightclub after performing here in a wheelchair just last fall. Since that time, he has made some high profile guest appearances on songs by Eminem, PRhyme, Schoolboy Q, and Christina Aguilera, and has been gearing up to release his upcoming fifth studio album, Rap or Go to the League. He's been consistently dropping simplified rap music to party to, and while he's toured heavily over the years, this would be my first time seeing him perform live.
I showed up just over an hour after doors had opened, and the venue was already packed with young fans. Getting on stage was hometown producer Murda Beatz, who's produced several trap hits in recent years. He started his set off with a Mother's Day tribute, playing Kanye West's "Hey Mama" and Drake's "God's Plan" before getting into some of his trap and mumble-rap hits. He had a high-energy set that got the crowd dancing, as he closed out with his latest platinum hit, Drake's "Nice For What".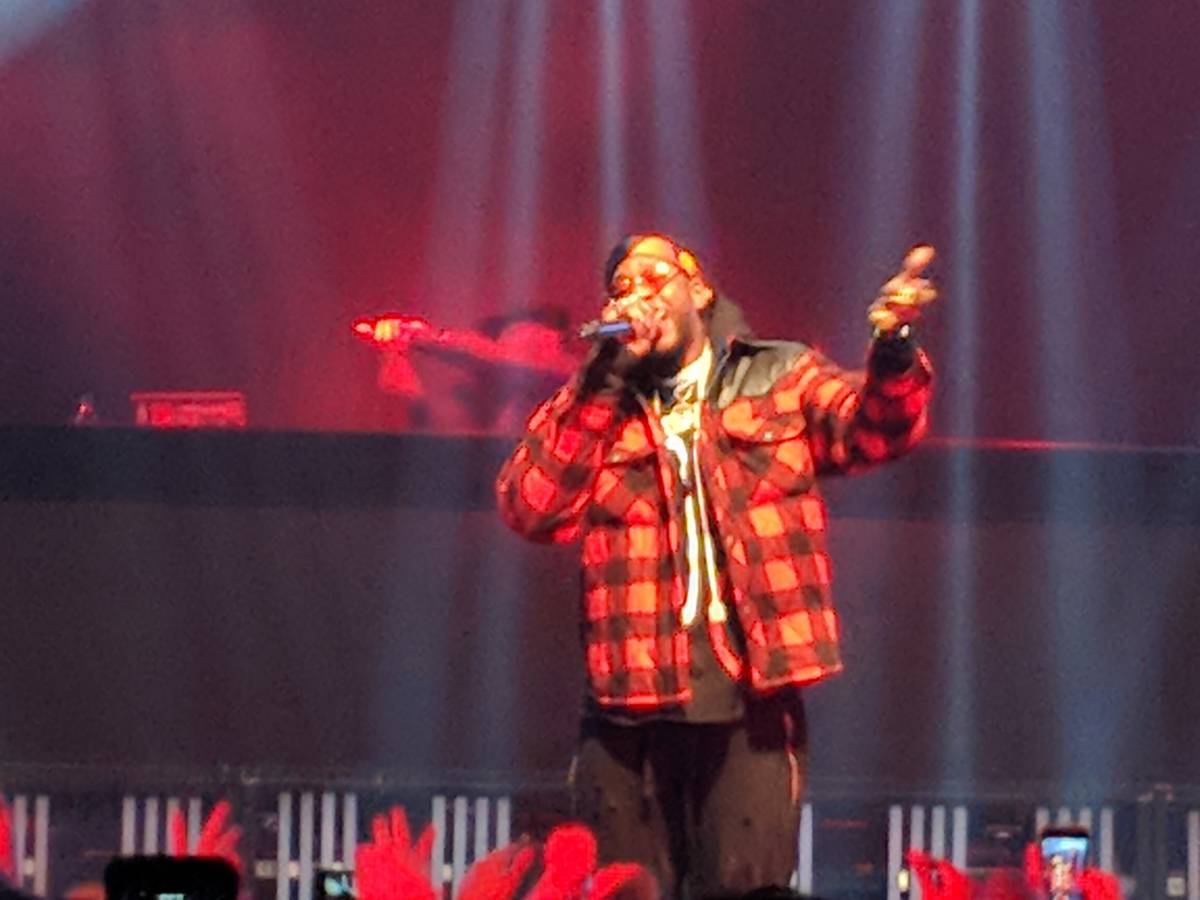 After a bit of a wait, it was time for 2 Chainz to hit the stage, coming out to the upbeat "No Problem" by Chance The Rapper. As much as 2 Chainz has built up his solo discography, he's just as well known for his guest appearances on other artists' songs, and so he immediately got into some of his collaborations with Toronto's own Drake. While Drizzy himself wasn't around to make a surprise appearance on stage, 2 Chainz rocked their throwbacks "All Me" and "No Lie" just fine on his own.
With the crowd energized, 2 Chainz took a minute to acknowledge how his last performance here was in a wheelchair, and how he was ready to turn up now that he was no longer confined to it. Dedicating the next song to Mother's Day, he then got into the first single to drop off his upcoming album, "Proud," getting the crowd to chant along to the lyrics "mama ain't raised no ho!". After giving the crowd a taste of his newest work, he then took it all the way back to 2012, performing songs off his first album like "I'm Different" and "I Luv Dem Strippers," as well as the mega hit "Fuckin' Problems." The crowd kept dancing throughout.
2 Chainz continued to hit the crowd with a blend of both old and new songs, performing the fresh "Land of the Freaks" as well as going back to "Bandz A Make Her Dance" and "Watch Out." He then got into some songs off his latest album, 2017's Pretty Girls Like Trap Music, getting the crowd to turn up to "Trap Check" and making a tongue in cheek dedication to all the side-chicks with "Blue Cheese." The day-one fans were then in for a treat, as he took it all the way back to when his rap name used to be Tity Boi, performing the Playaz Circle hit "Duffle Bag Boy."
Next up was the throwback hit "Birthday Song," which got the energy cranked up; fans were clapping to the beat, while some crowd surfed overhead. 2 Chainz then dove right back into his newest album, bringing Murda Beatz back on stage with a bottle of champagne to rock "It's A Vibe" with him. He mentioned how both of the songs Murda Beatz produced on his last album went platinum, and how he'll definitely be appearing on the next album. 2 Chainz then performed his single "Good Drank" before closing out the show with the second of those platinum Murda Beatz productions, "4 AM." He went all out, nailing the flow in his verses before saying peace to the crowd and heading to the afterparty.
This was a fun party to close out Canadian Music Week with. 2 Chainz may not put on a traditional hip-hop show with an emphasis on emceeing, but he has a catalogue of party tracks that get crowds dancing. Like the song says, "It's A Vibe," and he definitely brought the good ones to the city.
What did you think of 2 Chainz' performance? What other shows did you enjoy during Canadian Music Week? Hit us up on Twitter @SYpherSights or @CultVultures!
Some of the coverage you find on Cultured Vultures contains affiliate links, which provide us with small commissions based on purchases made from visiting our site. We cover gaming news, movie reviews, wrestling and much more.