With this generation wrapping up, we're looking back at the games that have defined the last seven years. Up next on the list: something about a party getting crazy? Now I'm motivated.
It's hard for a game series to reach its pinnacle once it gets beyond a trilogy, but somehow Capcom managed to create a Devil May Cry game that blows every other game out of the water. It doesn't matter whether your preference is Devil May Cry 1, 3 or 4 (let's all forget about 2, right?), DMC 5 is the character action series at its absolute best.
As a series, Devil May Cry has been incredible at iterating and refining what's come before, especially after the release of DMC 3. After a groundbreaking debut, DMC 2 attempted to add to the formula by adding a brand new character to the mix, then pooped all over itself, while DMC 3 was a heroic return to form for the series, overhauling Dante's gameplay to accomodate for various combat styles. Gunslinger, Swordmaster, Trickster and Royal Guard each offered brilliant takes on Dante's core gameplay, with all four allowing for a new method of play.
DMC 4 refined the formula further, taking Dante's core styles and allowing you to switch between them during gameplay instead of between levels, enabling skilled players to open up their combo potential to an incredible degree. It's a change so well received that the recent Switch port of DMC 3 also introduced style switching. Coupled with the introduction of Nero, whose Devil Arm and Red Queen Exceed feature give him a unique edge over the pizza eating son of Sparda, and DMC 4 made for a compelling addition to the series.
DMC 5 again offered refinement as Dante and Nero returned once again with gameplay reminiscent of DMC 4. Dante could still switch styles, Nero's Red Queen Exceed offered a high skill ceiling and everything else you loved about both characters was present and correct with Devil May Cry 5, but the game's new additions and changes make for the most compelling entry in the entire series.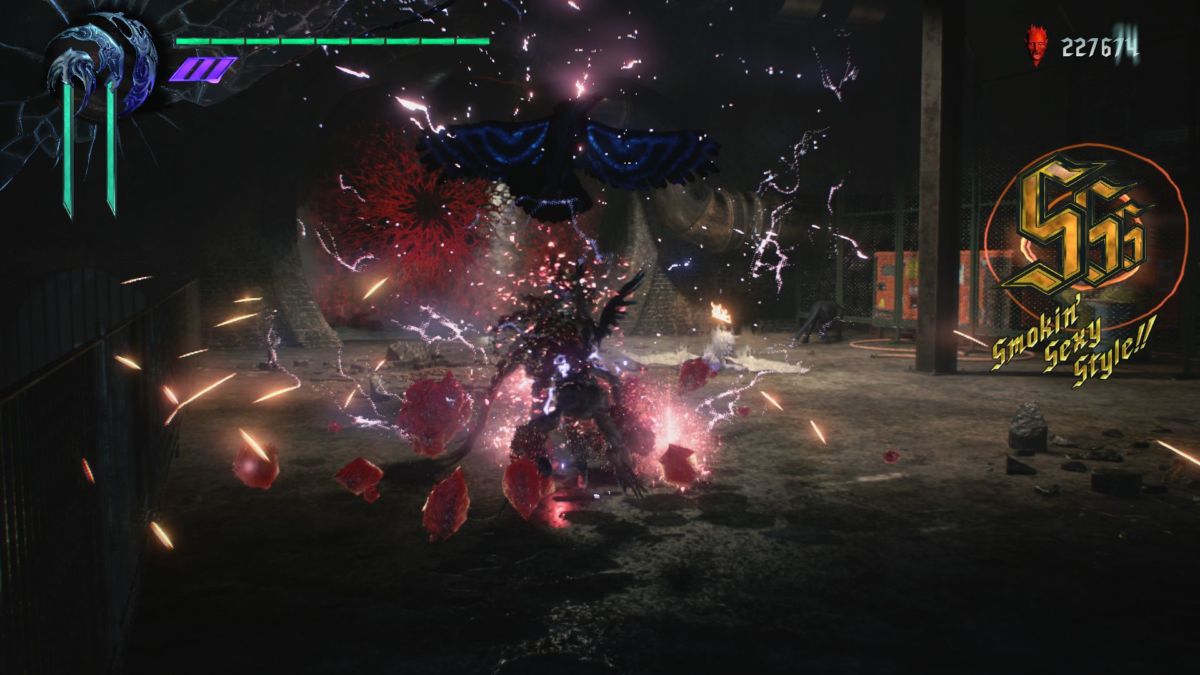 While Dante has been pretty much perfected (though his weapons are great here too), Nero has seen the most improvement. After losing his Devil Arm, Nero can now equip a variety of prosthetic gadgets on his arm that add new skills and abilities to his loadout, making him an even more versatile character than before. Considering that the final version of Nero also sees his Devil Arm return to him, while still retaining his gadgets, it makes multiple playthroughs more rewarding.
DMC 5 also introduces a brand new character in the form of V, who controls various summoned demons to do battle for him. His style of play runs counter to the more aggressive forms of combat Nero and Dante champion, but he makes for a unique and wonderful character to play, even if he's probably the easiest character to reach SSS rank with while fighting.
All the gameplay improvements that DMC 5 makes sound great, and they are, but somehow it's Devil May Cry 5's story that offers some of the biggest highlights. Typically, Devil May Cry games are about a tryhard demon slayer eating pizza and being less cool than he thinks he is, which is still there in abundance, of course. However, there's a solid emotional core at the heart of Devil May Cry 5's storytelling that's hard to ignore, and it pushes Devil May Cry 5 into game of the generation material.
With the launch of Devil May Cry 5: Special Edition pencilled in for the launch of the PS5 and Xbox Series X, DMC 5 has the chance to become one of the best games of the next generation to boot. All the improvements the base game offers, plus the introduction of Vergil, turbo mode and Legendary Dark Knight make Special Edition a tantalising prospect.
READ NEXT: The Best PS4 Games of All Time
Some of the coverage you find on Cultured Vultures contains affiliate links, which provide us with small commissions based on purchases made from visiting our site. We cover gaming news, movie reviews, wrestling and much more.