Who would want to be a goalkeeper? You make good saves and people say it's your job, make a mistake and face an almighty amount of backlash. Where FIFA 21 is concerned, there's no shortage of goalkeeper wonderkids who haven't been put off by the stresses of the job.
While definitely not the flashiest position on the pitch, a good goalkeeper can be the difference between winning a title and not, from squeaking out a win to leaking goals. The best young goalkeepers in FIFA 21 may not be the smartest picks for elite teams, though you can watch them grow with the right amount of game time and development plan.
Here are the best goalkeeper wonderkids in FIFA 21 that are also among the game's cheapest players for sheer value.
MORE WONDERKIDS: FIFA 21's Best & Cheapest Young Players
Maarten Vandevoordt (GK)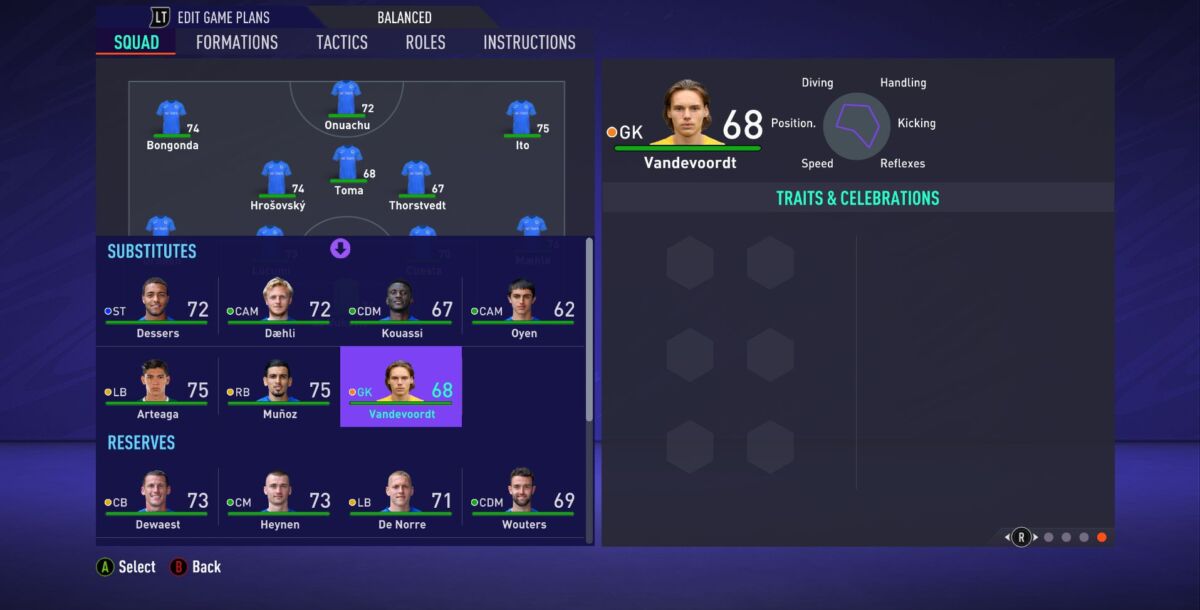 Age: 18
Rating: 68
Potential: 87
Nationality: Belgian
Current Club: KRC Genk
Value: €1.5M
Let's start things off with someone who might be the best young goalkeeper in FIFA 21, as well as potentially a top five goalkeeper in the whole game. Maarten Vandevoordt has huge growth potential that can see him becoming an absolute brick wall between the sticks.
Despite only being 18 at the start of the game, Vandevoordt possesses the right mentality to be a good backup for any top side and he is only going to get better the more he plays and the more he ages. Play him in your cup games and watch his brilliant reflexes and diving see you through most rounds.
Gavin Bazunu (GK)
Age: 18
Rating: 60
Potential: 82
Nationality: Irish
Current Club: Manchester City (on loan at Rochdale)
Value: €400K
While not quite as big a prospect as he was in FIFA 20, Manchester City's Gavin Bazunu still has a very high ability ceiling that should make him one of the better goalkeepers in any league once he hits roughly 25 years old.
With strong jumping stats and some good if not great overall goalkeeping attributes, Bazunu may be best served keeping on loan at Rochdale where he begins in a new Career save so he can develop a bit more. Snap him up the next season and then try him out as a cup keeper — he will likely be able to make the step up.
Lucas Chevalier (GK)
Age: 18
Rating: 61
Potential: 83
Nationality: French
Current Club: Lille
Value: €475K
If we're speaking truthfully, Lucas Chevalier just does not start off as a very good goalkeeper at all. He barely has 60+ attributes for goalkeeping and might be quite the risk if you want to play him in cup games.
However, by activating his €1.4M release clause and then putting him on a development plan that makes the most of his reflexes while working on his positioning, you may have a cheap gem on your hands. Chevalier will definitely benefit from a loan move to a lower league team, after which he will do a job at most bottom half clubs.
Iván Martínez (GK)
Age: 18
Rating: 60
Potential: 81
Nationality: Spanish
Current Club: Osasuna
Value: €475K
A name that Football Manager fans will be familiar with, Osasuna's Iván Martínez has a growing reputation within his native Spain. Despite not being the tallest goalkeeper in the world, his strong diving and reflexes attributes put him in the Iker Casillas school of goalkeeping.
Martínez is also comfortable on the ball as well, which is becoming more and more important in football in general. Give him a development plan to make the most of his distribution and watch him flourish. Will be a standout for any team outside of the elite by the age of 23. Also has the Long Throw trait to start attacks off quickly.
Nico Mantl (GK)
Age: 20
Rating: 69
Potential: 83
Nationality: German
Current Club: SpVgg Unterhaching (Haching)
Value: €2M
Nico Mantl is too much of a goalkeeper wonderkid to be playing in the third tier of German football for much longer. With goalkeeping attributes all at 60+ and him also being a bit of a giant at 6'4″, he seems a player destined to reach the very top of Bundesliga or another top league.
With strong reflexes and handling, the only concern for Mantl is that his distribution needs a little bit of work before he can really become a no.1 goalkeeper for any big team. Stick him on a development plan or send him out on loan after signing him for as little as €4.2M.
Filip Jörgensen (GK)
Age: 18
Rating: 62
Potential: 82
Nationality: Swedish
Current Club: Villarreal
Value: €525K
With a potential growth of 20 points, Filip Jörgensen is a goalkeeper who you could certainly call a diamond in the rough in FIFA 21. A natural fit at 6'2″, he has some great kicking and handling stats at just 18 that make him a potential sweeper keeper star in the making.
However, he is not the finished article, which you can tell by looking at his weak reactions and positioning attributes. Stick him on the sweeper keeper development plan to make the most of his strongest asset and the rest of his attributes should follow with age and experience.
FIFA 21 is available now for PC, PS4, and Xbox One. A Legacy Edition is also available for Switch.
Some of the coverage you find on Cultured Vultures contains affiliate links, which provide us with small commissions based on purchases made from visiting our site. We cover gaming news, movie reviews, wrestling and much more.