Another year, another FIFA/PES rivalry. FIFA always outsells PES. Everybody thinks PES is the Jose Mourinho of football games; yesterday's man, gone the way of the 4-4-2 and orange slices at half-time. Well suffice to say, that not only is eFootball PES 2020 really, really great this year, it could genuinely be in contention for a shot at the football game championship (even if the eFootball bit of the title doesn't do it any favours).
As with any football game, it's all about the mechanics and, of course, for what feels like the nth year in a row, Konami have somehow created an as-close-as-damn-it football sim you'll ever play. PES 2020 is like a BT Sport live game brought through your console. The fluidity of passing and moving feels natural and easy (if you have the right team to undertake such liquid football). Poorer teams won't be able to be as quick, but with the wealth of in-game management that has become a staple of PES for years now, even the Prestons of this world can hold up against the Juventus' and Real's, if managed correctly.
The close-to-reality factor continues with players not only feeling like their real-life counterparts in terms of passing and moving, but new ball control animations have also been added this year to really give you that "real" feel. The satisfaction you will experience with a Paul Pogba or Mbappé pass, controlled with a flicked out leg from a 40-yard cross-field ball, is genuinely endless. Couple this with in-game replays showing these animations in slo-mo with the scoreboard still on screen and you've got yourself a playable live-broadcast in your living room in HD.
Elsewhere, tackling and jostling for possession looks hard, and is hard, but feels earned when it comes off. So breaking down a swift-counter-attack from your opponent is weighty and deserved when timed right. Conversely, breaks on the counter, whether with Leicester-under-Ranieri-style 3 passes to goal, or with Barca-esque tika-taka play, scoring goals still feels fantastic, especially from the end of a great move. Shooting 1-on-1 is still a little hit and miss if you're not well versed in PES, but becomes uniform with practice.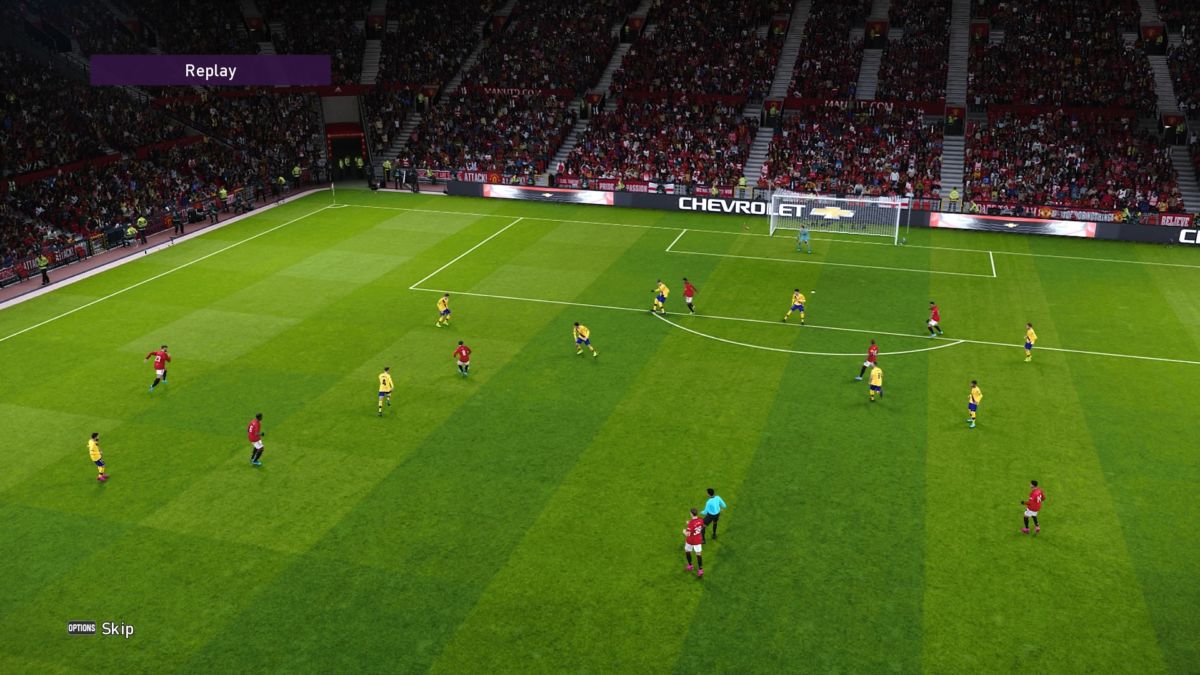 It's not just on the field though where PES needs to take the fight to FIFA. Off the field is where PES has plenty in its arsenal, too. Alongside your leagues and cups, and the ever-present Become A Legend, is the newly improved Master League. Yes, the old life-sapper is back and better than ever. Controlling a club is just as demanding and gratifying as it always has been, but with added extras, such as real-life manager avatars being added (including Zico, Johann Cruyff and Maradonna), as well as interactions that determine the fate of your club's stature. Playing youth players or fan-favourites at certain points are just a couple of examples where your virtual fan-base can help your Master League team grow from strength to strength.
eFootball PES 2020 Microtransactions
eFootball PES 2020 has myClub coins, which can be put towards player purchases in myClub: a competitive online mode where players build their own squads.
Prices for myClub coins range from 79p/99c for 100 to £79.99$99.99 for 12000.
MyClub is also back. The runaway success of PES's build-your-own online club means that, even with microtransactions, this is still an all-consuming part of your playing time if you want to take your club-building skills online. Not much has really changed bar that it's had a new coat of paint, and new players who perform well on international duty will be available as Featured Players now. Not a huge leap forward you could fairly argue, yet when you've had the success that Konami have had with MyClub, it's no surprise they've gone with the "if it ain't broke" formula.
Something that is still broken and is what harms PES overall is the lack of the top-tier licenses (Premier League, essentially). There are plenty of licensed clubs available, from France's Ligue 1 to Italy's Serie A, however, only Arsenal and Manchester United feature from the biggest league in the world. It's hard to see how Konami could ever get a hold of the license for the Premier League, what with it being FIFA's ace in the hole, yet ultimately is what could hold it back theoretically. At least this year they've finally had the sense to name teams simply where they are from, just sans the FC or United at the end. So Merseyside Blue have now become Everton B, for example.
However, to combat the lack of licenses, Konami have made the edit mode as detailed and as simple to use as they ever have, going as far as including a guide within the game of how to import a team from an option file. With not too much digging online (with some already available at the time of writing), players can easily find some saint from the internet who has knocked up the official kits for all the unlicensed teams, and put them out there on the word wide web for the world to enjoy. Yes, it's a little time consuming, but once complete, it really adds to the authenticity and overall feel, like you have a perfect football game on your hands.
Speaking of authenticity, the joy of rivalry could become PES 2020's biggest USP with the new Matchday mode. This is where the eFootball title comes from, incidentally. Essentially, players will join a side with fellow online players. They then play matches to earn points to eventually earn the right to play in the "Grand Final", where nominated players from each team play to win prizes (what these are is unclear as it has yet to launch at the time of writing). These Grand Finals will also be live-streamed via Matchday mode in-game. Who knows whether this will work, but it's certainly unique for a football game.
One area where Konami are also unique, albeit for the wrong reasons, though, is in the commentary stakes. Peter Drury and Jim Beglin are as dull as ever and with the cardinal sin of some lines of commentary seemingly being reused from PES 2019, is outright lazy and disappointing. It's not a death blow, but it certainly feels like an area that is dire need of an overhaul. Playing FIFA feels like watching a Sky Sports broadcast. PES should be like watching BT Sport by comparison, whereas it feels more like Channel 5 sometimes.
One thing that has been overhauled though is the general presentation of the game. PES 2020 has certainly tried, and mostly succeeded, in giving the UI a facelift from the highly criticised PES 2019. Menus look better than they have in years, while still being simple to navigate. The main menu is accompanied with giant images of Lionel Messi and Miralem Pjanic, as well as legendary players such as Scott McTominay over the game modes. It's only a little detail, but it's these details that smarten up the game overall.
Graphics are at an all-time high as well. Players look scarily similar to their real-life equivalents and stadia have been reconstructed with great attention to detail. Old Trafford looks as stunning as the real deal. The Allianz Arena looks as red and intimidating as the Munich faithful could ever wish for. It's already been mentioned but bears repeating, it is like playing a live broadcast in certain games.
PES 2020 is a fast, fluid football sim that has a lot to offer the player in its many game modes, whether offline or on. Master League looks once again ready to take over the lives of the management obsessives, while MyClub is set to continue to be the online force from last season. Couple this with the launch of the new Matchday mode, and the PES series is seemingly moving forward and looking confident.
A PS4 code was provided by Konami for the purposes of this review.
Some of the coverage you find on Cultured Vultures contains affiliate links, which provide us with small commissions based on purchases made from visiting our site. We cover gaming news, movie reviews, wrestling and much more.

Verdict
PES 2020 is as good as it ever has been. Although the lack of licenses and dire commentary might put some off, the easier than ever to use edit mode means these ills shouldn't be a problem to fix. eFootball PES 2020 is a near-perfect football sim that deserves your attention.