Riot Fest is a weekend-long music festival that first got started in Chicago, and has since expanded to also reach Denver and Toronto. Initially focusing on punk, metal and rock music, 2015 is the first year they've adjusted their lineups to also appeal to hip-hop fans (such as myself).
This year's Toronto edition of the festival would have four stages and a carnival set up in Downsview Park, with performances happening over two days. The main headliners of the festival were still rock-oriented, as Alexsisonfire reunited to headline Day 1, The Prodigy would headline Day 2, and Weezer would perform their debut and sophomore albums on each of the respective days. Day 2, however, would conveniently have all of the hip-hop acts perform on one of the four stages, and would include Yelawolf, Tyler The Creator, Atmosphere, and The Wu-Tang Clan.
Downsview Park can be extremely muddy when it rains, but luckily Day 2 was all sunshine and clear skies, and the mud was limited to the main entrance area. The stages were set up in pairs; the Roots Stage and Riot Stage were side by side, and bands would hit one stage immediately after the previous band wrapped up on the other. The Radicals Stage and Rock Stage were both at the other end of the park, and a carnival including a ferris wheel and other rides was between the two areas. Ironically, the Rock Stage was host to all of the hip-hop acts on Day 2, and so I made my way there after scoping out the area.
The fans at the festival were diverse, as there were plenty of punk-rockers seen, but also lots of Wu-Tang clothing identifying the hip-hop heads, and even some masks and costumes. A few parents could also be seen bringing their children for the rides while they also got to enjoy some live music. There were lots of food options with various food trucks scattered throughout the festival grounds, although food and drinks were expensive. The bars operated by having you line up to purchase either regular or premium tokens, and then lining up again to use the tokens to purchase drinks. While I expected this setup to be time consuming, the lines surprisingly moved quickly.
By the time I got to the Rock Stage, Yelawolf should have already began his set, however he ended up having trouble crossing the Canadian border and couldn't make it to the show. Instead, the previous performers, Doomtree, were still on stage when I got to the area. I had never heard of them before, but they rocked out with some dope raps over EDM beats as I got a burrito and beer, and they wrapped up their set before I finished my lunch.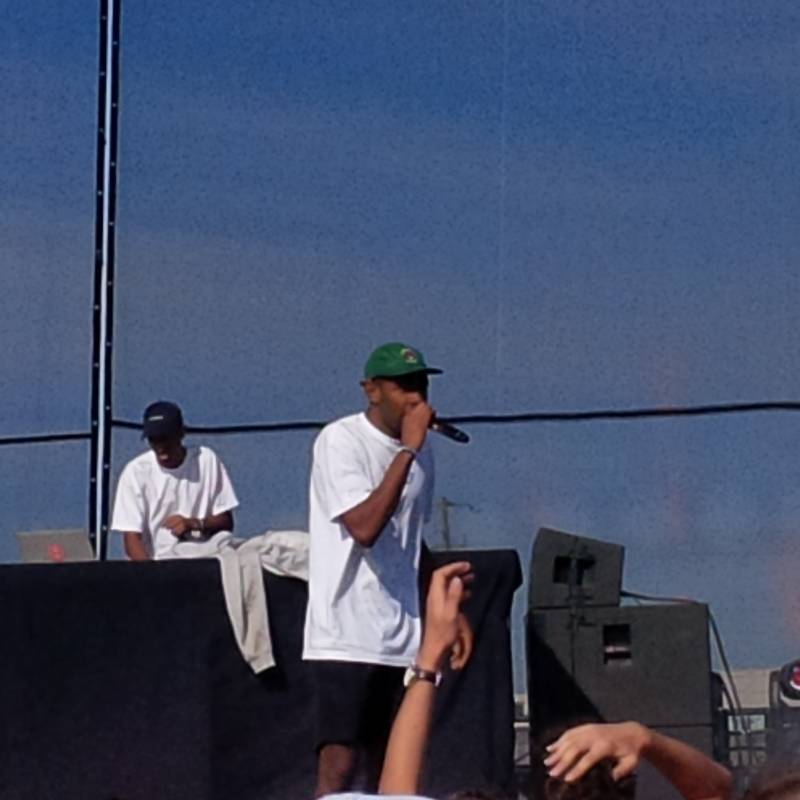 I made my way into the crowd as the area filled up with young Odd Future fans waiting to see Tyler, The Creator, and Taco came out to set up his DJ equipment a few minutes ahead of schedule. Tyler came out shortly with his hypeman Jasper, and they immediately got into the first song off his latest album, Cherry Bomb. The crowd didn't give enough energy at first, and so Tyler restarted "Deathcamp" after telling everyone to put away their phones and to jump when the beat kicks in. From then on, the party was wild, as mosh pits broke out, crowd surfers flew over the crowd, and beach balls were tossed around.
Tyler kept the energy high with songs off of his three most recent albums, including "Tron Cat," "Run," and "Jamba." The bass was so loud during his performance that you could feel the ground shake, especially for high-energy songs like "Domo23″. Tyler at one point tried an experiment where he asked the crowd to kneel down low, unsure if they'd play along. Eventually everyone got down, and Tyler performed "The Brown Stains of Darkese Latifah Part 6-12 (Remix)," successfully getting everyone to jump up only when the beat got energized halfway through the first verse. They continued with the more mellow "48," as a young lady went completely topless and crowd surfed, causing Tyler to comment on his fears of having a daughter one day. After proving to be a great performer by engaging the crowd in fun, unique ways, Tyler wrapped up his set with "Tamale" and ironically apologised for the "shitty performance" (according to Twitter it seems he was actually upset about a production issue).
There was a bit of a break before an Atmosphere banner was placed on stage and the group came out to rock the crowd. It was my first time seeing Atmosphere perform, as I'm not all too familiar with their music other than their 2008 and 2014 albums. They started their set off with "Puppets", although Slug's stylistically soft vocal delivery couldn't be heard that well. The soundman eventually turned up Slug's microphone, as he got the crowd to wave their peace signs in the air and rocked some head-nodders. Despite the very laid-back, relaxing feel to Atmosphere's music in general, a mosh pit still broke out on one side of me, and on the other side there was a fight that security had to break up. Slug actually stopped the show to get the guys to stop fighting, and continued with the good vibes once they were separated.
The crowd all participated in waving their hands to songs like "Kanye West", "Shoulda Known" and "Fuck You Lucy", while mellowing out to the more calm "Yesterday". Towards the end of Atmosphere's set, Slug got everyone in the crowd to hold hands and yell "we did it!" before celebrating the 20th anniversary of the record label they founded, Rhymesayers Entertainment, with a 20-year-old song called "God's Bathroom Floor". Soon after Atmosphere wrapped up their set and left the stage, the crowd started early with their "Wu-Tang!" chants.
The smell of weed filled the air and empty cans of beer were being crushed into the sand as a live band set up their instruments to perform with DJ Mathematics, and a banner for Wu-Tang's most recent album, 2014's A Better Tomorrow was raised behind the stage. It turned out that producer Adrian Younge would join Wu-Tang on stage with his band, which included drums, piano, saxophones and guitars, making for a unique performance. Those in the know would recognize that Adrian has collaborated with Wu-Tang's Ghostface Killah on two albums, including his most recent Twelve Reasons To Die II. There was speculation amongst the crowd as to whether all nine members of the Clan made it to the show, and which ones would be absent. The last time they were in Toronto (at The Kool Haus in 2013), RZA, Masta Killa and Cappadonna weren't there to perform, and Cappadonna, GZA and Ghostface Killah have each performed at least twice in Toronto within the past twelve months.
Pretty soon the band started playing the intro to "Clan In Da Front" and RZA came out to start the "Wu-Tang Killa Bees, we on the swarm!" chant. U-God then came out to start "Da Mystery Of Chessboxin'", and GZA joined them on stage in the middle of U-God's verse. Inspectah Deck came out to rock his verse, although Raekwon was absent and had his verse filled in by GZA. They let the crowd perform the late Ol' Dirty Bastard's verse, and to everyone's surprise, rather than ending the song there as usual, Masta Killa came out to perform his iconic final verse of the song. It was clear at this point that three of The Wu-Tang Clan's most well-known members were absent for this performance: Raekwon, Ghostface Killah and Method Man.
Wu-Tang Clan and Adrian Younge's band continued with several classics off of the iconic Enter The Wu-Tang (36 Chambers) album, including "Shame On A Nigga", "Clan In Da Front", "Wu-Tang Clan Ain't Nuthin' Ta Fuck Wit", "Protect Ya Neck", and "Method Man". Sometimes they would rap parts of songs for members who were absent, and sometimes they would cut the songs short. The crowd was still loving the performance either way, as everyone was jumping, waving their hands, shouting the lyrics, crowd surfing and even getting into mosh pits. They teased the beginning of "Bring Da Ruckus" before RZA performed "Tearz," U-God performed "Dat's Gangsta", Inspectah Deck performed "C.R.E.A.M.", and GZA performed "Liquid Swords".
Next was a freestyle segment where they did a back-and-forth chant with the crowd, shouting "hip-hop don't stop" between verses by U-God, Inspectah Deck and RZA. They then gave DJ Mathematics some shine, as he did some scratching on his turntables while spinning himself. Many fans had their phones out and so it was hard to see what was going on at this point. RZA mentioned that GZA's Liquid Swords album was a big hit in Canada when it came out in 1995, and so he got the crowd to pump their fists as GZA, Masta Killa and Inspectah Deck performed their verses on "Duel of the Iron Mic", and got everyone jumping to the beat as he and GZA performed "4th Chamber". RZA even popped a bottle of champagne and sprayed it all over the crowd during Inspectah Deck's standout verse on "Duel of the Iron Mic".
Similar to the last time they performed in Toronto, they did a cover of The Beatles' "Come Together" (this time sounding better with a live band) before getting into a couple Wu-Tang Forever hits with "Reunited" and "For Heavens Sake". Masta Killa got to perform a solo track with "One Blood Under W" before they got into a segment where they pay tribute to the late Ol' Dirty Bastard. One of ODB's sons came out to perform some of his father's songs, although he let the crowd do most of the rapping. The crowd vibed well as they all sang along to "Shimmy Shimmy Ya", and moshed extra hard during "Brooklyn Zoo". After one last ODB track with "Got Your Money", Adrian Younge's band was really put to good use as they performed an A Better Tomorrow track with "Miracle". The singer featured on the song was there to sing the hook, as Inspectah Deck and Masta Killa nailed their verses, ODB's son did a freestyle on the third verse in place of the absent Ghostface Killah, and the band rocked out with the epic ending to the song.
Wu-Tang did a couple more classics with "Triumph" and "Gravel Pit" before saying peace to the crowd. The show wasn't over yet though, as Inspectah Deck and Masta Killa spit some freestyle verses while RZA confirmed with management that they could perform for a few extra minutes. They performed "Crushed Egos" off of A Better Tomorrow, with RZA nailing his verse and ODB's son doing another freestyle in place of Raekwon's verse, and then they got into a rare favourite of mine off Wu-Tang Forever, "Severe Punishment". While U-God nailed his verse on the song, GZA didn't even attempt to spit his verse and they cut it short early (I imagine it's been several years since they performed this rare album cut). The band and Wu-Tang all left the stage, but the crowd had a strong encore chant going. While The Prodigy was still performing out on the Riot Stage, Wu-Tang Clan were the real headliners for the hip-hop fans, and so most of the fans chanted long enough to at least get U-God to come back out and thank the fans with a free t-shirt and the concert setlist for a couple lucky ones.
As the main headliners, The Prodigy were still performing on the main stage, but many fans including myself left the festival after Wu-Tang's set. The parking lot had a traffic jam on the way out, and some even drove underneath the ropes separating the lawn from the street to get out.
Despite skipping the headliner to leave early,  Riot Fest turned out to be a very fun event with a diverse crowd uniting for a good time. The Rock Stage had some really energetic fans, with crowdsurfing and moshing done both safely and dangerously (tip: don't crowd surf forward towards the stage because people won't see you coming from behind, instead surf side-to-side or backwards). While Downsview Park was still muddy, it wasn't nearly as bad as previous times I've been there. With (most of) The Wu-Tang Clan reuniting and performing with Adrian Younge's band as the main highlight, Riot Fest was a fun time overall, although such a large event will of course have different experiences for those who visited different stages.
Some of the coverage you find on Cultured Vultures contains affiliate links, which provide us with small commissions based on purchases made from visiting our site. We cover gaming news, movie reviews, wrestling and much more.