There's already been a brilliant selection of games that have launched on the Xbox One and Xbox Series X & S over the past two years. Whether they've been racing games, first person shooters, strategy titles or bone-chilling horror, the Xbox family of consoles already boasts a huge library of games to choose from, but if you're looking to build your own personal collection, there's even more games looming on the horizon for you.
With that in mind, we're listing off the biggest new Xbox games of 2023 and beyond that you should be excited about. Due to the ever changing nature of release dates, we'll be keeping this list updated throughout the year with new games and release dates. Here are the biggest new Xbox games of 2023 and beyond that you should be keeping an eye out for.
New Xbox Games 2023
Dead Space | January 27th, 2023
Developer: Motive Studio
Publisher: EA
Isaac Clarke's horrible adventure through the bowels of the USG Ishimura has become an iconic part of the history of horror gaming, so it's not surprising that EA have decided to remake the classic that is Dead Space. With Motive Studio handling the responsibility of the remake, this new version has some big shoes to fill, but the chance to re-experience the grim nightmares of the Ishimura once again is definitely an exciting one.
Dead Space sees engineer Isaac Clarke responding to a distress signal on the USG Ishimura, the mining ship where his girlfriend also works. Unfortunately, the crew of the Ishimura have made a terrifying discovery, and when Issac finally arrives, he finds nearly all of the crew have been transformed into deadly Necromorphs. With monsters running amok, Issac will need to use his wits and his engineering tools in order to survive.
Like A Dragon: Ishin! | February 21st, 2023
Developer: Ryu Ga Gotoku Studio
Publisher: SEGA
Yakuza, or Like A Dragon fans considering that the series has been rebranded, have been waiting years for Ryu Ga Gotoku Studio to at least port Ishin!, the samurai spin-off that was previously only available in Japan. RGG Studio decided to go above and beyond however, as they've fully remade the whole game in a brand new engine, while throwing in some actors and familiar faces you might recognise from more recent releases.
Loosely based on real events in Japanese history and folklore, Like A Dragon: Ishin! sees players controlling Sakamoto Ryoma, a legendary samurai who travels to 19th century Kyo in an attempt to find his father's killer. Along the way, he'll have to clear his own name for a whole other murder, and ultimately will bring about the end of the samurai era in Japan as a whole. Considering Like A Dragon has only started coming to the Xbox in the past few years, it's still a little strange to see Ishin be considered one of the biggest new Xbox games of 2023, but it absolutely deserves it.
Street Fighter 6 | June 2nd, 2023
Developer: Capcom
Publisher: Capcom
Aside from maybe Tekken 8, Street Fighter 6 is the most anticipated fighting game of 2023, and considering the fact that the previous release skipped the Xbox family of consoles entirely, it marks the first time in years that Xbox players have been able to enjoy a new Street Fighter release. Playing classics like SF2, Third Strike and the Alpha series as part of various retro collections is all well and good, but it's good to have something new too.
While a new Street Fighter game on Xbox probably would have been successful no matter what, Capcom have certainly gone all out when it comes to Street Fighter 6. There's the new characters, a full single-player campaign that sees players creating their own character and exploring the world of Street Fighter, and an overhauled lobby system that promotes socialisation alongside competition. All in all, this could be a real game of the year contender.
Forza Motorsport | TBC 2023
Developer: Turn 10 Studios
Publisher: Xbox Game Studios
It's been a while since the last proper Forza Motorsport game, with Playground Games releasing two Forza Horizon games since the last Motorsport title. Thankfully, Turn 10 is coming back with a brand new Forza Motorsport game that looks to revolutionise cars going fast around tracks. It's not going to have the same sense of fun as the Horizon series, but for simulation diehards, this'll be unmissable.
While the exact details of Forza Motorsport remain unclear, including how many cars and tracks are available, players will still be working their way through a career mode where they amass cars, travel around the world, and even put silly designs on the sides. You can then take those cars online to compete against players the world over, showcasing those ridiculous vinyl art pieces to everyone in the lobby.
Redfall | TBC 2023
Developer: Arkane
Publisher: Bethesda
Don't you just hate it when your sleepy little suburb becomes overrun with vampires, and most of the population has just decided to work alongside them, leaving you and just a couple of other like-minded survivors to form a resistance movement against? No? It happens all the time in the town Redfall, and you'll be able to experience it for yourself when Redfall comes to the Xbox in 2023.
A co-op shooter from Arkane, Redfall sees players picking from one of four unique characters, each with their own powers and abilities, and taking the fight to the vampires and cultists that have begun to worship them. Of course, you could go solo and take out all of the vampires yourself, but considering Redfall launches day one on Xbox Game Pass, it shouldn't be too difficult to find people who'd want to play one of the biggest new Xbox games of 2023 with you.
S.T.A.L.K.E.R. 2: Heart of Chornobyl | TBC 2023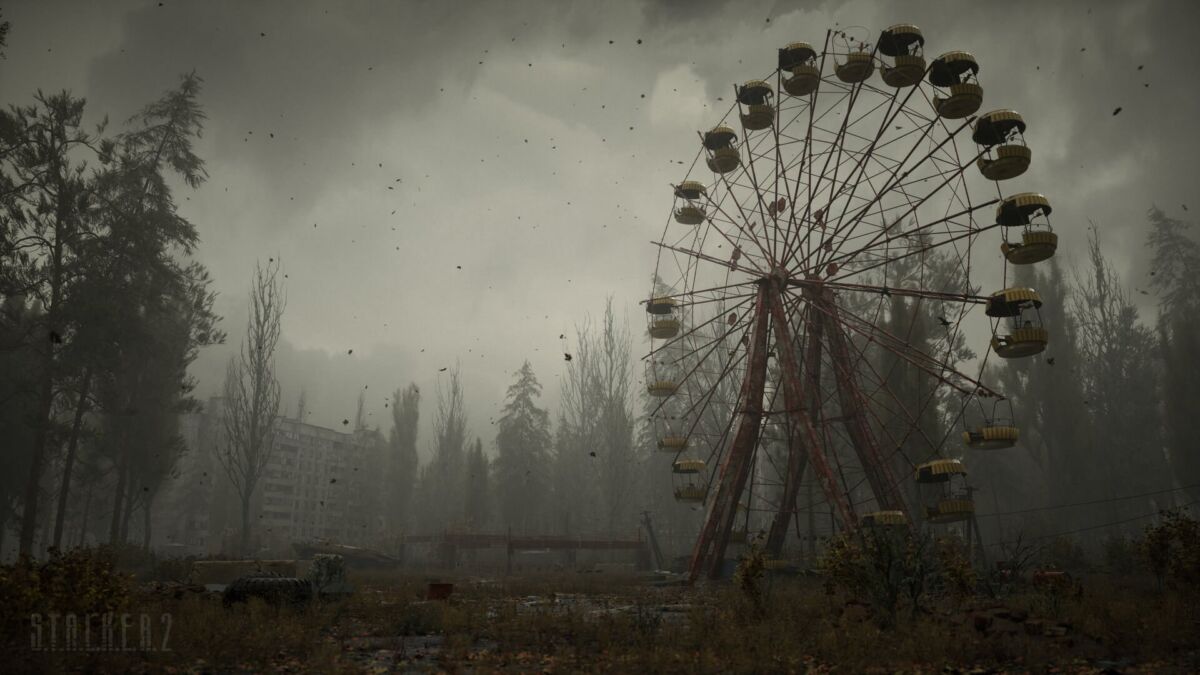 Developer: GSC Game World
Publisher: GSC Game World
A victim of the ongoing war in the Ukraine, S.T.A.L.K.E.R. 2: Heart of Chornobyl was originally pencilled for a December 2022 release date until the war kicked off, forcing the developers to push the game's release back to 2023. As a Stalker, you'll find yourself in the center of a nightmarish landscape, as Chornobyl was the site of a second nuclear event that made things just that little bit more strange.
Between the monstrous creatures and the rogue factions looking to control everything, you'll have to navigate through a dangerous world filled with rogue anomalies in order to find some powerful artifacts. Your choice of which factions to ally with and what missions you undertake will have a huge impact on your fate by the end of the game, making S.T.A.L.K.E.R. 2 one of the biggest new Xbox games of 2023.
Starfield | TBC 2023
Developer: Bethesda
Publisher: Bethesda
Bethesda's upcoming space epic probably takes the cake when it comes to which Xbox game is the most anticipated, and there's a very good reason for that. While they're often bereft with glitches, Bethesda's open world RPGs are usually incredibly absorbing, as you find yourself sinking dozens of hours into killing monsters, finding loot and building your character. It worked for The Elder Scrolls, it worked for Fallout, and it'll probably work for Starfield too.
A brand new IP from the American developer, Starfield takes the open world RPG action to the final frontier, with players being given the freedom to explore hundreds of planets filled with quests and discoverables. The actual story and content of the game is still under wraps somewhat, but Bethesda have promised you can customise your ship with over hundreds of parts, which looks delightful.
Avowed | TBC
Developer: Obsidian
Publisher: Xbox Game Studios
Bethesda aren't the only RPG juggernaut under the Xbox umbrella, as Obsidian have been working on a wide range of RPGs for decades now. While you might remember Obsidian as the developers behind Fallout: New Vegas, they've been making waves in the fantasy genre with their work on Pillars of Eternity. Now, they're working on a first person RPG set in the same world, called Avowed.
Not much is known right now about Avowed, other than the fact it'll share worlds with Pillars of Eternity, but if it manages to launch before The Elder Scrolls VI gets a release date, it'll make for a brilliant distraction from booting up Skyrim for the hundredth time. As a new-ish IP, it'll be interesting to see how Avowed stacks up compared to other big name RPGs, but there's no denying it's one of the biggest new Xbox games of 2023 and beyond. Probably beyond.
Everwild | TBC
Developer: Rare
Publisher: Xbox Game Studios
If we were ranking these games based on how much of an enigma they are, Everwild would take the top spot by a wide margin. A brand new IP from Rare, Everwild looks to be unlike anything else Xbox is offering at the minute, but with no confirmed release date and very little in the way of gameplay details, it's hard to actually describe what Everwild actually is.
The official Xbox page promises "unique and unforgettable experiences in a natural and magical world", which is pretty vague in fairness, but reports have emerged since the game's official reveal that development has been restarted, with Rare aiming for a 2024 release date. Hopefully, we'll hear more soon about what Everwild has to offer, with some new gameplay or even a release date.
Fable | TBC
Developer: Playground Games
Publisher: Xbox Game Studios
Fans have been waiting patiently for years when it comes to more news about the upcoming Fable reboot. After the initial cinematic trailer in 2020, and the announcement that Forza Horizon devs Playground Games would be working on the game, news pretty much fell silent, and it's been like that ever since. Aside from some posts on Twitter from new hires, we've heard little about what the game will offer.
Despite this clear lack of information, there's still plenty to be excited about when it comes to the prospect of a new Fable, as players will more than likely be able to create their own character and explore a world that's filled with characters that inexplicably sound like UK comedians. That's if Fable 2 and 3 are anything to go by, anyway. Fable is a series with baggage, but Playground has the opportunity to forge a bright new future for the franchise. Hopefully, they'll stick the landing.
Perfect Dark | TBC
Developer: The Initiative, Crystal Dynamics
Publisher: Xbox Game Studios
After the success of Goldeneye on the N64, many were excited to see what Rare had up their sleeves next, and they sure didn't disappoint. The debut of Perfect Dark was just as good, if not better than Goldeneye, depending on who you ask, and quite frankly, the Perfect Dark series hasn't been able to match that level of success since. Sure, there haven't been that many Perfect Dark games at all, but the ones that were released didn't meet the same standard.
The Initiative have a golden opportunity on their hands with their Perfect Dark reboot, which will once again see players controlling Joanna Dark as she (presumably) travels around the globe thwarting evil spies and the like. Not much is known about this impending reboot, which still appears to be a long way off, but if it manages to live up to the legacy of the Perfect Dark, it'll be one for the ages.
Senua's Saga: Hellblade 2 | TBC
Developer: Ninja Theory
Publisher: Xbox Game Studios
Senua's debut game, Hellblade: Senua's Sacrifice, was a complete surprise and revelation when it launched initially in 2017, giving players an innovative and unique approach on Norse mythology while also giving a genuine spotlight to themes surrounding mental health, psychosis and grief. Playing the original game with headphones is still an utterly incredible and wholly original experience, and hopefully the sequel will improve on the foundations even more.
Senua's Saga: Hellblade 2 will continue Senua's journey, after she spent the original game venturing into the realms of Helheim in order to rescue her lost love, though quite where this second game will go remains to be seen. Considering the fact that it'll be powered by the Xbox Series X & S though, and the graphics on the original game were already incredible, Hellblade 2 might just be a gamechanger.
State of Decay 3 | TBC
Developer: Undead Labs
Publisher: Xbox Game Studios
State of Decay, Undead Labs' take on zombie survival, arguably puts more focus than other games on the actual community building aspect. Instead of being a one person wrecking crew, mowing down zombies left and right, State of Decay encourages players to foster a community of characters, each with their own skills and abilities, and use them in collaboration to survive against all odds.
State of Decay 3 looks to be the next step in that evolution, with players once again doing everything they can to eke out an existence for themselves in the post apocalyptic landscape of zombified America. From the reveal trailer, it looks like State of Decay 3 is swapping the usual summer in the Midwest settings from previous games for a harsh winter, which should make surviving just that little bit more difficult.
The Elder Scrolls VI | TBC
Developer: Bethesda
Publisher: Bethesda
We've already talked about the popularity of Bethesda RPGs, and while Fallout might be well-loved and Starfield could be even more loved, there's simply none bigger than The Elder Scrolls series. For fans of fantasy RPGs, The Elder Scrolls series sits at the pinnacle of the entire genre, and there's every chance that the upcoming Elder Scrolls VI will be the best one in the series yet.
Considering that The Elder Scrolls VI is still quite a long way away, there's still much about the game to be learned that'll make the wait more exciting, but we imagine that the sixth mainline instalment of The Elder Scrolls will build on the excellent foundations established in previous games. If anything, it'll make for a nice change from Skyrim being ported to yet another platform (which I'd inevitably buy).
The Outer Worlds 2 | TBC
Developer: Obsidian
Publisher: Xbox Game Studios
While Obsidian are getting their fantasy kicks with Pillars of Eternity and Avowed, The Outer Worlds was the game for people who wanted Fallout: New Vegas 2 to actually happen. As a colonist just released from stasis, you found yourself on a frontier ruled by a greedy, capitalist society determined to undermine and exploit everyone. Those adventures and hijinks are set to continue with The Outer Worlds 2.
Like most upcoming Xbox games, details are thin on the ground when it comes to The Outer Worlds 2, but the debut trailer for the game does suggest that the sequel will retain that same irreverent and comical tone that made the first game so enjoyable. If you love your action RPGs/shooters with a spot of satire, The Outer Worlds 2 is probably going to be one of the biggest new Xbox games for a long time.
READ MORE: 15 Best Xbox Gifts & Accessories For Christmas 2022
Some of the coverage you find on Cultured Vultures contains affiliate links, which provide us with small commissions based on purchases made from visiting our site. We cover gaming news, movie reviews, wrestling and much more.