Buying gifts for someone who plays games doesn't just mean buying the latest games and calling it a day. There's a host of merch, accessories and additional tat out that there's worth buying and would make for excellent presents come Christmas time. Some are a little bit more expensive than others, as they're designed to enhance the gaming experience, while others are nice little gifts that'll raise a smile. Here's the best Xbox accessories and merch gift ideas for Christmas 2021.
The Best Xbox Accessories & Merch For Christmas
1. Xbox Gift Card
The ideal gift for when you don't know what else to get beyond "something Xbox related", picking up an Xbox Gift Card allows the recipient to decide how best to use the credit contained on the card, whether it's for a new game, some currency for their favourite multiplayer game, or the latest expansion/DLC. It might not be the most specialised gift in the whole world, but it'll be appreciated nonetheless.
2. 3 Months Of Xbox Game Pass Ultimate
Why bother just picking up one or two games for Christmas when you can give someone three months of access to hundreds of games in one go? Such is the power of Xbox Game Pass Ultimate, which includes a games library numbering in the hundreds, lots of free perks and Xbox Game Studios exclusives like Halo Infinite available on day one. On top of that, Ultimate offers subscriptions to EA Play and Xbox Game Pass for PC on top of the console subscription, and Xbox Live Gold so you can play online. It's a brilliant package.
3. Xbox Elite Controller 2
Elite Controllers are certainly high up there when it comes to gaming gifts and accessories, so be prepared to part with a decent amount of cash in order to purchase one. That said, they're typically worth the investment, offering users an enhanced level of customisation over how you play your games. The enhanced weight of the controller, along with the back paddles and adjustable triggers, make the Elite Controller the ultimate controller, with the second version improving even further with better grip and a built-in battery with an excellent lifespan.
4. Xbox Adaptive Controller
A landmark moment when it comes to accessibility and opening gaming up to those who might not have been privileged to experience it in the past, the Xbox Adaptive Controller offers a controller perfect for those with limited mobility. While not a controller in and of itself, the Adaptive Controller serves as a hub that allows those who need it to easily build a custom set-up that works for them. Better still, the Adaptive Controller is supported on both Xbox and PC.
5. Xbox Design Lab Controller
While the Elite Controller and the Adaptive Controller offer greater versatility in how you approach gaming, a Design Lab Controller allows you to look your best while you're doing it. Design Lab allows the user to custom build the controller of their dreams, with various colour palettes and options to choose from. You make your controllers as garish or sleek as you like with this tool, and with the ability to leave writing on the controller, it makes for a great personalised gift.
6. Xbox Wireless Headset
The fact is that, in order to play games in this day and age, you need a decent headset of some kind, thanks to the amount of games that require online modes, and feature multiplayer as a main selling point. The Xbox Wireless Headset is a great mid-level point, better than some of the cheaper options on the market, but missing some extras that the more expensive headsets offer. With Bluetooth connectivity, a comfortable fit and great audio quality, the Xbox Wireless Headset is a great gift.
7. Turtle Beach Elite Pro 2
Leaning a bit more towards the expensive end of the headset spectrum, the Turtle Beach Elite Pro 2 headset has been around for a few years now, which means it's available at a discounted price compared to before, which is great considering its an excellent bit of kit. The headset audio and microphone are stellar, but the MixAmp and Bluetooth connectivity to a phone allow for an amazing level of control regarding your audio experience. Again, it's a bit pricey, but it's worth the money.
8. Astro A50
The option for those who have a lot of money to throw around, the Astro A50's are a remarkable piece of audio equipment that offer a huge amount of control and customisation. The A50's include all the modcons you'd expect from a high-end headset, with the added benefit of the Command Center software, a free download on PC that offers the ability to completely shape how you listen to your games and talk with friends. If they're a little out of your price range, the Astro A40 model offers a similar experience, only without wireless capabilities.
9. Seagate Storage Expansion Card
For Xbox Series X | S owners, you've probably run into the problem of not having enough space. That 1TB for the Series X, which is more like 800GB, runs out quickly under the onslaught of 100GB games that are becoming the norm. While external HDD is an option, they can't run Xbox Series X | S enhancements, which is why the Seagate Storage Expansion Card is a massive help. In short, games installed on the card can run Xbox Series X | S enhanced games, and that's fantastic, even if the cards are a bit expensive.
10. Fortnite Minty Legends Pack
If you're buying for a kid this Christmas, it's highly likely that they're hooked on Fortnite, so why not fund their hobby with a bundle of some kind? The Minty Legends Pack includes a host of new items, including outfits, back blings, pickaxes and a weapon wrap. Oh, and it also includes 1000 V-Bucks, which is probably going to be the highlight of the whole bundle. Even if they don't like the cosmetics, those V-Bucks can be put towards something they do like.
11. Numskull Xbox Christmas Jumper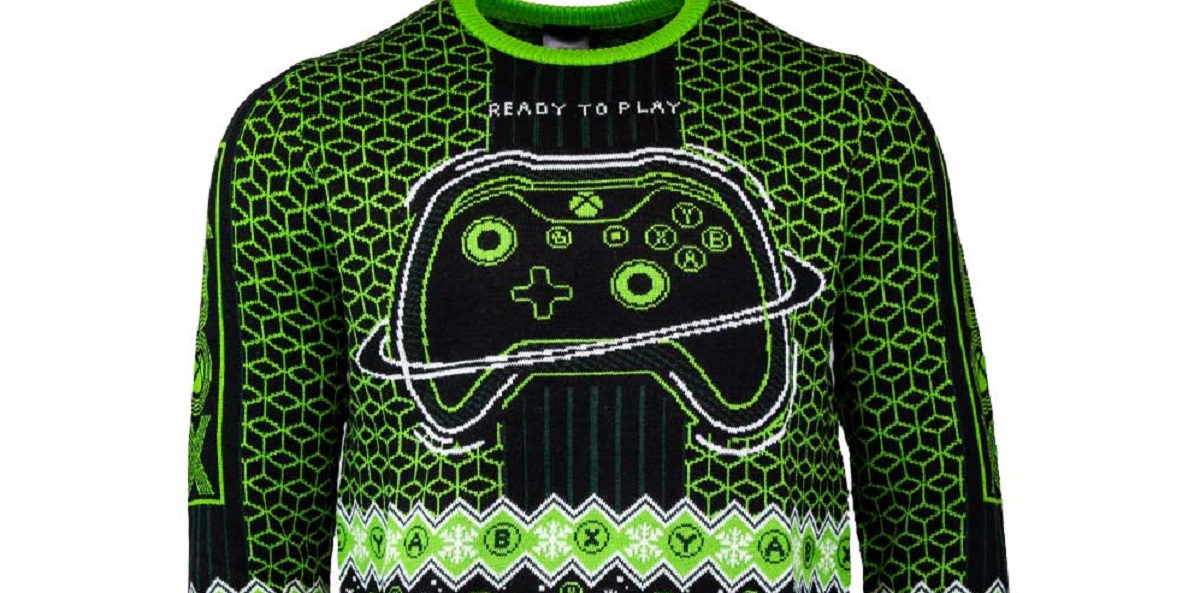 One of the best things about Christmas is the crappy jumpers. Sure, they're a novelty item that costs a lot when you wear them for so little, but they're fun and enjoyable. As you'd expect, there's more than enough Xbox jumpers to choose from, with many of them available to purchase from Numskull. However, the cream of the crop is this "Achievement Unlocked" jumper, because it appeals to the gamerscore gremlin in me.
12. Master Chief Funko Pop
People can rag on Funko Pops for their simplicity and mass produced nature, but the fact remains that they're an easy and affordable gift, and a great way of acknowledging someone's beloved fandoms without breaking the bank. If you're looking to get a Funko Pop for an Xbox gamer in particular, Master Chief is always a safe bet, but there's also figures from the Gears of War series. Unfortunately, you'll have to pay a lot more for a real life Ferrari from Forza Horizon.
13. Xbox PRIDE Range
The Xbox Gear Shop is full of clothing items and accessories that'll allow your chosen gift recipient to flex their brand loyalty as much as possible. There's plenty of great choices on there when it comes to apparel, but if you're looking to buy something for someone you love to showcase their LGBTQIA+ pride, the PRIDE range is a great shout. There's a host of items available, from T-shirts to tote bags, stickers and more, along with options for a variety of Xbox exclusive titles.
14. The Elder Scrolls – The Official Cookbook
Christmas might not be the best time to think about more food, considering you'll probably be filled to the brim with Christmas Turkey and maybe just a little bit of pud, but if you've got an Elder Scrolls fan to buy for who fancies themselves as a whiz in the kitchen, perhaps the official cookbook is the way to go. The book includes a host of recipes to create food that's seen in the series, along with a variety of drink recipes to boot. The Elder Scrolls series is all about adventuring, so why not introduce some of that spirit into your own life through food?
15. Halo Replica Energy Sword
Considering Halo Infinite's campaign launches near Christmas, buying some additional goodies seems like the right thing to do, and given the series' history for iconic and imaginative weapons, why not pick up a replica? There's a few on the market, including a Needler and a NERF Assault Rifle, but the real winner is the Energy Sword. You can keep your lightsabers, the Energy Sword is way cooler, and I will not be taking additional questions at this time.
READ NEXT: 15 Best Xbox Series X | S Games Of 2021