2022 has been a year in professional wrestling, thanks to so many unexpected twists and turns, most notably the sudden retirement of one Vincent Kennedy McMahon and the rise and fall of CM Punk in All Elite Wrestling.
Throughout the discourse and all the controversy lies ten wrestlers that have absolutely nailed performances, exceeded expectations and culminated year-long storylines that have left them at the very top of their game heading into 2023.
Without further ado, here are those ten names that have stood tall as the most talked about and watched wrestlers across the mainstream scene as the best wrestlers of 2022.
10. Sami Zayn
Kicking off our list this year is none other than the 'Honorary Uce' himself, Sami Zayn.
Sami has evolved into one of the brand's top prospects for 2023, with his ongoing storyline with The Bloodline becoming a weekly hot topic amongst the wrestling community. Current rumours suggest that Zayn is set to defy 'The Tribal Chief' at the top of the year, with a potential Undisputed Championship match coming his way in time for his homecoming at Elimination Chamber.
Zayn's masterful performance as the outsider and the oddball have created one of the most endearing characters to come out of Triple H's new WWE. Sami has rightfully earned his new founded top spot and should hopefully score himself a huge WrestleMania moment when they reach Hollywood in April.
9. Rhea Ripley
Over the course of 2022, The Judgement Day faction have seen a fair share of highs and lows. Starting at WrestleMania with Edge and Damian Priest and later morphing into a Finn Balor-led pseudo-Bullet Club, they have slowly found their feet as a dominant group and should hopefully be on their way to success in 2023.
One of the biggest success stories within this year however has been 'The Nightmare' Rhea Ripley. Since aligning with then-leader Edge at Money in the Bank, Ripley has developed a whole new confidence within the ring. Fans are enamoured with her domineering attitude and her monstrous presence in matches.
Rhea almost took the seat of being the Judgement Day's defacto leader for a while, in between the transition from Edge to Balor. Ripley's charisma and general demeanor helped boost the group's credibility and saved them from falling into obscurity in the midst of a lot of change. Plus, if it weren't for Rhea, it's likely that Dominik Mysterio's turn wouldn't have been quite as effective, so 'The Prince' has a lot to thank Rhea Ripley for in terms of his group's future prospects.
8. Becky Lynch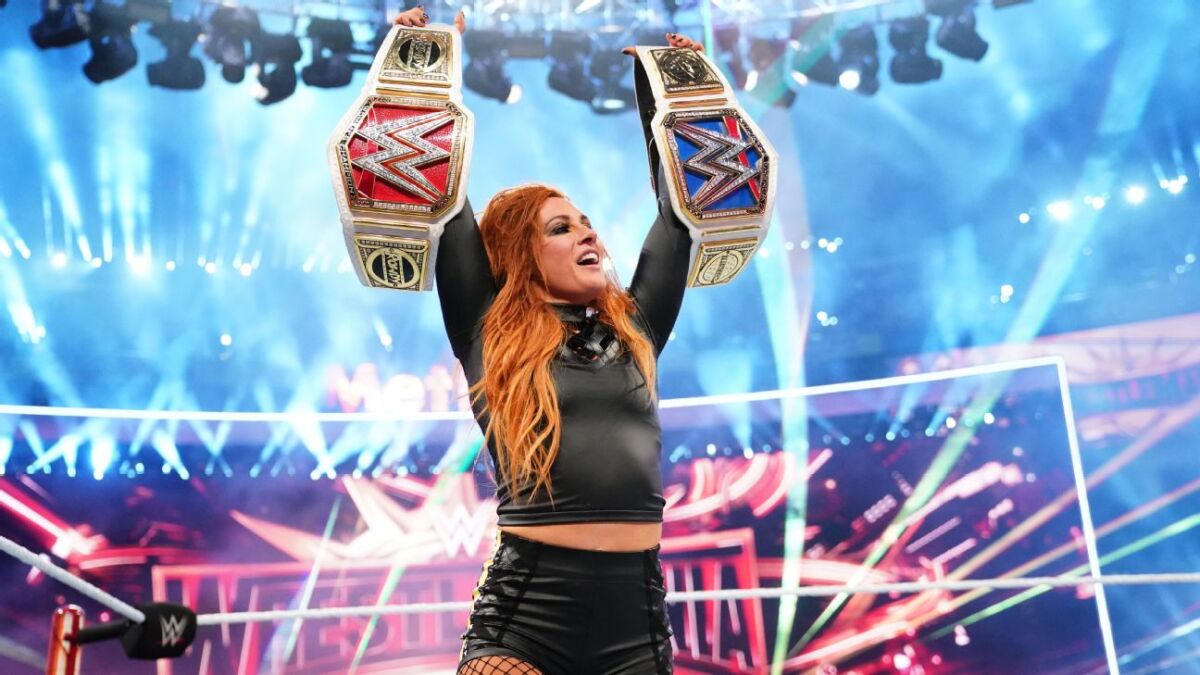 If 2022 proved anything, it's that 'The Man' is here to stay. Becky Lynch has been coming and going since making her official return at SummerSlam last year, where she began her longstanding feud with Bianca Belair. 2022 saw that feud take centre-stage in the women's division, and the two absolutely delivered on several occasions.
Becky Lynch is without a doubt a megastar of the modern industry and her name alone has more than enough weight to sell a match. Just consider the most recent WarGames match, where Becky was announced as the final entrant at the very last minute (a day prior to the event) and suddenly changed the entire vibe of that event.
Becky may not have been seated at the champion's table for the best part of the year, but I don't think there'd be a single fan who'd deny that she's been a staple of WWE programming whenever she's been active.
7. Sheamus
Banger after banger.
'The Celtic Warrior' has undergone a career resurgence in the latter half of 2022. A well-earned run as one of WWE's top midcard stars, as well as a potential main-eventer in the coming months, Sheamus has absolutely killed every opportunity he and his Brawling Brute tandem have been offered.
Culminating with an instant classic against Gunther at WWE's Clash at the Castle event, Sheamus proved without a shadow of a doubt that he is still has the potential to become the top guy in the company. Surely, this is a Triple H project in the works, but seeing Sheamus pick up the ball and sprint with it has been a pleasure to watch.
Sheamus' WarGames efforts may have been overshadowed slightly by the developing Sami/KO/Roman Reigns dynamics, but nevertheless, this was a huge nod to Sheamus' recent success and hopefully an indication that 2023 is going to be an equally huge year for him and his partners.
6. Dax Harwood
FTR's Dax Harwood may not have been anyone's prediction to be a breakout star of 2022, but here we are at the end of the year looking back on a Hall-of-Fame worthy run from 'The Axe'.
CM Punk, Bryan Danielson, Will Ospreay, Jay Lethal, even his own partner, Harwood has proved to the world that he is not only one of the greatest tag wrestlers of this generation but also a solid singles star. Bringing the old-school style of rough and tough back to the squared circle, Harwood has earned his stripes this year and dare I say he is deserving of a singles championship run in the near future.
This isn't to take anything away from his partner Cash Wheeler, FTR as a duo have been a highlight of 2022. It's just a shame that AEW have developed a reluctancy to book them into a tag title match, despite being top of the rankings board for the majority of the year.
Next year, boys.
5. Cody Rhodes
I'd be remiss to not include 'The American Nightmare' Cody Rhodes, who stunned the world by jumping ship from his own baby back to WWE in time for WrestleMania. Cody returned as a superstar, not just a guy who happened to be seeking out fame and the spotlight. The audience received him with open arms and made him a bigger deal than he ever has been in the wrestling world.
Cody unfortunately had his string of great matches cut short at Hell in a Cell, when he sustained a harsh pectoral injury that kept him out of action for the rest of the year. But Rhodes proved to everyone that he has a lot of love to give to the fans and the industry as a whole, performing in the main-event against Seth Rollins with a very-visible injury.
This alone was enough to sell the last few doubters on Cody Rhodes as a hero in WWE and that to me solidifies him as one of 2022's best wrestlers.
4. Roman Reigns
'The Head of the Table' has once again put together a successful year in WWE.
With Roman Reigns securing both major world titles in WWE at WrestleMania this year, Reigns has been nicely positioned to continue his reign of terror and dominate the rest of the roster. Though I'm sure there's still a few detractors out there, there's no single worthy argument to suggest that Reigns hasn't earned this. His main-event matches sell themselves, and respectively have that 'big-fight-feel' regardless of who the opponent is.
Roman's current stature speaks for itself and has continued to maintain him as the biggest name in wrestling today. Here's to another year of dominance for 'The Tribal Chief' and his family entourage.
3. MJF
The man who is ending 2022 on top of the AEW singles division, Maxwell Jacob Friedman broke the fourth wall, media headlines and all sorts of barriers throughout his career run this year. What began with a show-stealing feud against CM Punk and soon turned into disarray following his convincing defeat at the hands of former-henchman, Wardlow, MJF seemingly left All Elite Wrestling behind after failed contract negotiations with head-honcho Tony Khan.
For months, AEW fans were left wondering what was real and what wasn't, with various rumours suggesting that his genius promo was part of a work, others believing he was heading to greener pastures in WWE. The result, MJF making a huge return at All Out in Chicago and ending the show with his eyes set on the AEW Championship.
Where the momentum of his year-long work fizzled away overtime, with MJF teasing the babyface life, 'The Devil himself' turned everything on its head once again by siding with William Regal and then betraying him in the space of a week. Questions marks litter MJF's current motivations, but one thing's for sure is that MJF is undoubtedly the one to watch as we kick-off the new year.
2. Jon Moxley
It's no lie that Jon Moxley has been the heart and soul of All Elite Wrestling since making his debut at the first-ever Double or Nothing event. Moxley has been there for AEW during its most tumultuous times: the pandemic, the aftermath and the chaos that ensued upon the sudden removal of current-champion, CM Punk. Whatever the situation, Jon Moxley has been there and delivered on all accounts, champ or otherwise.
Moxley has had some spectacular moments throughout 2022, starting with Anarchy in the Arena and following through with some fantastic matches with the likes of Rush, Pentagon Jr and Chris Jericho. His most recent work with MJF has also been a huge highlight, which allowed Mox to flit between the heel/babyface dynamics, showcasing his immaculate ability to adapt any match to what it needs to be in the moment.
Moxley is a rare talent that has been allowed to thrive ever since first arriving in AEW, that hasn't changed in 2022 and I can't see that changing next year either.
1. Seth Rollins
And without a doubt, the undisputed best wrestler of 2022 has to go to Seth 'Freakin' Rollins.
Seth has undergone a subtle career-run with his string of matches against Cody Rhodes, the saga with Matt Riddle and his most recent efforts in the United States Championship scene. Every pay-per-view match involving Rollins has been a highlight, a show-stealer, a solid performance all round.
It shocks me that Rollins isn't ending the year as he started, as a sure-fire contender to Roman Reigns' championships, but here's hoping that the newly-styled Seth will reap the benefits of his fantastic year in 2023.
All I have to say is go back and appreciate every single appearance from Rollins this year, he may not have been closing shows every month, but he for damn sure gave us all a show.
READ NEXT:  15 Best WWE Gifts for Christmas 2022
Some of the coverage you find on Cultured Vultures contains affiliate links, which provide us with small commissions based on purchases made from visiting our site. We cover gaming news, movie reviews, wrestling and much more.