Due to the genre's inherent broad reach and range of developers, the strategy genre finds itself in a great position to provide games for a wide variety of PC setups.
Not everyone will have the most modern setup readily available and, in fact, many strategy games don't necessarily need the most advanced machines to run games well. Turn-based strategy games in particular are the least performance demanding, as action-based responsiveness isn't critical to the overall structure of the game.
Luckily, there's a healthy selection of quality strategy games, old and new, that can run on laptops and other lower-end systems. For those looking to get into the strategy genre without having to go for the biggest expensive systems, we compiled a list of the best strategy games for low-end PCs, limiting ourselves to one entry per franchise.
The Best Strategy Games for Low-End PCs
15. Star Wars: Empire at War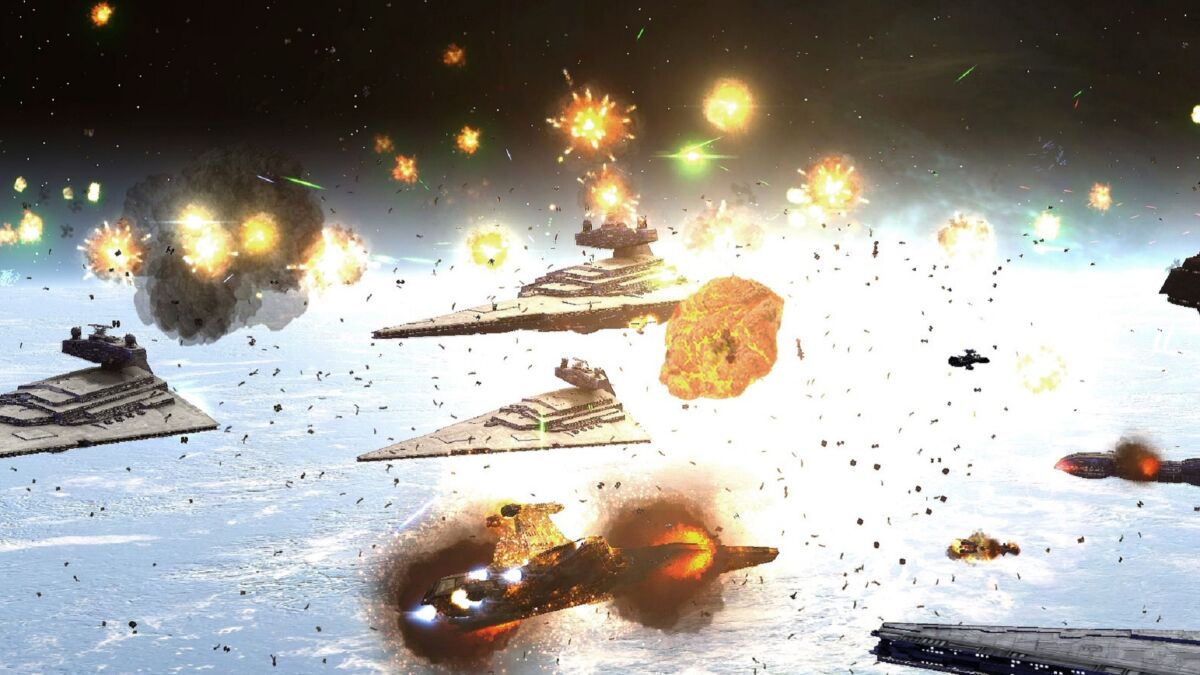 Developer: Petroglyph Games
Publisher: LucasArts
Platform(s): PC, macOS
One of the older games on the list, Star Wars: Empire at War immediately stands out for its setting, as well as being a rare strategy game set in the eponymous universe. There are lengthy campaigns for both the Imperials and Rebels, as well as a pirate consortium campaign in the excellent Forces of Corruption expansion, but they are part of the Legends continuity of Star Wars lore.
Alongside the well-presented setting, Empire at War has some of the best space battles of any real-time strategy game, incorporating engaging capital ship and starfighter tactics, as well as separately destructible ship modules. This component of the game still stands out to this day due to the overall drought of space combat games.
Though Empire at War's UI is clunky and dated and the ground combat leaves much to be desired, the impressive space battles alone are still a sight to behold on lower-end systems. The game's massive modding scene also gives players the opportunity to improve the game beyond its initial offerings, making it one of the more customizable strategy games on this list.
Recommended Specs:
Computer: 100% DirectX 9.0c compatible computer
Processor: Intel Pentium Dual Core CPU
OS: Windows XP SP3, Windows Vista SP2, Windows 7
RAM: 1 GB
Graphics Card: 256 MB graphics card with Shader Model 3.0 support / ATI Radeon X1900 / NVIDIA 8600
Sound Card: 100% DirectX 9.0c compatible PCI, USB, or Onboard Audio Device
14. Panzer Corps
Developer: Flashback Games, The Lordz Games Studio
Publisher: Slitherine Software
Platform(s): PC
From far away ancient galaxies to the war-torn Earth during World War Two, Panzer Corps invites the player to become an army leader during humanity's most destructive conflict and engage in campaigns covering many of the major actions and "what-if" scenarios of the war. Players will have access to all sorts of units, from infantry and tanks to aircraft and warships.
Slitherine may have released a sequel to this original classic, however the upgrade to a 3D engine precludes it from easy access to lower-end systems. Moreover, from a value standpoint, the entire Panzer Corps collection with many years worth of DLCs and additional content can be picked for a reasonable price.
The game's graphics do make the game feel ancient and clunky and the puzzle-like scenario design, with some questionable balancing for good measure, does undermine some of Panzer Corps' solid combined arms gameplay. Nevertheless, Panzer Corps remains a wargame classic that can run on almost any machine and is a great starting point for players looking into more involved and in-depth wargaming.
Recommended Specs:
OS: Windows 8/10
Processor: Pentium 4 or equivalent
Memory: 2 GB RAM
Graphics: 128Mb or more
Storage: 500 MB available space
13. Sword of the Stars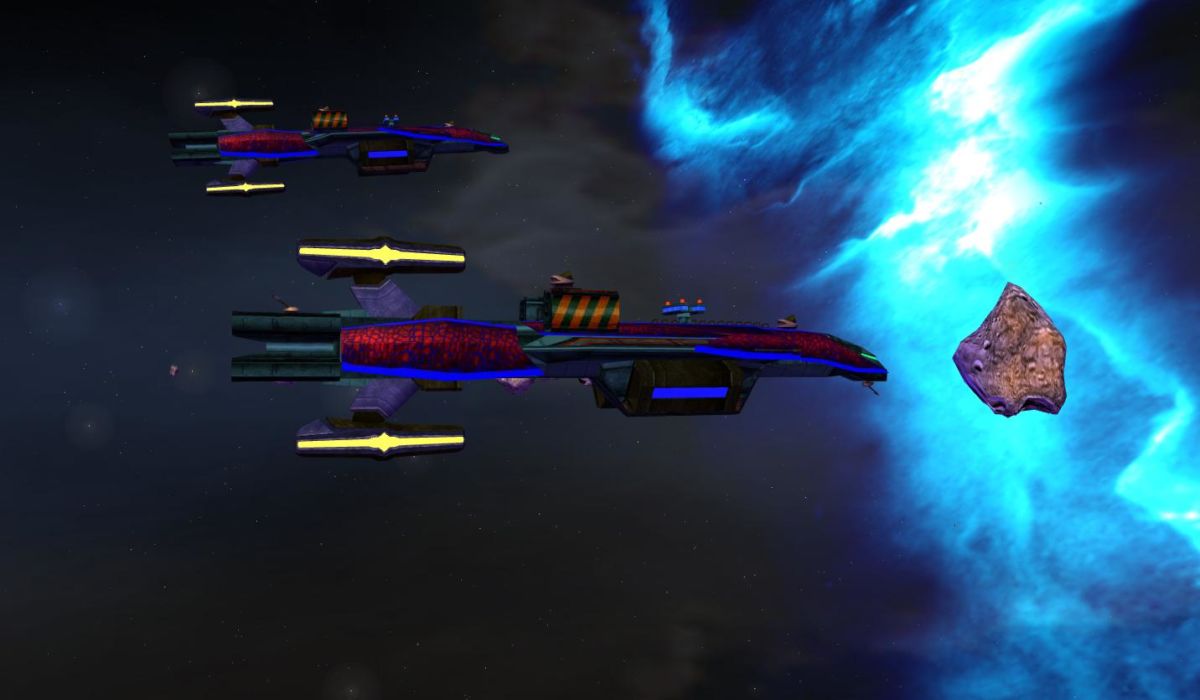 Developer: Kerberos Productions
Publisher: Lighthouse Interactive, Paradox Interactive, Destineer
Platform(s): PC
There's just something about timeless classics that makes them reappear in the strategy gaming cultural zeitgeist. One such underrated classic is Kerberos' Sword of the Stars – a grand strategy 4X spiritual successor to the massively influential Master of Orion 2.
There are few modern games that can match Sword of the Stars' depth of gameplay and symphony of synergetic systems. Most impressively, the juggernaut technology system and the incredible ship designer with awesome real-time tactical space battles all still hold up to this day, with great visual and faction design propping the game up even further.
It'll be hard getting into Sword of the Stars, though, as it has a steep learning curve, courtesy of a poor tutorial and clunky UI, but it's definitely worth the effort. For lower-end systems, Sword of the Stars will easily capture the massive space conflicts that will bring hours and hours of engaging strategic conundrums.
Recommended Specs:
Operating System: Microsoft® Windows® 2000/XP/Vista
Processor: 1.5 Ghz Intel® Pentium® or equivalent
Memory: 1 GB RAM (2 GB for Vista)
Hard Disk Space: 3 GB Available
Video Card: DirectX® 9 compliant video card with 128MB RAM
Sound Card: DirectX® 8.1 or better compatible
DirectX® Version: DirectX® 9c
12. Banished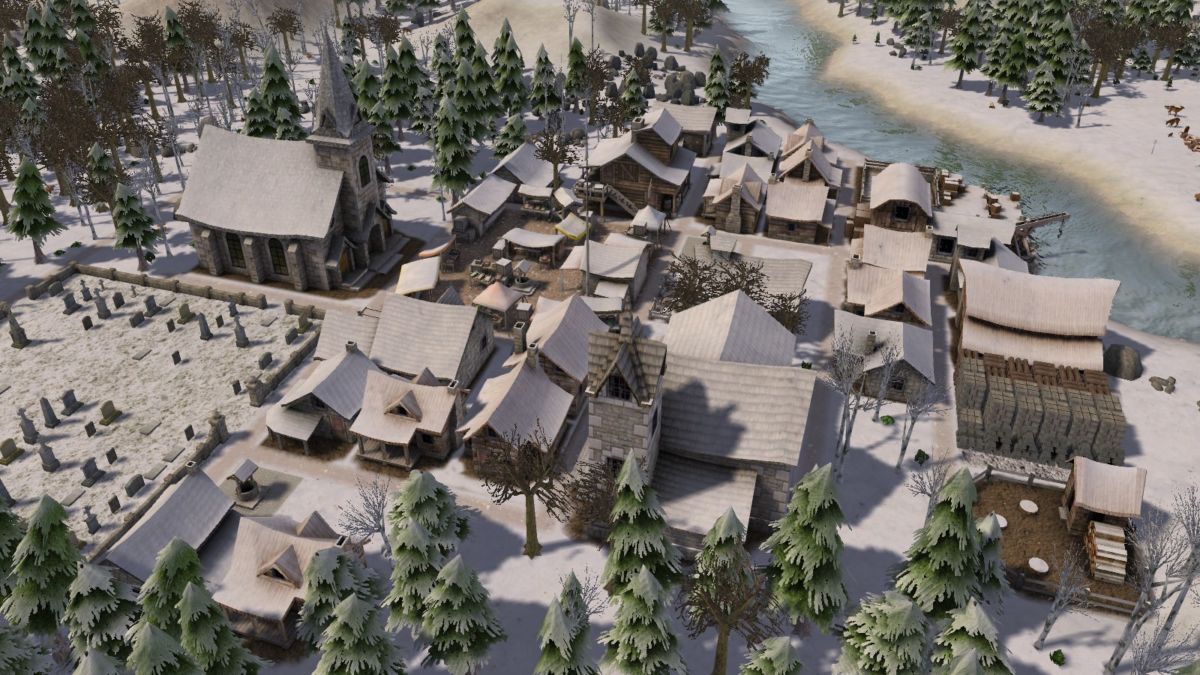 Developer: Shining Rock Software
Publisher: Shining Rock Software
Platform(s): PC
Management games can get quite processor-intensive due to the vast number of moving parts and logistics systems at play, especially in large scenarios or late-game situations. Banished is a solid lightweight management game that lets players grow their village of exiles to create a self-sustaining society.
Unlike many management games that usually have players earn cash or reputation achievements to advance the game, Banished goes the survival route, centering the player's attention not only on their population's needs and mood, but also on raw resource management. This approach gives the usually tensionless management experience a sense of urgency and danger as the player's decisions could mean their society crumbles or keeps chugging on the razor's edge.
Banished goes all in for the survival tone and this unfortunately means that the graphical style can come across as drab, bland, and lacking any kind of character, as well as some sections of gameplay feeling like pointless busywork or simply a waiting game. Regardless, Banished is a solid management game in its own right and its accessibility for lower-end systems gives it a leg up.
Recommend Specs:
OS: Windows 7 / Windows 8
Processor: Intel Core i5 processor (or greater)
Memory: 512 MB RAM
Graphics: 512 MB DirectX 10 compatible card
DirectX: Version 11
Storage: 250 MB available space
Sound Card: Any
11. Bad North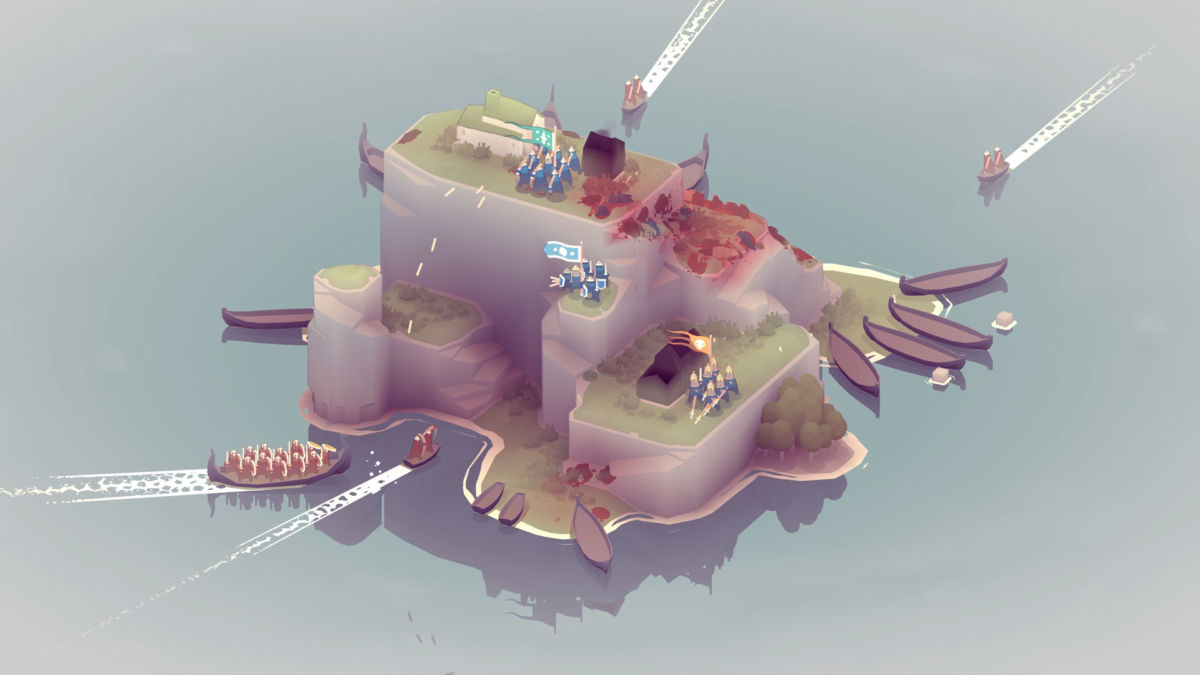 Developer: Plausible Concept, Oskar Stålberg
Publisher: Raw Fury
Platform(s): PC, Nintendo Switch, PS4, Xbox One, macOS, iOS, Android
One type of strategy game that's exceptionally suited for low-end systems is micro-strategy or tactics games. These games typically go for a simple control scheme, which is great for beginners, with a limited amount of variables, while also emphasizing replayability, giving them quite high skill-ceilings and Bad North succeeds with flying colors in providing all of that.
Right off the bat, Bad North has a striking and appealing minimalistic aesthetic combined with a solid premise of island hopping, all the while trying to outrun an oncoming onslaught of fantasy-esque vikings. The tactical gameplay is super tight with players controlling up to four squads, their abilities, and their equipment and at the same time utilizing the terrain to maximize defence and survivability.
The obvious weakness of Bad North is that even though the gameplay is addictive, it can get repetitive and frustrating on higher difficulties, as the game is quite the crusade on the hardest difficulty. But in the end, Bad North knows exactly what it's doing and is one of the best newer strategy games for lower-end systems.
Recommended Specs:
OS: Windows 7+
Processor: AMD Athlon X4 605e, Intel Celeron G1610 or equivalent
Memory: 4 GB RAM
Graphics: Radeon HD 7850, GeForce GTX 470 or equivalent
DirectX: Version 11
Storage: 200 MB available space
Sound Card: Yes
10. Medieval 2: Total War
Developer: Creative Assembly, Feral Interactive
Publisher: Sega, Feral Interactive
Platform(s): PC, macOS, Linux
Another old classic to make the list, Medieval 2 goes up against its modern Total War counterpart, Shogun 2, and wins out due to its greater suitability for lower-end systems. The game is an excellent example of the best that Creative Assembly has to offer, especially in its pre-AAA days.
Medieval 2 is a sprawling grand strategy game where players take control of one of the many factions of the High Middle Ages with the goal of conquering their way to glory. The medieval tactical battles are definitely a sight to behold, especially in later stages of the game with all the colorful heraldry, but it's the strategic layer that really shines with great character management systems, construction mechanics, and presence of religion.
The game's age does show in its clunky UI, the graphics, while still decent, show a lot of rough textures, and lack of a discreet technology system. Nonetheless, the tactical combat is second-to-none and the game's moddability is off the charts making it a must-have strategy game.
Recommended Specs:
Microsoft® Windows® 2000/XP
Celeron 1.5GHz Pentium 4® (1500MHz) or equivalent AMD® processor
512MB RAM
11GB of uncompressed free hard disk space
100% DirectX® 9.0c compatible 16-bit sound card and latest drivers
100% Windows® 2000/XP compatible mouse,keyboard and latest drivers
DirectX® 9.0c
128MB Hardware Accelerated video card with Shader 1 support and the latest drivers. Must be 100% DirectX® 9.0c compatible
1024 x 768 minimum display resolution
9. The Banner Saga
Developer: Stoic Studio
Publisher: Versus Evil
Platform(s): PC, Nintendo Switch, PS4, Xbox One, iOS, Android, macOS, Linux
Strategy gaming and role-playing games generally work well in tandem and one of the most impressive examples of such successful meshing is in the three-part Banner Saga. If there are a few areas the game is exemplary in, it's the presentation, fantastic visual design, and unique world-building.
The Banner Saga's story sees the entire world facing a fantastical end of the world scenario filled with tension, difficult character choices, and exploration of cultural clashes and ideology. The writing, character development, and both personal and global stakes all make the role-playing component engaging and the combat investing.
The first part of the trilogy has the weakest combat with lengthy sections of repetitive and grindy combat that make the game's pacing uneven. Thankfully, the incredible art direction effectively substitutes the need for high definition advanced graphics, making The Banner Saga a modern classic capable of running on most lighter weight systems.
Recommended Specs:
OS: Windows 10
Memory: 4 GB RAM
Storage: 6 GB available space
8. XCOM: Enemy Unknown
Developer: Firaxis Games
Publisher: 2K Games, Feral Interactive
Platform(s): PC, macOS, Linux, iOS, PS3, Xbox 360, PS Vita, Android
The game that revitalized and kicked off an entire subset of strategy games, XCOM: Enemy Unknown is a worthy starting point for anyone interested in getting into challenging tactics games with light elements of role-playing. Though Enemy Unknown isn't an original IP, it takes the hardcore and old school approach of the original XCOM and updates it graphically and mechanically, resulting in a dynamic, appealing, and excellent all-round strategy game.
The highlight of Enemy Unknown is, of course, the engaging tactical combat that stems from the solid character customization and equipment system to the consistently fun, intriguing, and unique aliens players will have to contend with as they fight back against the invaders. The strategic layer works well with the combat system, as players will need to make choices about research projects and, most importantly, respond to critical threats, while inadvertently and reluctantly sacrificing allies for the benefit of Earth's survival.
XCOM's combat and strategy layer is quite unforgiving and might result in plenty of frustration and restarts on top of some occasional repetition from the hand-crafted maps. None of the above issues are so major to eclipse XCOM's overall quality though, and it's a great strategy game to have in your library.
Recommended Specs:
OS: Windows 7
Processor: 2 GHz Dual Core (Intel Core 2 Duo 2.4 GHz or Athlon X2 2.7 GHz)
Memory: 4 GB RAM
Graphics:NVIDIA GeForce 9000 series / ATI Radeon HD 3000 series or greater
DirectX®: 9.0
Hard Drive: 20 GB HD space
Sound: DirectX Compatible
7. This War of Mine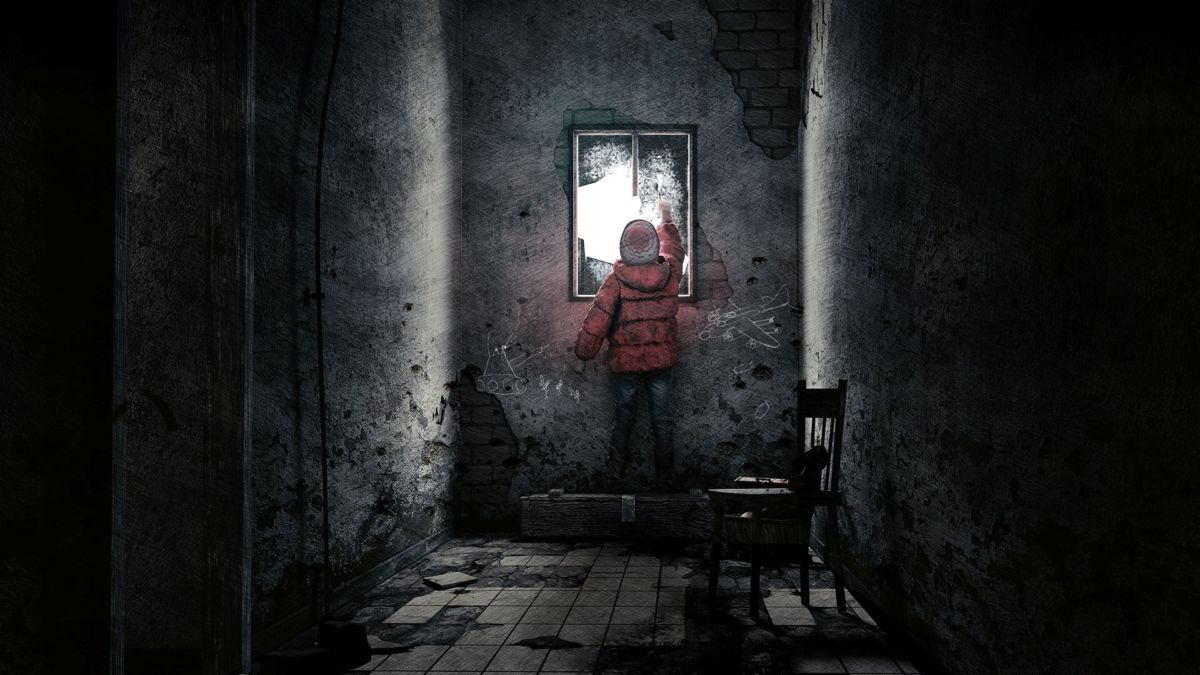 Developer: 11 Bit Studios
Publisher: 11 Bit Studios, Crunching Koalas
Platform(s): PC, Nintendo Switch, iOS, Android, macOS, PS4, Xbox One
It's easy to forget the human cost in glorious conquest and most conflict-oriented strategy games do little to give players the full breadth of consequences from their actions. This War of Mine sets the focus of the game squarely on the lives of survivors trying desperately to outlive an ongoing war.
This War of Mine is a survival management game where players will need to make the best use of what limited resources they have, while caring for their people, as well as physical needs and psychological. Not every person can pick up a weapon and kill at will without consequence, and the game does a masterful job of keeping the consequences of the player's actions in the foreground.
The subject matter is certainly heavy and the overwhelming tension and despair of This War of Mine's overall tone and scavenging encounters can be emotionally demanding and draining. However, it's an experience both relevant and engaging and can run well on older and lower spec systems.
Recommended Specs:
OS: Windows 7/8/10
Processor: Intel(R) Core(TM)2 Quad 2.7 Ghz, AMD Phenom(TM)II X4 3 Ghz
Memory: 4 GB RAM
Graphics: GeForce GTX 260, Radeon HD 5770, 1024 MB, Shader Model 3.0
DirectX: Version 9.0c
Sound Card: DirectX compatible
6. Into the Breach
Developer: Subset Games
Publisher: Subset Games
Platform(s): PC, macOS, Linux, Nintendo Switch, Stadia
On the topic of the human cost of war, Into the Breach has the player take command of a squad of mech pilots who go back in time in order to save the Earth from an onslaught of monstrous kaiju. The premise lends itself to some thrilling and tight tactical gameplay, as well as fun explanation for the roguelike structure of the game.
Gameplay-wise, Into the Breach is quite simple and is reminiscent of chess, but the developers throw in enough mech variance, progression, and randomized terrain to make every mission a compelling puzzle to solve. The vibrant pixel graphics draw the player into the game's world, but also effectively illustrate and highlight important tactical information at a glance.
Into the Breach can suffer from repetitive grindiness, as many roguelikes do, but there's just enough variety and flexibility to mask most of it. The overall small scale of the game also makes it a lightweight game capable of running on all but the oldest of systems.
Recommended Specs:
OS: Windows Vista/7/8/10
Processor: 1.7+ GHz or better
Memory: 1 GB RAM
Graphics: Must support OpenGL 2.1 or higher. Intel HD 3000 or better.
Storage: 400 MB available space
5. Darkest Dungeon
Developer: Red Hook Studios, Sickhead Games
Publisher: Red Hook Studios, Merge Games, Degica
Platform(s): PC, macOS, Linux, PS4, PS Vita, Nintendo Switch, Xbox One, iOS
You can't get more doom and gloom than Lovecraftian horror and Darkest Dungeon wears its inspiration on its sleeve. But the game is so much more than its admittedly refreshing and chilling visual design.
Though the marketing of Darkest Dungeon may call it a role-playing game and there are light elements and systems that support this, in reality, Red Hook Studios' masterpiece is a war simulator, emphasizing both the dirty hopelessness of any single skirmish and also the exhilaration of fruits borne from successful long-term planning. That isn't to say that Darkest Dungeon's combat isn't great, it's actually the best part of the game due to the varied character design and wide menagerie of crazy and terrifying enemies.
But just like any war, Darkest Dungeon can get grindy and repetitive, especially if played in long consecutive sessions. However, once players strap in for the long haul and focus on the intriguing tactical gameplay and squad composition features of the game, they will find one of the most incredibly rewarding and awesome strategy games that isn't even all that technically demanding.
Recommended Specs:
OS: Windows 7+
Memory: 4 GB RAM
Graphics: Open GL 3.2+ Compliant
Storage: 2 GB available space
Additional Notes: 1080p, 16:9 recommended
4. Loop Hero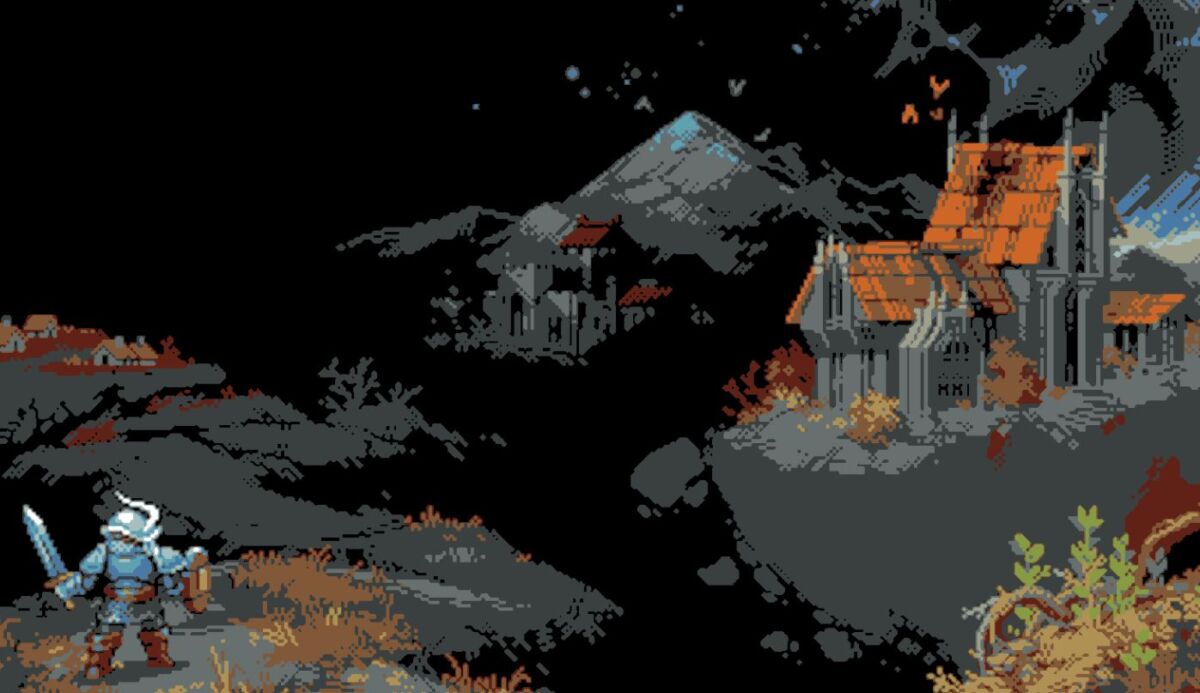 Developer: Four Quarters
Publisher: Devolver Digital
Platform(s): PC, Nintendo Switch, macOS, Linux
One of the newest games to make the list, Loop Hero represents the massive creative potential of roguelike strategy games in tackling their inherently repetitive nature. In addition, despite its young age, Loop Hero is not all taxing on most systems so lower-end PCs should be able to run it without much issue.
Loop Hero's highlight element is its way of introducing a number of clever systems that dress up, develop, and improve the gameplay sections in-between every playthrough, where players are granted a variety of options on how to approach an upcoming playthrough. During any given run, the game also stands out with the player's ability to affect and manipulate the terrain using cards earned through gameplay to enrich how everything plays out.
Loop Hero does suffer from some UI oddities and control clunkiness, though they're not enough to derail the player's overall level of enjoyment. The creativity in Loop Hero's approach to roguelike genre conventions alone are worth giving the game a shot.
Recommended Specs:
OS: Windows 7, 8.1, 10 x64
Processor: Intel Core2 Duo E6750 (2 * 2660) or equivalent, AMD Athlon 64 X2 Dual Core 5000+ (2 * 2600) or equivalent
Memory: 2 GB RAM
Graphics: GeForce 8600 GT (512 MB), Radeon HD 4650 (1024 MB)
Storage: 200 MB available space
3. Civilization 5
Developer: Firaxis Games
Publisher: 2K Games, Aspyr
Platform(s): PC, macOS, Linux
If the Medieval period isn't grand enough in your strategy game, then look no further than Firaxis' Civilization 5. While we think that Civilization 6 ekes out as the overall victor in terms of quality, the fifth installment in this venerable series still brings plenty to the table and is far more capable at running on lower-end setups.
The Civilization series is best known for its addictive gameplay, as players take their nascent historical cultures from their very founding all the way to modern sprawling empires with compelling faction design and deep city and resource management systems. Civilization 5 is particularly interesting as it represents a different approach to 4X strategy game design, compared to its modern counterpart with gameplay dynamics favoring fewer tall cities and steady expansion over rapid border growth.
The one major negative is that to experience Civilization 5 in its full glory, it's vital to own the Brave New World expansion that adds new features and includes major reworks, as without it the base game can feel quite empty and bland. As it currently stands, Civilization 5's excellent premise and engaging empire management features make it one of the best grand strategy games for low-end systems.
Recommended Specs:
OS: Windows® Vista SP2/ Windows® 7
Processor: 1.8 GHz Quad Core CPU
Memory: 4 GB RAM
Graphics: 512 MB ATI 4800 series or better, 512 MB nVidia 9800 series or better
DirectX®: DirectX® version 11
Hard Drive: 8 GB Free
Sound: DirectX 9.0c-compatible sound card
2. FTL: Faster than Light
Developer: Subset Games
Publisher: Subset Games
Platform(s): PC, macOS, Linux, iOS
If you thought Into the Breach was good, then wait until you get a load of FTL, Subset Games' first project that essentially almost single-handedly kickstarted the last decade's indie game boom. At this point, it's definitely a venerable game, but it's such a classic presented in such a compact package that it can run on pretty much any system.
Part of FTL's charm is its excellent aesthetic design of the aliens, the starships, and the world around the player's crew. More importantly, this visual quality feeds into FTL's rock solid gameplay loop, where players are doing their best to outrun an unstoppable force of enemy warships, all the while gearing up and upgrading for a final climactic multi-stage showdown with the enemy flagship.
FTL has a similar level of challenge and difficulty as XCOM, and as a result can be quite punishing due to bad luck or suboptimal choices from inexperience. Nonetheless, FTL's challenge is part of the game's charm, letting players learn and develop with each painful yet rewarding loss, which makes it one of the best strategy games for lower-end systems.
Recommended Specs:
OS: Windows XP / Vista / 7
Processor: 2 GHz
Memory: 1 GB RAM
Graphics: 1280×720 minimum resolution, OpenGL 2.0 Support, and recommended dedicated graphics card with 128 MB of RAM
Hard Drive: 175 MB HD space
1. Battle Brothers
Developer: Overhype Studios
Publisher: Overhype Studios, Ukiyo Publishing Limited
Platform(s): PC, Nintendo Switch
There's no doubt about it, the best strategy game of all time for low-end systems is Overhype Studios' gem of a game, Battle Brothers. Almost everything that made all the other games great on the list, Battle Brothers can easily match and exceed, despite having simple graphics and a low level demand for system performance.
The game lacks a central narrative, but it replaces it with a strong core of emergent story-telling with its premise and almost complete freedom for the player to act in any way they choose as the leader of their own low-fantasy medieval-inspired band of mercenaries amidst a constantly developing living world. The character equipment system and combat are incredible due to the sheer amount of different types of armor, perks, weapons, and various trinkets and potions that players can utilize in their campaigns.
Battle Brothers also doesn't hold the player's hand, incentivizing them to poke and prod at the game's systems and see where they succeed and where they need to develop and improve. Probably the most impressive element of Battle Brothers is that no matter at what stage of the game players find themselves in, they'll never be safe and will constantly be challenged, which alone makes the game a timeless classic with near limitless possibilities.
Recommended Specs:
OS: Windows 7, Windows 8, Windows 10
Processor: 2+ Ghz
Memory: 2048 MB RAM
Graphics: OpenGL 3.3 compatible video card with 1024 MB
Storage: 1500 MB available space
READ NEXT: The Best Switch Strategy Games
Some of the coverage you find on Cultured Vultures contains affiliate links, which provide us with small commissions based on purchases made from visiting our site. We cover gaming news, movie reviews, wrestling and much more.