For many of us, after the truly difficult year that was 2020, reading a post-apocalyptic book is the last thing that we would want to do. But there is much more to the genre than just the misery that we conjure up in our imaginations when we think of a post-apocalyptic world. Such novels can allow us to explore our own humanity, as we come to think about the things that are most important to us – not only as individuals, but also as a collective. In many ways, therefore, reading the best post-apocalyptic books can be therapeutic, and to that end we have rounded up ten of the best to give you a taste of where to start with the genre.
1. Oryx and Crake – Margaret Atwood
Margaret Atwood is one of the undisputed champions when it comes to dreaming up disturbing dystopian futures. In Oryx and Crake, the first in the MaddAddam trilogy, she imagines a post-apocalyptic world in which a pandemic caused by a wonder drug has wiped out much of the human race.
Snowman, the protagonist, is forced – by threat of starvation – into a supply run in the dangerous ruins of a compound, filled with genetically altered, hybrid creatures. In flashbacks, Snowman's life story unfolds, and we learn how his childhood friend was involved in the production of the drug that has led to this dangerous and lonely world.
2. The Passage – Justin Cronin
The Passage is a Stephen King-esque post-apocalyptic book, so if you enjoy the work of King, then you will definitely like Cronin's as well. In The Passage, the world is overrun with vampire-zombie creatures as the result of a virus which came about from a project to create an immunity-boosting drug. The creatures are always on the hunt for fresh blood, leaving surviving pockets of humanity defending themselves.
The Passage is creepy, compulsive reading; the story spans more than 90 years – and even jumps 1000 years into the future too – and is only the first in a readable, enthralling trilogy.
3. Dhalgren – Samuel R. Delaney
Delaney's most popular novel by far, Dhalgren has been dividing the science-fiction community since it was first published in 1975. It isn't everyone's cup of tea, for sure, but for those who love the novel, it is comparable to James Joyce's work, with the profoundly unreliable narrator and the riddle-like, circular nature of the story.
Dhalgren is set in a fictional American Mid-West city, Bellona – a city that has been cut off from the rest of the world by an unnamed catastrophe. Strange events occur here; shifting landmarks, buildings that burn for days, strange new moons in the sky. The Kid, our narrator, wanders through this landscape, trying to navigate his partial memories in a world that already doesn't make sense. By the end of the novel, it is far from clear if it is The Kid's erratic thoughts that have rendered Bellona so incomprehensible, or if the city is indeed as strange as it appears.
4. Brown Girl In The Ring – Nalo Hopkinson
Set in Toronto following an economic collapse, this post-apocalyptic book is as much about the struggles of single motherhood and the spirituality of different cultures as it is about the city that has torn itself apart. A criminal mastermind, Rudy Sheldon, has taken control of inner-city Toronto since the Riots, and the slum is cut off from other cities by roadblocks attempting to contain the violence and poverty.
Ti-Jeanne, a single mother, has been forced to move back in with her grandmother, Gros-Jeanne, a respected spiritualist whose work has always scared her granddaughter. As Ti-Jeanne is drawn into her grandmother's world, she comes to accept the culture she has always rejected, and realises that it is that spirituality that might be Toronto's saving grace. There is much more to Hopkinson's tale than just science-fiction shenanigans.
5. The Last – Hanna Jameson
The Last is a compulsively readable, psychological thriller of a post-apocalyptic book, in which an American academic, Jon, finds himself as one of around twenty survivors in a remote Swiss hotel after a nuclear disaster in which major cities are bombed, one by one. With social media and news channels all gone, for all Jon and his companions know, they could be the last people left in the entire world.
Two months after the disaster, the body of a young girl is found in the water tank, and Jon is caught up in a paranoid search for the truth about her death. Supplies are running out and Jon's obsessive investigation into the death is threatening to tear fragile alliances apart.
6. The Fifth Season – N.K Jemisin
The Fifth Season, the first in the Broken Earth trilogy, is a post-apocalyptic book with a strong fantasy element, set in an alternate world known as the Stillness. There are near-extinction events so often that they are called 'Fifth Seasons', and the only empire to have survived in this broken land does so by exploiting the talents of people born with an ability to control the tumultuous environment. Essun, whose young son was murdered by his father, is on the chase across this bleak and dangerous land to find her daughter, kidnapped by her father after the murder of her brother.
The Broken Earth trilogy won Jemisin the prestigious Hugo award three years in a row, the first author ever to win for every book in a series, and The Fifth Season is sure not to disappoint. This is also highly recommended for the excellent representation of people of colour and those on the LGBT+ spectrum.
7. Station Eleven – Emily St. John Mandel
Station Eleven is one of those post-apocalyptic books that asks a serious question – what do we value and hold in high esteem when there is almost nothing left of what came before? For the Travelling Symphony, a band of actors and musicians who travel all over a post-virus USA, performing Shakespeare for small colonies that dot the landscape, the answer is clear; people need art, to remind them of the world that came before.
Station Eleven follows several different characters in the years, weeks and days before the Georgian Flu decimated the population, all of them connected by the famous actor Arthur Leander – who dies of a heart attack on the night that the flu reached North America. As their relationships become clearer, and the Travelling Symphony is exposed to a new danger in the form of a prophet and his followers, Mandel asks us to consider how far we would go to protect our own humanity.
8. The Last Day – Andrew Hunter Murray
Hunter Murray's debut was quite rightly raved about upon publication in 2020; it is a tightly plotted thriller of a dystopian novel, which could be compared to Nineteen Eighty-Four in terms of its isolated, paranoid island nation looking outwards to taking on the rest of the world.
It is 2059, and an unexplained solar event way back in 2019 has led to the earth's rotation grinding to a halt, leaving half the world in permanent day and the other in endless night. The UK, by a lucky chance, has ended up in a strip of planet that still experiences both day and night, and is ruled by a despot hellbent on conquering, as well as being a base for the USA in Europe. This is a political thriller as well as a post-apocalyptic book, and one that will leave you deep in thought long after you have finished reading it.
9. Blindness – José Saramago
José Saramago is a Nobel prize winning author, and Blindness was one of the novels mentioned by the committee when he won the prize in 1998. Translated from Portuguese, this is the chilling story of an unnamed city struck by a mass epidemic of blindness, and the quick breakdown of society that comes when almost everyone is affected. It also was made into a very good film, well worth a watch if you end up liking the novel.
Trapped in an asylum, cut off from the outside world by their own government, a group of the first people affected by the epidemic are forced to band together to survive once they escape their traumatic capture. One of their number, the doctor's wife, is unaffected by the blindness and it is through her ability to see and navigate the dangerously broken-down society that the little group survives at all.
10. The Day Of The Triffids – John Wyndham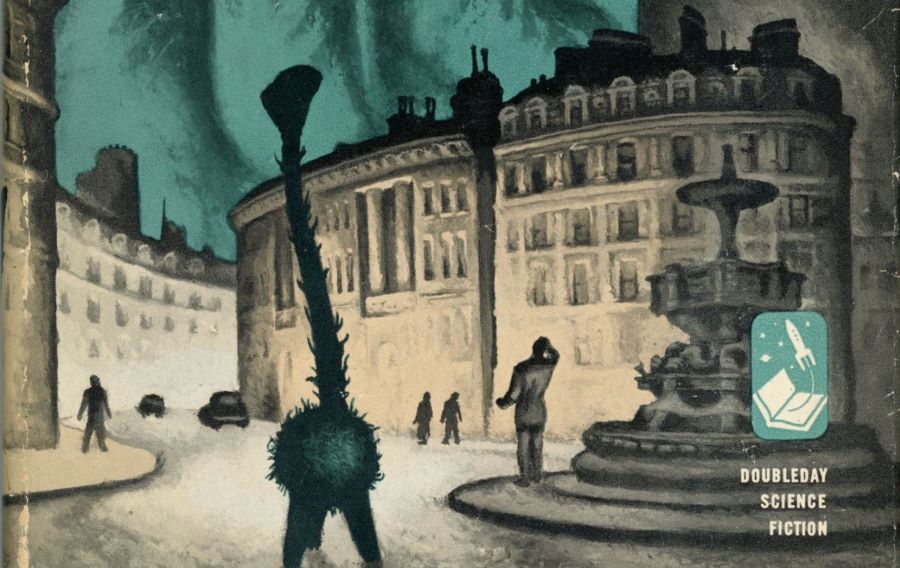 No list of post-apocalyptic books is complete with a true classic, and they don't come more classic than The Day Of The Triffids. Bill Masen, a biologist who has been working with the mysterious and carnivorous triffid plants, is in hospital after an accident, and escapes the blindness that is the fate of most of the population after they watch a meteor shower.
A seeing man in a mostly blind world, he deals with less than savoury people exploiting the blind populace, and attempts to establish a self-sufficient colony that is constantly having to fight off the threat of the triffids. Some of the ideas in this novel are a bit dated now, but there is no denying that it deserves its place on lists of the best science-fiction novels ever written.
READ NEXT: 25 Best Post-Apocalyptic Movies You Should Watch
Some of the coverage you find on Cultured Vultures contains affiliate links, which provide us with small commissions based on purchases made from visiting our site. We cover gaming news, movie reviews, wrestling and much more.