When kids are around 3 years old, their capacity for taking in longer and more complicated stories really starts to take off. Their sense of humour is developing, they can remember more, and they can start talking about the stories that they have just experienced. The best books for 3-year-olds take advantage of all these things; they can be funny and absurd. They make use of repetition. They can have subject matter for kids to sit and think about after they're done with story time.
This entire list could have been made up of classics, or it could have been just books published in the last year, and all of them would be great. We've chosen twelve of the best books for 3-year-olds, a mix of old and new, to get the youngest readers excited about books.
The Best Books For 3-Year-Olds
1. Don't Let The Pigeon Drive The Bus! – Mo Willems
Don't Let The Pigeon Drive The Bus! is the kind of call-and-response book that young kids just love. On the first page, a bus driver asks the reader to make sure that the pigeon doesn't drive his bus. For the rest of the book, the pigeon tries to convince the reader to let him drive, getting more and more worked up when the reader tells him that he can't.
The concept of Don't Let The Pigeon Drive The Bus! is super simple – on most pages, the only illustration is the pigeon – but the execution is perfect. If you have an adult reading the book who really commits to the pigeon's petulant voice, then this book is an absolute riot for young kids.
2. Goodbye Summer, Hello Autumn – Kenard Pak
One of the newer books on the list, Goodbye Summer, Hello Autumn is, first and foremost, an absolute visual treat for the adults who are reading the book. Pak's watercolour illustrations are breathtakingly beautiful, and you'll love looking at them. And, of course, so will your 3 year old; there is so much to talk about on every page that you could linger for a long time.
Pak walks us through a late summer day, and explains in simple terms how the seasons will change and why. This is such a gorgeous book, and he has others which walk kids though the transitions between other seasons. The whole lot would be a beautiful collection that you can keep going back to.
3. Grandma's Tiny House – JaNay Brown-Wood and Priscilla Burris
Any list of best books for 3-year-olds needs to include a counting book, and Grandma's Tiny House is one of the absolute cutest counting books to come out in recent years. More impressively though, not only does the counting take place firmly in the context of the story, but the story itself also rhymes – something that is much harder to get right than it seems. Brown-Wood's book is unassuming but wonderfully constructed.
Burris' illustrations are very sweet and the sense of movement in them will definitely encourage kids to join in with the counting.
4. Green Eggs And Ham – Dr. Seuss
Despite what some corners of Twitter were spouting on about, Dr. Seuss has not been cancelled. His estate took the decision to remove a few of his books which feature offensive stereotypes from future print runs. The rest of his catalogue is still available, and it is extensive. When it comes to best books for 3-year-olds, Dr. Seuss has to be on the list.
Anyone of his books could have made the cut, but Green Eggs And Ham is one of his most popular. The word play is fun and will keep kids engaged, but it is definitely less tongue-twisting for the adult reading it than other Seuss books. And there is a good message too: try the new food! You might just like it.
5. Handa's Surprise – Eileen Browne
Handa's Surprise is an absolute classic often read in primary schools, but the story is so simple and easy to follow that it could definitely be read and enjoyed by younger children. It is a story of friendship but it also has a sense of humour that kids really appreciate, and brightly coloured, interesting illustrations.
Handa loads a basket with seven fruits and goes to surprise her friend with them, thinking all the time about which fruit will be the favourite. As she walks, a collection of animals come along and take each piece of fruit. Children will love seeing the animals behaving badly, and the delight of Handa's friend at the end, despite the mishaps, shows kids that things can go wrong and that's okay too.
6. Julián Is a Mermaid – Jessica Love
Julián Is a Mermaid is a beautiful, life-affirming book that should be read to every young child as soon as they are old enough to understand it. Julián is a young boy who loves mermaids, and dreams of becoming one. So he dresses up as a mermaid and his Nana takes him to see a parade of other people dressed as mermaids in their town.
The metaphor in Julián Is A Mermaid is very clear for us as adults; the challenge to gender stereotypes, the expression of the true self. Young children will see a boy who is allowed to be whoever he wants to be and is accepted for it. His Nana never once questions his choice, and supports him in his dream. For such a simple book, this really is a special one.
7. Owl Babies – Martin Waddell and Patrick Benson
Owl Babies is another of those classic primary school reads, but again it's simple enough that it more than deserves a place on a list of best books for 3-year-olds. Sarah, Percy and Bill are the baby owls who wake up one night to find that their mother has left the nest. They get increasingly scared without her, and imagined all the terrible things that could have happened, before she comes back to them.
Owl Babies is really about separation anxiety in young children, and teaches them that they don't need to be afraid. Their parent will come back to them, and in the meantime they have each other for support. It's an important message for kids who might be about to start school, for example.
8. Sharing A Shell – Julia Donaldson and Lydia Monks
Julia Donaldson is going to be a feature of any list of best books for 3-year-olds, and some of her more well-known titles don't really need an introduction. The Gruffalo is literally iconic. But Donaldson has written so many books, some of them with more sophisticated stories than others, and can be enjoyed by kids of many ages.
Sharing A Shell is one of her works aimed at a younger audience, at least in terms of how relatively simple it is; after some to-ing and fro-ing, a crab learns to share his shell with an anemone, and realises how much more fun it is to share things with your friends. It is a simple message conveyed in Donaldson's unique style, and Monks' illustrations are bright and engaging.
9. The Very Hungry Caterpillar – Eric Carle
The world mourned when Eric Carle, beloved children's author, died earlier this year. The Very Hungry Caterpillar is such a universal experience for most people – there can't be many who didn't have the book read to them when they were young. Carle's charming illustrations are so instantly recognisable, and still a joy to look at even after all this time.
A little caterpillar wakes up on the first day of the week and eats his way to Sunday, taking on a more and more ridiculous amount of food each day, before he turns into a beautiful butterfly. Kids will love counting the pieces of fruit and enjoy the silliness of the later foods that the caterpillar eats, and come back to this book again and again.
10. We're Going On A Bear Hunt – Michael Rosen and Helen Oxenbury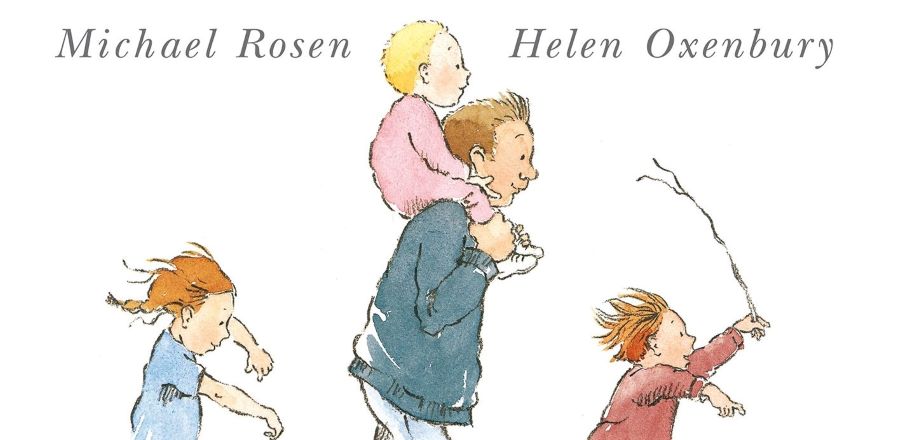 The last classic on this list is We're Going On A Bear Hunt, a story that follows a group of siblings as they brave obstacles like long grass, a dark forest and even a snowstorm on their way to find a bear. They do indeed find one, and run all the way home to the safety of their beds. Oxenbury's illustrations, done in a scratchy pen and ink style, are wonderful.
The real strength of this book that brings kids back again and again is the repetition, and the refrain that kids can easily learn and join in with. Young children crave reassurance, and like knowing what is coming next; We're Going On A Bear Hunt gives them both of those things in spades.
11. The Wonderful Things You Will Be – Emily Winfield Martin
Emily Winfield Martin's The Wonderful Things You Will Be is a little gem of a picture book and absolutely perfect for a list of the perfect books for 3-year-olds. It is a very simple poem, but one which packs a powerful punch. The narrator wonders who the child they are addressing will grow up to be, and lists all of the good qualities that they hope the child will have. At the end, the narrator assures the kid that they will love them no matter who they grow into.
This is the kind of message that even young children will be able to appreciate. The simplicity of the words and the pretty illustrations is deceptive; this is a book that carries a lot of weight.
12. You Hold Me Up – Monique Gray Smith and Danielle Daniel
You Hold Me Up might be the simplest book on this entire list, but that doesn't make it any less important than any of the others. It is a book about friendship, family and love, and the value of those things in everyday life. Daniel's illustrations have a sophisticated style to go along with the simplicity of the message.
You Hold Me Up lists how people can support each other; by sharing, by listening to one another, by respecting each other. By learning together, or singing together, or playing together. It is a simple message but a powerful one, that shows children how love can mean many different things, but if you are willing to look for it, then you will find it wherever you need to.
Sale
READ NEXT: 10 Best Book Series For Kids
Some of the coverage you find on Cultured Vultures contains affiliate links, which provide us with small commissions based on purchases made from visiting our site. We cover gaming news, movie reviews, wrestling and much more.