Anyone who's been following the gaming industry at the moment probably feels like they're drowning in a sea of battle royale games. You just can't move for the suckers these days. Though they've been around in some form or another for the past few years, their popularity has been skyrocketing since 2017, with no signs of slowing down. Now, the market is crowded with copycats, innovators and imitators.
Of course, with so many to choose from and more on the way, it can be hard to know where to begin. With that in mind, we've compiled a list of the most influential, innovative and best battle royale games on the market right now. Grab a parachute and let's drop in.
1. Apex Legends
Developer: Respawn Entertainment
Publisher: EA
Platform(s): PS4, Xbox One, PC
The current darling of the battle royale genre, Apex Legends has taken the world by storm over the past month, and rightly so. It's absolutely brilliant, taking the tropes and genre conventions of the battle royale formula and adding enough of its own ideas to create something truly spectacular. With varied characters and abilities, stellar gameplay and a pinging ability that was so good that Fortnite had to pilfer it for themselves, Apex Legends has established itself as a battle royale juggernaut in short order.
From our Apex Legends review:
"Even the most jaded of battle royale fans will find their interest rejuvenated by Apex Legends thanks to Respawn's attention to detail, superior gunplay, and fantastic innovations, though the loot boxes and progression system certainly need addressing."
2. H1Z1/Z1 Battle Royale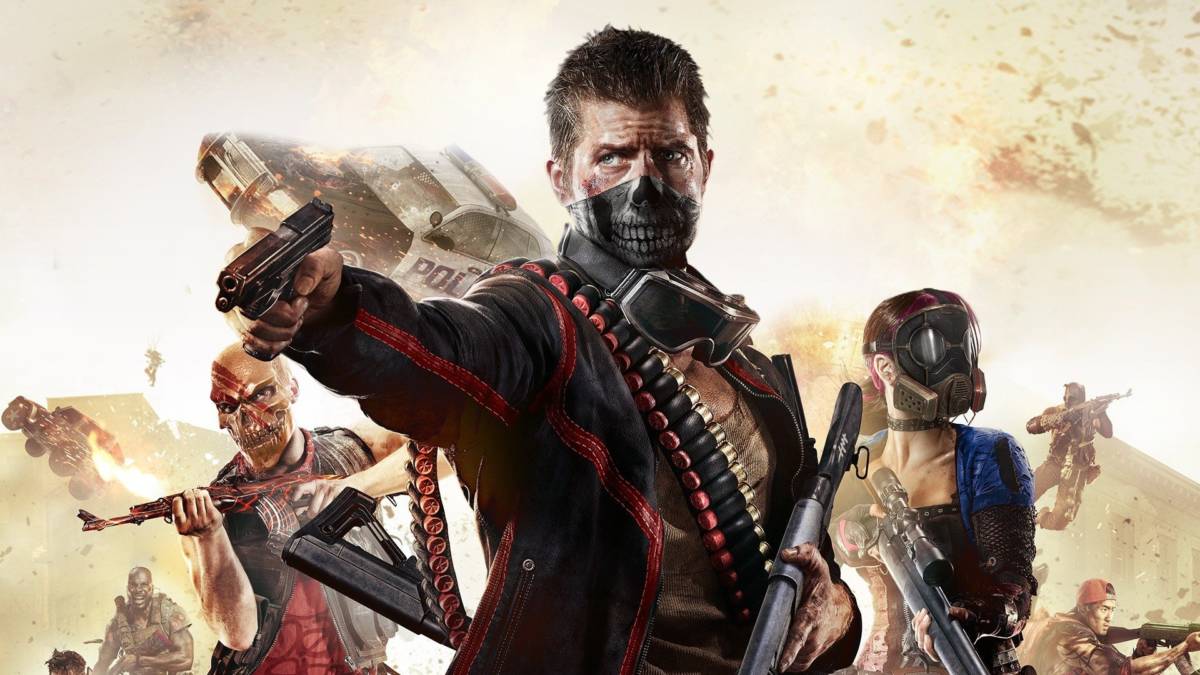 Developer: NantG
Publisher: Daybreak Game Company
Platform(s): PC, PS4
Originally starting life as a zombie survival game, H1Z1, or Z1 Battle Royale as it has recently been rebranded on PC, was perhaps the first game to jump onto the battle royale trend, but only managed to secure a full release last year, leaving it lagging behind somewhat.
That said, H1Z1 is still worthy of your time. It's free to play after all, and the 5 player squads mode is great if you keep finding yourself to be the fifth wheel in your particular friend group.
From our H1Z1 review:
"Though it's not without fault, and will likely do little to take away from Fortnite's ever-growing popularity, H1Z1 on PS4 is a worthy addition to the crowded genre. Plus, it's free. Can't complain with that."
3. PlayerUnknown's Battlegrounds
Developer: PUBG Corporation, Bluehole
Publisher: PUBG Corporation, Bluehole
Platform(s): PC, PS4, XB1
The one that popularised a genre and made Brendan Greene a mainstream gaming personality, PlayerUnknown's Battlegrounds is about as pure a battle royale experience as you could get. 100 players drop into a hostile environment to scavenge for weapons and ultimately be the last one standing.
Though it was originally overshadowed by the next entry on this list, doubly so by Apex Legends and more, PUBG is still popular with highly populated servers. PUBG Corporation, the subsidiary of Bluehole devoted to the development of Battlegrounds, have also devoted themselves to ensuring new content, with 3 additional maps and plenty of new weapons. It might have been usurped by other, more recent games, but PUBG isn't going down without a fight.
From our PUBG review:
"While slightly late on arrival, PUBG on PS4 provides an excellent battle royale experience marred by some ugly visuals and technical issues, but look beyond its grainy exterior and there's something special here."
4. Fortnite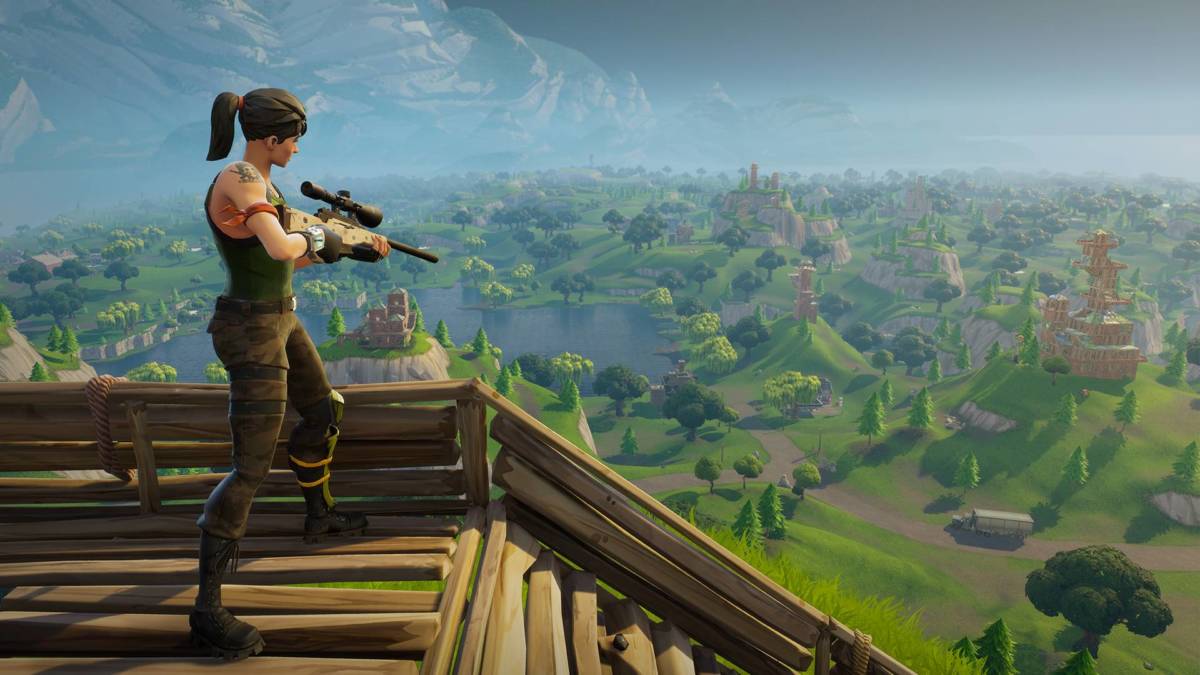 Developer: Epic Games
Publisher: Epic Games
Platform(s): PC, PS4, XB1, NS, Android, iOS
Arguably the current occupier of the battle royale throne, Fortnite went from a mediocre PvE horde game to a sensation with the clever implementation of a battle royale mode. It was Epic that were the first to capitalise on the trend of battle royale, and it's paid dividends for them, but they're not simply content with copying off an established formula.
The crafting and construction of fortifications gives Fortnite a unique selling point over the competition. The introduction of limited time events, such as 20v20v20v20v20 or 50v50 , along with Epic's refreshing approach to live events and new content, have helped keep Fortnite relevant for a year and a half. Plus, it's free to play, so if you're yet to sample any kind of battle royale game, it'd be wise to start here.
5. Tetris 99
Developer: ARIKA
Publisher: Nintendo
Platform(s): Nintendo Switch
Nintendo's take on the battle royale tropes is as wholesome as you'd expect. No guns, no direct violence, just 99 players online competing to discover who's the greatest Tetris player of them all.
While starting slow and steady, as most Tetris games do, things can get very intense extremely quickly. All you can do is stick your head between your legs and panic when five different players are targeting you at once. With Tetris 99 free to play for Nintendo Online subscribers, this is a perfect battle royale for those who are more comfortable with puzzle game than shooters.
6. The Culling
Developer: Xaviant
Publisher: Xaviant
Platform(s): PC, PS4, Xbox One
A veteran of the genre, with a history dating back beyond the likes of PUBG or Fortnite, The Culling is a much more brutal battle royale affair with an emphasis on melee over ranged combat. Up to 16 players must fight to survive in a sadistic game show, where each contestant can gain F.U.N.C which is used to craft the various weapons and items that you'll need.
The Culling was released back in 2016 on Steam Early Access, and became a fairly decent success story, but then PUBG happened. Its release on Xbox Game Preview in June of 2017 was The Culling's second chance at building an audience, but then Fortnite and PUBG happened.
After a bungled sequel release in 2018 that got pulled almost immediately, The Culling is now a free to play title with a small, but healthy following.
7. Darwin Project
Developer: Scavengers Studio
Publisher: Scavengers Studio
Platform(s): PC, XB1
Practically the same take on The Culling's concept, Darwin Project sees 10 players crafting tools to survive a cruel game show whilst utilising loadouts they've allocated prior to starting the game. Fortunately, The Darwin Project has an ace up its sleeve with the Director Mode.
Each round of The Darwin Project is overseen by a drone that's controlled by another player, and they can influence the game how they see fit. They can do small things like heal players or spawn in loot, or they can make players the target of a manhunt and just casually drop a nuke on a particular section of map. Having gone free to play like many other games on this list, The Darwin Project also has a small cult following, but it's well worth checking out.
8. Minecraft: Battle
Developer: Mojang, 4J Studios, Xbox Game Studios
Publisher: Microsoft
Platform(s): PC, PS4, XB1
Inspired by the fan-made Hunger Games variant that popped on PC servers, Minecraft: Battle saw an official release on the now obsolete Legacy Console Edition of the game, and is nowhere to be found on the Bedrock Edition.
If you've read the books or watched the Hunger Games films, the concept is similar. 8 players spawn around a chest containing plenty of loot. Do you take the risk, or do you run away and try to find equipment elsewhere? This mini-game was more of a diversion than any kind of long lasting experience, but it's enjoyable nonetheless.
9. Hunt: Showdown
Developer: Crytek
Publisher: Crytek
Platform(s): PC
One of the more innovative takes on the battle royale idea, Hunt: Showdown combines the PvP nature of a battle royale with some good old fashioned monster hunting. And by monster, we mean giant venom spewing demon spiders, so sod this game for that alone.
4 teams of two enter the arena with the goal of murdering the monster and escaping, and victory means levelling up your character and gaining extra perks, but death means losing your character forever. It's a slower, more visceral and more tactical experience than the rest of the battle royale genre, if you can get over the arachnophobia anyway.
10. Call of Duty: Black Ops 4 – Blackout
Developer: Treyarch
Publisher: Activision
Platform(s): PC, PS4, XB1
It was to be expected that when the battle royale genre started to explode in popularity that the big publishers would want in, and Call of Duty: Black Ops 4's Blackout mode is that inevitability realised. Cue much cynical eye-rolling upon announcement, but Blackout retained that same polish and fast pace that the Call of Duty multiplayer is known for, making Blackout feel like a tighter, more responsive version of PUBG.
The fact it came with Call of Duty: Black Ops 4 ensured that Blackout would enjoy a lively player base, but its future is currently unclear. Will the next Call of Duty game introduce Blackout 2.0, or will this version simply carry over? Time will tell.
11. Ring of Elysium
Developer: Tencent
Publisher: Tencent, Garena
Platform(s): PC
Perhaps not unfairly considered to be an "extreme sports" battle royale, Ring of Elysium seems to doing something unique with its approach to Seasonal content. When the game first launched, the only map was a snowy mountain filled with snowboards, allowing for sweet tricks and sweet no-scopes. Season 2 has shifted focus to Europa Island, with BMXs, parachutes, grappling hooks and more.
They'll all come in handy as you try to survive not only the other players in order to escape, but also the avoid the islands many natural disasters. If Ring of Elysium keeps changing the map each season, it might just carve out a healthy niche for itself. It also helps that it's pretty fun to play too.
12. Realm Royale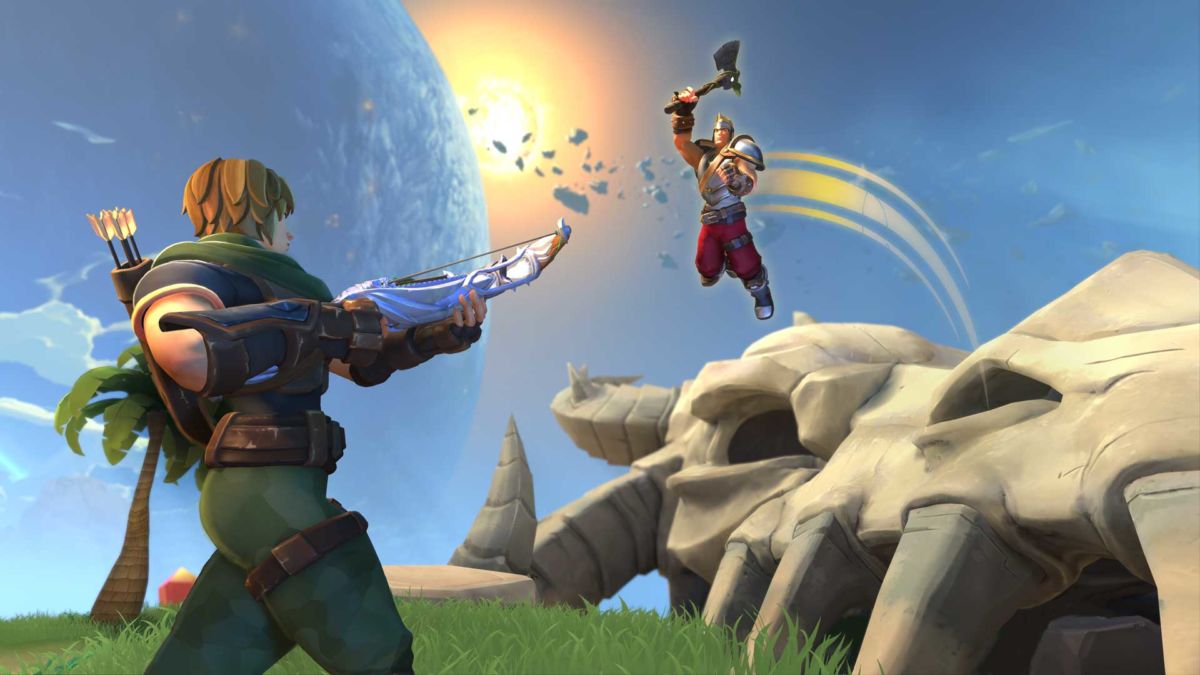 Developer: Hi-Rez Studios
Publisher: Hi-Rez Studios
Platform(s): PC, PS4, Xbox One
SMITE developer Hi-Rez Studios originally intended for their battle royale to be an extension of their hero shooter Paladins, with different character abilities changing firefights and the like. Really, it doesn't sound too dissimilar to Apex Legends in that respect, but the decision was made to make Realm Royale its own game.
While there are classes with their own default abilities, they aren't as game changing as Apex, and can easily be switched in game. Still, being turned into a chicken to avoid getting killed when you're down is funny enough on its own to make this game worth downloading.
13. Totally Accurate Battlegrounds
Developer: Landfall Games
Publisher: Landfall Games
Platform(s): PC
The satirical offshoot of Landfall's Totally Accurate Battle Simulator, Totally Accurate Battlegrounds is, in the best possible way, a pisstake. Developed as an extended April Fool's joke and a passion project for the Landfall developers, Totally Accurate Battlegrounds features all the usual trapping of a battle royale game: parachute in, loot stuff, stay inside the circle.
Of course, all of this is done with the added caveat that the physics are a bit stupid and, by the developer's own admission, is "probably a bit buggy".
14. Fear The Wolves
Developer: Vostok Games
Publisher: Focus Home Interactive
Platform(s): PC
Where we dropping, boys? Nuclear wasteland Chernobyl apparently, if Fear The Wolves has its way. Developed by Vostok Games, with many of its staff working on STALKER before it, Fear The Wolves pits player vs player vs the environment itself.
Along with loot and weapons to find, there are also roaming patrols and packs of wolves that can be just as, if not more dangerous than your fellow players. With dynamic weather events and radiation to contend, Fear The Wolves offers possibly the harshest iteration of the genre yet.
15. GTA: San Andreas – Battle Royale Mods
Developer:  Rockstar North
Publisher:  Rockstar Games
Platform(s): PC
This last entry on our list deserves a mention just for how active and inventive the GTA: San Andreas community is. Just a quick Google search unearths tonnes of roleplay servers, cops and robbers game types and, of course, zombies. But when PUBG exploded like it did, the two main methods of accessing GTA: San Andreas' online multiplayer, San Andreas Multiplayer and Multi Theft Auto, quickly had their own version of the battle royale concept.
The fact that San Andreas already contained plenty of the assets required for a battle royale game, including parachutes, vehicles and plenty of clothing/NPCs for customisation, meant that it was a natural fit. If you fancy revisiting a 14 year old game in a new light, this is the place.
And that's the list. Any we've missed? Any we should have left out? Let us know in the comments. 
Some of the coverage you find on Cultured Vultures contains affiliate links, which provide us with small commissions based on purchases made from visiting our site. We cover gaming news, movie reviews, wrestling and much more.