AEW are putting together a stellar card for what is potentially the biggest wrestling show to ever take place, AEW All In: Wembley. On this week's Dynamite, the third Stadium Stampede match was confirmed with the team of Eddie Kingston, The Lucha Brothers, Orange Cassidy and Best Friends taking on Blackpool Combat Club and three unannounced partners.
As it stands, Bryan Danielson is unable to compete, leaving the trio of Moxley, Claudio and Wheeler Yuta to step into Wembley to take part in Stadium Stampede. Fans are already speculating on who the mystery three may be, with many of the roster already taken up elsewhere on the card. With a fair amount of NJPW/ROH stars already booked for the show, it's very possible that we might see some cameos from international stars in this match.
So let's have a go at running down five wrestlers that may show up for Stadium Stampede.
 1. Minoru Suzuki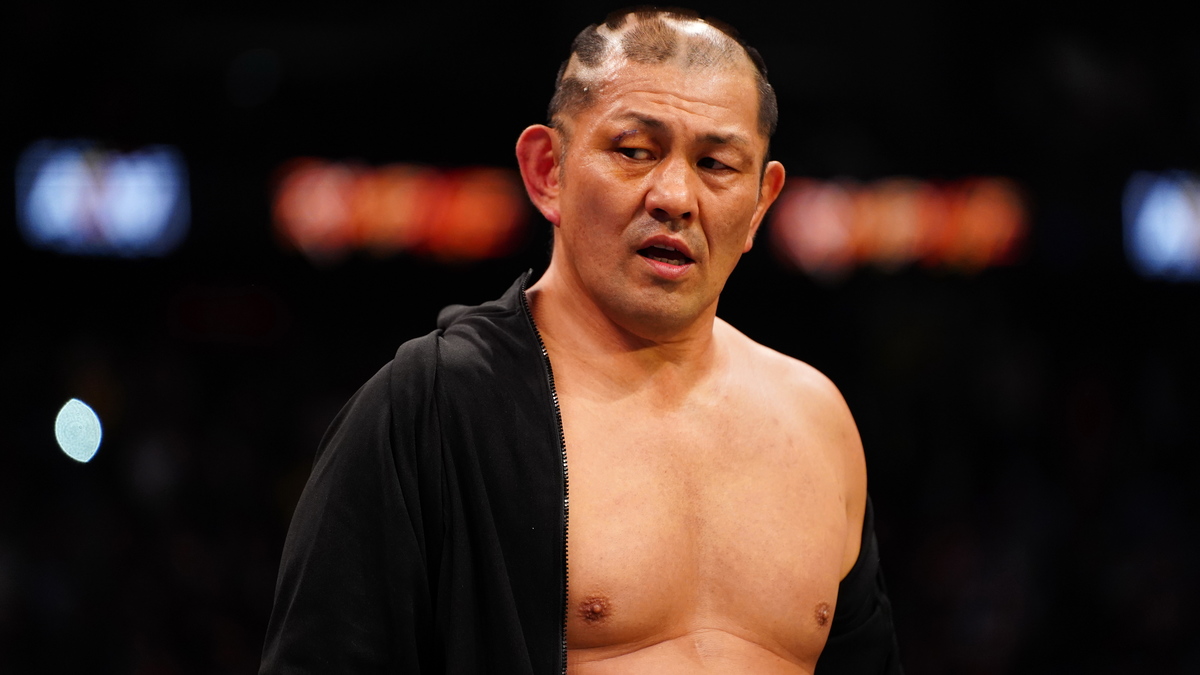 Murder Grandpa is no stranger to competing in AEW or the UK. A former British Heavyweight champion for RevPro wrestling and a mainstay of carnage match-types such as this, Suzuki could very well be one of the mystery guest partners lined up by BCC. Suzuki's hard-hitting style would easily fit in amongst the chaos that is Stadium Stampede, and he'd likely get a huge reaction from the UK fans.
AEW has been an ideal second home for Minoru whenever he's on his travels, there's plenty of reason to speculate that he would want to be involved in what's set to be their biggest show to date.
And let's not forget the time that Suzuki competed in an empty-stadium bout during COVID-times; if you haven't seen it, please go out of your way to find some sheer genius wrestling.
2. Zack Sabre Jr.
Another easy fit for the Blackpool Combat Club is Sheppy's own Zack Sabre Jr. ZSJ has been a staple of British wrestling since the renaissance of the early 2010s, having him miss out on Wembley would be a travesty. Sabre is a well respected member of the wider wrestling community and would make a suitable entry into the card at All In.
With fellow Brit standout Will Ospreay also now confirmed for the card, Stadium Stampede would be a great place for Sabre Jr. to make a name for himself and do what he does best – shit talk and chain submissions. I'd personally love to see Sabre Jr. be more involved with the BCC going forward, his style is befitting of their background and it would be a nice setup for the dream match between him and Danielson somewhere down the line.
3. Shota Umino
Maybe a slightly more obvious choice would be to draft in Moxley's young boy, Shota Umino, for the Stadium Stampede in London. Umino is a fan favourite in the UK after putting together quite an excursion tour in RevPro, wrestling through the post-lockdown rebuild and proving himself as a worthy opponent to any top star. Shota has already had a great outing in AEW, wrestling Chris Jericho and coming across as a potential babyface underdog for the company.
Shota would be a nice addition to the chaos and would be a natural fit to see alongside Moxley and his pals. Another NJPW guy over AEW roster I hear you moan? Show me someone who'd get a bigger pop than 'Shooter' and we'll talk.
4. Rob Van Dam
Recent debutant, Rob Van Dam, made quite the splash in his FTW Rules match against Jack Perry. Originally, it seemed that the WWE Hall of Famer was potentially being brought in for Wembley, but AEW gave the proposed match away on Dynamite, so where do we go next? It seems that an ECW legend like RVD would be the perfect fit for an extreme contest such as Stadium Stampede, right?
Unless TK plans to book a rematch between Van Dam and Perry for the big show in London, Rob Van Dam would be an awesome pick to see as one of the mystery partners, albeit a little strange one for Blackpool Combat Club.
Needless to say, Rob Van Dam still has it and I'd love to see the sort of hardcore nonsense that he comes up with backstage for Stadium Stampede.
5. Chris Hero
Potentially the least likely of the list, AEW has recently taken on Chris Hero as a backstage agent/producer and already fans are clamouring to see an in-ring return for the 'Knockout Artist'. Hero's name is absolutely up there with the likes of Danielson, Castagnoli, Strong and the rest of the indie folklore legends that are now employed as an active wrestler, it would be a shame if Hero wasn't given the same props as them on a mainstream stage.
WWE attempted to make something out of Chris Hero in NXT but unfortunately things just didn't click. Now, it's been a few years since Hero last competed and there's bound to be some ring rust, so if AEW were to ever want to put Hero back in the squared circle, then Stadium Stampede may be the best place to start.
It would be awesome to see the return of some of the best forearms in the business at Wembley Stadium.
READ NEXT: Survivor Series 2002 | Pay-Per-Views To See Before You Die
Some of the coverage you find on Cultured Vultures contains affiliate links, which provide us with small commissions based on purchases made from visiting our site. We cover gaming news, movie reviews, wrestling and much more.