Battlefield 2042, the latest game in the long-running military shooter series from EA and DICE, has finally been properly unveiled. The new game will feature the biggest maps ever in the series, with 128 player matches on PS5 and Xbox Series X | S, along with dynamic weather events and other interactions that make the maps feel more alive than ever before.
This all sounds like the new Battlefield is going to be the best entry in the series, and possibly the best thing since sliced bread or Hades. However there's some news that's certainly given cause for concern, chiefly that there'll be season-led Battle Passes, with free and premium tiers, along with no proper campaign mode. Audible sighs were heard around the world.
Battle Passes in a new multiplayer game isn't exactly the most surprising announcement ever made, let's be honest, though the fact that Battlefield 2042 is going to cost $60/$70 at launch, and then will require players to fork over an additional $10 every season just to keep unlocking new content is a bit of a kick in the teeth. The excuse will likely be that it supports the development of new content, specifically new maps, but interviews and articles have hinted that an entire year one of content is planned out already. Do you really need that additional capital? Are pure game sales not enough, especially when the PS5 and Xbox Series X | S versions are $10 more expensive than the previous gen versions?
That is what it is, I guess. As much as I can write articles like an old man yelling at a cloud, Battle Passes have become such a prevalent monetisation scheme that it's almost pointless complaining about them. They're dug in like a tick. Besides, I've been playing too much Apex Legends this season to really judge Battle Passes anyway, but that's also a free-to-play game that needs monetisation to survive. When games like Call of Duty and Battlefield 2042 do it, it feels a lot more gross.
The real issue here is the lack of a story campaign. Admittedly, the campaigns have never really been the main focus of a Battlefield game since maybe Bad Company 1. Even in the sequel, it felt like an afterthought. Despite that, they were fun, bombastic distractions that players could dive into if the multiplayer tilted them too much. The War Stories in BF1 and BFV in particular were great, largely because they served almost like tutorials for the game's various aspects, including vehicle sections. Learning to fly a plane in a multiplayer server is a harsh crucible, so being offered a single-player space to learn those skills is very much welcome.
What's perhaps more disappointing is Battlefield 2042's premise begs for more exploration. As they are wont to do, the United States and Russia are at war, but the added twist here is the Non-Patriated caught in the middle. Referred to as No-Pats, nomadic refugees that have been displaced due to the ravaging effects of climate change, they lend themselves to either side in an attempt to secure a place for themselves.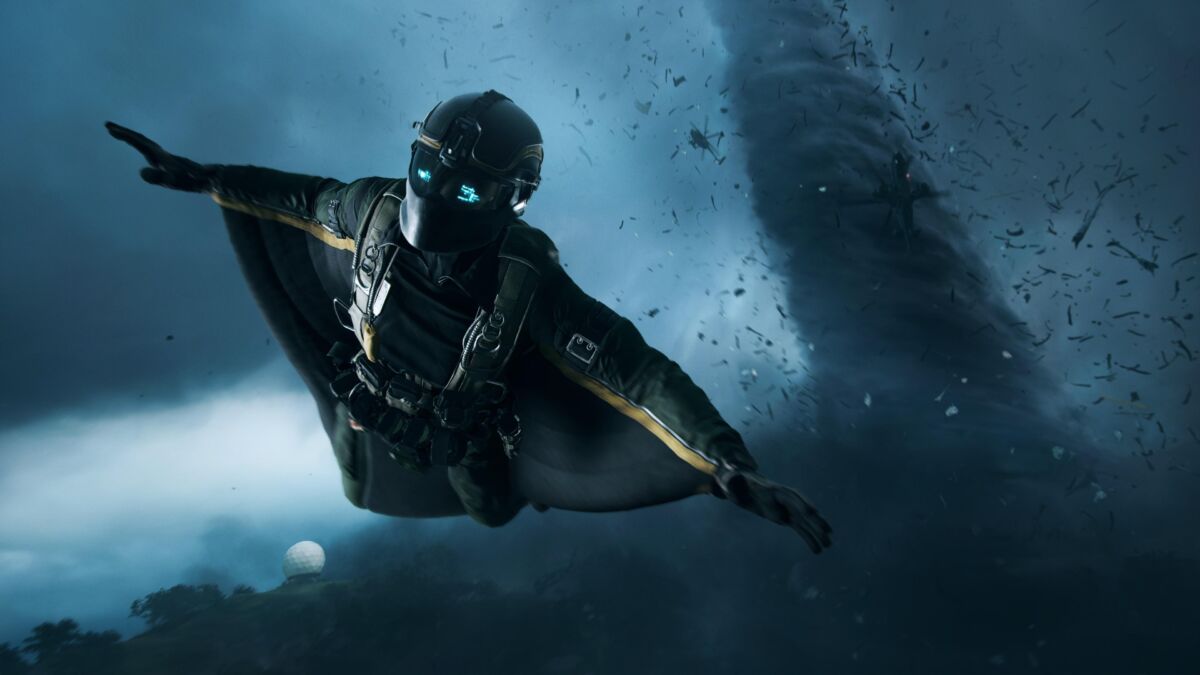 There's potential for a high stakes narrative, or a collection of short stories that focus on desperate No-Pats forced to do difficult things to try and carve out a future for themselves. No heroes or villains per se, just real human stories. Perhaps friends turn enemies as they find more reason to believe in the opposing sides. Battlefield 2042 will even feature named No-Pats in the form of Specialists, who will have their own loadouts and abilities in the various multiplayer modes. The formula is right there, but EA and DICE have opted not to take it.
In a statement to Eurogamer, design director Daniel Berlin described the decision to remove the story campaign: "If you look at the DNA of the studio, what we've been doing for so long, we just said you know what, we're not going to have a traditional single-player campaign this time around, but we're going to put all that emphasis and all those resources into building depth into the multiplayer. Because that is what we do best."
Apparently, the narrative setting will still be explored through the Specialists, as Berlin explains: "2042 is not a game without narrative. You still have a narrative driven world, that's something that you will see through the eyes of the specialists that we're introducing. As we go through the live service, and the seasons, we'll introduce new specialists, and you'll see how the world evolves through the eyes of the specialists that we have."
Essentially, we've got live service storytelling in a similar vein to the likes of Apex Legends, Warzone and Fortnite, which kicked this whole trend off, and–I genuinely lost enthusiasm trying to even finish that sentence. Fortnite established itself with a winning formula, and now it feels like every other multiplayer game has come along to try and ride its coattails — it's become boring now. Sure, there's interesting wrinkles in other games — Apex's comic books are a welcome addition — but not every game has to spread its lore thin across different characters, seasons and other media entirely. Sometimes, a nice, cohesive 6-10 campaign is just more approachable.
Then again, apparently the climate apocalypse story is just here to serve the gameplay, in a classic case of playing the apolitical card. Maybe it is for the best that there's no campaign. If the narrative or setting of Battlefield 2042 is just the means to explore new gameplay mechanics, it means that EA and DICE view what could be a very real future as something "cool", and they're unwilling to point their finger at the corporations and governments who would be responsible for allowing it to happen. Honestly, trying to maneuver Battlefield 2042 as apolitical just seems like cowardice.
The fact that Battlefield 2042 is a AAA online multiplayer only game launching at full price is bound to ruffle a few feathers anyway. Even Overwatch planned to go bigger than its online only original instalment, with a full co-op campaign on top of the PvP modes for its sequel. Call of Duty even tried the whole "no story campaign" with Black Ops 4, and honestly, it was a bit naff as a game. Activision even admitted that the game's sales didn't meet expectations. At least it had the good sense to offer the Zombies mode too though. Right now, we don't know if there will be some alternative mode in 2042, though EA and DICE will be revealing more modes between now and the game's launch in October.
All the furore about Battlefield 2042 probably won't be enough to turn a lot of players off. A new Battlefield, in a modern/near-future setting? Yeah, that's pretty exciting for a lot of players, but the fact that the release is coming with these caveats like no campaign or premium Battle Passes is dulling my hype for the game.
READ MORE: Will We Ever See A New SOCOM Game?
Some of the coverage you find on Cultured Vultures contains affiliate links, which provide us with small commissions based on purchases made from visiting our site. We cover gaming news, movie reviews, wrestling and much more.