Danny King is the award-winning author of over a dozen books and the BAFTA-nominated screenwriter behind the critically acclaimed film, 'Wild Bill'. But it all started with The Burglar Diaries. First publish in 2001, the book quickly attained cult-status, spawned a TV series and launched an unlikely literary career. Here's how.
1. THE WANNABE
I'd wanted to be a writer since I was 10-years-old. I wrote a few short stories, bought some nice roll-neck sweaters, smoked a lot and daydreamed. I even finally got around to writing a book by the time I was 25 (The Executioners – 77p on Amazon), which is something a great many wannabe writers forget to do, but it was universally rejected by all the UK publishing houses (hence why it's 77p on Amazon) and I ended up getting sidetracked for a few years drinking, watching football and trying to convince everyone I knew that I was a writer, (including myself).
2. THE IDEA
The idea came to me as a title at first – The Burglar Diaries. It sounded like a book I wanted to read. I'd been arrested for burglary and car theft a couple of times in my misspent youth (something I could do a whole other article on but I won't) but I'd never really seen it as an inspiration before. It genuinely came to me in a flash (while walking home from work one miserable Wednesday night). Suddenly here was a way of using the 101 stories I'd collected as a petty criminal. What's more the title suggested a format for the book. I didn't need to write it as a clunky convoluted thriller. The book would just be anecdotal. This was a key decision.
3. WRITING
I noted down every idea I could think of on about ten sheets of paper. I ordered them, rearranged them and then broke them down further, adding smaller ideas, incidents and bits of dialogue throughout. Then, when I started writing, I crossed off each idea as I went along. It was real writing-by-numbers stuff. Interestingly, the more I wrote, the more ideas just came to me, often better than the ideas I'd pre-prepared. The first really good line (I think) I wrote was in chapter one and concerned Kenneth More, Richard Todd and a chess board (I'll not repeat it here; too long and it won't sound funny out of context). It came to me off the cuff but it really made me laugh and it set the bar for the rest of the book. It's since become one of my favourite lines and one I'm very grateful to. The book took four months to write in all and came in at just over 71,000 words. I was very pleased with it.
4. FEEDBACK
As always I tried to get people to read it. Most don't, but I don't blame them. It's a thankless task reading someone else's shit book. Most of the time they're dreadful and it always leads to awkwardness telling them. I've since learnt never to ask. If people like something of mine they will volunteer it. If they don't, there's no point in putting them on the spot. But a special mention must go to one of my very best mates, Clive Andrews, who always took the time to read my stuff and who always gave me honest feedback. It's not much, but as a token of my appreciation I always put a character in everything I write called either Clive or Mr Andrews. Although it should also be pointed out that I do almost always have Clive or Mr Andrews being brutally beaten up, just for a laugh. But then again why not? We're not married.
5. SUBMISSIONS
Like every other wannabe I had a well-thumbed copy of The Writer's Handbook (by Dr Barry Turner – I preferred it to The Artists' & Writers' Yearbook) and started sending out my synopsis, the first three chapters, a covering letter and a SAE to all the various publishing houses. This was 1997. In those days most publishing houses still had slush piles or at least accepted initial approaches. This is no longer the case and every wannabe writer now has to go through a literary agent. Anyone think publishing's got better? No me neither. Still, at the time I'd had such confidence in my book that I thought I'd have the publishers lining up to bite my hand off… but I was wrong.
6. REJECTIONS
I don't know exactly how many publishers rejected The Burglar Diaries. Everyone I think. But my submissions came back as fast as I could post them out. Luckily I did most of this through work otherwise it would've cost me a small fortune. Even then I was still nicking, in this case stationery and postage. Some people never change. I was pretty systematic about it, sending out two or three envelopes every Monday to publishers and agents alike, highlighting them in The Writer's Handbook and making a note of the date I sent them and heard back. After a year I got quite downhearted and almost gave up. One of the last publishers I tried was Serpent's Tail. I thought with a name like that they published fantasy stuff but I thought I'd give them a go anyway.
7. SERPENT'S TAIL
Serpent's Tail was an independent publishing house set up by Pete Ayrton, a well-travelled, well-read and thoughtful bibliophile who perks up immeasurably when he gets a glass of white in his hand. His roving editor was John L. Williams, a former punk rocker turned journalist/author/biographer (Into The Badlands, Miss Shirley Bassey). They liked the book but couldn't see where, as a writer, I could go from it. Er… I thought, The Executioners? Ha ha, they said. No. So despite liking the book ST turned me down too. But John was great and wrote me a quote I could add to my covering letters, comparing me to Lawrence Block. I was delighted and even looked up who Lawrence Block was.
8. THE BANK ROBBER DIARIES
Of course it seems so obvious now. I'd just do another diary, only on a different crime. Kiddy-fiddling seemed kind of controversial for a comic novel so I plumped for bank robbery. I'd never actually robbed a bank but luckily very few people have so I just made it all up and hoped no one held my plot up to the light. It took me seven months to write. When it was finished I sent it to Serpent's Tail.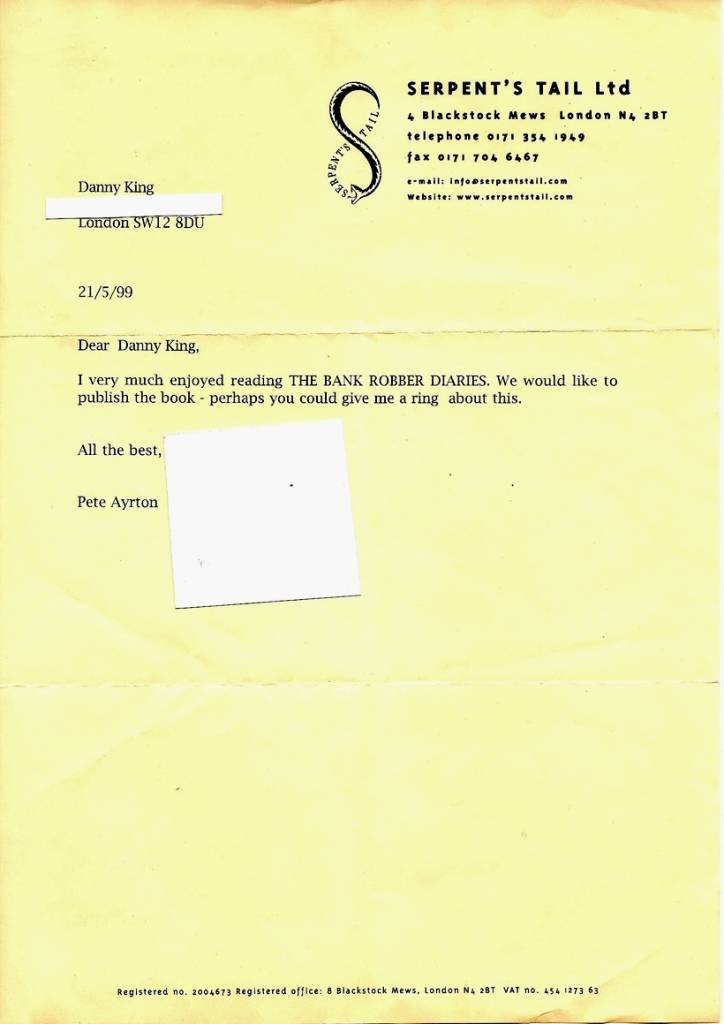 9. BEING PUBLISHED
In May 1999 I received a letter from Pete. It was short and sweet but to the point. He wanted to publish my book. It was the stuff dreams are made of. I called Pete and he was very nice and enthusiastic, so much so that he offered me a three-book deal for The Burglar Diaries, The Bank Robber Diaries and The Hitman Diaries (which I hadn't even started yet). I bored a lot of people that day about how I was a real writer now, something I'd been doing for the last ten years admittedly but finally I had a letter to prove it.
10. THE AGENT
The next day I wrote off to five different literary agencies to tell them I had a three-book deal and ask if anyone cared to handle the contract for me. I'd landed the fish. All they had to do was help me cook it and they could have a slice. Only one agent ever got back to me. But it was an agent at Darley Anderson, one of the biggest literary agencies. I met her and thought all my literary woes were over now that I had an agent. Boy was I fucking stupid back then. Over the next ten years I would have six agents 'looking after me' at Darley Anderson, but I still had to get every publishing deal myself, always with Pete and John at Serpent's Tail, who I had a good relationship with. When Darley Anderson finally dumped me in 2010 I barely noticed. As for the agent herself, she negotiated three-book deal down to a two-book deal and told me this was a positive thing. She then netted me an advance of £3,000 for this two-book deal, half of which was to be paid upfront, half on publication, which meant I still had to go to work the next morning. And the morning after that. And the morning after that. You can't believe how disappointed I was.
11. THE COVER
Not to worry, I still had a book coming out and I imagined a super-cool, ice blue John Le Carré sort of cover depicting a super-cool burglar breaking into an ice blue house. Indeed the original cover wasn't a million miles away. This was the initial artwork that appeared in Serpent's Tail's 2000 catalogue, alongside writers such as Walter Mosley, George P. Pelecanos, Derek Raymond and David Peace. I hadn't heard of any of them but the feeling was mutual and is still the case for them. But I was happy enough. Then Serpent's Tail changed the cover to the one it was ultimately published under. I was horrified. It looked like I'd done it. In thirty seconds. I thought it was a mistake but it sold well and I've since come to love it. Obviously it would've looked better super-cool and ice blue but it would've probably got lost in amongst every other super-cool ice blue cover. Serpent's Tail knew what they were doing.
Some of the coverage you find on Cultured Vultures contains affiliate links, which provide us with small commissions based on purchases made from visiting our site. We cover gaming news, movie reviews, wrestling and much more.