Stop me if you've heard this one before: a group of high school students must pilot giant robots to fight off a monstrous threat and save the world. Or how about this: a girl makes a pact with a malevolent force to gain magical abilities to protect the people she cares about. Maybe these will ring a bell: A young soldier travels through time and ends up in an era different from his own, with no idea how to return home. A moody teen is plagued by strange dreams of another world. A girl discovers a robot from another dimension and has to help it get home before the government agents pursuing them can capture it. Another moody teen wakes up one day with amnesia, and only remembers vague notions of how to fight in futuristic war. A girl is late for school and has to run out the door holding toast in her mouth.
Each of these tropes are recognizable from countless stories in pop culture, and are especially recognizable to fans of anime. They are also all part of the absolutely bonkers 13 Sentinels: Aegis Rim, a game that begins with a teens-piloting-mecha hook, and then proceeds to plow through as many other genres and story types as possible, like a Frankenstein's monster of recognizable anime flavors.
In 13 Sentinels: Aegis Rim, you follow 13 young mech pilots (or, as they're called here, Sentinels) as they battle massive enemy armies and face their individual overlapping, interweaving storylines. Scenes are displayed out of chronological order (time travel being a narrative factor, after all), but always with enough context for you to at least feel like you kind of know what's going on, or know enough that you don't sweat the parts that are still shrouded in mystery. Thankfully, the game includes a timeline of events for you to review when you lose the plot, and a very handy and easily-accessible glossary of terms, people, and events. The game's narrative is ambitious and thrilling, and rather than try to simplify itself for easier consumption, the game gives you these added tools to help you keep up with the operatic, brain-tingling absurdity of it all.
For the first few hours of the game, you spend most of your time in visual novel sections where you control one of your baker's dozen of protagonists (only a few of which you have control of at the start), talking to other characters and unraveling the plot, before transitioning to the game's real-time strategy mech fight sections, in which you move your mechs (disappointingly abstracted as blue geometric shapes) in combat against the enemy Deimos forces (disappointingly abstracted in red geometric shapes) across a flat city map.
The juxtaposition between the visual novel and RTS elements is jarring at first, but as you continue the game's prologue scenes and learn more of the game's combat systems like aerial units, the benefits of melee vs. ranged combat, and various other quirks of mech management, you begin to appreciate the variation. Just as you're getting a little tired of reading through your current character's inner thoughts, it's time to get in the robot. Likewise, the combat sections are rarely particularly long or complex outside of the highest difficulty setting, meaning the fights never drag on too long to keep you away from the teen drama and intrigue.
However, this mandatory push-and-pull of the game's opening hours is not a constant. Once you complete the opening missions, the game splits itself apart, sorting features into three modes: Remembrance, where you play through the visual novel chapters, Destruction, where you engage with the RTS battles, and Analysis, where you can access the aforementioned lore library and use in-game currency to get more insight onto certain characters and plot events. It's such a surprising choice, and a real moment of freedom for the player, when weights fall from your shoulders that you didn't even realize you were carrying, and now you have the power to move about the game however you see fit. Don't like the combat? Ignore it! Binge read your favorite character's storyline instead.
Occasionally, characters' story paths will be blocked off and you'll need to either complete someone else's story to a certain point or complete a specific number of battles in the Destruction mode to proceed, so the game does still require you to engage with all its systems, but it does let you determine when, how, and in what order. This freewheeling attitude toward the game's narrative and combat feels in line with the story's structure. The scenes are already being told out of sync and in a nonlinear order, so there's nothing you the player can do to "spoil" it or mess up the desired order of events. The confused jumble of story beats and character motivations can't be experienced in a "wrong" way because there is no "right" way.
Narratively, the game knows what it's about and never tries to hide it. Characters openly admit their situations sound like blockbuster movies or anime, and while that level of lamp shading usually feels disingenuous, here it just feels honest. Plot-wise, this game about child soldiers in a futuristic war they don't fully understand really commits to the full ramifications of its premise. "Our fate was sealed a long time ago," one character muses early on. Trapped in a cycle of repetitive war, time travel meaning they're always chasing their tails, the main characters have some very frank and brutal discussions about survivor's guilt, the ethics of war, struggling to live up to societal expectations, and the lasting impact of generational violence.
One of the characters is even a time-displaced soldier from Imperial Japan, which brings in a huge and fascinating element of how the nuclear bombing of Hiroshima and Nagasaki, the single largest act of terrorism in world history, has led to the daisy-chain of events culminating with giant robots fighting in the future. Such a willingness to interrogate not just the outcome of the attack, but the Japanese Imperialism of that era, is one of 13 Sentinels' most surprising narrative swings, and it pays off big time.
There are some narrative missteps, like a few female characters having to squeeze into objectifying costumes, and a bungled discussion of a nonbinary character presenting male in some situations and female in others (admittedly, this scene is more of an awkward exchange as opposed to anything actually transphobic). Considering how much story the game is biting off, it's not too surprising that some pieces aren't fully chewed.
There's also a girl who makes a magic bargain with a talking cat, so, y'know, it has something for everyone.
While the game's structure, and the vast breadth of material it covers, is intriguing, your mileage may vary on how much you enjoy it. While fans of science fiction, specifically anime science fiction, will find a lot to like, all players will find a lot in general. This wide scope and dense plotting does eventually hit a point of diminishing returns, though. Even if you are a die-hard fan of all the genres and stories 13 Sentinels is pulling from, you'll start to buckle under the accumulated weight of all the far out concepts the game throws at you, especially in moments where the current plot will be on track for a conclusion only to be completely dashed to the side by a new, never-before-seen concept. On the one hand, it's exciting that the game has so many tricks up its sleeve. On the other, you may find yourself wishing the game could just calm down and focus for a few hours instead of scribbling out plot ideas for a whole new concept in the middle of what felt like a climactic stretch.
I admit, this complaint feels contrary to the point of the game. 13 Sentinels is clearly aiming for excess. It wants to be, do, show, tell, and give as much as it possibly can. The game isn't just trying to convey enough story for a decades-long shonen manga series, it also wants to be its own sequel series and spin-offs. The developers' desire to cram in as many different story beats as possible is extremely thrilling to behold. What's more impressive is that every new twist or turn feels believable within the confines of world and tone 13 Sentinels has established, and nothing ever feels out of place or unearned. But because of the visual novel's looping, criss-crossing structure, it can be difficult to hold the full picture in your mind as you begin to feel like you're binge-watching six different shows at once.
It helps that, across all these timelines, scarred cityscapes, and bustling high school halls, 13 Sentinels: Aegis Rim is an absolutely gorgeous game to look at in these visual novel sections. Every backdrop is full of detail and personality, with light and shadow being used to great effect in this painterly style. While some characters can be difficult to distinguish from others due to similar designs and costumes, all characters do look dynamic and easy to empathize with, without any feeling like the clear main protagonist. The mechs and monsters also all have a terrific and terrifying sense of scale and detail, contrasting with the tiny, breakable humans and instilling a true sense of awe.
The visuals in the battles are, sad to say, considerably less striking. As mentioned above, the mechs that look so imposing in the visual novel scenes are flatted out to blue shapes, and the enemies likewise robbed of all their gravitas as they look like Space Invaders. The UI in these battles is cluttered and plagued by a small font. While the battles are rarely challenging or require a great amount of strategic finesse — enemies spawn in, they move directly at you, you move directly at them, you smash them, repeat — navigating all the submenus and juggling your characters while being unable to read the options your choosing can make you feel like you're Mr. Magoo defusing a bomb.
Thankfully, there aren't that many fights to get through, as the game is definitely a visual novel first and a strategy game second. The developers' clear priority actually begs the question of why they included the strategy section at all, other than the notion that, if a game has giant robots in it, then we absolutely have to play them. This logic doesn't really pan out though, as these battles don't really give the player much sense of giant mech experience anyway.
While the overall experience has some rough edges, and the real-time-strategy elements feel ornamental at best, 13 Sentinels: Aegis Rim's maximalist more-is-more mentality is a blast to experience. Rocketing from plot to plot, and never afraid to throw a complete curveball at the player, the game is a consistently surprising, and often unexpectedly nuanced, Supreme Pizza piled high with memorable characters and stories.
A PS4 key was provided by PR for the purposes of this review.
Some of the coverage you find on Cultured Vultures contains affiliate links, which provide us with small commissions based on purchases made from visiting our site. We cover gaming news, movie reviews, wrestling and much more.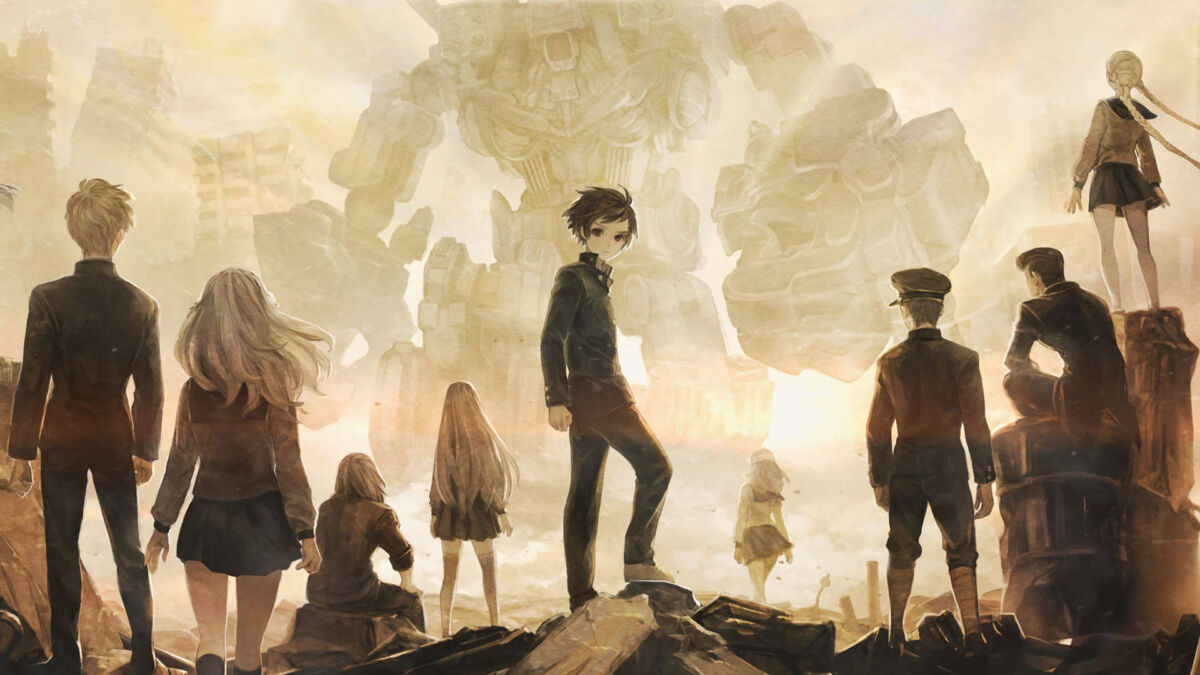 Verdict
13 Sentinels: Aegis Rim is an odd hybrid, but it knows exactly what it wants to be and pursues that goal with confidence and style.