In wrestling, it's hard to keep things interesting for the fans. People grow weary of seeing the same old characters doing the same things, so as a result characters are often changed or updated. The only problem with this is it tends to screw with character's backstories. Their personalities change in a way that real people's don't; their motivations become unclear like the time Ahmed Johnson went from feuding with The Nation of Domination to teaming with them.
This is a list of characters who have drastically changed over the years, but I should emphasise the word character. I'm focusing on wrestler's whose character had changed, rather than their gimmick. For example, Dude Love and Cactus Jack are the same character but different gimmicks, while Kane and Dr. Isaac Yankem are two completely unrelated characters portrayed by the same person. Hopefully it'll make sense as we go along, and since I've already mentioned Dude Love and Cactus Jack, let's start with this guy.
1. Mick Foley
Debuting as Mankind in 1996, commentator Jim Ross often referred to Mankind by his real name Mick Foley, which was rare in professional wrestling. This of course led to Mick Foley's past being brought up often, and to a series of interviews with Mankind in character.
This introduced the world to Dude Love, a hippy character Mick Foley played when wrestling in home movies. Vince McMahon loved the character and shortly after Dude Love debuted, teaming with Stone Cold Steve Austin. Later on in the year, Cactus Jack made his WWF debut against Triple H, and as a result the three faces of Foley was born, leading to Mick Foley appearing under all three personas in the 1998 Royal Rumble.
So at this point, Mick Foley was known as Mankind, Dude Love, Cactus Jack and Mick Foley by JR on commentary, and later Foley did wrestle under his real name in a match on RAW against Terry Funk. It's worth noting that with each persona, Foley's style changed: Mankind was unhinged, he'd pull out his hair and punish himself, Dude Love was a fun-loving hippy, Cactus Jack was a vicious brawler and Mick Foley was just Mick Foley.
2. Brother Bruti
If you're wondering, yes I'm referring to Brutus 'The Barber' Beefcake and no I'm not referring to Brutus 'The Barber' Beefcake. Really I'm referring to Ed Leslie's WCW run under multiple names and multiple personalities. It all started in 1994 when Hulk Hogan brought his pal Brutus to WCW, referring to him as Brother Bruti.
However, Bruti turned on his old pal Hogan and became known as The Butcher, after butchering both his friendship with Hogan and his main event push. This didn't last, however as, Butcher lost his memory and ergo forgot his name and became The Man With No Name.
He would go on to join Kevin Sullivan's Dungeon of Doom and became The Zodiac. When looking at The Zodiac you would probably think that it was a separate character from Bruti and Butcher and Man With No Name, but you'd be wrong, as it turned out The Zodiac character was just a ruse, Bruti was a mole taking the Dungeon down from the inside. He turned face again and became The Booty Man and had suddenly become infatuated with his own arse.
So Bruti was brought in by Hogan, turned on Hogan, forgot his name, was recruited by Hogan to infiltrate the Dungeon of Doom, then fell in love with his own arse. This is just the tip of the iceberg too, Bruti would go on to wrestle as The Disciple who was also related to all the above characters.
3. Kama
Ignoring the Papa Shango and Sir Charles characters (since they're not related to this character), Kama debuted in the WWF in 1994 as part of the Million Dollar Corporation. He was known as the Supreme Fighting Machine and feuded with The Undertaker after he melted his urn down into a gold chain.
After leaving WWF and returning back to the WWF he joined the Nation of Domination under his full name, Kama Mustafa. During this time he would be referred to as 'the Godfather' of the Nation of Domination, and when the stable broke up, he embraced his inner pimp (as we all do from time to time) and became known as The Godfather full time.
Surrounded by prostitutes, The Godfather enjoyed great success when he won the Intercontinental Championship. However in 2000 the Attitude Era was coming to a close and there was backlash from the Parents Television Council in regards to the character, I guess some parents just don't want their kids to be looking at prostitutes on TV. As a result The Godfather renounced his pimping ways and turned good, joining Right to Censor and calling himself The Goodfather, which is a much nicer name, but he never appeared as a father at all so that's a shame.
That didn't last however and he eventually went back to being The Godfather before retiring. So from 1994 onwards, he'd gone from Kama the Supreme Fighting Machine to Kama Mustafa, then The Godfather, then The Goodfather and finally back to The Godfather.
4. Mike Awesome
Mike Awesome was a monster heel in ECW, standing a foot taller than most of the roster, his power and agility got him over with the ECW crowd leading to two ECW World Heavyweight Title reigns. His WCW career, however, wasn't as successful. Starting off as The Career Killer Mike Awesome, he famously threw Chris Kanyon off the Triple Cage at Slamboree 2000, as well as attacking Kevin Nash.
This would be the highlight of his WCW run, however, as shortly after he went from killing careers to thrilling fat chicks as Mike Awesome:The Fat Chick Thrilla. His gimmick changed yet again (all this is in 2000) to That 70's Guy, driving a funky painted bus into arenas which he famously powerbombed Shaggy 2 Dope from the Insane Clown Posse off of (by accident).
Then in 2001, his gimmick changed one last time as the Florida native became The Canadian Career Killer. Since he's from Florida he can't be a career killer from Canada, so I guess he killed the careers of Canadians. Whatever the case, he teamed with Lance Storm, a pairing that would lead into his all too brief WWF run.
5. Billy Gunn
Now here's a guy with a long and storied career in the WWF/E, Billy Gunn started in 1993 with his 'brother' Bart Gunn. The two wrestled as cowboys and were known as The Smoking Gunns, and together they would hold the Tag Team Titles three times.
After The Smoking Gunns split Billy would have a brief singles run. Managed by the Honky Tonk Man Billy became Rockabilly. Luckily for him this didn't last long as he began teaming with Road Dogg as the New Age Outlaws and changed his name to 'Badd Ass' Billy Gunn.
They had a successful career as a tag team, winning the Tag belts another three times. But all good teams must come to an end and after the Outlaws split Billy once again embarked on a singles career. Luckily he never had another Rockabilly level gimmick, instead he became Mr. Ass, adopted new music and mooned everyone. I would say that when your gimmick is you show your ass to people it's not a good thing, but I was a huge mark for Mr. Ass back in the day, and at least it was better than Rockabilly.
Mr. Ass would win the Hardcore Title and the 1999 King of the Ring tournament before siding once again with Road Dogg. After their second run, he again went solo, this time as The One Billy Gunn after the Right to Censor banned him from being called Mr. Ass. As The One, he won the Intercontinental Title, but didn't hold it long.
He went back to tag team wrestling, first teaming with The Big Show as the Show Gunns, but then he had a more famous tag team with Chuck Palumbo. Known as Billy and Chuck, the two were given a homosexual gimmick which lea to Chuck proposing to Billy, but before they could get married, they revealed that the whole gay thing was just a publicity stunt.
After this, he went back to being Mr. Ass and had a foursome with Torrie Wilson, Jamie Noble and Nadia. He ended up on Velocity and teamed with Hardcore Holly, but his career never reached its previous heights and in 2004 he was released after 11 years with the company, and during those 11 years Billy was a cowboy, a country music star, a New Age Outlaw, became obsessed with his own ass (must have nicked the gimmick from Booty Man), called himself The One and pretended to be gay.
6. Chuck Palumbo
His character has undergone many transformations too. Teaming with Sean O'Haire as part of the Alliance, his first WWF gimmick was pretty much the same as his WCW gimmick. This changed of course when he turned gay and teamed with Billy, winning the Tag Team Title twice.
After this he got in touch with his Italian roots and joined Nunzio and Johnny Stamboli as the WWE's version of the Full Blooded Italians, or FBI. After this he began working mostly on Heat under a mechanic/greaser gimmick as Custom Chucky P (no I don't remember that either).
After leaving WWE he returned with a new biker gimmick, riding a bike to the ring and teaming with Michelle McCool. He never recaptured the success he had with Billy however, and left WWE in 2008.
7. D'Lo Brown
D'lo (or D-Lo) started his WWF career in 1997 as a fat, suit wearing side member of the Nation of Domination. He dropped the weight however and became a full time member of the Nation. He got over with his European Title run where he was billed from different European countries every week.
After the Nation split up, he teamed with Mark Henry and in one of WWE's worst ever stories, caused Terri Runnels to have a miscarriage. To thank him, she became his manager. After this, he became a pimp and teamed with The Godfather, adopting similar attire and actions.
After this he became a Sikh, teaming with Chaz and being managed by Tiger Ali Singh and wearing traditional Sikh clothing. It's not often a wrestler goes from being a pimp to a Sikh but that's what happened to D'Lo. In 2002, he claimed to be a victim of racism during his matches and formed a stable with other black wrestlers before being released.
So D'Lo came in as part of a stable of black wrestlers and went as part of a stable of black wrestlers, and in between this he caused a miscarriage, became a pimp and converted to Sikhism.
8. Triple H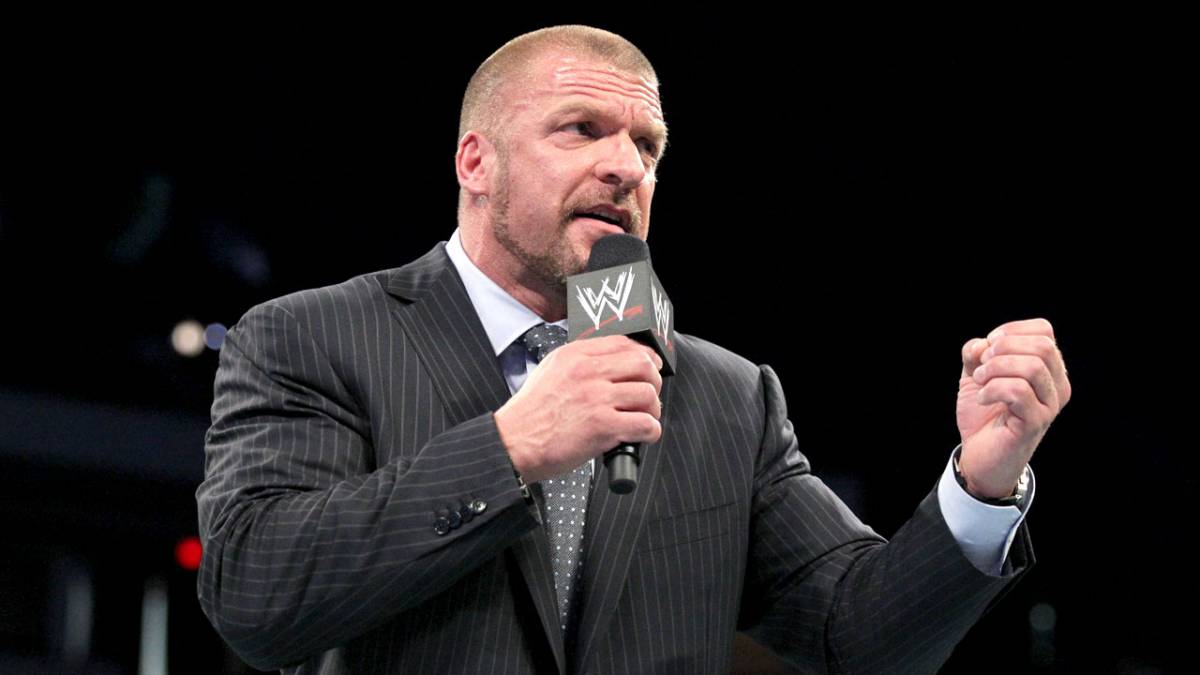 Triple H debuted in WWF in 1995 as Hunter Hearst Helmsley, a Connecticut blueblood who taught people proper etiquette. During this time he won the Intercontinental Title, was managed by Sable, Mr. Hughes and Chyna, and feuded with pig farmers, garbage men, and Goldust.
His gimmick changed drastically when he and Shawn Michaels started D-Generation X along with Chyna and Rick Rude. He stopped teaching etiquette and started telling people to suck his dick. When Shawn got injured and retired, HHH became the leader, brought in X-Pac and the New Age Outlaws and DX became fan favourites.
He eventually turned against DX and became evil Corporation HHH. He adopted a new look, wearing shorter trunks and taped fists, a look that stuck with him when he became The Game, a gimmick that was originally meant for Owen Hart. As The Game, he sided with Stephanie McMahon, and it became his most successful gimmick.
In 2001, he briefly teamed with Steve Austin as the Power Trip, but that o'ered quickly when HHH got injured. He returned as a face in 2002 and won the Rumble, but a year later he was heel again, wearing ugly biker shorts and started a new faction called Evolution alongside Ric Flair, Batista and Randy Orton. This lasted about two years and ended when HHH and Flair turned on Orton and later Batista. Later, HHH ended his alignment with Flair, too.
In 2006, he went back to being immature DX Hunter, once again teaming with Shawn Michaels. After getting re-injured in 2007 he left and not much happened gimmick wise when he returned. He started just as a face feuding with Randy Orton again and King Booker – he would also team with Michaels again as DX.
Nothing of note happened until 2011 when he became COO Triple H. He feuded with The Undertaker at WrestleMania 27 and 28 and this gimmick would lead to Authority HHH, which is still his gimmick.
Looking at H when he came in and looking at him now, it's a big change, not only in look but in gimmick. Since his debut he's been Connecticut Blueblood Aitch, immature heel DX Aitch, face DX Aitch, evil Corporation Aitch, The Game (heel), Power Trip Aitch, The Game (face), Evolution biker shorts wearing Aitch, immature face DX Aitch, the COO and finally, the leader of the Authority.
9. Viscera
Viscera had a strange and varied career in the WWF/E, starting with his debut in 1993. His initial gimmick was that of an African-American who along with Mo and Oscar tried to make people's lives better in the inner city. What a nice bunch of lads, eh?
Vince McMahon saw big things for this big man, however, and turned him heel, and after winning the King of the Ring tournament he became King Mabel, and was carried to the ring on a throne. His push didn't pan out however and he left WWF.
He came back in 1999 as Mabel when he fought Mankind on Heat before the 99 Royal Rumble. During the Rumble, he was kidnapped by The Ministry and became their enforcer, complete with a drastically new look which included a black trenchcoat and white contact lenses.
He would leave again, only to return in 2004, and by 2005 he had become The World's Largest Love Machine. With the new gimmick came another drastic new look as the World's Largest Love Machine wrestled in the world's largest pyjamas.
Viscera didn't do much, wrestling mostly on Heat. He teamed with Val Venis, feuded with Charlie Haas, and famously seduced Lillian Garcia. He turned heel in 2007 and was sent to ECW which saw possibly his most famous gimmick, as well as his most drastic costume change.
In ECW, he was dubbed Big Daddy V and wrestled in tights and suspenders like a big fat stripper, with his massive tits hanging out. Someone thought that was a good idea, but luckily for us it didn't last long as after being drafted from ECW to Smackdown, Big Daddy V was released before he could appear on the show.
10. The Rock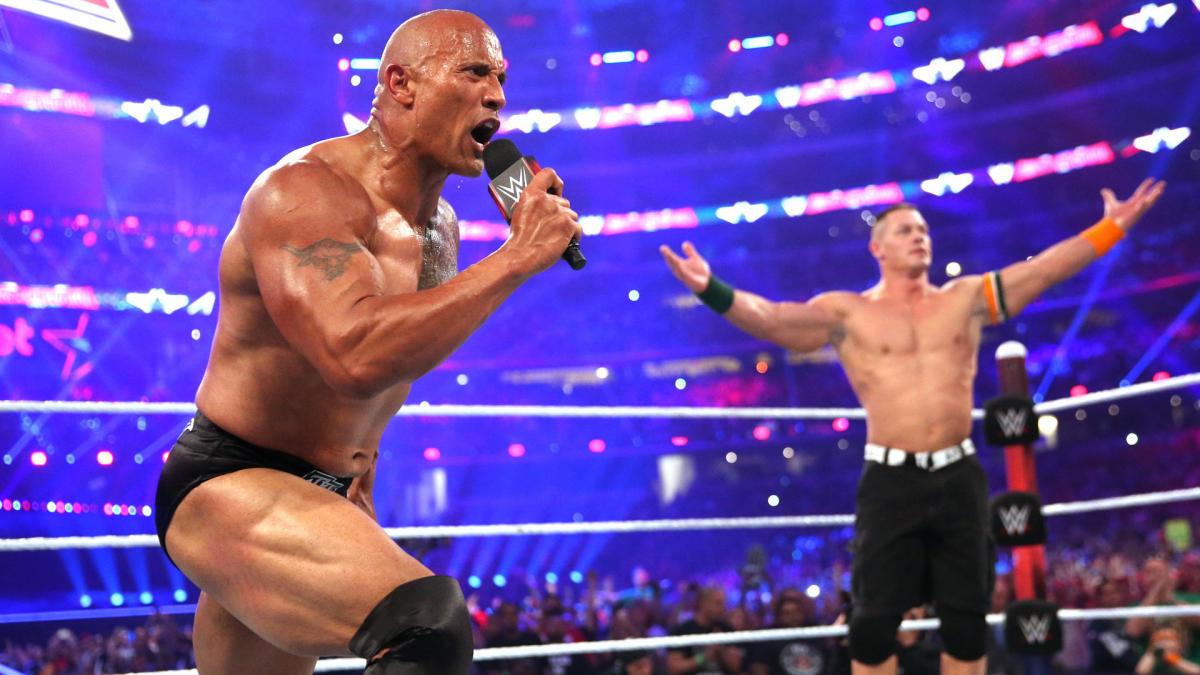 Probably the best known wrestler as far as casual fans are concerned, thanks mostly to his recent film career, The Rock has come a long way in the WWF/E. Debuting as Rocky Maivia, a happy go lucky babyface with no character other than he always smiled, he was quickly shat on by fans who booed and chanted "Rocky sucks" and "Die Rocky die."
Luckily for The Rock the powers that be were smart enough to turn him heel so that fans wanting him to die made sense. He became The Rock and joined the heel stable the Nation of Domination. His new gimmick of insulting interviewers and referring to himself in the third person got him crazy over, and in 1998 he won the WWF Championship and sided with Vince McMahon becoming Corporate Rock.
Corporate Rock wrestled in his work out attire, rather than his traditional trunks. He would feud mostly with Steve Austin during this time and lost the belt to him at WrestleMania 15. Just how the fans hated Rocky and he turned heel, the fans loved The Rock and he turned face.
As a face he called himself The People's Champion and feuded with The Undertaker and the now Corporate Ministry, won the Tag belts with Mankind, and won the 2000 Royal Rumble. The Rock maintained his face persona right up until 2003, feuding with Triple H, Steve Austin and Hollywood Hogan.
2003 saw The Rock's most drastic gimmick change since he joined the Nation. The Rock had big success in Hollywood (well, success) and as a result he didn't see the now WWE as a priority for him, turning heel and becoming Hollywood Rock.
He would mock the cities he was wrestling in through song, he once again feuded with Steve Austin and also feuded with the debuting Goldberg, losing to him at Backlash. Since then he's been Part Time Rock, returning every now and then either as an in-ring performer or in non-wrestling roles.
So since his debut in 1996 (which was his actual debut, not his WWF debut) he had gone from Rocky Maivia to Nation Rock to Corporate Rock to People's Champion Rock to Hollywood Rock and finally Part-Time Rock, which is similar to People's Champ Rock but he only pops up for WrestleMania.
11. Bradshaw
Oh boy, Bradshaw, now there's a man with a lot of big gimmick changes during his WWF career. Starting in 1997 as Justin 'Hawk' Bradshaw, his first gimmick was that of a tough cowboy who branded defeated foes with his initials.
The gimmick didn't go anywhere, maybe because this wasn't the 1970's, and he would start teaming with Barry Windham as The New Blackjacks and became Blackjack Bradshaw. He'd cut his hair short and grown a great big moustache to fit in too, but sadly this gimmick didn't get over either.
After the team split up he was just known as Bradshaw, a tough Texan wrestler. He had various mid-card matches, including a win over Vader, but nothing much happened until he teamed up with Faarooq and joined The Ministry.
Starting out as The Acolytes, Bradshaw and Faarooq where Undertaker's, well, acolytes, doing his bidding along with the rest as the Ministry and acting as the stable's resident tag team while the rest concentrated on singles action.
After the Ministry disbanded he stuck with Faarooq and the two became known as the Acoltyes Protection Agency, or APA for short. They went from doing evil things (like kidnapping Stephanie McMahon) to smoking cigars and fighting in bars and, according to one of their T-shirts, pounding ass.
Together they hung out in their own office which was usually set up in a large hallway with their own branded door in the middle which they would insist people use despite there being no walls either side of the door. They were muscle for hire and would protect anyone who paid them. This gimmick was a big success for them but it ended when they were split up during the brand split which saw Faarooq go to Smackdown and Bradshaw go to RAW.
On RAW, Bradshaw went back to his Texan roots by wearing a cowboy hat and carrying a cowbell. To add to the Texas gimmick, he renamed the Hardcore Title the Texas Hardcore Title and his Clothesline from Hell became the Clothesline from Texas. Hey, did we mention this guy was from Texas?
Bradshaw got injured and when he came back he went to Smackdown where he once again teamed with Faarooq as the APA, only this time he'd cut and stopped dying his hair and shaved his beard, giving him a totally different look. They had some success, but when Faarooq lost a 'you're fired' match, Bradshaw refused to resign, and as a result the team had split up once again.
He turned heel again and became a JR Ewing type character, wearing a suit with his cowboy hat. This new Wall Street gimmick proved to be his most successful, and one he's stuck with ever since (his character didn't really change when he began commentating). Along with this new gimmick, Bradshaw adopted his real name John Layfield, but kept the Bradshaw name as his middle name, earning him the initials JBL.
He would go on to win the WWE Championship and the US Championship before retiring to commentate. In his career, he went from being Justin 'Hawk' Bradshaw to Blackjack Bradshaw to Cowboy Bradshaw to Acolyte Bradshaw to APA Bradshaw to Texan Bradshaw from Texas back to APA Bradshaw but with short hair and finally to JBL.
Some of the coverage you find on Cultured Vultures contains affiliate links, which provide us with small commissions based on purchases made from visiting our site. We cover gaming news, movie reviews, wrestling and much more.