Trapped in a Dating Sim: The World of Otome Games Is Tough for Mobs (or just Trapped In A Dating Sim as it's more commonly called) is a comedy/sci-fi isekai anime based on the light novel series by Yomu Mishima, with many fans clamouring for a Season 2.
After getting an otome game to 100% completion at his sister's request, the protagonist dies while falling down the stairs. However, he finds himself reincarnated in the game. With all the memories of finishing the game, he restarts his life as Leon Fou Bartfort, the son of a minor noble family, hoping to live a comfortable life as a background character. However, as he enrolls in an illustrious academy, he finds that fate might turn out differently for him.
The issue with the isekai genre is that many of them can feel a dime a dozen, with a formulaic plot and bland archetypes. However, Trapped in a Dating Sim stands out for a few reasons. Compared to other isekai protagonists, Leon stands out because he is spiteful and revels in disappointing those who stand against him. It also pokes fun at Dating Sim games, and has similar aesthetics to Code Geass, though the political intrigue is much more toned down and used for comedy instead of drama. There are still a few loose ends to be tied up though. Will we see Leon succeed in his quest to expose Marie's manipulation of her love interests in Trapped in a Dating Sim: Season 2?
When Is Trapped in a Dating Sim: Season 2 Being Released?
There is good news about Trapped in a Dating Sim: Season 2, as it was officially announced in December 2022 by the company Kadokawa via press release, with the anime character designer Masahiko Suzuki producing an illustration in celebration of the news.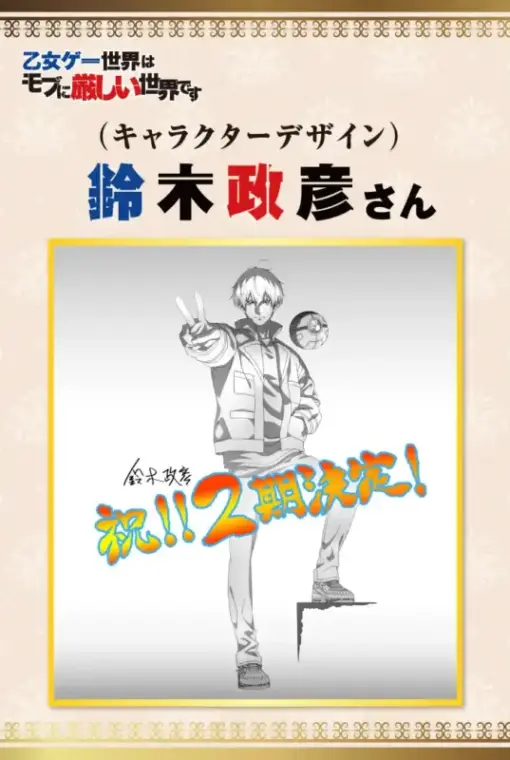 A poster for the second season of Trapped In A Dating Sim was also released.
There is no official release date for Trapped in a Dating Sim: Season 2, but considering the first season was announced in November 2021 and then premiered in April 2022, we can predict a quick turnaround, hopefully either coming out in late 2023 or early 2024.
What Is Trapped in a Dating Sim: Season 2 About?
Trapped in a Dating Sim: Season 1 adapted the first two volumes of the original light novels, so season 2 would continue on following the light novel series. In Volume Three of the Trapped in a Dating Sim series, Leon's political rivals have him thrown in prison, which the neighbouring Principality of Fanoss uses as an opportunity to attack the kingdom. Leon must try to free himself, while pondering whether it is even worth saving the country who betrayed him.
Which Studio Is Making Trapped in a Dating Sim: Season 2?
Trapped in a Dating Sim: Season 1 was animated by studio Engi, a subsidiary of Kadokawa, and is licensed by Crunchyroll and Plus Media Networks Asia in South East Asia. Barring any major changes, this will continue for Trapped in a Dating Sim: Season 2.
Where Will Trapped in a Dating Sim: Season 2 Be Aired?
While we are waiting for Trapped in a Dating Sim: Season 2, the first season is available to stream on Crunchyroll and to own on Apple TV. You can also get the light novel series and the manga adaptation from retailers such as Amazon and Forbidden Planet.
READ NEXT: Warrior Nun: Season 3 – What You Should Know
Some of the coverage you find on Cultured Vultures contains affiliate links, which provide us with small commissions based on purchases made from visiting our site. We cover gaming news, movie reviews, wrestling and much more.