It's almost time for Zelda fans to start saying goodbye to their loved ones, as Tears of the Kingdom is due to launch on Switch on May 12th, 2023. The sequel to Breath of the Wild has been long in the making and is expected to go down as the game of 2023, but ahead of its worldwide launch, critics have been having their say. And what they're saying may be sweeter music to the ears than even Song of Storms.
Guys, you might not believe this, but the new Zelda video game? Pretty good apparently. The game's Metacritic score currently puts it at a 97 score from 60 reviews, which helps it rank among the website's highest rated games ever, right alongside BOTW's 97.
Opencritic currently has an aggregated score of 97, which is higher than BOTW's 96, though do bear in mind that the predecessor has considerably more reviews. The current score of 97 shoots it up to the top of Opencritic's best ever games, right alongside Super Mario Odyssey, but again it's worth bearing in mind that subsequent reviews and broader opinions tend to drag this figure down over time.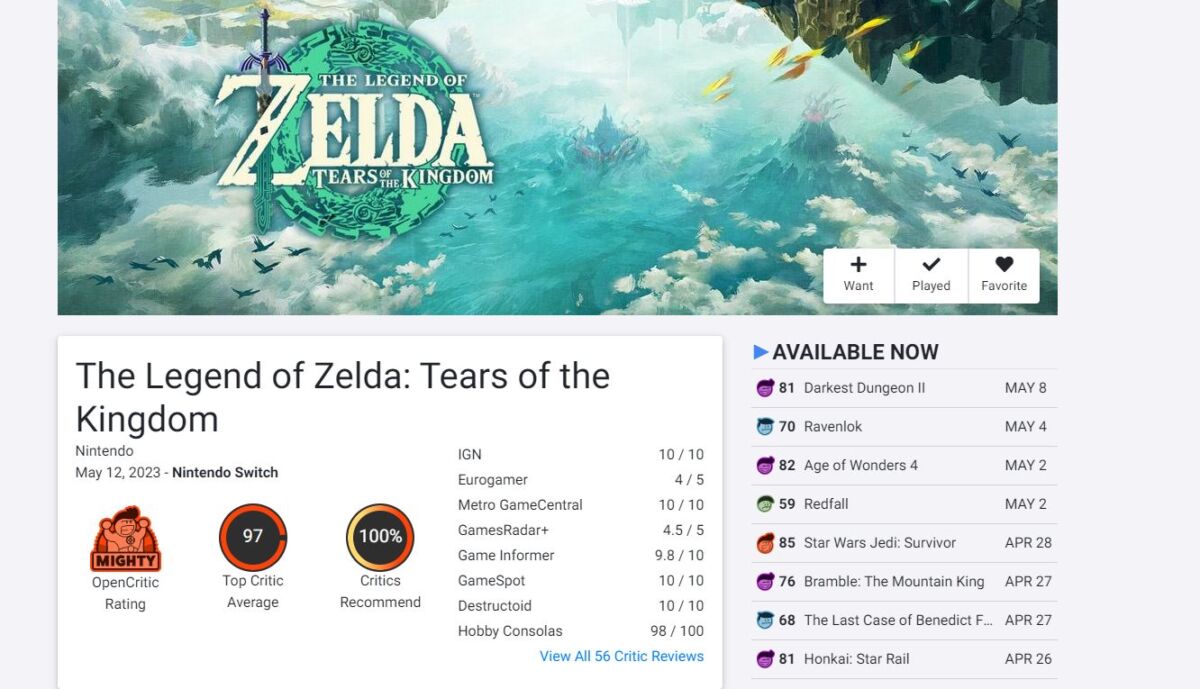 From IGN, who gave it a perfect 10/10 and lauded it as being even better than BOTW:
"The Legend of Zelda: Tears of the Kingdom is an unfathomable follow-up to one of the greatest games ever made, somehow improving upon it in nearly every way – be that with simple quality-of-life improvements, a genuinely exciting story, or wildly creative new building mechanics that make you rethink what is possible."
GameSpot is equally full of praise for TOTK, giving it another 10/10 and saying:
"Tears of the Kingdom is a triumph of open-ended game design that pays homage to the best parts of the Zelda franchise's own storied history–and sometimes exceeds them."
The lowest score so far comes from Eurogamer, who have only just converted to a star system rating just before this review dropped, which is somewhat interesting to note in of itself, but really, it's a number on a screen and ultimately has no bearing on your life whatsoever, as the only number you should keep an eye out for is the date that you die on and also when you can get a new free coffee from Costa (I only have two beans):
A terrific Breath of the Wild follow-up with some brilliant new systems, amazing views and more dungeon-type spaces, plus a slightly deadening emphasis on gathering resources.
So yeah, not bad, huh? Even the least positive review is more positive than most reviews, and is still a pretty glowing review. Who knows, maybe if Nintendo keep making these things, they will really start to catch on.
UPDATE: A considerably more mixed 6/10 review from Gfinity has dropped the overall ratings down:
"If you've yet to step foot into the open world of Hyrule, Tears of the Kingdom is the best way to experience it, with just enough new ground to keep things interesting. But if you didn't gel with the 2017 release, the story alone might not be worth the second attempt."
TOTK is now at a 96 on Metacritic, but remains at a 97 on Opencritic as Gfinity's review doesn't seem to have been added yet.
The Legend of Zelda: Tears of the Kingdom launches May 12th, 2023 for Switch. Keep it locked to Cultured Vultures for just an obscene amount of content over the coming days.
READ NEXT: Ranking All Sega Consoles from Worst to Best
Some of the coverage you find on Cultured Vultures contains affiliate links, which provide us with small commissions based on purchases made from visiting our site. We cover gaming news, movie reviews, wrestling and much more.