If you are over the age of 12, wrestling is uncool. It's a fact. We just have to live with it. The problem is though, pretend fighting is also strangely compelling: like a Shakespearean morality play with steel chairs and sunglasses instead of wooden swords. These days there are broadly two types of wrestling fan: children who watch wrestling, and adults who used to be children watching wrestling.
If you were a child who watched wrestling, we don't really need to tell you what the Royal Rumble is. You remember. Thirty wrestlers enter one at a time, knocking each other over the top rope until there's only one left. Names like Stone Cold Steve Austin, The Rock and even Shawn Michaels will spring to mind, depending on how old you are. That was back then. You've probably long since lost touch with what's going on in the world of fake fisticuffs. Trust us when we say it's exactly as goofy as it was when you were a kid, and that's why we love it.
So who are the big stars of the ring these days and why should you care what happens? Winners and losers are decided beforehand anyway, right?
Who is the Champion?
This is Roman Reigns. He is the World Champion (or whatever they call it these days), and the bigwigs in WWE really want him to be the next face of their company. He looks cool, don't you think? With the hair and the chin and the tattoos? If you had to design the perfect wrestler from scratch, you'd probably wind up with something close to Reigns.
Well, it's not quite worked out as WWE had planned. Reigns is certainly popular with kids but the growing contingent of adult fans haven't quite warmed to him so much. See, while Reigns has become a decent enough wrestler, there's a sense he's been pushed down fans throats ahead of more 'talented' and more 'deserving' guys.
Anyway, at the moment Reigns is in the middle of a storyline with company owner Vince McMahon, who's playing the same evil boss character he did years ago against Stone Cold Steve Austin. Like a normal boss in a normal company, McMahon is quite openly trying to sabotage the career chances of his top employee.
Normally, the Royal Rumble match decides who gets to fight the champ at Wrestlemania, the biggest event of the year. This time though, the match is actually for the World Championship, and Reigns will enter number one. Why? Because Vince McMahon.
What will be the best match?
Aside from the actual Rumble match itself, the best match of the night will probably be Dean Ambrose against Kevin Owens. If actual smart people got to decide who was fighting for the World Championship, they'd pick these two. Ambrose is the loose cannon – Heath Ledger's Joker meets Han Solo – with a frenetic energy rarely seen anywhere else. Owens is a street fighter, snarky and bulky, but faster than he looks.
As things stand, the pair are fighting for the Intercontinental Championship, after Ambrose dethroned Owens at the end of last year. Between them, the two can boast more than twenty years of wrestling experience before they even signed for WWE. After several bouts in recent weeks, this one could go either way. Grown up fans often try to guess who WWE will award the win to, but either guy could carry the championship going forward.
Don't women do wrestling as well?
Yes, but because no one at WWE noticed modern culture happening, they're called Divas. That's what women are, right? We're not grossly out of touch in how we think of women, are we?
For a while, women's wrestling in WWE was a novelty act full of half-trained swimwear models. Now though, thanks to the company's training program NXT, a glut of uber talented women are starting to emerge. It's going to be a while before fans stop thinking of Divas Title matches as anything other than a toilet break, but the talent is there to change that.
The Royal Rumble will see current Champion Charlotte, daughter of wrestling legend Ric Flair, defend against Irish fighter Becky Lynch (her nickname is the Lass Kicker – geddit?). It'll probably be something like this:
Before I move on, I should also mention Bayley, who's still at NXT. Mark my words folks, one day soon she's going to be more popular than John Cena:
But who's going to win the Royal Rumble?
That's a tricky question, my friend. Can I have an easier one?
The truth is that Roman Reigns will probably lose the World Championship on Sunday. A year ago the guy 'won' the match only to receive a chorus of boos that his cousin The Rock couldn't even extinguish. Having him win from being the first entrant would only elicit a worse response. Here are some guys who could win:
Brock Lesnar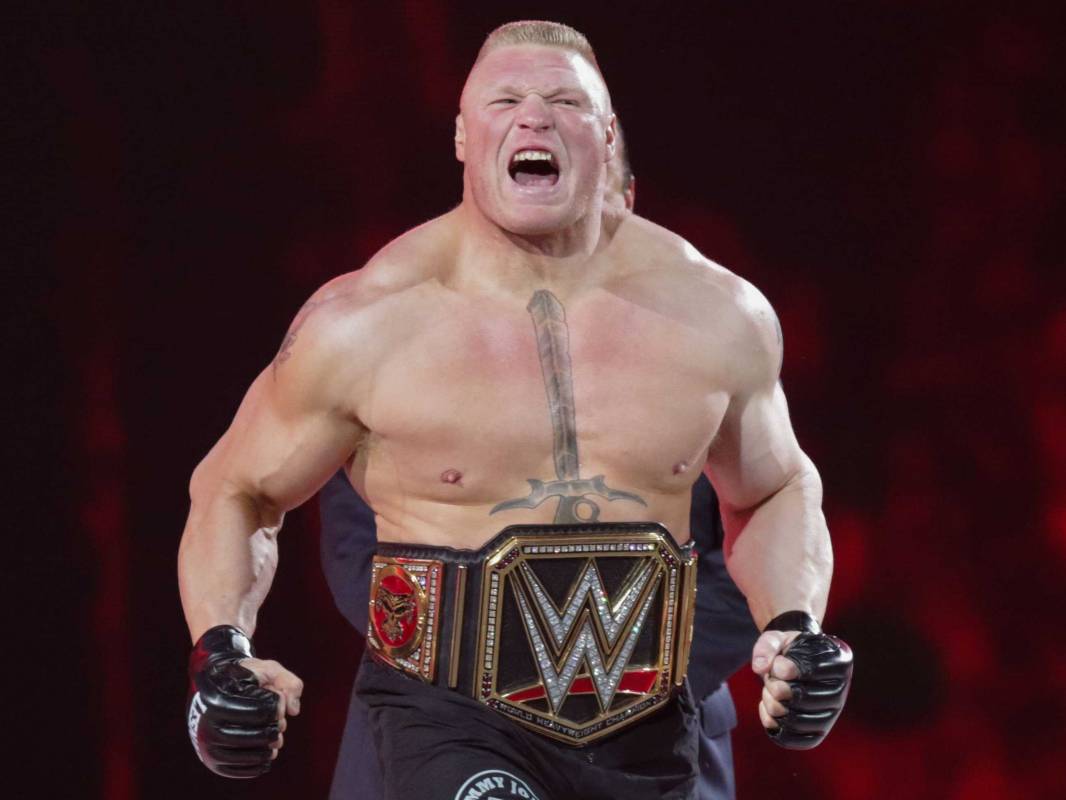 Finally someone you've heard of, right? For some people, Lesner was WWE's main guy when they were kids. For others, he's the former UFC Heavyweight champion. In WWE he's a monster bad guy who's slowly morphed into a monster good guy. It happens a lot these days: for fans who know how scripted wrestling is, rooting for an entertaining bad guy is much more fun than cheering a bland good guy. Lesnar only makes occasional appearances these days, but he's scheduled to be in the match, so he'll be one of the favourites.
The New Day
https://www.youtube.com/watch?v=siCf9CBgLIY
Speaking of entertaining bad guys, The New Day might be the most popular gang in the whole company right now. Made up of three guys the company basically had no plans for, The New Day are pretty much taking the piss every time they speak into a microphone, and it's made them megastars. The WWE doesn't usually allow its tag teams near the World Championship, but expect the New Day's Big E to do well in the Rumble. New Day Rocks!
The Wyatt Family
When The Undertaker finally checks in permanently to the wrestling retirement home, the man who will likely replace him is Bray Wyatt. Joined in the ring by a bearded cult he calls his family, Wyatt has exactly the sort of sinister charisma you'd get from the killer in a cabin-in-the-woods horror film. Most recently Wyatt and his gang became the first wrestlers in years to successfully beat up Brock Lesnar. Don't count them out.
Triple H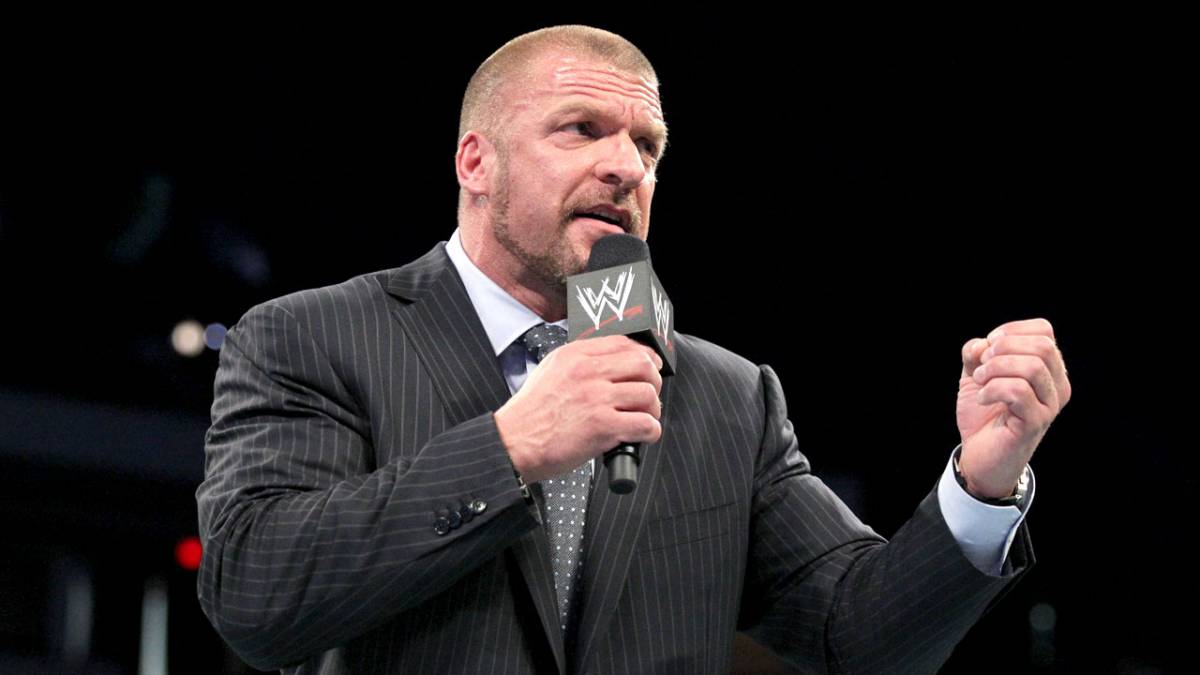 The smart man's money is on this guy. If you're an old fan reading this out of curiosity, you'll know exactly who Triple H is. Once one of the company's main wrestlers, Triple H is now its COO after marrying Vince McMahon's daughter Stephanie (in real life, just to be clear). At the end of last year, Roman Reigns beat the hell out of the guy after being screwed in a Championship match, and he hasn't been seen since. Backstage, Triple H is known for burying up and coming stars (CM Punk, 2011), so if he walks out as entrant number 30, don't be surprised.
Some of the coverage you find on Cultured Vultures contains affiliate links, which provide us with small commissions based on purchases made from visiting our site. We cover gaming news, movie reviews, wrestling and much more.