It's hard not to be won over by pretty much everything Ratchet & Clank: Rift Apart tries to do and almost universally succeeds with. The first truly new game in the series since 2013's Into the Nexus is not only one of the most stunning games ever made, but also feels as close as any modern 3D platformer can get to capturing the wide-eyed wonder of playing Super Mario 64 for the first time.
It's magic.
Ratchet & Clank: Rift Apart is SSD: The Game, its plot seemingly conceived just to show off the power of the PS5's fancy internals — I'm not complaining, though. When Doctor Nefarious turns back up, comic book cackling his way through a parade for the duo, it's not long before the fabric of space and time is torn, leaving gorgeous new dimensions for you to explore almost at the drop of a hat.
And you don't even need to be a Ratchet & Clank fanatic (Clankatic?) to dive right in and a smile to almost immediately cross your face. I've barely dabbled in the series since its PS2 days (I was more of a Jak guy), but thanks to the interdimensional hopping that acts as a soft reboot for many of the franchise's characters, you don't have to worry about being weighed down by generation-specific baggage. Rift Apart features characters from across the whole Ratchet canon, but with its own distinct riffs.
It's a riff on Ratchet that gives Rift Apart its most unique twist, though. Main character duties are split between Ratchet and Rivet, another Lombax who comes to the fore after Clank tries to do a very nice thing for Ratchet that quickly goes awry. Rivet is the female counterpart to Ratchet with many of the same characteristics and plucky "up-and-at-'em" outlook, just with a tinge more attitude. She feels right at home in the franchise, and her interactions with Clank are super endearing, especially when he apologises to her for getting kidnapped early on and causing a giant hole in the wall in her hideout.
There's lots of little details like this that really feel like Insomniac have put their all into these characters, evidenced by the charming conversations between them as they explore new worlds and hunt down collectibles. It's an organic way of building personalities (especially Rivet's) without it distracting from the fun of the action. Good luck not getting distracted by just how damn gorgeous this game is, though.
You've probably read and seen a lot of praise for Rift Apart's visuals by now, almost bordering on hyperbole. As someone who really doesn't care all that much about fidelity, even I was bowled over from one scene to the next — everything you've heard is true. Even in performance mode for higher frames without the highest resolution or ray tracing, I was constantly floored by Rift Apart, whether it was a distant horizon, the ruffles of fur, or just how alive even the most seemingly mundane of environments felt. It's like somebody boiled the essence of Pixar, distilled it into a sugary drink, and then mainlined it directly into your eyeballs.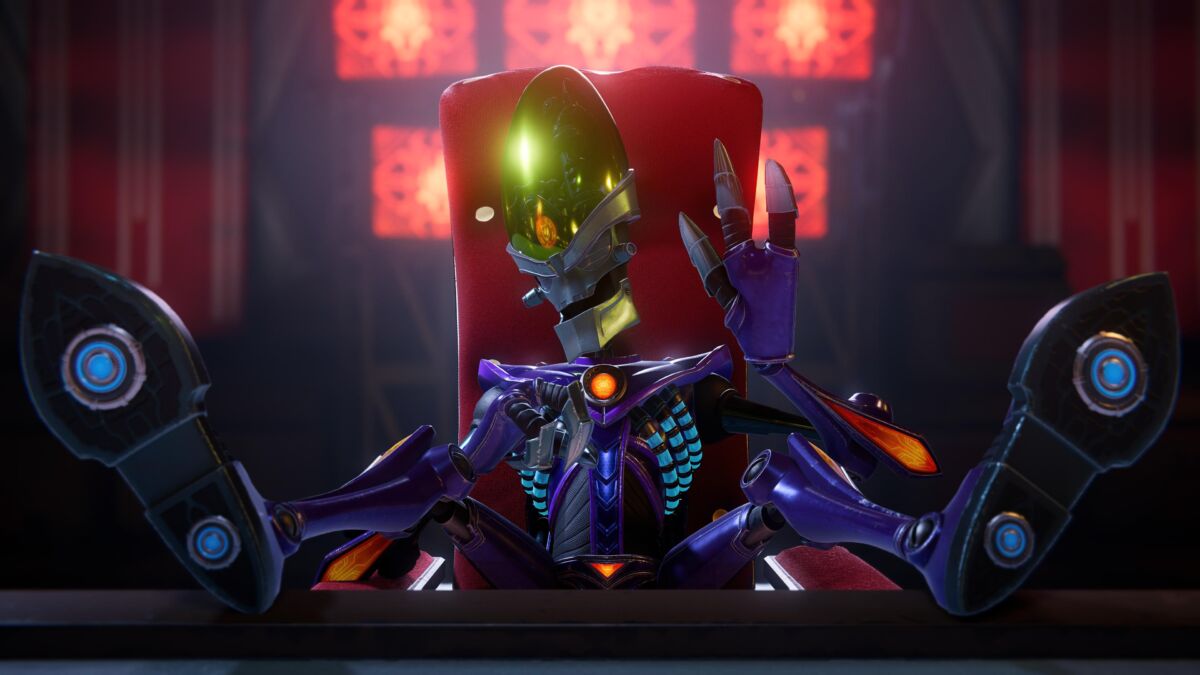 You can go from marvelling at one planet to the next in a matter of seconds too, thanks to the PlayStation 5's SSD. I was initially a bit disappointed that I couldn't just walk through a rift to instantly go to a brand new level and it was more like slices of level instead, but then I got to a planet that seemed to be inspired by the best levels from Titanfall 2 and Dishonored 2. I won't spoil it here, but it's really one of those "so this is next-gen" moments you won't soon forget.
If you can stop ogling Rift Apart, there's plenty of content to tuck into with lots of variety — once you think you have the game figured out, along comes some new weapon, mini-level, or mechanic to switch things up. Ratchet and Rivet can both use rifts to reach new places while in combat, but they can also travel through larger ones to collect new armour pieces, giving them buffs against specific enemies and more. When you've shot your way through waves of goons, you might then play as a tiny robot spider who dives into an AI program, or fly around atop a giant dragon creature to find them food.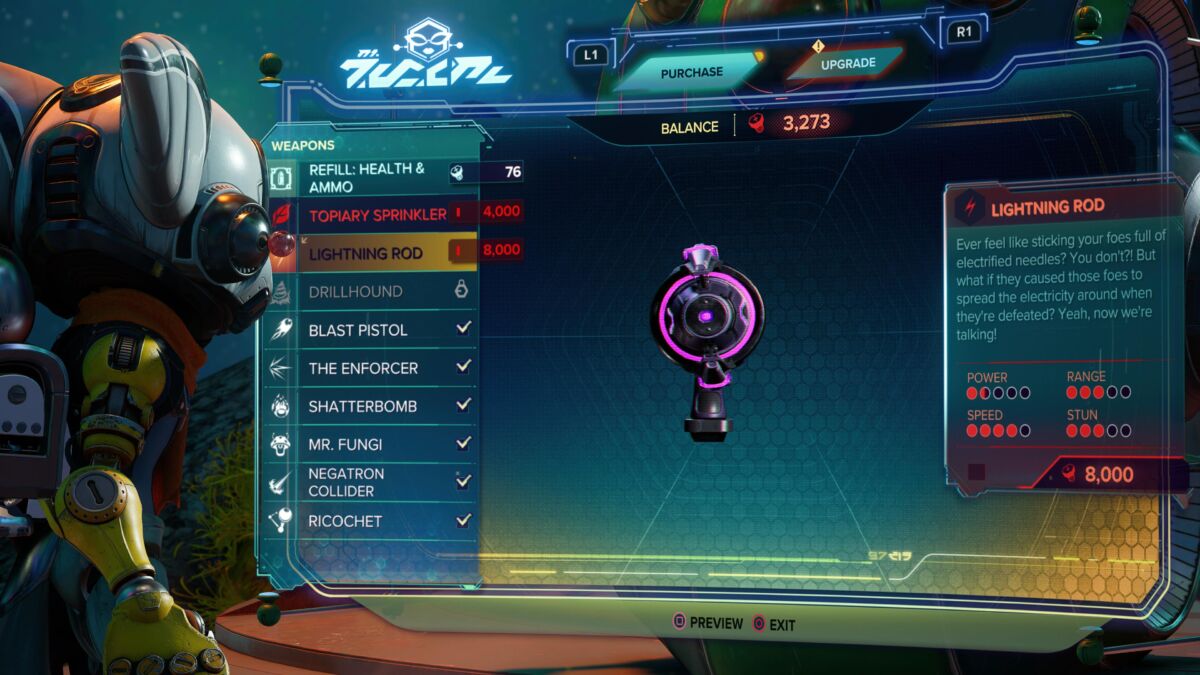 But it's not like you'll get bored of the main meat of Rift Apart, either: the platforming action. With plenty of tools at your disposal, whether that's an explosive robot dog that burrows underground or a mellow mushroom guy who will distract your opponents, Insomniac really flex their creative muscles when it comes to your tools of destruction. You can even upgrade them to have different traits by collecting Raritanium and then using it to purchase different upgrades to bolster stats until you unlock a specific mod.
The levels themselves also feel open-ended to a small degree, with optional side missions to complete that are usually tied to collectibles, as well as the alluring hunt for the aforementioned Raritanium. There's a lot of things to collect here too, whether that's hidden teddy bears or Gold Bolts or level-specific trinkets. There's plenty of ways to upgrade Ratchet and Rivet too, with a smorgasbord of things to level up and fiddle with. Completionists will be in their absolute element with Rift Apart, especially as you can swap to and from levels so fast that you won't even have unlocked your phone in time. Scrolling through Twitter while waiting for things to load is going to be a weird habit to drop as this generation goes on.
If there's anything to ding Rift Apart on (and I really have to engage the critical side of my brain here), it's that the basic platforming itself just doesn't feel all that good. Jumping from platform to platform has this disconcerting lightness to it, like you're leaping around without much heft at all. It works, sure, but it always either feels weirdly weightless or finicky whether or not Ratchet or Rivet will make the jump, or even just grab the ledge. You may also struggle with the camera early on as it can feel sluggish at spots, but once you get into the rhythm of the action, you'll likely not even notice it.
Ratchet & Clank: Rift Apart is the best possible proof, as if any was needed, that the mascot platformer still has a lot to offer. Like the Marios, Sonics, and Crash Bandicoots before it, Rift Apart beckons a new generation of gaming in an emphatic way and proves what this new tech is capable of, laying down a gauntlet for games over the next five years to pick up. If you've been asking why you should buy a PS5, Rift Apart is the answer.
A code was provided by PR for the purposes of this coverage.
READ NEXT: The Best PS5 Exclusives You Should Play
Some of the coverage you find on Cultured Vultures contains affiliate links, which provide us with small commissions based on purchases made from visiting our site. We cover gaming news, movie reviews, wrestling and much more.