Mild spoilers for Prey follow.
During Prey, the new Predator prequel out now on Hulu, main character Naru (Amber Midthunder) encounters the Predator multiple times before their final battle. There's one confrontation in an open prairie where Naru learns open space and the Predator's laser targeting system aren't a good combination. Another occurs in a burned forest where she sees how the Predator moves through the treetops and uses its shield as both a defensive and offensive weapon. In another, she learns the limits of the Predator's thermal vision and how it might be vulnerable to distractions and attacks from above.
Prey uses these scenes to brilliantly set up a final confrontation where Naru uses everything she's learned to attack the Predator as effectively as possible with the weapons she has. Her preparations don't reduce the amount of danger she's in. They might give her a greater chance to survive, but the tension of whether or not she can never goes away. The Predator is still bigger, faster, and has more advanced weapons — her survival isn't guaranteed. After watching the movie again (this time in its Comanche language dub, which I highly recommend), I started to get excited when thinking about how it builds tension through challenges presented by the environment and the limitations of certain weapons, and how that could be incorporated into the next Horizon video game.
Like Prey, Horizon is set in the beautiful American West and has a protagonist that uses a bow and arrow against a technologically advanced enemy that is her quest to defeat. But similarities in how Prey and Horizon think about the environment and characters mostly stop there. In the game, Aloy, the main character of both Horizon Zero Dawn and Forbidden West, traverses and fights robot dinosaurs in forests, deserts, mountains, and jungles. But the changing environments are mostly attractive set dressing for encounters with the types of machines you find there. There's no meaningful difference in feel or approach to fighting some machine in mountains versus in the forest.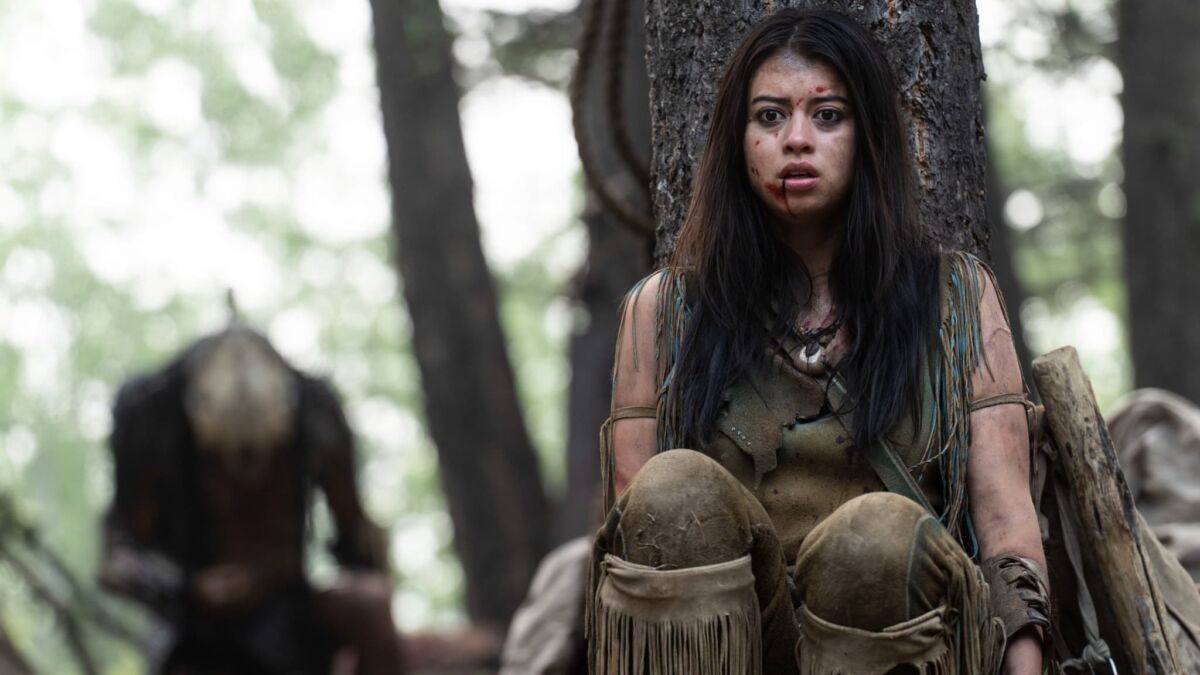 Part of the reason for this is Aloy's incredible athleticism. She jumps, dodges, and rolls with such ease that evading the attacks of all but the highest-level enemies is pretty easy. That combined with the fact that there's no stamina meter, and Aloy moves equally fast in every environment and it becomes even easier to stay out of the attack pattern of most machines. In the sequel, Aloy gets access to a grappling hook and a glider that adds a vertical dimension to the gameplay and another avenue of evasion, if you happen to be near grapple points or a structure. This collection of tools and physical abilities means players don't have to worry much about surviving an encounter if they're constantly moving.
To try and capture it in one word, Aloy is powerful, and she's supposed to feel that way. That was a conscious decision by the designers, whose goal was to give the player as much control as possible. But the cumulative effect of all that control is a flattening of what it feels like to move through or fight in different environments. After hundreds of hours spent playing both Horizon games, I'm left unable to tell any stories of fighting a specific machine in a memorable environment that contributed to the encounter in some way, except for one.
At a certain point in Zero Dawn, Aloy is stripped of her weapons and dropped into the center of an enclosed arena with a corrupt behemoth. This was the first time I had encountered this machine and I didn't have my weapons. There was a moment of panic as I was forced to reorientate and figure out what I was capable of without my weapons. The game took away some control at this moment and forced me to work within its imposed limitations instead of giving me more and more options.
As you watch Prey, your understanding of what Nary can and can't do is constantly developing. She isn't a weak character, but she has limitations — her weapons, strength, and how fast she can move — that she must work within as she faces off against the Predator. She uses the environment to give herself an advantage and face the Predator on her terms. Over two games, the ethos in Horizon has been to give the player more and more options for movement and weapons. This lets players pull off some amazing moves, but (and I have to speak for myself here) it doesn't always encourage optimal or creative play.
Aloy always moves so quickly and easily through the environment and her weapons fire so fast that the easiest way through an encounter is always going to be shooting. Don't get too close to a machine, target the weak spots, apply elemental damage, and keep shooting and moving until it's dead. There are multiple threads on the game's Reddit complaining about this specific problem and Forbidden West tacitly acknowledges that this is what most players do with constant reminders to try different weapons — twenty hours in, I was still getting them.
When given the option, most players are going to take the path of least resistance through a game. So as long as Aloy's bows are the most effective option in almost every encounter, that's what most players will do instead of using the various traps, mines, overrides, or distractions that are in the game. Adjusting the way Aloy moves or how her movement and weapons are affected by the game's environment isn't about taking away the player's fun. It's a way to encourage them to engage more fully with all of the systems and mechanics the developers spent a long time making.
What if the next time you came across a Sawtooth in the snow you had a few more variables to consider? Maybe Aloy's movement speed is reduced because of the terrain, so you can't run past or away from the encounter. Also, fire projectiles, which Sawtooths are weak to, don't work because of the environment. This makes the primary strategy of running and shooting less viable; you could still do it if you want, but there are better secondary options to consider. Maybe it's overriding a pack of nearby machines and baiting them to fight the sawtooth. Or you could set up a series of traps before you begin the encounter and use your grappling hook to bait the machine into them while you fire arrows from above.
I understand it's impossible to make every combat encounter unique, and that many players might now even want to play this version of the game, but I do. Yes, a lot of these options for how to play are already in the game, but if the game doesn't make me use them then I probably won't. Maybe it's a difficulty setting or series of sliders, but I want the next Horizon game to push back on what I can do in a specific environment or with certain weapons and ask for more creative play. The developers proved they can do this in Zero Dawn, and it'd be interesting to see them develop that idea in the next game. Naru in Prey shows that a character with limitations does not make them weak. Imposing some limitations on Aloy isn't about reducing the player's power but letting them figure out creative solutions to problems they already solved and that there's more to a game they already loved.
READ NEXT: 10 Best Predator Games of All Time
Some of the coverage you find on Cultured Vultures contains affiliate links, which provide us with small commissions based on purchases made from visiting our site. We cover gaming news, movie reviews, wrestling and much more.