Adam Sandler's portrayal of Howard Ratner in Uncut Gems, an obsessive gambler betting on NBA games with his life, was a historic performance from a once-legendary comedian. Sandler deserved an Oscar for Uncut Gems, as it's not only the best film of his career but also seemed to reignite his passion for performing more complex, dramatic roles. And here he is again with Hustle, another terrific basketball movie, offering another incredible dramatic performance.
Sandler plays Stanley Sugerman, a scout for the Philadelphia 76ers. After Stanley gets back from a recent trip, 76ers owner Rex Merrick (Robert Duvall) promotes him to Assistant Coach. However, Merrick dies in the evening, and his son, Vince (Ben Foster), demotes Stanley back to scout so he can find "the missing piece" that'll make the team win the next NBA finals.
On a trip to Mallorca, Sugerman finds it in Bo Cruz (Juancho Hernangómez), a basketball prodigy with a troubled past. Vince rejects Cruz because of his rap sheet, but Stanley wants to prove him wrong by getting him into the combine, where he will have to compete against favorite Kermit Wilts (Anthony Edwards), who becomes Bo's rival.
The sports movie clichés are all there, and the film's story is highly reminiscent of Ryan Coogler's Creed, where an older person becomes the mentor of a prospective athlete. There's the obvious feel-good ending that follows a beat-for-beat redemption arc, not only Stanley but for Bo as well. However, the film's emotional core makes it a compelling drama nonetheless.
Of course, Stanley is no Rocky Balboa but he's definitely Bo's coach through and through. He motivates him when his emotional state is at an all-time low and tries his best to protect him when Kermit starts to go after Bo's mom and daughter on the court. Sandler's chemistry with Hernangómez, a real-life NBA player, is electric. Both of them are great together (with Hernangómez being particularly funny in many scenes) and you can feel Sandler's passion for the material as he assembles one heck of a roster of NBA stars with director Jeremiah Zagar to bring this film to life.
Who knew that Timberwolves player Anthony Edwards would be so good (and menacing) at playing Kermit Wilts? Or how about Kenny Smith AKA "The Jet" playing Leon Rich, a sports agent? Having active (and former) NBA stars in Hustle adds authenticity to the movie, which makes the experience of seeing Stanley and Bo succeed in the game feel more real. However, it wouldn't have worked as well if the players didn't give compelling performances.
Some critics have said that non-NBA fans may be confused during scenes where Sandler and other NBA stars use basketball terminology and don't necessarily explain it well to the audience. Non-fans may not know who every single player is, but that knowledge isn't necessary for the enjoyment of the movie. The story itself is inspiring enough for us to care about Sugerman's redemption journey with Bo Cruz, and together, they show everyone that he has what it takes to become a major player in the sport, and thrive in a way he never imagined would be possible.
Aesthetically, it's one of the best-looking movies of the year too. Zak Mulligan's cinematography is so dynamic, with plenty of quick cuts, smash zooms, and even drone shots, that we're quickly drawn into Stanley Sugerman's frenetic world. It's vastly different from Uncut Gems in terms of story and characters, but it shares lots of aesthetic similarities, with its fast-paced editing and kinetic cinematography.
As such, both Uncut Gems and Hustle are two of Sandler's greatest achievements as an actor, because it not only showcases the man's passion and love for basketball but reminds us how great of an actor he is when he cares about the material he's given. I wouldn't recommend watching both films back-to-back, but they're must-sees if you're a basketball fan, or even a non-fan.
READ NEXT: 10 Uplifting Movies To Begin The New Year With
Some of the coverage you find on Cultured Vultures contains affiliate links, which provide us with small commissions based on purchases made from visiting our site. We cover gaming news, movie reviews, wrestling and much more.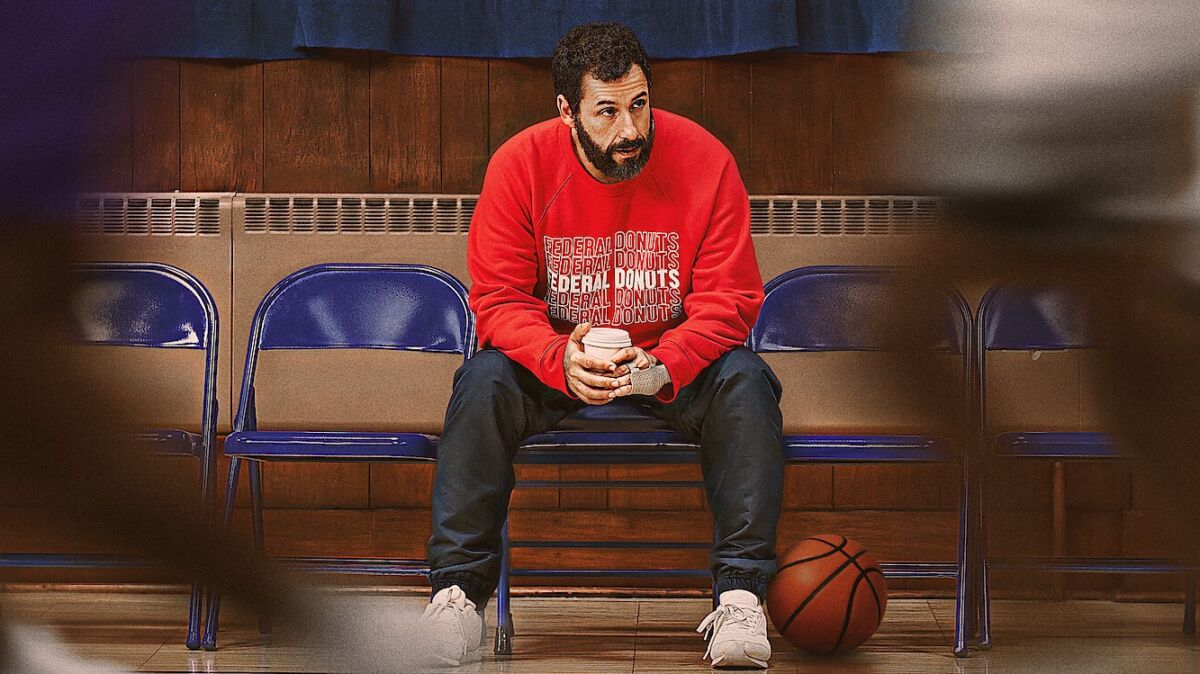 Verdict
Despite a clichéd story, Adam Sandler reminds us why he's a great dramatic actor with Hustle, another great movie showcasing his love for basketball.