It's always nice to see a game that defies marketing budgets and sells a whole swathe of people on the strength of one trailer alone. It's even nicer when that game is a single-player FPS, the type of game that the mega-bucks of Warzone don't make as enticing for most publishers these days. But away from the frenzied fun and shiny chrome of its reveal trailer, is Necromunda: Hired Gun worth buying?
Necromunda: Hired Gun is a game set in the Warhammer 40,000 universe, and, yep, that's about all you need to know about its connection to the wider Warhammer world. Necromunda fans may enjoy dashing and zipping their way around the grim world of Necromunda, but as someone who's never really engaged with Warhammer beyond "huh, that bald man is large", I didn't feel like I was missing out on much by not flicking through a glossary.
I was here to pet dogs and kick ass.
You play as a bounty hunter who finds themselves wrapped up in gang warfare with some kind of…look, again, I'd be lying if I said I'd bothered with the plot of Hired Gun, which really does feel like it takes a bit of a backseat. The fact that there's not even a hint of the plot on the game's Steam page tells you where the real focus is: shooting all of the things.
And there's a whole lot of things to shoot over Hired Gun's 13 levels set across the seedy underbelly of the Underhive. You start off simply with a wallrun here and a grenade there before you're eventually able to teleport to batter your opponents, go full Crocodile Dundee on speed with a big knife, and rappel around the combat arenas like you're playing some kind of hybrid of Titanfall and DOOM Eternal.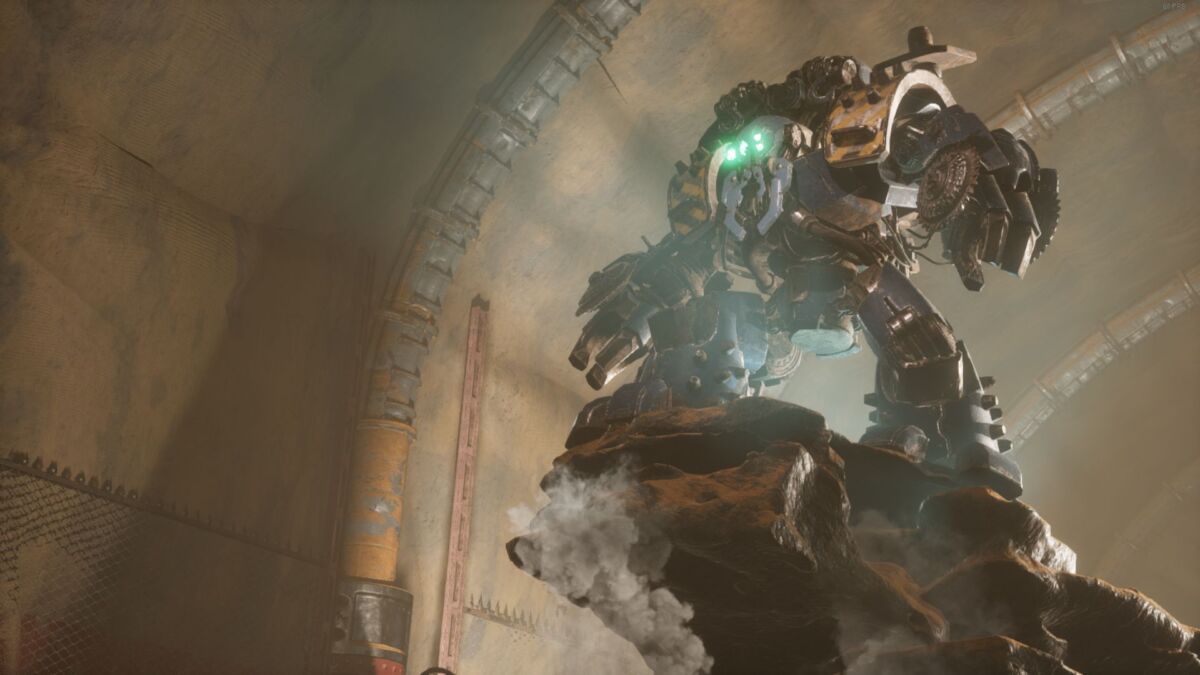 Anyone familiar with the latter will feel immediately at home with Hired Gun as it very much comes across like Streum On Studio have been cribbing notes from 2020's best FPS in terms of verticality and overall attitude. Necromunda: Hired Gun is a "movement shooter", an FPS in which you always have to be on the move, prioritising targets, and making full use of your arsenal. And also your furry friend.
Hired Gun's Mastiff isn't quite as integral as many probably would have liked as he's more of an ability than a constant companion, meaning that he goes on a cooldown once he's ripped out a neck or two. Once summoned with a squeaky toy, the Mastiff highlights all enemies in the nearby area and can also be commanded to attack specific targets. Sure, it's not all that deep a mechanic and the dog's AI may sometimes be on the Santa's Little Helper side of things, but it does make me wish more games had a dedicated dog button.
In terms of firepower, Hired Gun starts you off with a simple pistol before you quickly graduate to assault rifles, shotguns (which, it has to be said, all feel awful), plasma launchers, and much, much more. I found myself most commonly using an assault rifle, just to help me deal with the abundance of things that needed to die without the need for absolute accuracy, but the plasma launcher became my go-to for the more hectic environments. You can even find guns of different rarities and stats within chests and dropped by enemies, which is just one of many RPG-lite systems at play in Hired Gun.
There's a surprising amount of depth to Hired Gun, whether that's renaming your weapons, upgrading your bounty hunter's abilities across their many different body parts, or likewise with your dog, though it did give me a knot in my stomach to see just how mechanised I'd made him as time went on. He wasn't so much a good boy as he was a "good god why have I forsaken you".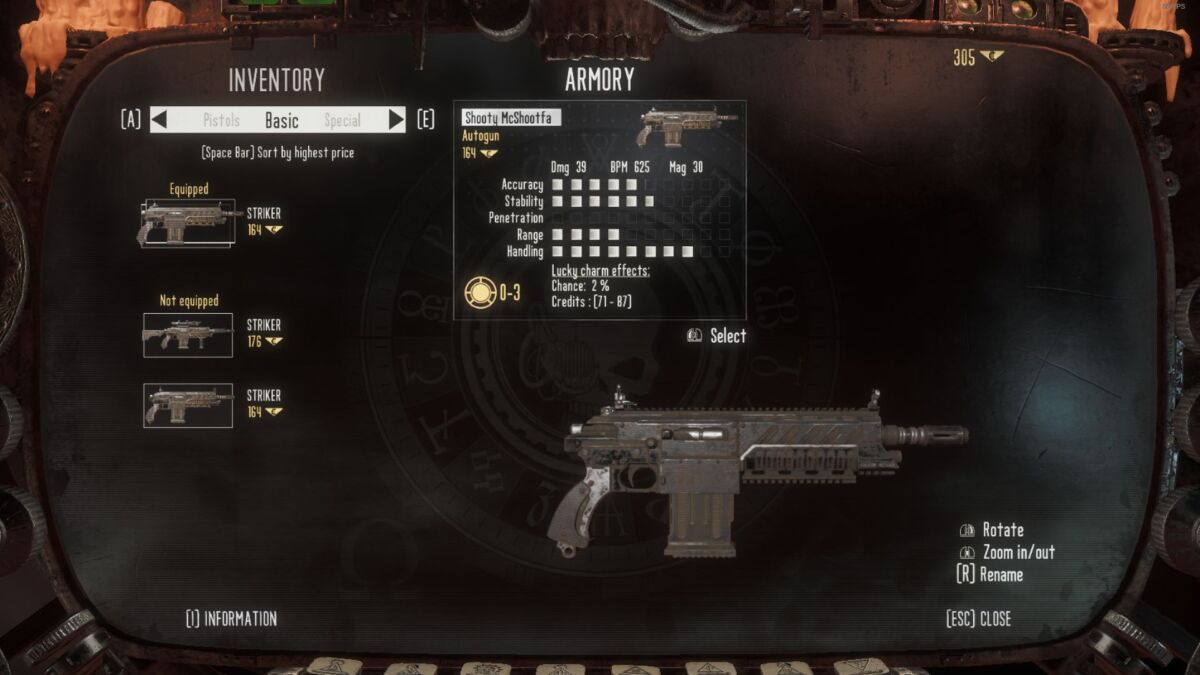 You earn currency for completing levels and collecting bounties, which can be spent back at Martyr's End, your neat little hub between missions where you can also buy weapons and customise your loadout. I still had a lot of upgrades to unlock as the credits rolled, so anyone wanting to feel like Boba Fett and Doomguy's offspring will probably add some more hours to the eight hours it took me. You're definitely going to want to sink some time into your upgrades regardless of full completion, as Hired Gun can get a bit crazy by its campaign's end.
There's a lot of big lads to deal with in Hired Gun, along with psychic bandit women who constantly chuck aggravating nonsense at you, dudes with shields who are there to teach you to use all the tools at your disposal, and the regular grunts whose sole existence is to make you feel good. Unfortunately, encounter design usually follows the classic ethos of "double it" when it comes to changing things up the further into the game you go. Rather than steadily giving you new enemies to face, Hired Gun instead just adds more robots, trolls, and robot trolls. It's not terrible, but does pale in comparison to something like Eternal, which felt thoughtfully curated throughout to give the player peaks and troughs.
While the combat arenas may be a bit of a mixed bag in terms of design, the execution (and there's a lot of executing here) is a different matter. It never stopped being fun for me to dash around arenas, bunny hopping to higher ground before rappelling into an enemy and then performing a takedown. Hired Gun's pace is frantic and sometimes maybe overwhelming, but you're likely to go into an utter trance, your fingers dancing across the keyboard as you cut and blast your way through what's in your path. There were times when I felt my eyes just kind of unfocusing and I got into a strange zone where everything I did felt amazing.
While it's nowhere near as fine-tuned or polished as its movement shooter peers, likely owing to significantly lower budgets, it's hard not to be swayed by Hired Gun's ambition — Streum On really do give it their all.
Unfortunately, though, more exacting players might be put off by Hired Gun's many issues, which seem to come about from a lack of budget and time more than anything else. This is an incredibly buggy game, whether that's some pretty nasty clipping animations, missing sound files, or the framerate kind of falling out of its backside. Though my setup is above the recommended specs and I'd set all my quality settings to medium, I was still getting constant hitches and even moments where the game would flat-out stop while it thought about its next steps. I even had a couple of crashes and moments where I just couldn't interact with anything. Hired Gun probably needs a couple more patches before it's in its best spot.
It's also hard to get away from the budget just in terms of how the game presents itself, particularly with cutscenes. The lack of diegetic sound is really distracting, making all conversations feel hollow, but what's most offputting is the giant fade to black between pretty much every line of dialogue, like there was maybe a bit of inexperience in how to use transitions. The worst offender of all, though, is the repeated enemy lines during combat, who tend to just spew the same insult and taunt over and over again. Maybe there's the excuse that it shows you which enemies you should be prioritising, but that doesn't stop it from being aggravating.
There's also a couple of seemingly half-finished ideas that suggest Streum On had grand plans their budgets couldn't quite match. In some games, your actions have consequences, but in Hired Gun, your one action has one consequence. You can choose to either kill or simply leave someone you come across early on, which will lightly affect a later encounter and some lines of dialogue, and that's it. This choice system didn't really pop up again so it really feels a little random, though still a neat addition regardless.
The bounty hunting itself may also disappoint people, especially those like me who pine for some kind of spiritual successor to Judge Dredd vs Death or Star Wars: Bounty Hunter. Rather than being organically weaved into the levels with targets you can hunt down and detain, most of the actual bounty hunting comes down to simply killing everything until your target appears, who you then, shockingly, also kill. This feels like a bit of a missed opportunity, though Hired Gun does have a lot of missions for you to complete away from the main narrative to make up for it.
Once you're done with the campaign, you can then take on a seemingly endless barrage of contracts that vary up the gameplay a little and give you a steady stream of currency for upgrades. For those wanting to enjoy more of Hired Gun's slick combat, these extracurricular contracts will give the game at least a few more hours of playtime with the overall objective of weakening factions. I didn't really sink much time into Hired Gun once I'd finished the story, but it's good to know that the additional content is there if I want to enjoy the game's slick combat in short bursts.
Necromunda: Hired Gun is a highly ambitious, surprisingly deep game that pays for its ambition with a whole host of flaws and novel ideas that don't entirely land. However, as a single-player FPS that seems to use every penny of its budget to provide rich content and seriously fun combat all while being priced accordingly, this is a game that you should really gun for.
A Steam key was provided by PR for the purposes of this coverage.
READ NEXT: The Best Warhammer Strategy Games You Should Check Out
Some of the coverage you find on Cultured Vultures contains affiliate links, which provide us with small commissions based on purchases made from visiting our site. We cover gaming news, movie reviews, wrestling and much more.