I can still remember exactly when it was. A summer evening in 2001. 14 year old me still preferred to stay in and lose myself to games rather than participate in any meaningless outdoors pursuits and the opposite sex was still, for the most part, completely baffling. I'd been given a Dreamcast for Christmas the year before and it had already begun to establish itself as my favourite console with the meagre selection of games I had for it. A friend from school had similarly received a Dreamcast and told me one day that they'd bought Shenmue.
I'd heard of Shenmue as I was an avid reader of games magazines but I still didn't know quite what it was. The phrase 'interactive movie' kept being thrown about in the coverage I'd read and that was pretty much all I had to go on other than the rave reviews. I was too young/lazy to get a job, I was terrible at managing my pocket money and my parents never really got my obsession with games so were reluctant to spend money on them, especially when it wasn't my birthday or Christmas. Sensing the opportunity I asked my friend if I could borrow the game once he was done and he gladly agreed. So, one warm summer evening in 2001 I put the first disc of Shenmue into my Dreamcast. What happened next changed everything.
The iconic opening cut-scene plays out which sets the stage for the story and I remember thinking at the time how familiar it seemed and reminded me of made-for-TV movies I'd seen on rainy Saturday afternoons, yet at the same time I was engrossed and I wasn't sure why. After the lengthy cut-scene ended and I finally took control of Ryo and I made my first steps into what became a cult phenomenon.
It's well documented how Shenmue 2 ended on such a cliff-hanger only for a sequel to never see the light of day and the parallels drawn between Shenmue's monster budget and the Dreamcast's demise. But as time went on, people who, like myself, had been enamoured by the two titles launched countless Internet campaigns and petitions begging for a third title in the saga. And so the cult following of the game grew and grew. Copies would go for increasingly larger sums of money on eBay as people who didn't experience Shenmue the first time round would hear the praise and need to see it for themselves similarly to how I did. This culminated at E3 2015 when after years of rumours and heresy; Shenmue 3 was announced and smashed Kickstarter records.
During the long years of hoping and praying for an eventual sequel, I replayed both Shenmue games multiple times but it wasn't until quite recently a thought occurred to me. The game is famously based on real life locations with the first instalment taking place solely in an area of Japan. I just so happened to be planning a trip to Japan as part of my honeymoon so after a few quick Google searches I found that Yokosuka was indeed a real place and what's more, was only an hour or so train ride from Tokyo.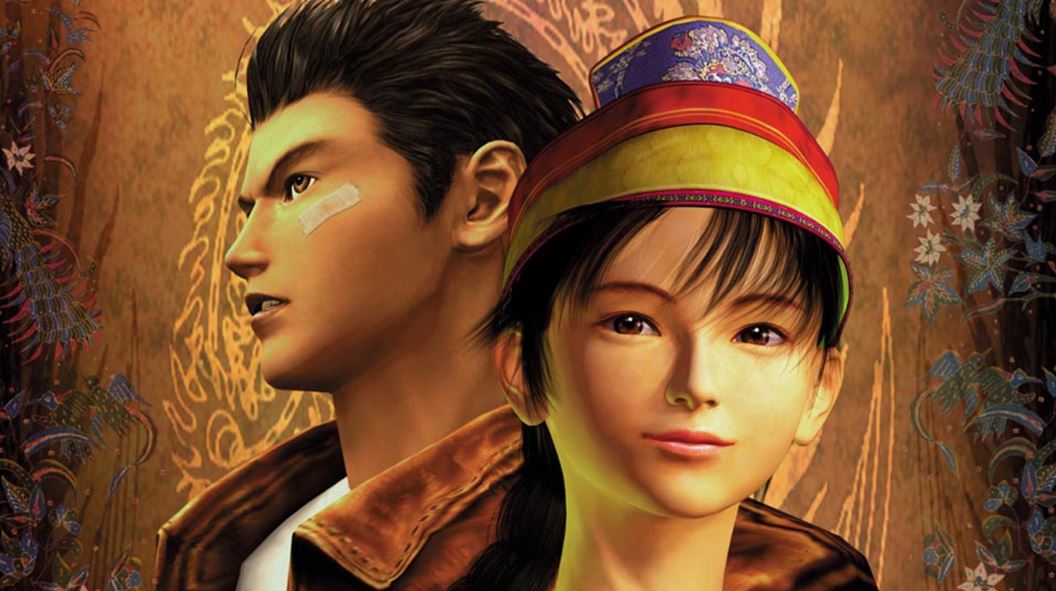 Fast-forward several months and my wife and I arrive in Japan and have our minds blown by just how awesome a place it is. After a few days exploring Tokyo and finding our feet we set out to Yokosuka. We'd bought a "Japan Rail Pass" which lasted for two weeks and gives you unlimited use of the JR trains including ones out to Kyoto and other areas. If you're planning on visiting Japan I strongly recommend these. We embarked on the Keihin Tohoku Line south and changed at Yokohama to the Keikyu Line before arriving in a hot and humid Yokosuka. This was the extent of my planning so I confidently suggested which way we should walk so that my wife wouldn't know I hadn't got a clue. The station led us out onto a bustling main road that had an immediately familiar feel to it. After a few seconds of scanning my excited memory I noticed it bore a strong resemblance to the end of Dobuita Street from the game where Ryo catches the bus to the harbour. Sensing I was close we pressed on.
After a couple of hundred yards down the main road (the road itself doesn't feature in the game other than the aforementioned bus stop) I saw a sign that read "Dobuita" (luckily the signs in Japan are in English as well as Kanji). Dobuita Street is one of the main locations from the first game but when I had searched for it as part of my research, Google said it didn't exist. A quick left turn and there we were. Sure, it wasn't 1986, nor was it winter, but the street I found myself on could have been ripped right out of the game and given a 2016 splash of paint.
What was most striking about these streets was how Americanised they were. In the game I assumed this was just a representation of Japan being enamoured by American culture in the 80's but why would it still be present today? And in real life too! The answer soon became clear. Yokosuka harbour is home to a huge U.S. armed forces base. The streets are littered with bars displaying the old stars and stripes with names like 'Navy Burger' etc. The base has been under American control since 1945 so it's easy to see how characters like Tom the hotdog vendor made it into the game and why there would be so many sailors hanging around the late night jazz clubs. Throughout my stay in Japan I didn't really struggle with the language barrier as the locals are very accommodating and will try to help you as much as they can, but in Yokosuka I would butcher their language as usual only to have the shopkeepers or bartenders reply in fluent English. It was incredibly surreal to travel to what I thought was an out-of-the-way part of Japan only to encounter fluent English speakers.
The game's suburb-like district of Sakuragaoka does exist but isn't anywhere near Yokosuka. However, there are many roads branching off from the few shopping streets I explored that bare more than a striking resemblance to the quiet winding streets Ryo calls home. There are signs adorning the entrances to the suburban streets stating that U.S. military personnel were not permitted in those areas. The last thing I wanted to do was offend people or break any rules and even though I was a 30 year old Brit wearing a Scott Pilgrim t-shirt, I was still a Westerner and I was worried that I could cause confusion by wandering these 'off-limits' areas. Besides, I thought it best to keep my adventure to more of the tourist-friendly areas instead of taking pictures of people's homes.
There were some other signs (in English only) dotted around saying not to urinate on the street. I assume this is due to some rowdy sailor behaviour (oh how very Shenmue!) but when I noticed other signs to the effect of 'Japanese Only' or 'No Americans Allowed', I thought it spoke volumes of the strained relationship the Japanese and Americans must have. Were the friendly bartenders and shopkeepers speaking fluent English masking a hidden contempt for westerners? Does this all stem back to those catastrophic days at the end of World War 2 or is it a reaction to more recent unsavoury behaviour by the military personnel? It snapped me out of my fantasy Shenmue bubble for a while as the gravitas of the history surrounding me played on my mind.
Walking beyond these shopping streets we found ourselves near the waterfront, which plays a huge part in Shenmue. As we got to the water's edge the full dockyard comes into view across the water. It was some distance away so I didn't brave navigating the bus system to get there and I assumed I wouldn't get free-reign to wander round a functioning dockyard regardless of my forklift racing proficiency. However it was nice walking along the waterfront and seeing it from afar, rekindling memories of these sections from the game. Further down the waterfront the military base becomes visible with its gigantic warship but this just generated more negative thoughts like earlier so we turned around and walked back to the hustle and bustle of Dobuita.
We had grabbed a burger and a beer at one of the many Americanised bars/restaurants available and as we ate I mulled over what I should get to remember my pilgrimage. While walking around, I had noticed the vibrant jackets available. Again, going back to my research before we got here, there is a certain type of embroidery unique to the Yokosuka area. With Ryo's jacket being such an iconic part of the Shenmue lore, I decided that I too would get an iconic jacket. After a quick shop around I realised that my choice was quite limited as most of the jackets were around 30,000 Yen that roughly works out to just over £200. However, because of most the shopkeepers spoke English, one of them gauged my disappointment at the prices and showed me some slightly cheaper options that I managed to haggle down to about £30. It's not exactly Ryo's brown leather masterpiece, but it'll do. Success!
As far as recommending this trip goes, I would urge any Shenmue fan that is in Japan to do it but as for to going to Japan just to do this, unless you're an absolute die-hard with money to burn I'd reconsider. While blending fantasy and reality was an incredible amount of fun for me, I was already in Japan and this was just a bonus. Yes, what I saw triggered sense memories similar to how certain smells can take you back to a certain place and time, but they were memories of the game, not the place. As clear as it is that the developers took influence from the area, it's not like-for-like and it's not 1986. That being said, now when I play the game I can experience it differently to how I have before. I'll be able to appreciate the artistic input even more than I already did and despite the differences, it will trigger memories of my real life experiences as part of my honeymoon. My experience of the game has evolved, which is an incredible feat for software that is over 15 years old.
Photos provided by author
Some of the coverage you find on Cultured Vultures contains affiliate links, which provide us with small commissions based on purchases made from visiting our site. We cover gaming news, movie reviews, wrestling and much more.