Halo: The Master Chief Collection is one of gaming's biggest comeback stories. Launching in 2014 with many issues, from crashes to buggy matchmaking to improper handling of legacy content, for many fans, it was a huge letdown. People would sit in matchmaking lobbies for long periods and never find any matches despite a large player base at launch. Developer 343 Industries began to release patches to help fix the collection, but numbers quickly began to drop as frustration began to set in.
Nevertheless, the patches would keep coming to make the game stable, even if the MCC was quickly losing steam. This along with the lackluster release from Halo 5: Guardians compared to past entries, meant that the Halo community's trust was beginning to wane in 343. However, something has begun to change with Halo Infinite's announcement, its new art style, and the PC's MCC port, with the promise of continued support for both Xbox and PC for the foreseeable future.
A New Port Brings With It New Life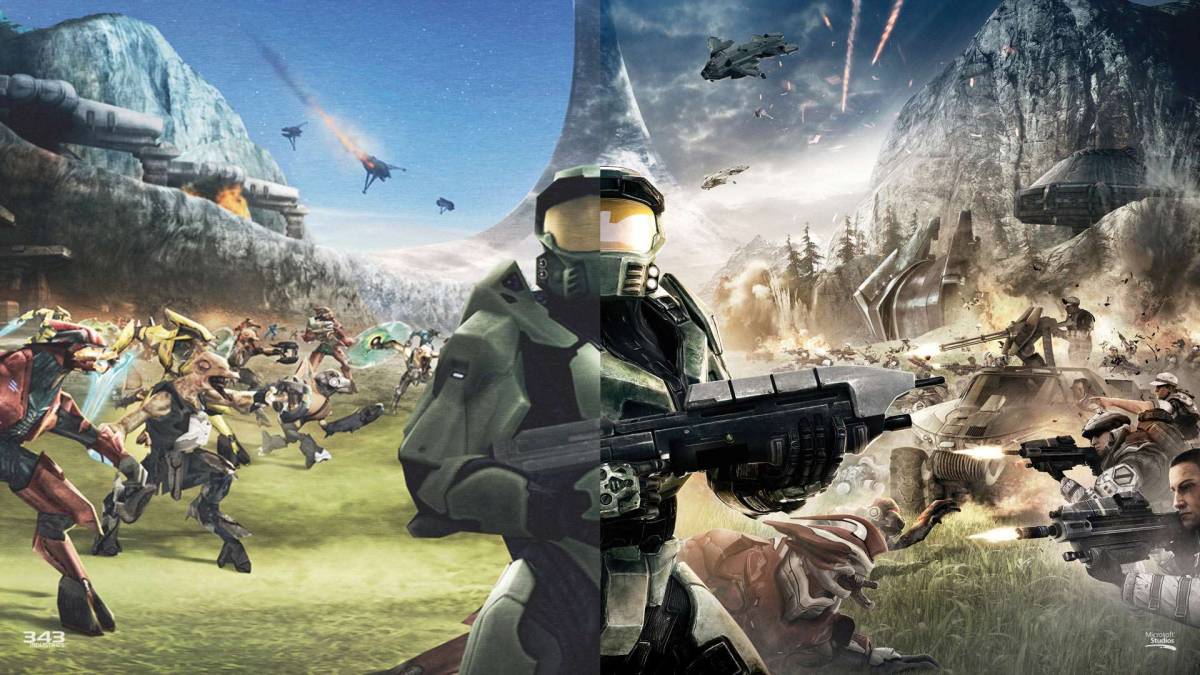 Though Halo: MCC was only ported to the PC in December 2019, the collection has evolved to become a platform dedicated to Halo fans. If you haven't tried to play Halo: MCC since its launch in 2014, you'll be forgiven for not knowing how different the game is today.
Since its launch, 343 has introduced two more games to the collection with Halo: ODST as the first big apology for the terrible initial launch and Halo Reach, which coincided with the PC port. Spartan Ops came later to the collection, and matchmaking improved where players could cue up more than one Halo game at once to play without getting stuck in a search limbo.
However, the significant and consistent updates didn't start until the PC port was out and introduced seasons. Seasons and challenges were a way to update the game periodically and keep people coming back. Challenges earned players extra experience and challenge points for completing tasks in PvP and PvE game modes. The challenge points could unlock cosmetics in Halo: Reach since the original credit system was removed.
The early seasons coincided with each Halo game release ported to the MCC PC version since 343 wanted to ensure that the PC port wasn't a fiasco like the original Xbox One release. And it worked. The games themselves played well, if not perfectly, but much better than they did when the MCC originally came out. 343 wasn't happy with leaving it to standard releases, though, as they began to add new content to old games with the port of Halo: Combat Evolved to PC.
Cosmetics were introduced to the original Halo, and it was the first update the classic art style has ever had, opening the door to all sorts of directions that 343 could take the MCC. The updates kept coming, and additional cosmetics arrived to Halo: Combat Evolved and Reach with the Halo 2 port. Halo 3 received its additions with the introduction of weapons skins and vehicle skins. It felt like a new era for these classic games.
Season 6 and the Latest Updates
Season 6 of the MCC released recently but not without new controversies. The biggest additions to the new season include the introduction of a new Halo 3 map called Waterfall. The map isn't necessarily new because it's from an unreleased game called Halo: Online, but most people haven't played it, so it counts. 343 also introduced a new game mode for Halo: Reach, Halo 2: Anniversary, and Halo 4, called Escalation, which plays a lot like Call of Duty's Gun Game, where every kill earns the player a new weapon to use. I'm a little disappointed that Halo 3 and Halo: Combat Evolved didn't also receive the new mode, but those games have received the bulk of the content from the past updates, so it's fair.
One of the best new inclusions for players with limited time has to be the new Exchange system, which allows players to use excess points for season-exclusive items that have long since expired. It's a great way to keep players coming back and feeling like they can still unlock everything in the game's customization menu, even if they don't have the time to keep up with the challenges week to week.
Finally, 343 added some quality of life updates to the MCC, as well as things like team changing in custom games, mouse and keyboard support for Xbox, and expanded audio options for different device inputs and outputs. There were also a lot of bug fixes which you can see here.
343 have been doing a lot to make Halo: The Master Chief Collection a much more catered experience for the fanbase by updating old games and fixing bugs in a collection that is going on eight years, but there are still a lot of players within the community that aren't happy yet. Some are mad there are additions to these old games at all.
Season 6 brought over 100 new cosmetic additions to the Halo: MCC, like animated visors, backpacks, new standard armor pieces, and animated nameplates. Many fans have been adamant that the addition of cosmetics that are reminiscent of the art style used in the Reclaimer saga is ruining the classic Halo experience.
However, some Halo fans are completely okay with and even encourage the changes, like myself. As long as the gameplay is preserved, then the additions to the MCC are just a bonus. Plus, the additional cosmetics give something to work towards rather than just the rank system present in the original release.
343 has even introduced a toggle in response to fan backlash for the armor sets, so there's little reason to complain about adding more to the games, except when they don't follow up on promises.
While the cosmetic debate is fairly overblown, there are more practical additions that fans have been begging for, like full crossplay between Xbox and PC, and the inclusion of a custom game browser similar to Halo 5: Guardians. 343 Industries has been on record talking about both of these points. The custom game browser was supposed to release in Season 6 but ended up being delayed again, which has left some fans upset. However, it seems like it could release any update now.
On the other hand, crossplay between Xbox and PC has been fully implemented for multiplayer, but crossplay for the campaigns and Spartan Ops have yet to be included. In fact, unlike the custom browser, campaign crossplay will become less and less likely the longer it goes without inclusion. There is a lot of complicated code that needs reworking, so it might never happen. It essentially isn't a priority for the team at 343 at the moment, and with Halo Infinite right around the corner, the incentive to make the feature a reality is beginning to slip. Yet, there are many fans like myself that hold the campaigns as the primary experience. Not being able to play them with the entire MCC player base is a missed opportunity.
A Promising Future
343 have been doing a much better job with their handling of the MCC than I would have ever imagined so long after its release. The MCC isn't using microtransactions, so all the new updates can be enjoyed by anyone who purchased the game, but that also means it isn't being funded in any way besides the additional copies it sells or the Game Pass subscriptions it picks up. Plus, 343 Industries is still preparing for the launch of their next big game in the franchise, Halo Infinite. With that in mind, I'm surprised that the team has gone as far as they have in supporting the MCC.
As a Halo fan, I was happy after the matchmaking became smoother and ODST was available for the collection. However, 343 has continued to improve the game with additions that some people would have never dreamed of when the MCC originally dropped. All I ever wanted was to be able to play some old games in one of my favorite childhood series, and I have that now. Everything added so far doesn't take away from that experience since 343 has been giving players more control over how they experience the MCC.
That said, I wish that it was easier to play the online campaign with people who prefer Xbox, and having a custom browser to play classic custom games in Halo 3 and Reach would be a really good time. Those features were never the initial promise I expected from the MCC when it first came out. Longtime fans have had very mixed feelings about 343, but the recent improvements to the MCC have reminded many fans that the series still has a little life left in it.
I'm confident that the series will evolve to something that resembles a hybrid between Bungie's original games and 343's Halos so far. The updates and relatively open communication from 343 have been proof of that. The series may never reach the same heights it did in the early 2000s, but the faith of large influencers within the Halo community and longtime fans has begun to rebound, and that will make all the difference when Halo Infinite releases later this year.
READ MORE: Xbox Series X | S Games 120fps Games: The Complete List
Some of the coverage you find on Cultured Vultures contains affiliate links, which provide us with small commissions based on purchases made from visiting our site. We cover gaming news, movie reviews, wrestling and much more.