It's Canadian Music Week in Toronto, and that means a ton of artists and bands are hitting the city for several live shows! All genres are being showcased in venues across the city, with big international headliners giving local Canadian artists a platform to reach new fans. Kicking things off on the Tuesday following Easter, the first show I decided to cover would be a band I hadn't heard from in several years, Papa Roach.
It's not that Papa Roach hasn't been actively making music (their most recent album came out in 2015, and they have a new one they're releasing in May), it's just that I haven't been paying attention to them over the years. The singles they had off of their triple-platinum 2001 album Infest were some of my favourite songs as a preteen, but then I would go on to spend my teenage years diving deep into hip-hop and ignoring most new rock music. While there are a few hip-hop shows I will be reviewing later in the week, I decided to kick off the festival with this rock show purely out of nostalgia.
The Danforth Music Hall is my favourite concert venue in Toronto, and while I've been here many times for rap concerts, this would be my first rock show here. Of course the fans looked different, with more punk rockers than hip hoppers, but what I didn't expect to see was that most of them showed up early and rocked with the opening acts. The first opener was Toronto band Second Pass, and the Danforth looked like it was filled two thirds to capacity. While the building wasn't completely full by the end of the night, the majority of the fans who bought tickets showed up early to rock with every band that hit the stage. You don't see this as often for hip-hop.
Second Pass brought a ton of energy to the stage, and they were the loudest act I've ever seen perform in this building. They had some wicked guitar riffs, and lead singer Veronica McNamee had awesome vocal range. After their set, the band members could be seen amongst the crowd mingling with the fans.
Up next was a band from Saskatoon called One Bad Son. They weren't as metal as Second Pass, but they captured the spirit of rock & roll right away with some up-tempo grooves. One Bad Son also had one badass guitar solo, arguably the sickest one of the entire night! There would be a bit of a wait after their set, but pretty soon the headlining band from California came out and brought the energy back up.
I don't know many Papa Roach songs besides the obvious singles from 2001, but there were a few I recognized from a quick browsing session on Youtube the previous night. They performed the title track off their upcoming new album, Crooked Teeth, as well as some fan favourites like "She Loves Me Not" and "Hollywood Whore". Seeing the way lead singer Jacoby Shaddix attacks the mic, it doesn't seem so farfetched for a Papa Roach fan to transition into becoming a hip-hop head the way I did as a kid. He often combines the vocal range of a metal singer with the tactical breath control of an emcee.
One surprise Papa Roach had was when they pulled out their biggest hit, "Last Resort" only about a third of the way through their set. You'd expect that to be the show closer, but I suppose that would've been too obvious. The fans went wild during the chorus, and Jacoby turned the mic towards the crowd to let them sing the iconic bridge to the song. Another surprise was when they performed a cover of "Song 2" by Blur, with the crowd yelling out the familiar "Woo-hoo!" in the chorus. Fun fact: Blur's lead singer Damon Albarn is also part of The Gorillaz, who just announced a North American tour that includes a stop at Toronto's Air Canada Centre this summer.
Papa Roach took some time to celebrate their newest music making it near the top of the Canadian rock charts, and performed the new single, "HELP". The crowd was into the new songs just as much as the older ones, as they mellowed out to "Scars" and moshed to "Getting Away With Murder". Jacoby would spray water on the crowd and even jumped down to them to get the energy turned up. Papa Roach then closed out the show with one of my favourites from my childhood, "Between Angels and Insects", getting the crowd to open up the mosh pit one last time.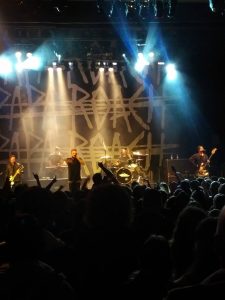 Overall, Papa Roach was a great choice to kick off Canadian Music Week. They enjoyed the performance as much as the crowd did, and brought a ton of energy to the stage. For my first intimate-venue rock show, I was expecting the crowd to be a little wilder. The entire building wasn't shaking like the last time I was at the Danforth (to see Run The Jewels), but there were still some mosh pits and crowd-surfers. I also enjoyed seeing the similarities to the hip-hop shows I'm used to going to, like the techniques Jacoby used to engage the crowd up close. Papa Roach's new album Crooked Teeth drops May 19th.
This was just the beginning! Canadian Music Week continues and there are plenty of more shows to see in Toronto!
How did you like Papa Roach's performance? What other shows are you looking forward to during CMW? Hit us up on Twitter @CultVultures or @SYpherSights!
Some of the coverage you find on Cultured Vultures contains affiliate links, which provide us with small commissions based on purchases made from visiting our site. We cover gaming news, movie reviews, wrestling and much more.