With this generation wrapping up, we're looking back at the games that have defined the last seven years. Next on the list: heartbreak, banging tunes and sword fights on the back of motorbikes.
My intro to this article is going to play out rather similar to Jimmy's initial entry on God of War. While his first instinct took him to the man and boy's trek up a mountain, my immediate reaction was "ah yes, Sayonara Wild Hearts is a great shout".
Rhythm-action games like Sayonara Wild Hearts have always had a soft spot in my heart, especially after playing Rez HD on the Xbox 360 almost 12 years ago for the first time. Special mention should also go to Aaero, which takes the Rez formula and builds on it brilliantly. Check out both of them if you get the chance.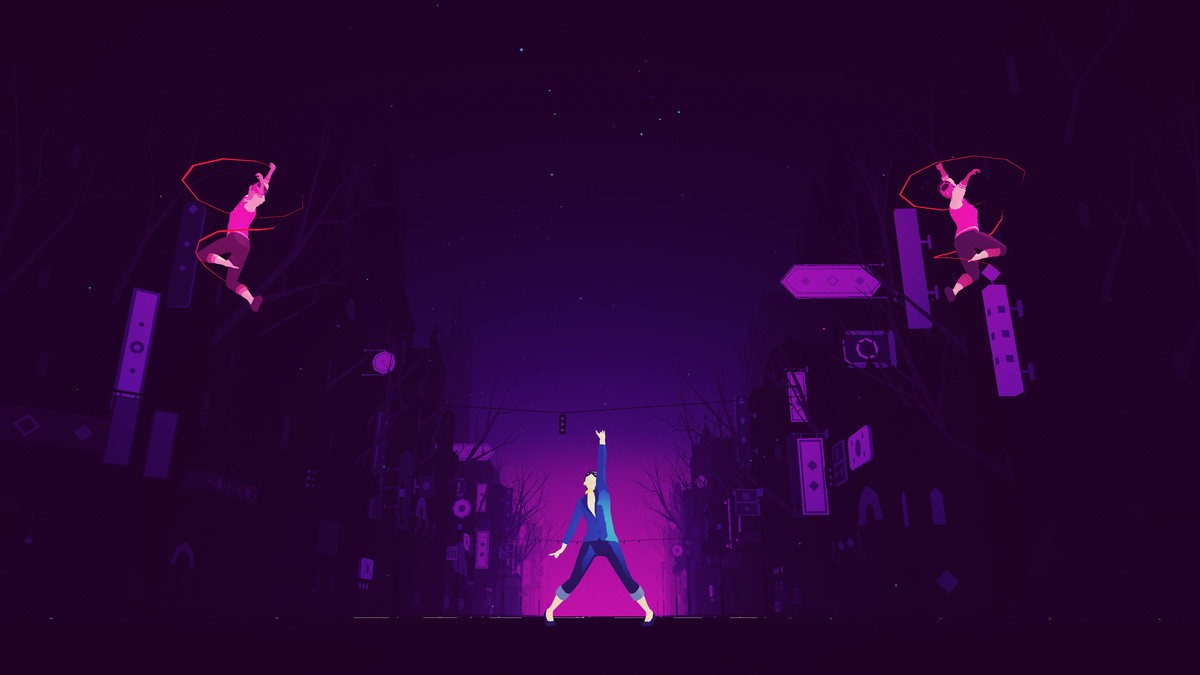 Sayonara Wild Hearts blows the entire genre out of the water. The extremely intuitive gameplay and catchy soundtrack are one thing (it's been a year since launch and I'm still singing the soundtrack to myself), but the wholesome story of learning to love yourself after a devastating break-up moves the game into the stratosphere.
As an audiovisual experience alone, Sayonara Wild Hearts is imaginative, vibrant and utterly joyous to behold. Just sounding good and looking pretty doesn't instantly make a game "generation-defining", granted, as the gameplay also needs to be up to the same standards, but thankfully Sayonara Wild Hearts knocks it out of the park on all fronts.
It's a hard one to nail down, but Sayonara Wild Hearts could best be described as an auto-runner that utilises rhythm action elements to influence its gameplay. However, the gameplay from level to level, and even during the levels, varies so wildly that you'll be struggling to predict what happens next.
From skateboarding down a winding road while listening to a pop version of the classical song Clair De Lune, to dodging obstacles while switching through parallel dimensions, to riding on the back of a dragon during the game's climactic opus, Sayonara Wild Hearts is a journey like no other. Best of all, it's all incredibly easy to understand with the game's simplistic controls.
However, it's the story that offers the biggest highlight as it follows a young woman's journey to accept love in her life once again. The beautiful part is that because the majority of the story is told visually and through song rather than explicitly, the story is open to interpretation, with plenty of discussions online regarding the hidden meaning of the various characters you encounter and the actions the protagonist takes, but it makes for an emotional playthrough.
For me personally, for a game to be considered truly "generation-defining", it's not simply about being the best looking or most fun. They're important, sure, but ultimately it's about how much the experience sticks with you once you've finished the first playthrough, whether that be multiple follow-up playthroughs or headfirst dives into Reddit threads regarding the game's themes and story.
It's been a year since Sayonara Wild Hearts first launched on the Switch, and I'm still thinking about it almost daily. Any chance I get to recommend the game to others is a chance I take, and after buying the game again on the Xbox when it launched in February, I'm now having to restrain myself from picking up a physical copy on the PS4. You know, just because. Last year, I considered Sayonara Wild Hearts my Game of the Year. Today, I'm saying it's my first pick for the best games of the current generation.
READ NEXT: 45 Best Indie Games of All Time
Some of the coverage you find on Cultured Vultures contains affiliate links, which provide us with small commissions based on purchases made from visiting our site. We cover gaming news, movie reviews, wrestling and much more.