Clash of Clans is a veritable juggernaut in mobile strategy gaming and is still going strong to this very day. The combination of addictive base building and fun rapid raids along with a cartoony art style is one that manages to captivate millions of players every day. While Clash of Clans may be a dominant force on mobile platforms, that hasn't stopped various dev teams from putting their own spin on the formula. Here are ten of the best games like Clash of Clans you can check out right now.
Games Like Clash of Clans
10. Jungle Heat
Developer: My.com
Publisher: ADVGO42, My.com
Platform(s): iOS, Android
If you like the general art direction of Clash of Clans, but the medieval fantasy setting doesn't really do it for you, then Jungle Heat has you covered with a Cold War or modern warfare-inspired setting. Instead of barbarians, giants, and goblins, you'll be sending in hunky Rambo-like heroes and hordes of chaff riflemen.
Jungle Heat keeps the core elements of Clash of Clans' gameplay, so anyone familiar with that style of base building and raiding combo should be right at home. If nothing else, Jungle Heat will give you that feeling of playing with plastic toy soldiers and the rush of making the army base of your dreams.
9. Siegefall
Developer: Gameloft
Publisher: Gameloft
Platform(s): iOS, Android
Nearly every game on this list takes after Clash of Clans' signature silly sense of humor and trademark character designs. Siegefall swerves this and instead goes for a more realistic or grounded art style, despite its fantastical setting. When dragons start flying and hurling blasts of flame at your opponent's base, it's really quite visually impressive, especially for a mobile game.
Gameplay wise, Siegefall is the first of a few strategy games on this list that brings additional elements of micromanagement to give you more control over the performance of your forces. Such an approach gives you more to do, as well as investing you in the combat compared to games with a more hands-off approach.
8. Castle Clash
Developer: I Got Games
Publisher: I Got Games
Platform(s): PC, iOS, Android
Castle Clash differentiates itself from Clash of Clans by including a great variety of modes. Along with the standard base-smashing army raids and battles, Castle Clash includes MOBA-style modes where you pit your own cast of powerful heroes in a lane-based auto-battler engagement, all the while trying to place your troops in the best possible manner.
Resource management and establishing your base means you'll have a familiar core to fall back upon as you figure out the intricacies of the various combat modes. Castle Clash may take a few steps outside the box, but it still makes sure to maintain that addictive core from Clash of Clans.
7. Gods of Olympus
Developer: Aegis Interactive
Publisher: Aegis Interactive
Platform(s): iOS, Android
Instead of controlling hordes of ant-sized units, Gods of Olympus instead lets you take command of powerful ancient Greek gods. The base attack gameplay in Gods of Olympus focuses more on the performance of your heroes and so has plentiful powerful abilities for you to micro to get the most out of your gods and find success.
Though the unit variety may not be quite as high as Clash of Clans' ridiculously massive cast of unit types, the simpler armies of Gods of Olympus means there can be more entities on the screen leading to some truly large-scale battles. The eponymous gods of Olympus make their titular game one of the best games like Clash of Clans.
6. Plunder Pirates
Developer: Midoki Limited
Publisher: Midoki Limited
Platform(s): iOS, Android
Since you're going to be engaging in plentiful raiding anyway, it was only a matter of time for a team to come along and put pirates into the Clash of Clans formula. On the surface, Plunder Pirates plays exactly like its source of inspiration but throws in a few nifty elements that set it apart.
Plunder Pirates puts greater emphasis on a flexible island construction system, as well as the presence of docked ships to add to your base building and defensive options. The whole pirate angle just adds to the setting's theme, especially when you go around stealing other players' loot from their pirate coves, which you'll be doing plenty of.
5. DomiNations
Developer: BigHuge Games, Nexon
Publisher: BigHuge Games, Nexon
Platform(s): iOS, Android
Of all the games inspired by Clash of Clans, there are only a handful of them that take on a historical setting successfully, with DomiNations acting as the best example of such a game. In DomiNations you'll select a nation and develop its buildings and forces across history through a number of ages, giving you a feel of Civilisation-style gameplay.
Going in parallel with the historical setting, DomiNations offers a slew of upgrades, hero-like general units, and improvement paths to approach economic development and skirmishes the way you want to. For essentially being the only historical strategy game of this type, DomiNations gets extra points.
4. Boom Beach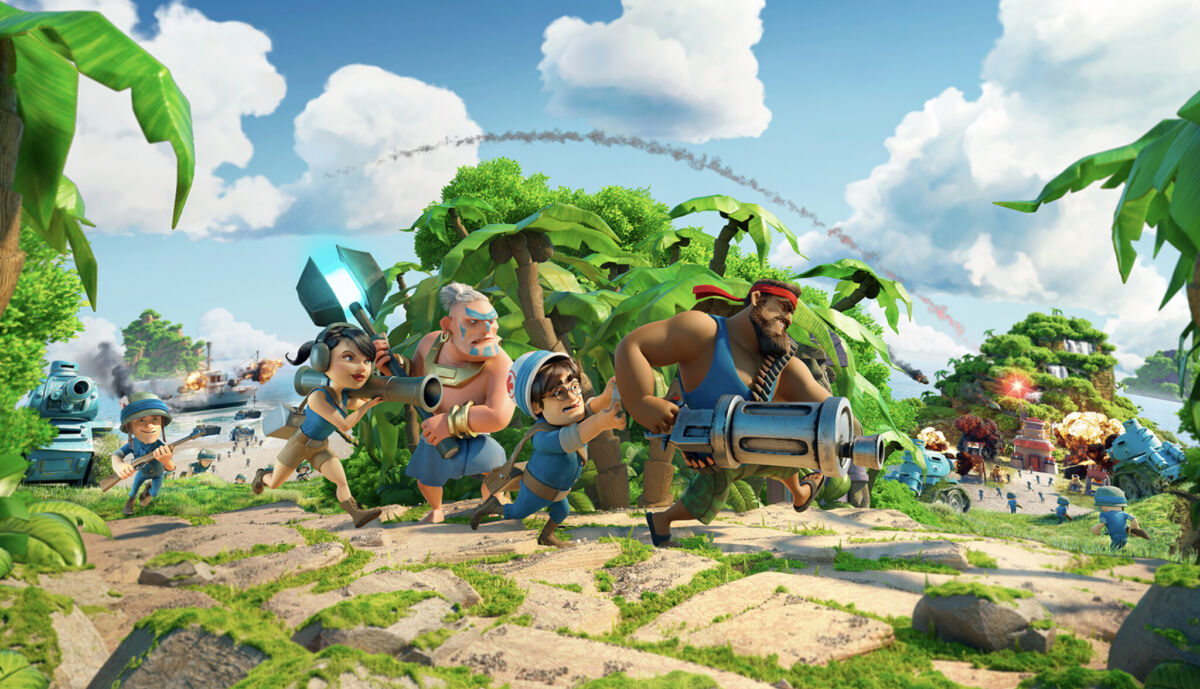 Developer: Supercell
Publisher: Supercell
Platform(s): iOS, Android
From the same developers that brought you Clash of Clans, Boom Beach is like an evolved form of Jungle Heat with a similar modern-warfare style setting. Boom Beach seemingly does away with complex defensive structure placement, but replaces the static construction of walls with mines, explosives, and a solid array of unit powers that give more control over your raiding expeditions.
Supercell also gives Boom Beach the signature Clash of Clans visual style with colors-galore and over-the-top animations to better track the action when skirmishes heat up and explosions go off. If you trust in Supercell's work but are looking for something else than silly skeletons and weird wizards, then Boom Beach has you covered and is one of the better games like Clash of Clans.
3. Transformers: Earth Wars
Developer: Space Ape Games
Publisher: Space Ape Games, Backflip Studios
Platform(s): iOS, Android
The Transformers franchise has made its own mark on mobile gaming, as Earth Wars cleverly adapts the Clash of Clans formula, but stacks it with plentiful Transformers flavor. Firstly, the Generation One animated-series art direction makes the buildings and characters immediately discernible and recognizable, which helps when planning out your raiding strategy.
Undoubtedly, the core of Earth Wars are the characters and there's an absolutely staggering amount of them, each with their own stats, rarities, and abilities. It's great to see that it's the Transformers themselves that make Earth Wars such a solid strategy game with plentiful potential for customization and varied gameplay.
2. Clash Royale
Developer: Supercell
Publisher: Supercell
Platform(s): iOS, Android
The final two games on the list may be mechanically quite different from Clash of Clans, but they retain its spirit and high level of quality. Clash Royale, for example, exists in the same universe as Clash of Clans, though it shifts the focus onto MOBA-style tactical combat rather than base building.
Clash Royale has some of the most intense tactical engagements with an exciting ebb-and-flow as you place down troops, cast spells, and try to bring down the enemy's castle. Clash Royale is essentially a great companion piece to Clash of Clans and you'll feel right at home with all the familiar unit types and recognizable aesthetics.
1. Plants vs Zombies
Developer: PopCap Games
Publisher: PopCap Games, Electronic Arts
Platform(s): Various
A game that was the Clash of Clans of its day, Plants vs Zombies may lack the multiplayer modes and extensive resource management of Supercell's flagship game, but it more than makes up for it with its focus on fun tower defense gameplay. Instead of facing off against a cast of fantasy creatures, instead, you'll need to utilize a colorful array of plant types to help defend your human owner's backyard from a horde of hungry zombies.
Plants vs Zombies' sense of charm and art direction easily matches Clash of Clans in humor and vibrancy and acts as a great gateway game for beginners to take their first steps into mobile gaming and the strategy genre as a whole. Plants vs Zombies is definitely one of the best games like Clash of Clans that's readily available across a huge variety of platforms.
READ NEXT: 10 Games Like Slay the Spire You Should Check Out
Some of the coverage you find on Cultured Vultures contains affiliate links, which provide us with small commissions based on purchases made from visiting our site. We cover gaming news, movie reviews, wrestling and much more.