One of Fortnite's most beloved characters is a crime boss named after his golden touch, Midas. Introduced in Chapter 2 — Season 2, Midas appeared on the Fortnite island alongside other members of the spy organization Ghost, led by him, in an all-out faction war against its counterpart, Shadow.
Midas' status as the final skin in the Chapter 2 — Season 2 Battle Pass gave him a kind of prestige that made players eager to get him. His few appearances throughout the years have made him a mainstay in the community's heart, with remixes of his original design being released to this day.
Here are 5 facts about the savvy criminal Midas in Fortnite.
1. He Is A Crime Lord
Chapter 2 — Season 2 brought the Ghost and Shadow factions to the island, as they battled for control over each other. Very little was known about the conflict as it was happening, with players able to pick a side with their battle pass cosmetics — choices which were reflected on the ongoing battle.
Midas led Ghost and its locations, ranging from the shiny Marigold Yacht to a gigantic Agency built in the middle of the map. However, his fortune did not come just from having the mythical golden touch, capable of turning any toilet near him to a golden potty. Instead, Midas was once the leader of Shadow, an organization he built with worldwide spy heists.
After Shadow was overtaken by one of his own, Chaos Agent, he created Ghost and the war for his legacy started.
2. His Past Is Gold
Even though in-game only his skins have the ability to turn weapons to gold, the golden touch is not something exclusive to Midas. The skeleton Oro, released the same season as Midas, is implied to be the source of this power.
However, this connection was even bigger with Midas' success in the community, as Oro was later updated to include a scar identical to Midas' right eye. Later seasons also included the arrival of Orelia, Oro's counterpart, and Marigold, the community-made counterpart to Midas.
It's clear the golden touch is still a curse, like the real legend of King Midas, as tons of practice is required to not ruin everything you touch. But with Midas' skill in crime and opportunity, he made sure to use that power for glory.
3. He Has A Daughter
Like most big seasons, Chapter 2 — Season 2 finished with a bang in The Device event. In the leadup to the event, some art was revealed showing Midas scheming in front of a glass case containing the Cyclo skin.
Keen eyed players noticed a reflection in that glass and compared it to a portrait in Midas' agent room — an interactive environment in the battle pass menu. The engineer Jules was officially introduced in Chapter 2 — Season 3 as Midas' daughter, who played a big part in building her dad's Device for the previous season's ending.
Jules' dialogue throughout the seasons mentioned her dad's absence from her life, given he was a busy crime lord trying to build an empire. Her mother is yet to be revealed, but is heavily speculated to be Marigold.
4. His Voice Might Be Familiar
When he was first introduced, Midas was available beyond just a skin, being an NPC in his Agency that players could fight. The mumbles let out by that NPC were voiced by none other than Matthew Mercer, who you might recognize from games like Overwatch, where he voices Cole Cassidy.
Midas is a victim to Epic Games' constantly changing plans, with them adapting to the community's reaction to certain things. However, one big content drop involving the character and his actor was completely scrapped for seemingly no reason.
The first time players would hear Midas' voice, beyond mumbling, was the First Shadows animated comics meant to be released alongside the skins in Fortnite Crew.
The Burning Wolf's was uploaded and then taken down in the matter of minutes. Thanks to other channels and their reuploads, Mercer's sleek voice for the character was preserved. Maybe one day he will return as the golden ghost's voice in a larger project.
5. So Many Midases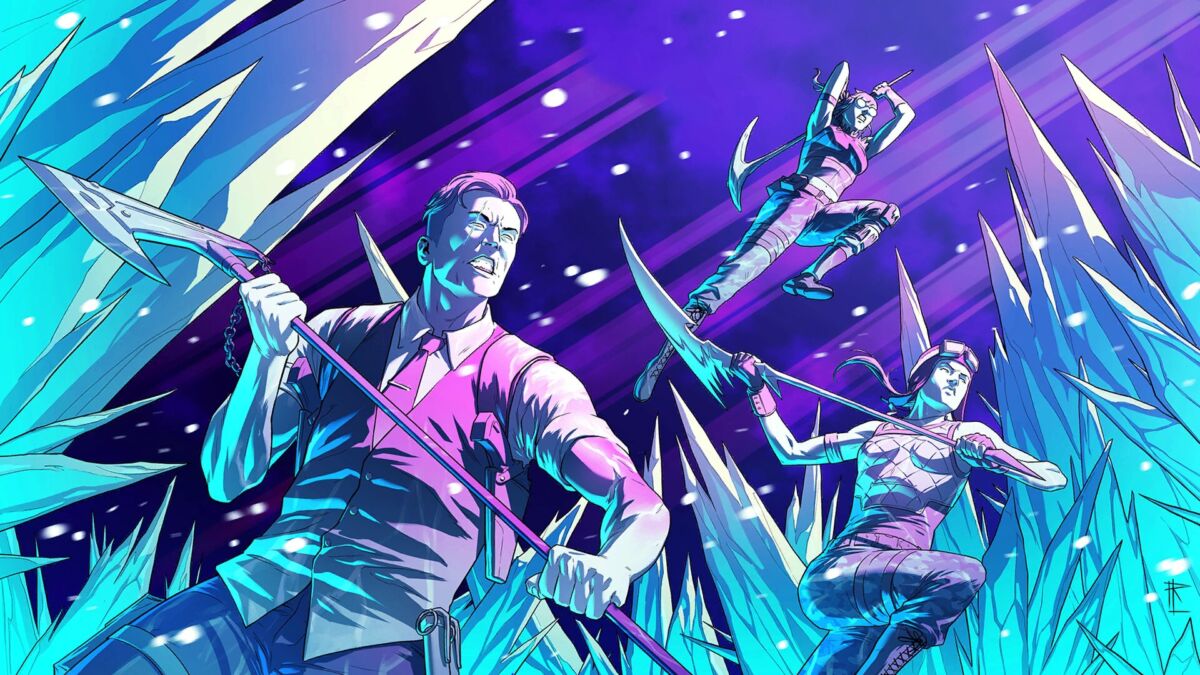 Thanks to the success of the original Midas skin, Fortnite has released a handful of new versions of him for new players.
Midas Rex came after the Ghost and Shadow war, where he got the last laugh by uniting the two factions back together. Shadow Midas was a copy of Midas resurrected by his henchmen as part of the 2020 Halloween event, Midas' Revenge. Icebound Midas brought a cool new twist to the golden touch, making all weapons freeze if you wore the skin.
With one of the most famous voice actors around attached to the character, and a loyal fanbase sure to buy anything thrown their way, Midas will remain part of the most memorable characters and skins in Fortnite for a long time.
Fortnite is free-to-play on PC via the Epic Games Store, PlayStation 5, PlayStation 4, Xbox Series X | S, Xbox One, Nintendo Switch, and Android.
MORE FORTNITE: Fortnite: 5 Drift Facts You Should Know
Some of the coverage you find on Cultured Vultures contains affiliate links, which provide us with small commissions based on purchases made from visiting our site. We cover gaming news, movie reviews, wrestling and much more.