As a game that is heavily reliant on pace, wingers may be just about the most important players in FIFA 21. Having a speedster who can fly past opponents and score as well as set up goals can make all the difference, but the best wingers don't come for free.
If you don't have millions upon millions in transfer money for the likes of Sterling or just want to look to the future and invest in player development, FIFA 21's best wonderkid wingers are who you should be seeking out. We've compiled a list of the most promising youngsters in FIFA 21 who also offer great value, even more so when you can potentially sell them on for multiple times the amount you paid a few years down the line.
From RM to RW to LM to LW, here are the best FIFA 21 wonderkid wingers, who, while not all world beaters on the day they arrive at your club, can become something special with a little bit of patience and game time.
MORE WONDERKIDS: FIFA 21's Biggest Young Bargains
FIFA 21: Best Wonderkid Wingers
Arvin Appiah (LW/RW)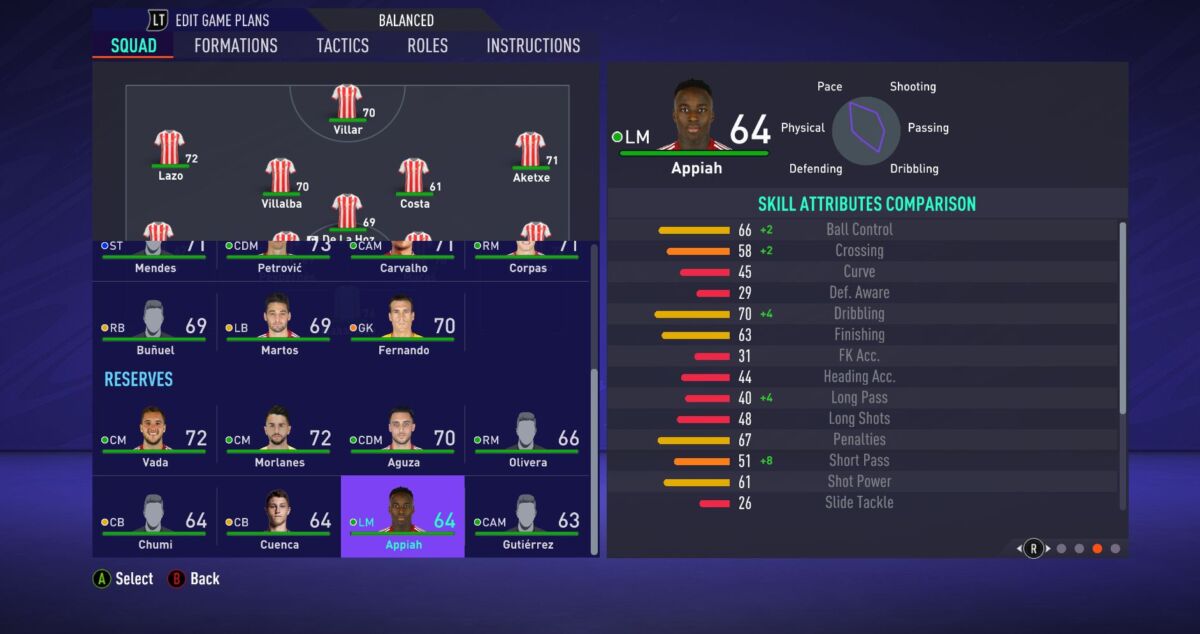 Age: 19
Rating: 64
Potential: 84
Nationality: English
Current Club: UD Almeria
Value: €975K
While you could look at Arvin Appiah's technical attributes and be concerned, you can always teach him to improve that side of his game. What you can't teach, however, is how to be one of the fastest players in FIFA 21. Appiah has 90+ speed attributes across the board and absolutely blitzes around the pitch.
At 19, he already has three traits that showcase what a talent he is — and could potentially become far greater. For as little as a few million euros, you could drastically improve your promotion hopes in the lower leagues and even offer ample back up to a side in the top division. With pace like that, he could play for anyone.
Luis Henrique (RW)
Age: 18
Rating: 67
Potential: 87
Nationality: Brazilian
Current Club: Marseille
Value: €1.6M
Marseille's Luis Henrique may not be as absurdly pacey as Appiah, but he's no slouch, either. He is also a little better on the ball and is a year younger, though he will be a slightly pricier buy overall. Still, no matter what you pay for Henrique in FIFA 21, you're getting a bargain.
EA clearly believe he has what it takes to be star, even though he only made eleven appearances for Botafogo before joining Marseille in the 20/21 summer transfer window. He has some work to do in front of goal, so make sure the development plan you put him on aims to improve his finishing.
Joelson Fernandes (RW/LW)
Age: 17
Rating: 69
Potential: 87
Nationality: Portugese
Current Club: Sporting Lisbon
Value: €2.1M
Appiah has some competition in the speed stakes, but you could suggest that Joelson Fernandes is already a far more complete winger (and player) despite being younger. He is absolutely rapid, but he also knows how to score a goal based on his mentality and power stats.
However, as he is only 17, Sporting's Fernandes is very weak in terms of strength, perhaps one of the weakest wingers in the game. He will bulk up as he ages, but place him on a development plan that makes him stronger while also giving him better stamina. Consider Fernandes an impact sub for his first couple of seasons.
Giovanni Reyna (LM)
Age: 17
Rating: 68
Potential: 87
Nationality: American
Current Club: Borussia Dortmund
Value: €1.8M
It's kind of scary just how much talent Dortmund's scouts and academy can pump out each year, but there's only room for eleven players on a pitch. You'd be wise to snap up the American Giovanni Reyna from Borussia for as little as €4.2M and turn him into a world class talent, then.
Boasting fantastic pace and plenty of skill move trickery, Reyna has a long way to go before he can call himself one of the world's best wingers, yet he starts off very promisingly in FIFA 21. The only thing that lets his down are his attacking attributes, which isn't ideal for a winger. As with all wonderkids, give Reyna your time and he will pay you back with an 87 potential rating.
Facundo Pellistri (RM/RW)
Age: 18
Rating: 71
Potential: 87
Nationality: Uruguayan
Current Club: Manchester United
Value: €4.9M
We're breaking our own rules a little bit here. Manchester United's Facundo Pellistri will cost you at least €6M, which is more than the €5M cutoff point we consider to be a bargain, but he might be worth paying a little extra. Pellistri made the switch to Manchester United from Penarol on the 20/21 summer transfer window deadline day, and looks like one for the future.
The Uruguayan starlet has the dribbling ability to match his quick pace and is surprisingly good in the air, despite only being 5'9″. It's not much of a stretch to say that EA haven't really scouted Pellistri that closely and have rated him based on excited whispers, but all that means is you can get an 87 rating potential player on the cheap. May struggle to immediately adapt to a big league, but stick with him.
Déiber Caicedo (RM)
Age: 20
Rating: 68
Potential: 86
Nationality: Colombian
Current Club: Deportivo Cali
Value: €2M
Deportivo Cali's Caicedo has already become a little bit of a cult hero among FIFA players and it seems like FIFA 21 continues the trend of him being an absolute wonderkid bargain. Capable of playing on either flank, the Colombian is quick and technically gifted on the ball, though still has a lot of work to do in front of goal.
At 20, he's also a wonderkid you're going to want to see the most out of sooner than others on this list. With a release clause of €4M, Caicedo could provide okay backup on the wings for a top half side, but he may come into his own as a leading man at a lesser team. Positioning, finishing, and strength all need serious work, mind you.
FIFA 21 is available now for PC, PS4, and Xbox One. A Legacy Edition is also available for Switch.
Some of the coverage you find on Cultured Vultures contains affiliate links, which provide us with small commissions based on purchases made from visiting our site. We cover gaming news, movie reviews, wrestling and much more.