The medieval battlefield and thrill of combat is always an exhilarating topic to explore in strategy games. The prevalence of iron-clad and colorful knights, as well as the arrival of large nomad armies provides a lot of interesting and flexible tactical decision-making. Field of Glory 2: Medieval, developed by Byzantine Games and published by Slitherine Software, makes a compelling case to revisit this historical period.
Byzantine Games is a development team that adheres to their design traditions to preserve the best elements of their games. Tradition can also become a crutch that limits innovation, but a strong gameplay loop, thematic additions or modifications of varying scale, and excellent implementation can compensate for a lack of franchise innovation. FoG 2: Medieval rides that fine line, avoiding stagnation, by improving just enough on its predecessors.
The Field of Glory series of wargames are adaptations of the historically-set tabletop miniatures game of the same name. Though not officially under the FoG franchise banner, Byzantine's earlier titles, such as Pike and Shot: Campaigns and Sengoku Jidai: Shadow of the Shogun, utilize the same ruleset with minor modifications. The core system of turn-based tactical battles where two opposing forces face off and battle for dominance hasn't changed and is still as good as it's ever been.
Players will deploy and fight on randomly generated maps with the goal of routing the enemy army off the field and breaking their fighting spirit. Armies are represented by a vast variety of units from different cultures, time periods, and fighting styles. The sheer number of unit types, capabilities, and behaviors provide a huge amount of tactical and strategic depth.
Another excellent and integral element of gameplay is the effect terrain has on units. Due to the randomly-generated maps, no battle will feel the same and some armies may go from being powerhouses to being severely weakened. The terrain can drastically shift even a single engagement in favor of units that fight more favorably in said terrain. This relationship between army composition and terrain makes the tactical and strategic elements of FoG 2: Medieval incredibly engaging.
Combat is, of course, a vital part of the gameplay and its robustness comes from the relationship of all the different units and their capabilities, as well as an element of randomness thrown in for good measure to add some tension to individual unit engagements. It's exhilarating when that elite unit of huscarls break the center of the enemy line and it's equally exciting to see a lowly Raw Spearmen unit hold firm in the face of a knightly charge.
One of the biggest strengths of the Field of Glory series that also can be found in Medieval is its setting and focus on historical accuracy and authenticity. Despite not adding any major mechanical or feature changes, the simple inclusion of the new Knightly Lancer unit type and the prevalence of the Unmaneuverable trait for a majority of units makes combat feel distinctly medieval compared to the ancients setting of the parent installment. In essence, the units themselves and the accurately composed army lists bring history to life on the battlefield.
The art direction and graphical style is another strong suit in the historical representation of FoG 2: Medieval. Though the graphical fidelity and quality of textures don't stand out, the use of color, especially on the knights, unit heraldry, and faction banners, and the easily readable maps gives the game its own visual flair, as well as serving a functional purpose in providing useful tactical information to the player. There is some graphical jankiness with map tile tessellation on hill slopes, but it's uncommon and doesn't affect gameplay.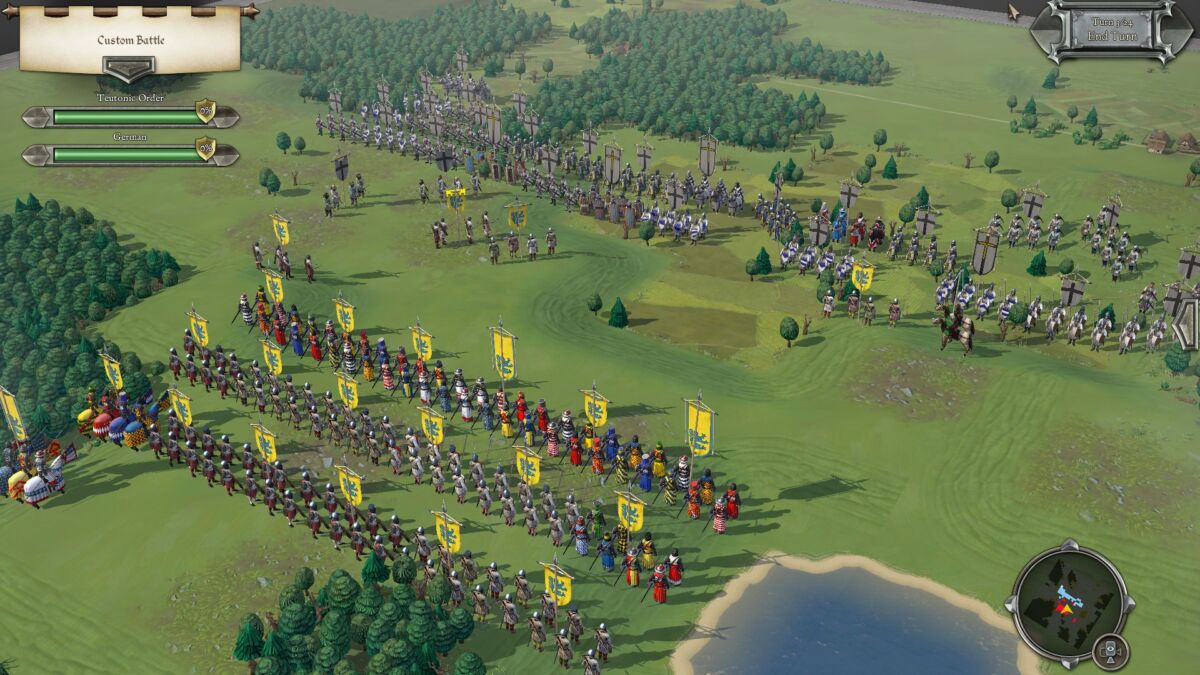 The FoG franchise shows how history can be an excellent tool in guiding and reinforcing good, engaging, and meaningful game design. However, history can also be a burden and a limiting factor to game design, which is somewhat prevalent FoG 2: Medieval. Though a minor criticism, it's noticeable in the roster of army lists.
The developers boast of 50 different army lists covering a wide variety of factions from Northern, Central, and Eastern Europe during the High Middle Ages. Though this variety is, on the whole, commendable, it does feel bloated and forced in some areas and raises questions regarding the game's scope of historical representation. For example, the Danish, Swedish, and Norwegian army lists are almost exactly the same, and there are almost 10 different German army lists with only minor differences. It feels like some army lists could have been condensed for easier presentation or substituted for more interesting and unique army lists.
One of the biggest positives of the game is the amount of content available at launch. Though players will mainly engage in tactical battles, there is a huge amount of options of how players can approach them. As the game is so focused on a single gameplay loop, the variety of modes makes up for the lack of additional features.
The modes available are two types of quick battles (jump straight into a battle or modify options), custom battles where players set parameters, epic battles, which are challenging historical engagements, as well as multiplayer over a Play-By-Email server and a campaign mode with a random battle generator and a series of narrative-driven battles. That's without mentioning the 50 army lists with the ability to bring allies into battle, providing even more options for army composition. Safe to say, there is plenty for players to do to engage with the game and choose their own fun.
The one major flaw of the game's modes can be found within the campaigns. Though not perfect, the previously mentioned Pike and Shot and Sengoku Jidai featured a large number of semi-sandbox campaigns where players controlled territory and maneuvered armies to grind their opponents down. Field of Glory 2: Medieval continues from the original FoG 2 and has opted for a simplified, minimalist campaign approach, where players engage in a string of narratively connected battles. This is highly disappointing considering it feels more of a step back for the series rather than a progression.
With the tactical battles including a lot of complexity, the tutorial is decent enough to introduce players into the overall mechanics of the game, though a more explicit guide or indication of some common tactics would have been appreciated. Along with the great art direction and graphical style, FoG2: Medieval sports really good collapsable and customizable UI and tooltips, which is especially welcome to see from a Slitherine published game. The sound effects, music, and soundscape aren't too impressive with the alright but repetitive music only playing in menus, leaving the battles eerily quiet.
The game ran smoothly with no noticeable frame drops and crashes, while running on i9-9900K CPU and RTX 2080 TI GPU, which far exceeds the highest technical requirements to run the game. This game isn't too power intensive, meaning anyone who can meet the recommended specs should be able to run it without much issue.
Aside from some terrain tessellation jankiness, I didn't encounter any bugs, gameplay or otherwise. The options menu is bare bones with plenty of tooltips customization options, but disappointingly barren with actual graphics options, though the game itself is not too taxing.
Field of Glory 2: Medieval is a solid new entry for the series, taking combat from antiquity and into the age of chivalry. The gameplay remains strong and complex with meaningful minor changes to authentically reflect the Medieval period. Though there are some modes of the game that could do with a significant rework, the game still offers plenty of strategic and tactical decision-making opportunities for budding commanders.
A code for Field of Glory 2: Medieval was provided by PR for the purposes of this review. 
Some of the coverage you find on Cultured Vultures contains affiliate links, which provide us with small commissions based on purchases made from visiting our site. We cover gaming news, movie reviews, wrestling and much more.

Verdict
A solid and historically authentic entry into a consistently engaging, if slightly safe, turn-based strategy series.