Unlike many other racing games, the F1 series from Codemasters puts the focus on realism and the latest release is no different in that respect. F1 2021 is a simulator that tries to emulate the motorsport as closely and accurately as possible. What this means for players is that the experience is not simple or particularly easy to pick up and play, as there's a huge amount of information to take in and features to get to grips with.
To set the timing screens alight and put the other F1 drivers in their place, it's important to have a good understanding of both the vehicles and tracks as well as the various options available to players. That might seem a bit overwhelming at the start but this guide should give you a crash course of F1 2021 tips and tricks so that you can start getting those pole positions faster than ever before.
Use Those Assists
F1 2021 has a huge array of assists and options that can significantly change how you play the game. Things like traction control, ABS, automatic gears, and racing lines can be switched on or off, but also have different levels. What this means is that, for example, it's possible to start with full traction control and then reduce it over time as you get more comfortable with controlling the throttle.
This is a good strategy for the majority of the assists, giving you the opportunity to turn them all on and then see which of them are most needed and which can be turned off or reduced without affecting performance too much. F1 2021 allows you to completely customize the level of assists for practically every game mode so never be afraid of using them. It's even possible to shift the difficulty level of AI drivers from 1 all the way to 100 to make sure that the field is at the same level as the player.
Jump Into Time Trials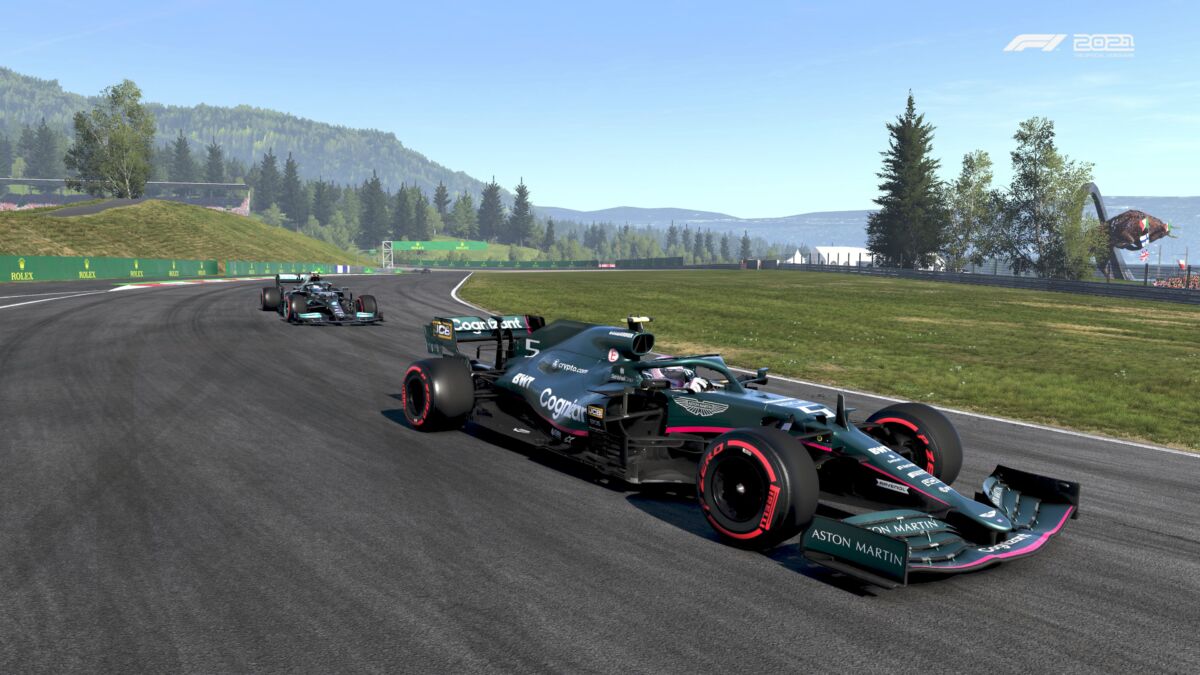 Time trials in F1 2021 essentially act as a testing session, providing the perfect chance to learn everything about driving an F1 car and the various tracks on the calendar. There are a few new additions to Formula 1 this year when it comes to destinations and players will certainly want to try them out in a less formal setting than in the career or multiplayer modes.
What makes time trials so useful is that you can focus almost entirely on the driving as it's just you and the car without any other distractions. There's no tyre wear or temperature control, competitors, or even fuel levels to worry about here so the focus can be entirely on just getting the basics right. Going through each track and setting solid and consistent lap times can be invaluable, giving a good indication of where braking points are and how to find the best grip.
Choose A Career Mode That Suits Your Needs
What sets F1 2021 apart from its predecessors is that there's far more choice when it comes to setting up a new career. This time around, players can create a campaign that can involve another player or even take on a more involved role in running a team by founding a new racing organization.
The My Team option puts players into the shoes of team owner, team principal, and driver all at the same time. It's up to you to design a logo and livery, find sponsorships for the team, hire teammates, and spend money on building facilities and R&D. This is far more involved than the simpler career, where driving the car fast is the main duty, but might be suitable for those who want to take a bigger role in determining the success of the entire team.
Make sure you know how much you want to invest outside of being a F1 driver when choosing what mode to go with.
Experiment With Different Setups
For more experienced players who want to get the absolute most out of their cars, changing the setup for each track becomes an essential part of the experience. For some locations, like Monaco or Japan, you'll want a lot more downforce to take into account the tight and twisting nature of those tracks so that you have more grip. But others will require a car that has far less drag and is faster on the long straights where excessive downforce makes you slower.
While it's perfectly possible to do this yourself in practice sessions using some educated guesswork or trial and error, a good way to go about it is to take inspiration from others. This is especially useful because there are simply so many different options available to players, with everything from the suspension to the angle of the tyres able to be modified.
Navigating to the leaderboards in time trials will allow you to see what setup the top players use but you can also go online and search for setup guides for each track. Simply copying them directly will not work perfectly though, as setups are just as dependent on driving style as the track, yet they'll still give you a good idea of what types of changes work for the different locations. Although it'll take some patience, once you have a good idea of what works for you and what each track requires, you'll be able to get the best setup far more quickly.
Keep In Mind The Basics Of Driving
There are some basic tips that everyone should keep in mind regardless of their skill level or experience with Formula 1 racing games. Just like in real life modern F1, races will often be decided not only by how fast someone is, but also how well they can manage their fuel and tyres. Fortunately, it is not a huge task to do both and there are some very simple things to keep in mind to keep tyres fresh and ensure you don't run out of fuel.
The first tip is to be as smooth as possible when cornering, trying to put as little action through the steering wheel as you can. The less the tyres move, the less they will wear out while taking shallower lines can also extend their life significantly. When it comes to saving fuel, lifting off the throttle as you approach a corner is a great and effective approach as it doesn't slow you down much. It's also possible to go through the gears slightly faster than is ideal in a process that's known as short shifting to stop the engine revving highly and reducing fuel usage.
The other major advice when it comes to driving an F1 car in F1 2021 is to remember the mantra "go in slow, come out fast." In practical terms, this means going into a corner slower than is theoretically possible, which then allows you to get on the throttle earlier after hitting the apex and position the car efficiently for the next corner or straight. As you get more experienced, you can begin to brake later but carrying too much speed into a corner will always make your lap time slower.
F1 2021 is available now for PC, PS4, PS5, Xbox One, and Xbox Series X | S.
READ MORE: The Best Xbox One Racing Games
Some of the coverage you find on Cultured Vultures contains affiliate links, which provide us with small commissions based on purchases made from visiting our site. We cover gaming news, movie reviews, wrestling and much more.