A new year brings new games, and this year we have plenty of them coming our way from all sorts of franchises we didn't think we'd hear from again. God of War, Kingdom Hearts 3, The Wolf Among Us Season 2 and Darksiders 3 just to name a few of the massive hits we'll be getting this year. However, we won't just be getting AAA hits this year, as some Indie game developers seem to be pulling all the stops, too.
With completely different styles of games for completely different platforms, there's sure to be something here for everyone with the ten most exciting new indie games to come out in 2018.
Moss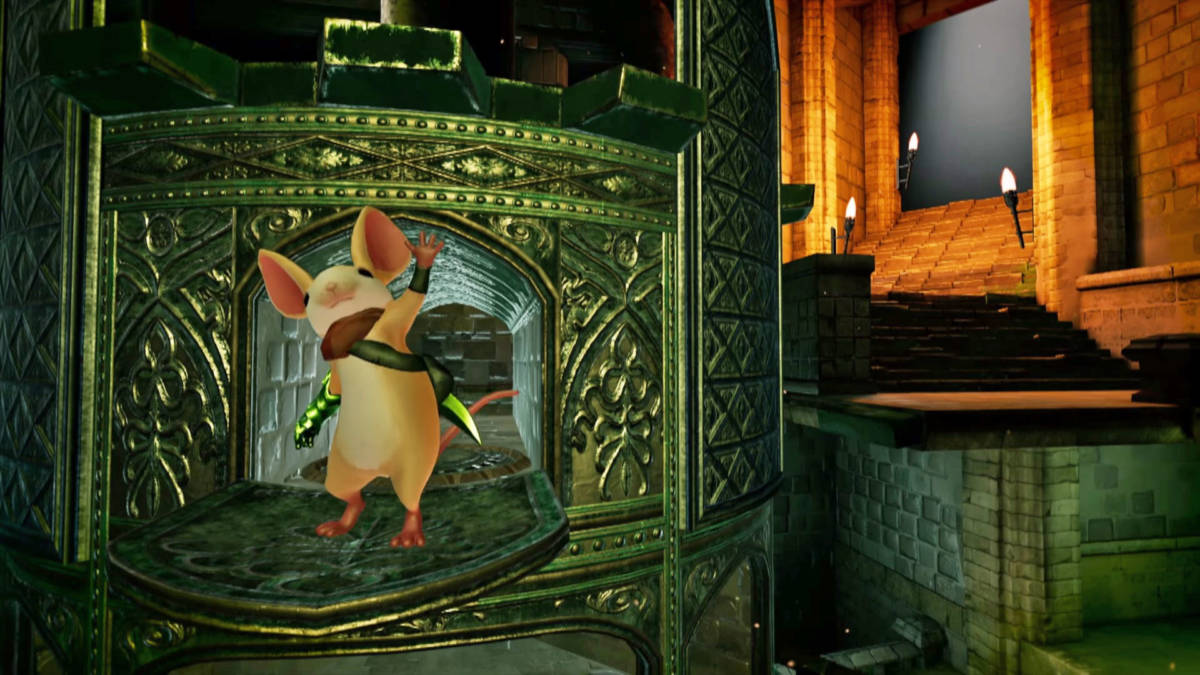 Release Date: TBC February 2018
Developer: Polyarc Games
Platforms: PS VR
Moss is a cute story about a tiny little mouse. It went viral a while ago after the animation director of Polyarc Games posted clips of the titular character using sign language. It melted the hearts of gamers and non-gamers alike, and the studio was praised for inclusion.
Although it's still not a very good idea for VR games to be 3rd person, Moss looks like it could be one of the few games that pulls it off, as despite the titular mouse being the controlled character, the player isn't just a stationary camera, but instead a character, too. The player appears in game as a masked blue figure, and the PS move controller appears as a shining orb-like object.
Polyarc Games is planning on releasing this cute action-adventure puzzler on all VR headsets later, but for now, it's only releasing on PS VR.
Kingdom Come: Deliverance

Release Date: February 13, 2018
Developer: Warhorse Studios
Platforms: PC, PS4, Xbox One
This historical fantasy game has been compared to games like Skyrim and The Witcher 3 several times already in the past four years. The game was first pitched by the studio on Kickstarter in January of 2014 and reached its goal barely 36 hours after launching. In total they raised £1.1 Million for the realistic single-player RPG that transports players back to the Holy Roman Empire that was where Germany is now (and some areas around it) from 800 to 1806.
Kingdom Come: Deliverance has you play as a lowly son of a blacksmith as you fight and struggle your way up the ranks, joining the fight for the future of Bohemia as the lord whom you service is putting up a resistance against an heir to the throne who has eliminated all his competition. The game is built around the combat that fits the period and is sure to be an interesting change of pace to the usual run and stab gameplay we're used to.
Agony
Release Date: 30th March 2018
Developer: Madmind Studio
Platforms: PC, PS4, Xbox One
Agony is a new survival horror game that many people have been watching with a keen eye for quite a while now. After landing in Hell as one of the newest poor, unfortunate souls to wander through eternal damnation and lose themselves, players will be able to control other people as well as simpler demons to help them survive in hell.
Throughout the game, the player will need to solve puzzles and interact with the environment to get to a meeting with the so-called Red Witch so that they can get out of Hell. This won't be as easy as running and gunning everything in your path, as besides taking control of enemies, there's little one can do against them most of the time.
Agony will boast mind-blowing graphics and visuals, so it's not for the faint of heart, as seeing the full extent of Hell with all its torture and misery might be too much for some, even if the gameplay itself might not be.
We Happy Few
Release Date: April 13, 2018
Developer: Compulsion Games
Platforms: PC, PS4, Xbox One
This will probably be one of the trippier releases this year. In We Happy Few, you play the story of three different characters who are trying to get out of the society they live in, where everyone is pumped full of drugs and happiness is compulsory. Along the way you'll have to choose if you want to see the world as it truly is, but possibly face prosecution, or put on a rose-tinted pair of glasses and take a literal chill pill.
You can play the stories in many different ways as the city is your playground as long as you know your way around. If you want to take the path of blending in, you could try playing it without killing anyone, but if your goal is uprooting this terrible city itself, you can craft weapons and go in guns blazing.
We Happy Few could easily be an episode of the Netflix show Black Mirror and it seems to have the same level of detail put into everything. Mixing 1984 with Clockwork Orange and bits and bobs from other famous sci-fi dystopias gives you the world of We Happy Few, available in April.
Vampyr
Release Date: Q1/Q2 2018
Developer: Dontnod Entertainment
Platforms: PC, PS4, Xbox One
After Remember Me, followed by the time travel antics and melancholy tone of Life is Strange and the punk-rock theme of Life is Strange: Before the Storm, the last thing anyone expected from Dontnod Entertainment is a gritty vampire RPG that takes place in London just after World War I.
The city is in the vice grip of the Spanish Flu and Jonathan E. Reid, a talented doctor has just started craving blood. You have to decide what is more important to you: drinking blood at any cost and being able to protect the city from monsters that have started to roam its streets or upholding your Hippocratic Oath, finding a cure to the Spanish Flu and saving the city?
Vampyr puts that and many other questions in the forefront as you try to figure out what happened to you, all the while trying to survive, as there are also many trying to hunt you and those like you.
Travis Strikes Again: No More Heroes
Release Date: TBC 2018
Developer: Grasshopper Manufacture
Platforms: Nintendo Switch
It's been eight years since the last entry in the No More Heroes series, but Suda51 is back to bring us a new game. The wacky adventures of the nerdiest assassin of all time are back! After his appearance in Devolver Digital's 2017 E3 skit/conference, it was revealed the team is working with fifteen other indie game developers to help put their games into this one.
The concept may at first sound confusing, but what happens is that Travis Touchdown and his arch-enemy get pulled into a gaming console and have to fight their way out of all of these different worlds. Several games are already announced, namely Hotline Miami, Shovel Knight, Ruiner and Serious Sam.
Not much else is known about the third No More Heroes game, but it's clear that this game is going to be bigger and crazier than the last two games. It'll be interesting to see how our wisecracking hero makes it through this mess.
Guacamelee 2
Release Date: TBC 2018
Developer: DrinkBox Studios
Platforms: PS4
After Guacamelee! and Guacamelee!: Super Turbo Championship Edition comes Guacamelee! 2. The Street Fighter franchise would be proud of this naming scheme.
The Guacamelee! franchise is known for its heavily stylized Mexican-inspired Metroidvania gameplay where players control an agave farmer who stumbled upon a legendary luchador mask and started wearing it to help him to get back El Presidente's daughter. The original game and the sequel both boast up to 4-player local co-op and fast-paced melee gameplay. There's not a single boring moment to be found and barely seconds to breathe in between sections.
The gameplay of Guacamelee! let you swap between the World of the Living and the World of the Dead to get to places that look like they're too far away or completely closed off, although it looks like Guacamelee! 2 will use that against you, twisting up the mechanic in ways you haven't seen before.
Ori and the Will of the Wisps
Release Date: July 12, 2018
Developer: Moon Studios
Platforms: PC, Xbox One
Moon Studios is back with another meticulously designed platform adventure game in the style of Metroidvania. Topping Ori and the Blind Forest with its sequel will no doubt be difficult, but Moon Studios is definitely competent enough to nail it.
Ori and the Blind Forest was praised for its gameplay and story, its music, but most of all for its beautiful art. Huge parts of the game are hand-painted and its sequel won't be very different in that sense. The team is putting every last drop of sweat, blood and tears they have into the game, polishing everything until it's perfect. They reportedly want to make the game an improvement from the original in the same way that Super Mario Bros 3 was an improvement over Super Mario Bros.
The trailers show Ori with a new owl buddy, so we'll have to wait and see what changes and additions to gameplay that will lead to.
Greedfall
Release Date: TBC 2018
Developer: Spiders
Platforms: PC, PS4, Xbox One
Here comes what would be Columbus' favourite version of GTA. All jokes aside, Greedfall looks to be one of the most interesting games in recent years. You play as a settler in the 17th century who has gone to new lands with others like you, and you can choose to interact with the locals as you wish. Choices impact every aspect of the game, as the smallest decisions you make on how to act in this foreign land up to large-scale diplomatic decisions can make or break the way the locals think of you.
Sadly, not much else is known about Greedfall at this point, and after Spiders' last two games The Technomancer and Bound By Flame, it's not hard to doubt them being able to pull off such a ballsy project, which would be a shame. The concept of Greedfall is a refreshing one, so we can only hope they don't half-ass any part of the game.
Biomutant
Release Date: TBC 2018
Developer: Experiment 101
Platforms: PC, PS4, Xbox One
It's a bird! It's a plane! It's some kind of… "Biomutant". Credits roll. Game over.
Thankfully, I'm not in charge of game design for Experiment 101, because what they thought up here is a grand vision on the scale of great science fiction writers. A lush and vibrant world, as deadly as it is beautiful, packed with countless species of creatures that you can see as you go through the word in any manner of transportation (the site lists walking, using a mech, jet-ski and air-balloon as examples).
The coolest thing about Biomutant (besides the fact that you literally use Kung Fu to fight your enemies) is that you can rewrite your genetic code on the go. Thanks to the radioactivity of the world around you, you can obtain physical mutations to help you survive, but you can go even further and eventually obtain psychic powers. Combine that with the fact that you can craft the craziest types of weapons you'd ever dream of and you have the dreamer's new best friend.
Biomutant gives players a lot of freedom, but they should be careful that in doing so, they don't make the game too flat, saying "everything is possible and players are free to make their own story" and using that as an excuse to tape a barebones story onto the game.
Those were the most exciting indie games to look forward to this year. Are there any hidden gems you're eagerly waiting for? Or do you think this list is full of trash? Sound off in the comments below. 
If you want more than just the biggest indie games, check out the 6 Biggest New Games of January 2018. If you want to look back instead and look at what we hope doesn't happen again this year, check out the 12 Most Disappointing Games of 2017.
Some of the coverage you find on Cultured Vultures contains affiliate links, which provide us with small commissions based on purchases made from visiting our site. We cover gaming news, movie reviews, wrestling and much more.