Enchanted Portals feels like one of those games that you play once to admire its visuals, and then wait a really long time before you decide to play it again. You know, games like Monument Valley or Kirby's Epic Yarn where the levels are easy enough that they really only require one or two tries, and the visuals are the ones shining through and stealing the show.
The problem is that Enchanted Portals isn't an easy game, and the levels are frustratingly difficult, requiring you to play over and over again in order to get the patterns right and make it to the end. So why does a game that relies so much on repetition not offer more interesting, exciting, and varied gameplay?
Enchanted Portals is a 2D platformer-shooter visually inspired by old-school cartoons like Betty Boop and Oswald the Lucky Rabbit. It tells the story of Bobby and Penny, two rookie magicians who find themselves traveling from dimension to dimension after a spell they cast goes horribly wrong. The game takes a lot of clear inspiration from Cuphead, but unlike that game, the worlds in this game have you going through a series of platformer levels first before entering the boss fight, rather than the majority being boss fights and the platforming levels optional.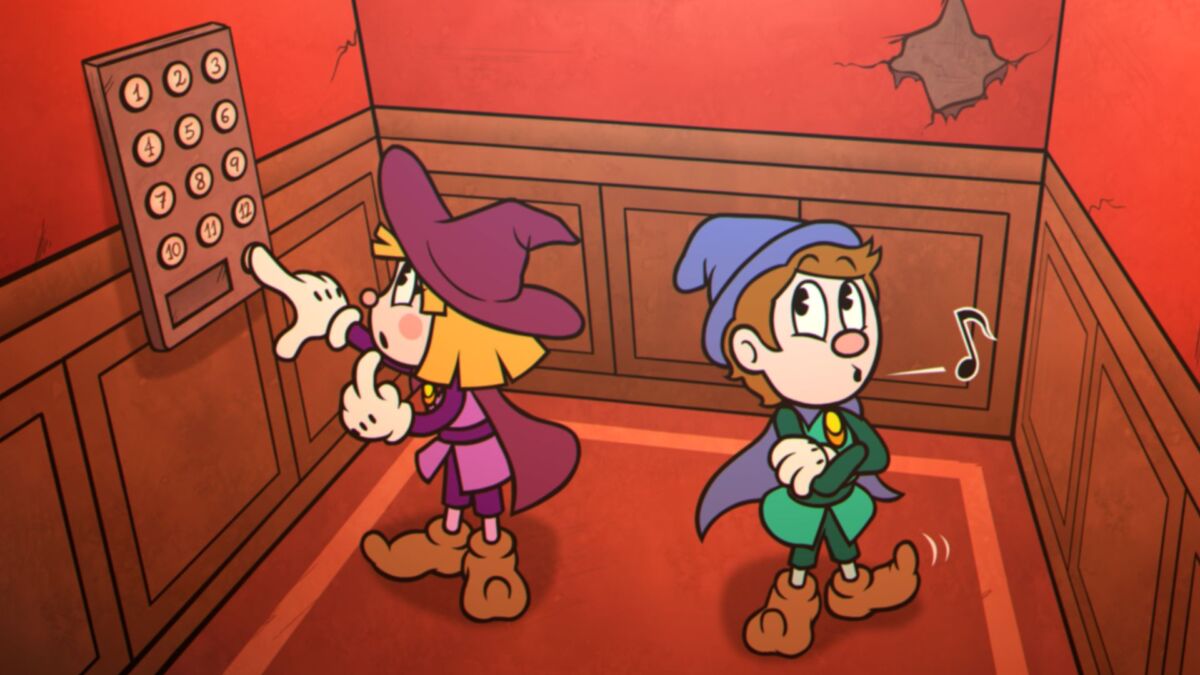 It doesn't work, mainly because these levels are too long and offer little in terms of variety: it's shooting, jumping over something, moving forward, and not much else. Take the first level with the setting of a haunted forest — the forest looks gorgeous, looking straight out of a Halloween children's book, but the only enemies this level has to offer are bats who fly and attack from above, and ghost wolves that only hurt you when you're in their way.
This level goes on for at least three minutes, but by the time you've reached the halfway point (thankfully labeled by a cat on a cloud waving a flag saying 50%), you've seen everything the level has to offer. Enchanted Portals' platforming levels get so repetitive, the same enemies showing up all throughout, that you spend most of it on autopilot, repeating actions over and over again and wondering when the level is finally going to end, or even just when the cat is going to show up.
It's tedious and feels like a chore, and most of the difficulty just comes from the game stacking enemy upon enemy upon enemy. Often, you're dealing with five or six obstacles at a time. Not five or six different obstacles, mind you, just five or six obstacles, like three ghost maids coming from behind you while three spiders attack you from above. It's a shallow and boring way to boost difficulty as it means the enemies don't have to be creatively hard, they just have to be plentiful, and the levels end up feeling like going through a to-do list over and over again.
There's no excitement here, no wondering what's next, and no sense of having accomplished something until the level is done. When you destroy, say, the acorn maker in Cuphead, you know for sure no acorns are going to be bothering you again, but when you destroy the statue shooting rays at you in Enchanted Portals, you sigh knowing those statues aren't going to stop showing up until you reach the end.
Another shallow method of inflating difficulty this game employs is having enemies that can only be attacked with a specific spell, as your wand allows you three different spells: green, red, and blue. Firstly, this is terrible for colorblind people as two enemies will look exactly the same except for their color, and so far, the game doesn't have any colorblind options. Secondly, every time this happens, I get annoyed knowing I'll have to switch the spell. This means my character will have to stand still for a few milliseconds before he can start running again, which is a terrible thing to have in a bullet hell run n' gun stage.
It's even more annoying when two enemies of different colors attack you at the same time, because your spell does nothing to the second enemy and you have to wait until the first one dies before switching. It kills the pace and gives the second enemy an unfair advantage, as you'll usually want to stand still in order to target the first enemy well.
However, the reason I find color-coded enemies so frustrating, both in this game and in action games in general, is that it minimizes player input to pressing the right button — not even figuring out what the right button is, but just pressing the button the game tells you is the right one. Color-coded enemies have long been a topic of discourse in the gaming community, and when it comes to action games, I have to side with people against it: there is no strategizing or puzzle-solving here, it's just following instructions.
When you've defeated the enemy, there's no real sense of accomplishment because you didn't choose how to kill said enemy, as the game forced you to do so in a specific way. One common argument in favor of color-coded enemies is that they prevent mindless button mashing, which I also disagree with as games like Hyper Light Drifter managed to prevent it without the need for color-coding.
Regardless, Enchanted Portals doesn't have a button-mashing problem. You hold a button in order to fire, which you will continue to do even after you switch spells. The challenge of shooting will remain regardless of the enemy's color. The spell-switching just feels like busywork, and I sincerely hope the developers eventually make these colored enemies optional. But if they insist, at least add colorblind options since red-green color deficiency is the most common type of color blindness.
All that said, there's clearly a lot of love put into the visuals of Enchanted Portals. Vibrantly and exuberantly drawn, the levels often look like they could be from an early Walt Disney Animation Studios film. One look of any level and you're instantly in a good mood, as lush colors, detailed backgrounds, and expressive character designs fill the screen, especially during the boss fights.
Actually, had Enchanted Portals just been boss fights, it probably would've been more fun to play, as these fights offer a lot of variety albeit still containing the things that make it shallowly difficult. One boss fight has you battling a giant crab on the beach, and once you're done, you swim in the ocean, turn into a merman, and fight an octopus underwater. Another boss fight switches animation style a third of the way through, turning into a Tim Burton-esque 2D cartoon as you fight an evil witch.
Unfortunately, Enchanted Portals requires you to go through around three uninteresting and tedious platforming levels in order to access its boss fights, and even then, these bosses are usually designed with narrative and artistic style in mind and not so much from a gameplay perspective. You mostly just avoid obstacles while trying to keep your wand pointed at the big bad boss.
There are some cool ideas here, but without great and creative gameplay to support them, they're ideas better fit for a TV show or a children's book series. Maybe if this game was easier, it'd be quicker to recommend, but the frustrating gameplay just negates whatever joy the visuals are giving you.
A Steam key was provided by PR for the purposes of this review
Some of the coverage you find on Cultured Vultures contains affiliate links, which provide us with small commissions based on purchases made from visiting our site. We cover gaming news, movie reviews, wrestling and much more.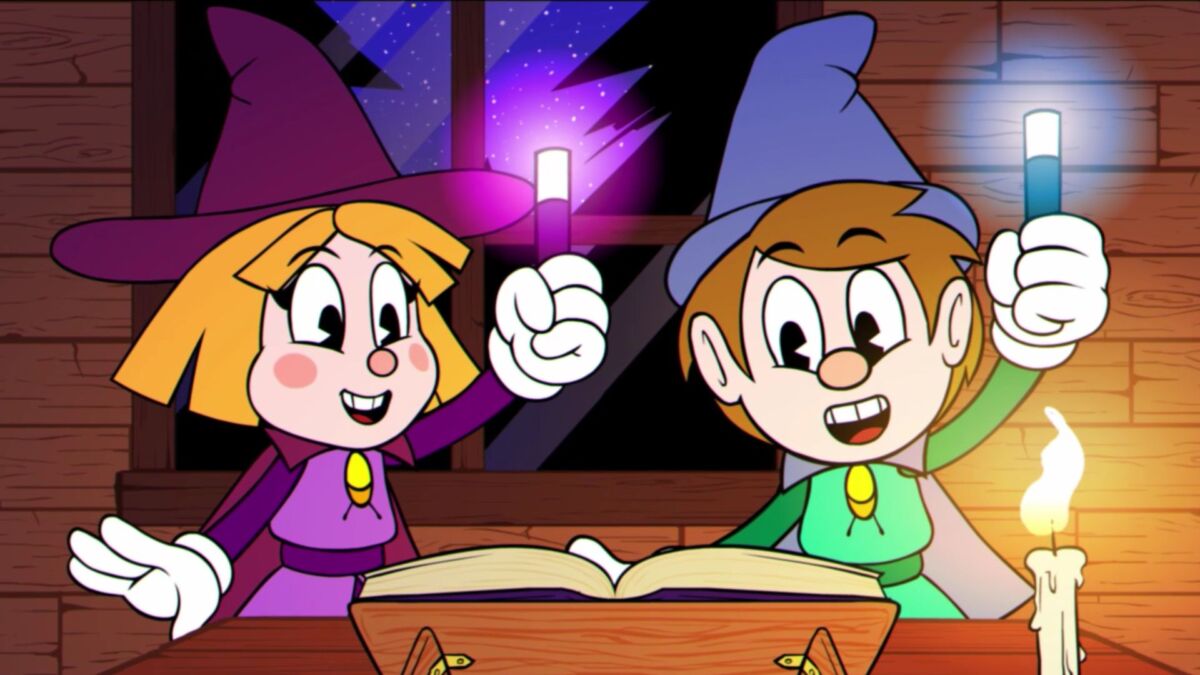 Verdict
Enchanted Portals looks delightful, with 2D animation reminiscent of childhood cartoon favorites, but its monotonous gameplay and artificial difficulty make for a hollow gaming experience that's frustrating in all the wrong ways.