It's not a stretch to suggest that Dead Island 2 even releasing is a bit of a surprise for many. From its brilliant initial reveal up until just a year or so ago, Dead Island 2 was the posterboy for video game development hell, switching developers two times and disappearing off the face of the Earth countless times more. While Dead Island 2 being an actual finished product that is actually playable is surprising, what's more surprising is just how fun, refreshing, and innovative it is, though it's far from a perfect experience.
The zombie virus is spreading through LA, and you're one of the lucky few who manages to get on a final flight out of dodge. This isn't Microsoft Flight Simulator though, so just as you're getting ready to watch 2005's Hitch on the in-flight entertainment, chaos ensues on the plane. A dramatic crash sends you straight back into the hellish Los Angeles, or HELL-A, as it's been catchily coined. After meeting other survivors in the wreckage, it's not long before you're bitten and infected with the virus, but instead of turning into a brainless monster, you retain your humanity and gain an advantage against the undead. It's up to you to become a Slayer and help the people still stranded in Hell-A while trying to find out some answers about how this all began — and what you're becoming.
The people of Hell-A buoy a lot of Dead Island 2's narrative beyond the slightly gonzo setup, which includes the Slayers you pick. With six unique characters to choose from, whether that's the clearly grieving Jacob who misses his mother or angry Irish rockabilly Dani, they're an eclectic bunch who each play differently with different innate skills that change the way you play. For instance, while one Slayer may be able to tank more damage and attack more viciously over time, another may be nimbler and able to isolate zombies to pick them off one after another. Granted, it's not a completely different experience from Slayer to Slayer, as you're still ultimately caving heads in, but there's plenty of variety to builds and playstyles here that'll keep you coming back.
The real star of the show here though is undeniably the FLESH system, which is probably just about the most comprehensively gory, detailed destruction system ever seen in a video game. It's so good that people will talk about it in the same way that they used to talk about Red Faction's destructive tech. Even 20 hours in, I was still finding different ways of disassembling the undead — and laughing like a bit of a weird lunatic at the same time.
Just when you think you've seen it all when it comes to the FLESH system, there's some new and utterly gross sight to behold. Flesh peels away from bone, limbs "shorten" depending on where you shoot, and guts spool out like confetti. It's quite the shock to see a basically fleshless zombie that keeps on hobbling towards you for the first time, or a zombie with half its jaw missing that still wants to make you its dinner. What makes the FLESH system even better is that zombies will react accordingly to where they've been injured/burned/maimed, meaning that if you shoot one of their legs off, they will keep on crawling towards you, one agonising inch at a time. It's all so good and deliciously gory that you question whether Tom Savini was consulted in the design process. No amount of text explanation can really do it justice — it's one of those landmark moments in game design that has to be played to really be appreciated.
All this gore wouldn't be quite as effective without the satisfying combat to match, and Dead Island 2 definitely boasts quite the meaty, engaging setup. While players can get guns later on, it's clear that melee combat is the focus here, as every hit lands with a satisfying thwack, squelch, or thud. The combat is initially rather basic, with you just unlocking a dodge to help you get past the hordes, but eventually evolves into quite the power trip as you build out your skill deck by collecting cards. While I was initially a bit skeptical about this system in my preview, there's loads of build variety to sink your teeth into once you really begin to flesh out your deck.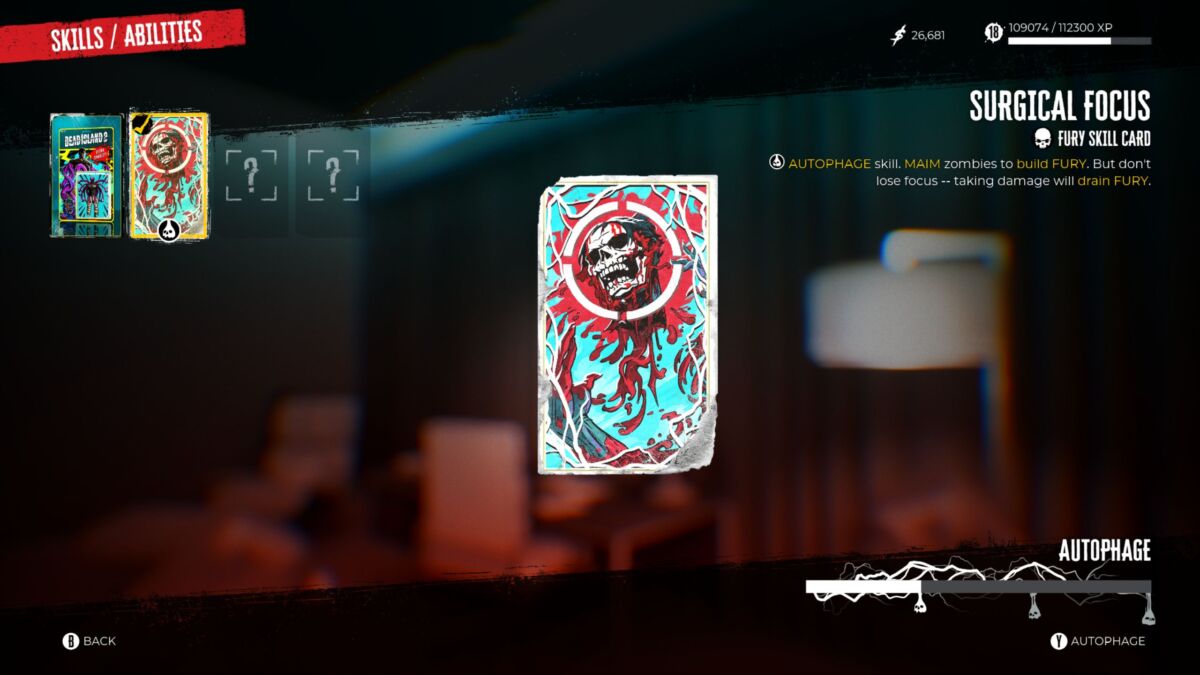 From the ability to pound the ground to knock zombies off their feet, to almost teleporting up to an enemy to palm them in the face, to loads of different abilities that trigger once you do a certain status effect, there are so many ways to positively break the combat in Dead Island 2. I was absolutely besotted by a combination of cards that took advantage of Jacob's increased damaged dealing while also speeding him up, basically making him look like Rocky Balboa at 2x speed when using knuckle dusters. There's tonnes of fun to be had in playing around with your deck and finding what works for you, and while the different types of cards could probably be organised in your deck a little more intuitively (presets would've been a great addition), it's worth exploring Hell-A to unlock new cards and really get wild with it.
Hell-A itself is quite the looker, with some of the shiniest textures seen this generation so far. The daytime is particularly gorgeous, with the sunlight beaming and really highlighting the beauty of this tropical nightmare. Dead Island 2 also has a surprising level of detail, far more than what many would probably give it credit for considering just how beleaguered its production has been. Dambuster really went the whole hog here, whether its survivors having full on conversations without you and saying different things based on your story progress, or a gymbro having backne due to implied steroid abuse, or just the amount of background lore and emotionally affecting audio logs you can find. Your Slayer even seems to have some kind of response for everything, which, while perhaps a bit overkill, does make you feel a little less isolated as you travel around the undead LA.
Apart from the Slayers, the residents of Hell-A are surprisingly charming considering just how unlikeable about 90% of people are in zombie media. It's helped by some really great performances, particularly for Emma Jaunt, a horror icon who's lost their way in the glitz of Hollywood, and Patton, a war veteran with some justified complexes and neuroses. While most conversations do end up with you going to X and killing Y, it's always a pleasure to discover more about your fellow survivors' backstories and notice their varied, expressive mannerisms, especially in a game that is this visually arresting even beyond the melting brains and sinew. It's a shame, then, that there are next to no times when you meet any survivors out in the world(s) and only ever really encounter them inside safehouses, which feels like a fairly big step back from something like Dying Light.
There's also the fact that there's very little persistence out in Hell-A's many different zones, as things like broken glass will somehow fix themselves and zombies will constantly just randomly appear next to you after you've already cleared a load of them. Couple this with a rather basic map that feels like it's missing some key info to help you track side content and it always being just a bit unclear how you collect keys, and Dead Island 2's various sandboxes, while inviting to explore and rather vivid, come across as a lot less "alive" than many of its peers, which isn't helped by the aforementioned lack of people. The quest design also feels pretty lacking at times, as there's little variation beyond going somewhere and killing zombies. Granted, killing those zombies really never gets old, but something like branching paths and general player input would make you feel like more than just an errand boy at times.
There's even less variation in the game's final boss, which is a borderline copy and paste job from an earlier encounter except with more zombies in the environment. Truthfully, it's hard to shake the feeling that something happened to the whole final section of the game, as not only is the last zone seriously lacking in size and interactivity compared to those before it, but the ending is pretty abrupt, leaving off on a cliffhanger that resolves very little and leaves more questions than it does answers. The cynical side of me is saying that paid DLC will fill in some of these blanks, but right now Dead Island 2 just kind of stops dead in its tracks.
Dead Island 2 definitely has its fair share of flaws, then, but despite any grievances I might have had with it, I keep coming back to one word to sum up my experience: fun. Sure, it's an action RPG with a lot of numbers, but this really is a refreshing game that knows what it's good at and really focuses on making that the absolute best it can be. Dead Island 2 might not quite be up there with the likes of Dying Light, but if you're looking for a way to spend 30 hours of your time while your brain is on ice, you probably won't do much better this year.
An EGS key was provided by PR for the purposes of this review
Some of the coverage you find on Cultured Vultures contains affiliate links, which provide us with small commissions based on purchases made from visiting our site. We cover gaming news, movie reviews, wrestling and much more.

Verdict
Refreshingly brainless and made with a lot of heart, Dead Island 2's repetitive quest design and disappointing conclusion don't stop it from being a whale of a time.