Life can be tough. Money leaves as fast as it comes, sometimes faster. While most folks simply want to seek an honest dollar, there are always those who attempt to make the most out of any situation by any means necessary. Though their methods may be questionable, Card Shark by Nerial proves how few people can beat a good cheat.
You are Eugene, a mute boy working in a small town and living a quiet life in 18th century France. After a particularly rough night, an unusual patron asks for some equally unusual advice during a game of cards. The patron teaches you a sly trick and when he uses your advice to win, it sets a whirlwind of events in motion that will forever change the life of young Eugene. When his world is turned upside-down, the cheat offers to help him escape the troubles of his old life to take part in an adventurous new one.
After introducing himself as the Comte de Saint-Germain, the sharp-dressed cheat allows you to join his camp of merry thieves. They then introduce themselves as revolutionaries, and you and the Comte begin to travel around France and beyond, using the Comte's strategies and your sleight of hand. From the wealthy aristocrat to lucky den-dwellers, no one is safe from the tricky fingers of the devious duo.
The main gameplay hook of Card Shark is cheating in a game of cards by using a wide variety of techniques. You and the Comte will always be teaming up to net a win, usually for him, for money and information that will eventually get you a game at the King Louis XIV's table. These techniques start simple, such as peeking over a players' shoulder while pouring their drink, but get more advanced as you get into false riffle shuffles and complex signaling strategies. While the techniques themselves are conceptually complicated, the way it all plays out is relatively straightforward.
You'll perform your tricks and strategies by way of various mini games to cheat the cards. There is a wide variety of these games and many build upon previously learned tricks naturally, giving the game a very nice flow. While the majority are spins on memory games, which is thematically fitting for a title such as Card Shark, the game doesn't shy away from embracing a large variety of gameplay elements. Timing and rhythm-based sequences are mixed in with card counting and deck stacking, mostly in the form of the quicker or more discreet tricks, keeping the experience fresh throughout. Since these techniques mostly build upon one another, or are variations on previously learned techniques, the challenge lies in always staying in the moment and not forgetting the goals of your tricks. This makes for an interesting dynamic that gives the game a skillful feel.
You'll learn many different ways to manipulate the cards and tilt the game in your favor. There's a grand total of 28 tricks and strategies in the game, which are all quite flashy when executed correctly. There's also a risk of getting caught, as your opponents will notice mistakes and moves that take too long. The world Card Shark puts you in is normally one of high society, so getting caught usually leaves you either in jail or dead, meaning your tricks should be quick and efficient.
The visual style compliments the atmosphere of the game, with an aesthetic that seems heavily inspired by the Madeline series of books that fits perfectly with its 18th century France setting. The orchestral soundtrack is also a perfect fit, with the theme of the card game stealing the show. Every scene is portrayed by a beautiful illustration, with portions at the table focusing on the dynamic nature of the various card tricks you perform. This impeccable presentation makes it very easy to get into Card Shark's simple but engaging story.
The story of Eugene is one that will transport you and the Comte de Saint-Germain all across France. Using various leads from members of your troupe and information from the Comte, you will take a carriage to locations all over the city and countryside. Each successful game will net you a share of earnings, which you will then share with the camp at large as they work toward revolution. This isn't the only goal of the main cast, however, and the web woven by the Comte and the other rogues around you proves to be quite tangled as you watch it fall apart. While the pace is a bit slow and makes a couple of twists feel jarring, solid writing helps Card Shark overcome the smaller problems in the larger narrative.
The story of Eugene and Comte de Saint-Germain is a wild ride that's full of twists and turns, backed up by some fun writing and an eclectic aesthetic. While the gameplay boils down to a collection of minigames and isn't exactly action-packed, the execution of the experience is perfect and makes you feel like a master cheat. The focus on the feeling of being an expert cheat is very distinct and pays off during gameplay, as it's a wholly different feeling from that of being a master of the game itself. This experience isn't for everyone, however, and missing a trick usually means starting a section of the game over.
Though the trial and error nature the game adopts can feel particularly annoying, especially since most tricks are variations on memory games, the elements the game gets right make these complaints feel like nitpicking. It makes Card Shark an engaging and memorable adventure when it all comes together, with the devious charm of a rogues' sly smile and a game that's for anyone looking for a unique experience.
A Steam key was provided by PR for the purposes of this review.
Some of the coverage you find on Cultured Vultures contains affiliate links, which provide us with small commissions based on purchases made from visiting our site. We cover gaming news, movie reviews, wrestling and much more.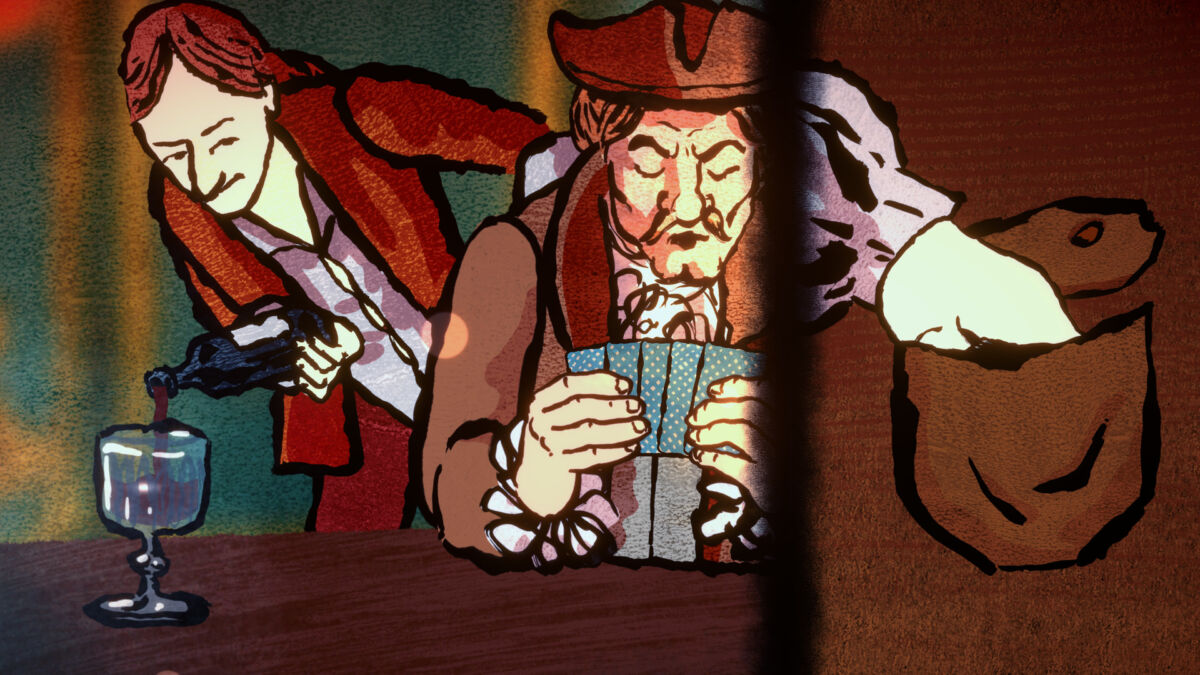 Verdict
Card Shark is a clever and charming game whose engaging plot and gameplay focus on being a great cheat over being a master player gives it a unique personality.