They say that school is the best days of your life, though most of the people who actually lived through school-life will probably tell you that whoever they are, they're lying. Unless you were lucky enough to be a part of the childhood equivalent of a social elite, school had the potential to be a living nightmare for a lot of people, so the idea of returning to school, even if it's just in virtual form, can be daunting. Even so, you should absolutely make sure to enroll in Bullworth Academy for a year before you die, as Bully is arguably Rockstar's greatest hit.
Aside from Rockstar Presents Table Tennis, of course.
It's well known at this point that Bully courted plenty of controversy upon its initial release, as the idea of Bully, a GTA-style free roam game set in a school that lets you punch kids and stuff them into lockers, led to plenty of outrage among parents. The game was even re-named to Canis Canem Edit in the UK (Latin for Dog Eat Dog) as a way to appease those negative connotations, but those who actually played the game found an experience that was a lot more wholesome than you'd believe. Sure, it's still filled with the classic Rockstar cynicism and crude humour, but instead of the typical unlikable gangster, Bully's main character is a rough-edged thug with a genuine heart of gold.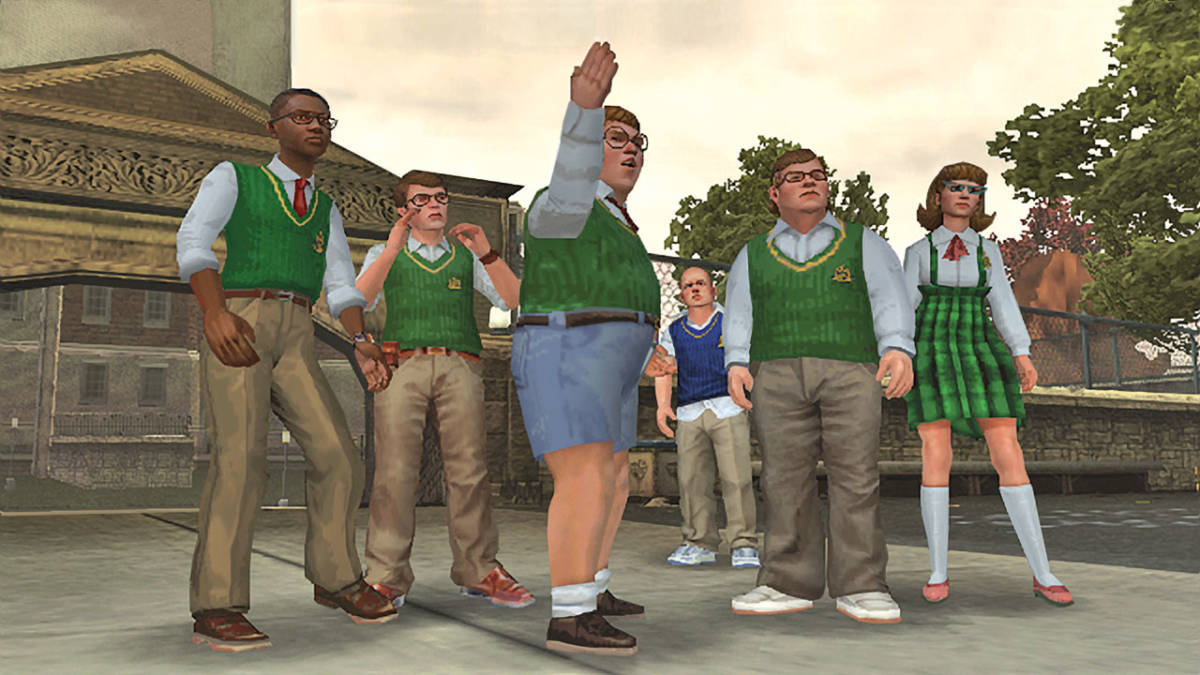 Dumped on the steps of Bullworth Academy by his uncaring mother and step-dad, 15-year-old Jimmy Hopkins is thrust into a private school that's run by the cliques. Whether it's the Preps living off of Daddy's wealth, the bone-headed Jocks, the socially unaware Nerds or the leather loving Greasers, navigating this new environment would be tricky for any normal schoolkid. Fortunately, Jimmy is no ordinary schoolkid, as his take-no-crap attitude makes him a bit of an unsung hero for those who never had a voice before he came along.
Instead of bullying the less fortunate, Bully is about taking the social hierarchy of the school and completely turning it on his head, as Jimmy semi-reluctantly tells the different cliques to book their ideas up and stop picking on the little guy, usually because they decided to pick a fight with him in the first place. Don't start none, won't be none I guess. As the player, you can still be a bit of a dick to the undeserving students if you want, but it's never something the game rewards or encourages. For a game called Bully, its main message is actually to stand up for yourself, advice that a lot of people could do with hearing in their formative years.
Along with the messaging, Bully's missions and overall vibe manage to accurately capture the playful mischief of being a youngster. It's nice to play a game where the missions are all about playing a big prank on Halloween, or dressing up as a mascot to wind up the jocks during their important football game. Even if there is a villain in Bully who borders on "tying women to traintracks" levels of dastardly evil, the stakes aren't life and death, end of the world nonsense. It's the cozy equivalent of action adventure games, if that's even a thing. It should be.
Bully might be a bit dated nowadays, but at least some version of it is available on most modern platforms, with the Scholarship Edition on Xbox 360 probably being the definitive way to play. Still, if Rockstar wants to port Red Dead Redemption to PS4 and Nintendo Switch, they can certainly do the same for Bully: Scholarship Edition. We'd happily take another chance to throw rubber band balls around the boys dorm after pulling the fire alarm.
READ MORE: Will Rockstar Ever Make Bully 2?
Some of the coverage you find on Cultured Vultures contains affiliate links, which provide us with small commissions based on purchases made from visiting our site. We cover gaming news, movie reviews, wrestling and much more.