The first season of Virgin River had viewers enchanted after it landed on Netflix in late 2019.
The series follows the recently-widowed Melinda Monroe (Alexandra Breckenridge) as she accepts a job to work as a nurse practitioner in the town of Virgin River.
She's determined to leave her painful memories behind, but it isn't long until she finds living in a small town isn't quite as simple as she thought it would be — she needs to heal if she's planning to make the California town her home.
In good news for fans, there's a season two of the Netflix hit — because we definitely need to find out what happens next after those cliff hangers. And if you're looking for similar stories (or something to read after you've binged it all), here are 8 books to read if you love Virgin River.
1. Virgin River by Robyn Carr
If you're after some more adventures in Virgin River, we've got some good news: there are 21 books in the series that the Netflix hit is based on. But there's no better place to start than the very beginning.
The ad reads: 'Wanted: Midwife/nurse practitioner in Virgin River, population six hundred. Make a difference against the backdrop of towering California redwoods and crystal-clear rivers. Rent-free cabin included.'
Melinda Monroe sees the ad soon after losing her husband — and decides that the remote mountain town may be the perfect place to escape her heartache and to re-energise the nursing career she loves. But her hopes come crashing down within an hour of arriving: the cabin's a disaster, the roads treacherous and the local doctor wants nothing to do with her.
She realises that she's made a huge mistake, and makes plans to leave the following morning. But a tiny baby abandoned on a front porch changes her plans — and a former marine locks them into place. And Mel realises that while she may have come to Virgin River looking for an escape, she's instead found a home.
2. Stealing Home by Sherryl Woods
Another series that has made the leap from the page to the screen, there are more than 10 books in the Sweet Magnolias series.
Maddie Townsend lives in a town called Serenity, and she's got the best friends that a woman could want — but her life gets turned upside-down when her husband leaves her for a younger woman. Their three kids are heartbroken by the changes, leaving Maddie with a lot to contend with. And on top of it all, after years outside of the workforce, she's now got to dust off her business skills to take charge of her best friends' newest project — planning the town's only fitness spa for women.
Then, her son's developing anger issues start to affect his passion for baseball and Maddie knows she has to step in to help. But she didn't think she would develop feelings for her son's coach, Cal Maddox — or that he would have feelings for her, too.
But gossip travels quickly in a small town, and Maddie and Cal's relationship may threaten both their reputations and careers. Then again, he could be the one man in all of South Carolina who can help her find serenity after all.
3. Simply Irresistible by Jill Shalvis
While the Lucky Harbor books can be read in any order, the enchanting first instalment in the series is definitely a great place to start if you're looking for a new read.
Maddie Moore's whole life needs a makeover. In one swoop, she loses her boyfriend (which was her decision) and her job (which was so not her decision). But instead of drowning her sorrows, Maddie decides to leave Los Angeles and claim the inheritance left by her free-spirited mother: a run-down inn nestled in the little coastal town of Lucky Harbor, Washington.
She knows that starting over won't be easy — at all. But she definitely sees the potential for a new home and a new career, if only she could convince her two half-sisters to join her. But convincing Tara and Chloe will be difficult, since the inn needs a big makeover, too.
The contractor that Maddie hires is tall, dark and handsome — and he's making it hard for her to remember that she's totally sworn off men. Even harder will be Maddie's struggles to overcome the past, though she's about to discover that there's no better place to call home than Lucky Harbor.
4. Almost Perfect by Susan Mallery
The second book in the charming Fool's Gold series — and it will have you hooked from the first page until the very last.
Back in high school, Liz Sutton was the girl 'from the wrong side of the tracks'. But then she got together with Ethan Hendrix, the most popular boy in town, and their secret romance helped her through the worst of times. But then he betrayed her and everything they'd ever meant to each other.
Devastated, a pregnant Liz left Fool's Good, California, and she was determined never to return. But, now, she has to go back and face the man who doesn't know of their son's existence — and she won't have the option of making a quick getaway.
Ethan and Liz can't deny their passionate attraction, even after all these years — but whether their desire be enough to spark a second chance at love is another thing.
5. Coming Home by Mariah Stewart
Mariah Stewart's Chesapeake Diaries series is perfect for fans of Virgin River and Sweet Magnolias. Coming Home — the first book in the series — is also linked to another work of Stewart's, Last Words.
Agent Grady Shields turns his back on the FBI — and everything else — after the murder of his wife. He retreats to Montana, where he grieves for his lost love and tries to forget the rest of the world. But after he's spent years in seclusion, his sister's wedding brings him to St. Dennis, a peaceful town on the Chesapeake Bay. And while he swears he isn't interested in finding love again, he can't ignore the sparks that are flying when he meets Vanessa Keaton.
Although her past was marked by bad choices, coming to St. Dennis is the best decision Vanessa's ever made. Bling, her trendy boutique, is a success with tourists as well as with the townspeople. She's made friends, has a home she loves, and has established a life for herself far from the nightmare she left behind.
The last thing on her mind is romance — but the new guy in town is hard to resist. And when Vanessa's past catches up with her, Grady's unwilling to let her become a victim again. As they fight her demons, Grady and Vanessa discover that life still holds some surprises and that love doesn't always have to hurt.
6. The Inheritance by Rochelle Alers
The first instalment in the Innkeepers series is an uplifting story about four friends embarking on the dream of a lifetime.
Corporate attorney Hannah DuPont-Lowell always thought she would return to New Orleans to retire. She just didn't think it would be yet. But after her Manhattan company abruptly lays off its staff, there's no better place to figure out a next move than the porch of her home, nestled in the stunning Garden District.
The DuPont House has been in her family for two centuries. Eighteen rooms and two guesthouses, it's huge — and it's far more home than Hannah needs. But she reckons that it could make a wonderful inn, especially if she could convince her friends and former co-workers Tonya, Jasmine, and Nydia to join in the venture.
But in the meantime, Hannah has a high school reunion to attend. College Professor St. John McNair, Hannah's one-time classmate, is still the finest guy in any room — and he and Hannah make a striking pair. Gradually, their rekindled friendship moves toward romance…but Hannah is too bruised by her late husband's infidelities to trust a man again. But her friends' arrival and encouragement just might show her a path through uncertainty—straight to a vibrant, joyful new life.
7. Summer at Mustang Ridge by Jesse Hayworth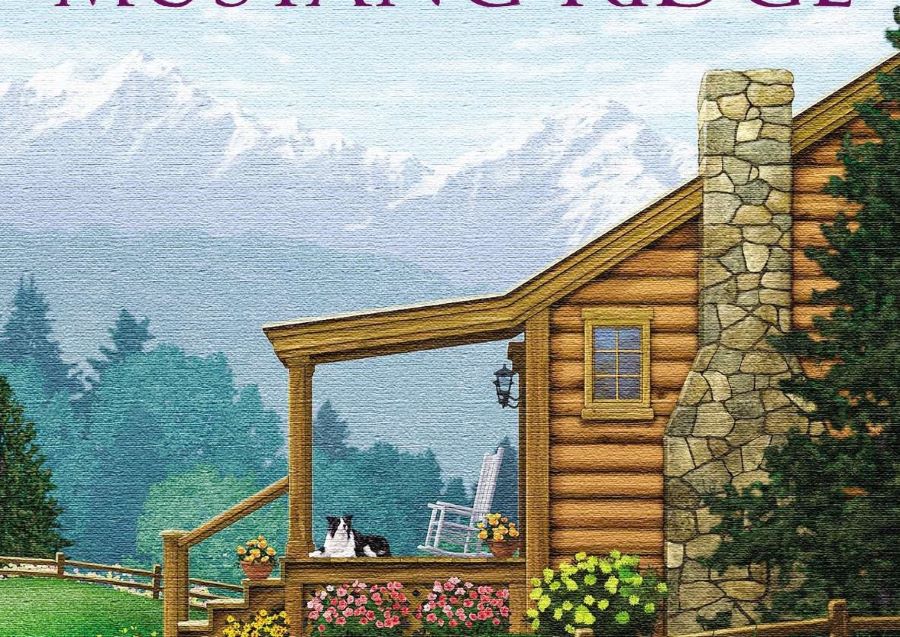 A charming love story about how a single season can change a person's life in the most unexpected ways.
Shelby — who is recovering from a difficult divorce and having problems with her daughter — decides to accept a summer job cooking at a family-run dude race. She's hoping that the animals will be just what her daughter, Lizzie, needs — but she doesn't realise that ranch life will work some healing magic on her, as well.
After Shelby meets the head wrangler, Foster, she's put off by his abrupt nature — but Lizzie's taken a liking to the cowboy, as well as his horses. Both Foster and Shelby have been scarred by love, but it's not long until she's drawn to the cowboy and his thoughtful ways.
But with summer nights winding down and Foster cautious of falling for a city girl, a seemingly-simple summer romance starts to grow complicated — and Shelby will have to decide not only what is best for her daughter, but also where her future and her happiness will be found.
8. The Homecoming by JoAnn Ross
The first book in the heartwarming Shelter Bay series is about secrets, loss and how your first love never really fades away.
Former Navy SEAL Sax Douchett has returned home to the small coastal town of Shelter Bay, Oregon. He's determined to put war behind him and get on with his life — which is easier said than done when everyone is hailing the former bad boy as a local hero.
His move to a new beginning becomes even more difficult when he uncovers a long-buried secret that, in turn, reunites him with a part of the past that he's never forgotten.
Drawn back into his life is Sheriff Kara Conway, his best friend's girl for a long as he can remember — and also a girl who always held a special place in Sax's heart. But as he starts to reconnect with Kara and bonds with her young son, another long-held secret in Shelter Bay threatens their second chance at a forever-after love.
READ NEXT: 8 Books To Read If You Still Can't Get Enough Of Gilmore Girls
Some of the coverage you find on Cultured Vultures contains affiliate links, which provide us with small commissions based on purchases made from visiting our site. We cover gaming news, movie reviews, wrestling and much more.