Racing fans had no shortage of PlayStation 1 titles to play, beginning with a searing arcade port of Ridge Racer in 1994. As the console became increasingly popular in the 90s, dominating the industry by the end of the decade, there were literally dozens of racers on the PS1 available. The best PS1 racing games are still lauded to this day for their fun, challenge, and depth. Those looking for a nostalgic evening with their favorite 32-bit console will find themselves almost overwhelmed with just how many different games are still, at the very least, a lot of fun to play.
We're going to do better than PS1 racing games that are just fun to play. Let's narrow every PlayStation racing game down to just 10, then we'll rank them until we know just who's crossing the finishing line in pole position on Sony's iconic gray box.
The Best PS1 Racing Games
10. Rollcage
Developer: Attention to Detail
Publisher: Psygnosis
By 1999, the PlayStation was ruling the world of console gaming. One of the biggest reasons for that was the wealth of arcade-style racers that were available, alongside the deeper, more simulation-focused releases.
Rollcage is a great example of a truly fun, straightforward PS1 racing title. You have combat-style racing against five other drivers across a series of elaborate 3D tracks. Rollcage doesn't even demand you have any prior experience with the genre, as you can pick up the controller and get the gist of things almost immediately.
A variety of weapons and tracks are nicely emphasized with Rollcage. The combat and racing elements work well together, and the fact that you can even race up walls or continue driving even after your vehicle has been flipped over, adds to the chaotic flavor of Rollcage. Fast paced and surprisingly challenging for a single player, it's a PS1 racing game that deserves more love.
9. F1 Championship Season 2000
Developers: Visual Science
Publishers: Electronic Arts
Released for both the PlayStation 1 and PlayStation 2, F1 Championship Season 2000 is quite possibly the best Formula 1 racer among the entire PS1 library. The game makes a sincere effort to be appealing to not only casual racing game fans, but those who live and breathe Formula 1 racing and want their video game to offer a startlingly realistic experience. Does it succeed in being a solid choice for either mindset?
Absolutely. F1 Championship Season 2000 might be a couple of decades old, but you don't need to be familiar with the racers or the 2000 F1 season to have a good time here. A ton of car choices, graphics and sound that are still tremendous, and an extremely deep configuration menu all make for a formidable, wildly enjoyable racing experience.
F1 Championship Season 2000 is easily one of the best racing games on the original PlayStation, though its more modern F1 peers do leave it in their dust.
8. Need for Speed III: Hot Pursuit
Developer: Electronic Arts
Publishers: Electronic Arts
Need for Speed III: Hot Pursuit isn't just about outracing your opponents across a variety of different realistic tracks. You also have to be wary of the cops, who will happily pull you over and give you a ticket for the meager crime of driving 200 mph through a residential area. Need for Speed III is another PS1 racer that's pretty firmly in the arcade camp, although it's not quite as blistering as games like Rollcage or Ridge Racer Type 4.
Multiplayer is perhaps where this game provides the most charm and fun. You can race against friends in the standard race, or you can opt to play as one of the police cars responsible for chasing down the speed demons.
There's a few different ways to enjoy Hot Pursuit, as well as some of the most interesting and challenging tracks you're going to find anywhere on the PS1.
7. Jet Moto 2
Developers: 989 Studios, SingleTrac
Publisher: Sony
Racing games are rarely as grueling as the Jet Moto series can be at times. Jet Moto 2 in particular offers an absolutely brutal degree of challenge in its rapid-pace fury, setting you and the other racers on hoverbikes that have to make their way through stunning, complex tracks. The game boasts fifteen tracks in all, and you can't help but be impressed with just how different they are from one another, offering an interesting mix of futuristic awe with natural surroundings and splendor.
Beyond some fun tracks, Jet Moto 2 is just a great opportunity for a serious arcade racing fan to push themselves with a game so ruthless in places, you'll sometimes feel as though Jet Moto 2 isn't being very fair at all. But stick with it and really learn its ins and outs, and Jet Moto 2
This game is about speed for sure, but there's also a striking element of strategy, as well.
6. Colin McRae Rally 2.0
Developer: Codemasters
Publishers: Codemasters, Ubisoft
Rally racing was particularly popular in the PS1 era, and Colin McRae Rally 2.0 is arguably the most exceptional example of how to do this type of racing game correctly. Providing a style of gameplay that can only be described as addictive, this is another classic that can be picked up and enjoyed in any decade. The game retains its visual charm, the ferocious challenge within its range of tracks, and one of the most difficult championship modes you're ever going to encounter.
Championship Mode in Colin McRae 2.0 is where you have the best time. With five distinct opponents, up to thirteen different vehicles to unlock, and a satisfying collection of tracks that will take you all over the world, this is pure entertainment that builds on your investment and desire to see your game through to the championship itself.
Colin McRae works for fans of all interests, though is best experienced by those patient enough to master every corner and really learn tracks.
5. Driver
Developer: Reflections Interactive
Publisher: Ubisoft
Before Grand Theft Auto transformed into a 3D immersive experience where you could steal and drive just about any vehicle you want, there was Driver. Taking its cues from the thrill of watching cinematic car chases, the game has you playing as an undercover cop whose investigations lead him to discover a plot to take out the President of the United States. It's a solid and relatively ambitious story, which does serve to enhance your overall playing experience.
Because there's no question that Driver is still an absolutely brilliant action title. You're not just racing to the finish line here. While very much a traditional racing game in places, Driver also has you performing a variety of increasingly complex tasks in a relatively open world setting. Driver does a nice job of creating stakes and then giving you a fantastic game to play for them.
Just good luck getting out of that infamously tough tutorial.
4. Crash Team Racing
Developer: Naughty Dog
Publisher: Sony
It's only going to take about two minutes of playing Crash Team Racing to understand that you're dealing with a Mario Kart clone, which isn't a bad thing at all. Crash Team Racing is one of the most fun kart racers ever made, so placing it high among the best PS1 racing games is just common sense.
CTR features characters from the Crash Bandicoot series, and certainly gets its humorous touches and visual flair from those games, as well. The storyboard mode alone is worth the price of admission, challenging you to not only best other racers with cunning and weapons, but to also defeat a number of single boss characters.
If that's not enough for you, Crash Team Racing also offers fun multiplayer options and even a few subgames. There's nothing wrong with being a clone if you're this committed to doing your own thing.
3. Wipeout XL
Developer: Psygnosis
Publisher: Psygnosis
The second game in the Wipeout series is still one of the best PS1 racers ever released to the console. Wipeout XL (known as Wipeout 2097 outside of Japan and the US) is also the oldest game we're covering here, as it was originally released in 1996. Taking on the F5000 AG League is still one of the most entertaining experiences you could hope to have on the original PlayStation. This is futuristic racing at its very best.
Wipeout XL offers four different difficult levels in the form of four different speed settings. No matter what, you can expect to go blindingly fast, but the highest difficulty setting on the game is a true grind for only the most dedicated racing fans.
Protect your shield at all costs, use the weapons you can find throughout the environment, and hope your eye-hand coordination gives you the chance to survive everything Wipeout XL whips your way.
2. Ridge Racer Type 4
Developer: Namco
Publisher: Namco
The first Ridge Racer was a very early hit for the PS1. Proving the power and sheer fun to be had with the console, the game inspired several increasingly enjoyable sequels.
Ridge Racer Type 4 represents the best of this series on the system and was the first game in the franchise to utilize Gouraud shading for its polygons. The result in 1998 was one of the best-looking racers ever released for the PlayStation 1. Even today, this game still looks as good as it plays.
And the way Ridge Racer Type 4 plays is utter perfection after 25+ years. With a massive offering of tracks and vehicles, as well as the kind of arcade fun that Namco has been known for since the 1970s, this is still a highlight of the racing genre. It's a classic that's as fun to play as ever, but it unfortunately looks like the series itself is struggling to get out of first gear.
1. Gran Turismo 2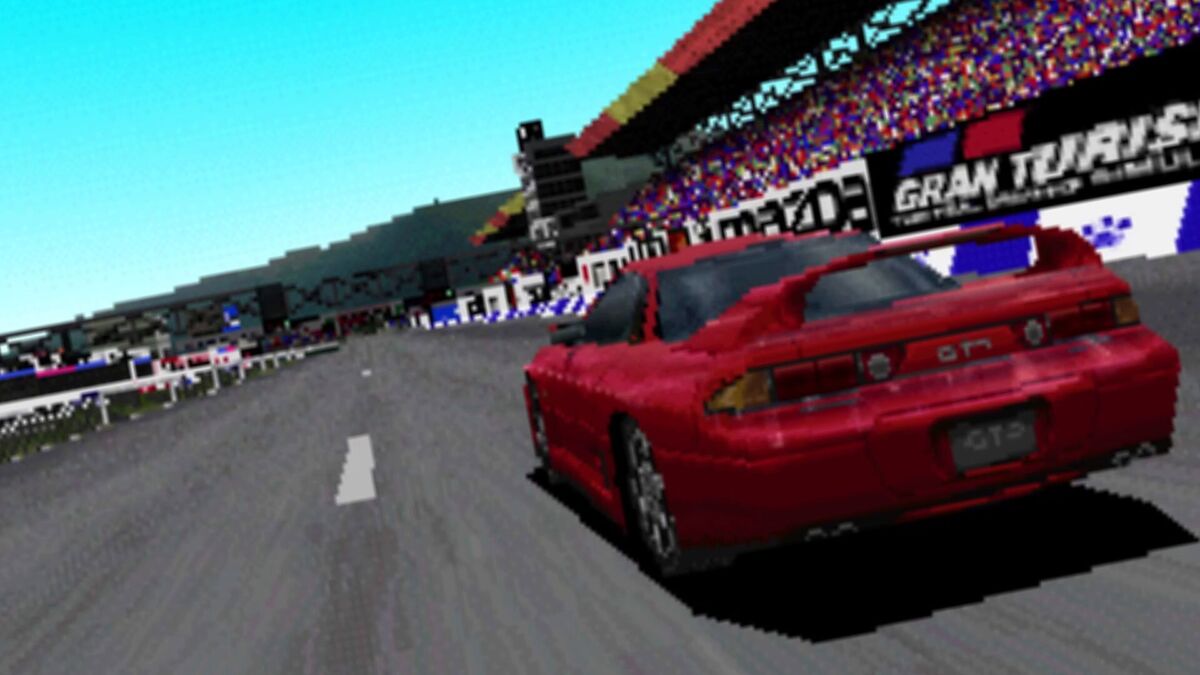 Developer: Polyphony Digital
Publisher: Sony
It's no surprise that Gran Turismo 2 sits at the very top when discussing the best PS1 racing game across the console's history. Many would no doubt place this legendary entry in the Gran Turismo franchise high on their list of the best PS1 games ever made overall. The game was a massive bestseller on the PS1, eventually becoming the third best selling PlayStation 1 game of all time (the first Gran Turismo took the number one spot) and was easily one of the most anticipated video game sequels of the decade.
Gran Turismo 2 proved to be a reminder that sometimes the hype really does deliver on everything it promises. The game promised to come packed beyond the limits of human comprehension with tracks, game modes, vehicles, and the attention to realism in every regard that people were already expecting from this series.
625 cars and 27 tracks emphasize that Gran Turismo 2 is the racing game for PS1 fans. Nothing comes close, and you could even argue that more recent Gran Turismo games don't quite capture the magic.
READ NEXT: 10 Best Xbox 360 Zombie Games Ever Made
Some of the coverage you find on Cultured Vultures contains affiliate links, which provide us with small commissions based on purchases made from visiting our site. We cover gaming news, movie reviews, wrestling and much more.