Streaming giants and cable television churned out a new hit show each month of 2021, ensnaring audiences in wonderful fandoms and online discussions. Loki, Midnight Mass, Star Wars: Visions, The Underground Railroad, and The White Lotus — to name only a few — attracted viewers of every demographic around the globe. People find solace in escapism. More than ever, they want to get away from the devastating news filling up their brains and commune with others, sharing moments of joy they receive through partaking in fiction and fandom.
Comic book adaptations really thrived in 2021, bringing together comic book fans and newcomers alike. Compelling murder-mystery dramas probed viewers to compare new weekly theories with one another online. International shows had a groundbreaking year, with shows like Squid Game and Lupin drawing praise from viewers around the globe.
Hundreds of new shows premiered this year, so narrowing down the subjective "best of" those titles in a list cannot possibly account for every single release. This list, which is in alphabetical order, features only twelve shows, including a few some may have never come across in their 2021 binge-watching. Yet, they shone as outstanding serialized media. No list can remain entirely subjective or exhaustive. Nevertheless, this list includes a few of the year's best new television shows.
The Best New TV Shows of 2021
1. Acapulco
Fans have reveled in Apple TV's breakout, feel-good show Ted Lasso for two years now. While Ted Lasso certainly deserves its fame, the new Apple TV+ show Acapulco conjures that same, upbeat atmosphere.
Acapulco is a half-hour comedy set in the 1980s about a young man who acquires his dream job, working as a cabana boy to earn money to pay for his mother's eye surgery. In 1984, Máximo (Enrique Arrizon) soon discovers employment at the most luxurious, candy-colored resort in Acapulco will challenge his values. Tourists' strange requests and keeping the resort owners happy forces Máximo into decisions where he must choose between sacrificing money or morality.
Blending Spanish and English dialogue, Acapulco gives readers a taste of how, even in their hometowns, people of Hispanic descent are forced to switch between the two languages to appease English-speaking tourists. Acapulco's white characters inhabit stereotypes as outsider vacations – a humorous subversion of white-centric television tropes. Pure joy radiates from every corner of the show. The neon design elements and Mexico setting act as gorgeous aesthetics. Máximo's adorably charming character and effort to form relationships, his friend Memo's (Fernando Carsa) antics as a laundry boy, and his families' hilarious, poignant B-stories, all offer a breezy show to binge-watch.
2. Blindspotting
Some shows stretch the boundaries of filmmaking, elevating its visual presentation beyond what audiences expect when turning on a television show. Streaming on Starz, Blindspotting stretches its reach across those boundaries. Interpretive dance, music, and spoken word monologues breaking the fourth wall foster spaces for Blindspotting's important conversations.
Helmed by creators Rafael Casal and Daveed Diggs, the spin-off sequel show takes place six months after the events of Casal and Diggs' original 2018 film of the same name. The focus shifts from Casal and Diggs' Blindspotting (2018) characters onto Miles' (Rafael Casal) partner of 12 years, Ashley Rose (Jasmine Cephas Jones). Miles is arrested and incarcerated in the show's opening. Forced into financial stress and obligated to raise their son Sean (Atticus Woodward) alone, Ashley moves into Miles' mother Reynie's (Helen Hunt) house full-time. There, Ashley regularly feuds with Miles' younger half-sister and sex worker, Trish (Jaylen Barron), and tries to prevent Sean from learning the truth about his dad's incarceration.
Blindspotting works as both a comedy and a drama. Passion undulates through every scene and emotions run high between the conflicting characters. Ashley pushes back against Reynie's ideas about parenting and Trish's anger at Ashley's supposed betrayal of her Black identity. Characters such as her best friend and neighbor Janelle (Candace Nicholas-Lippman) and her endearing roommate Earl (Benjamin Earl Turner) offer poignant comedic relief to diffuse tension. Jones' acting and spoken word skills hypnotize in her performance as Ashley – and so do the phenomenal dancers who interpret Ashley's chaotic thoughts.
This is a show about Oakland and its residents, about what it means to be Black in America, ambition, prison, and most significantly, about one woman's struggle to be seen as both a mother and an individual.
3. Invincible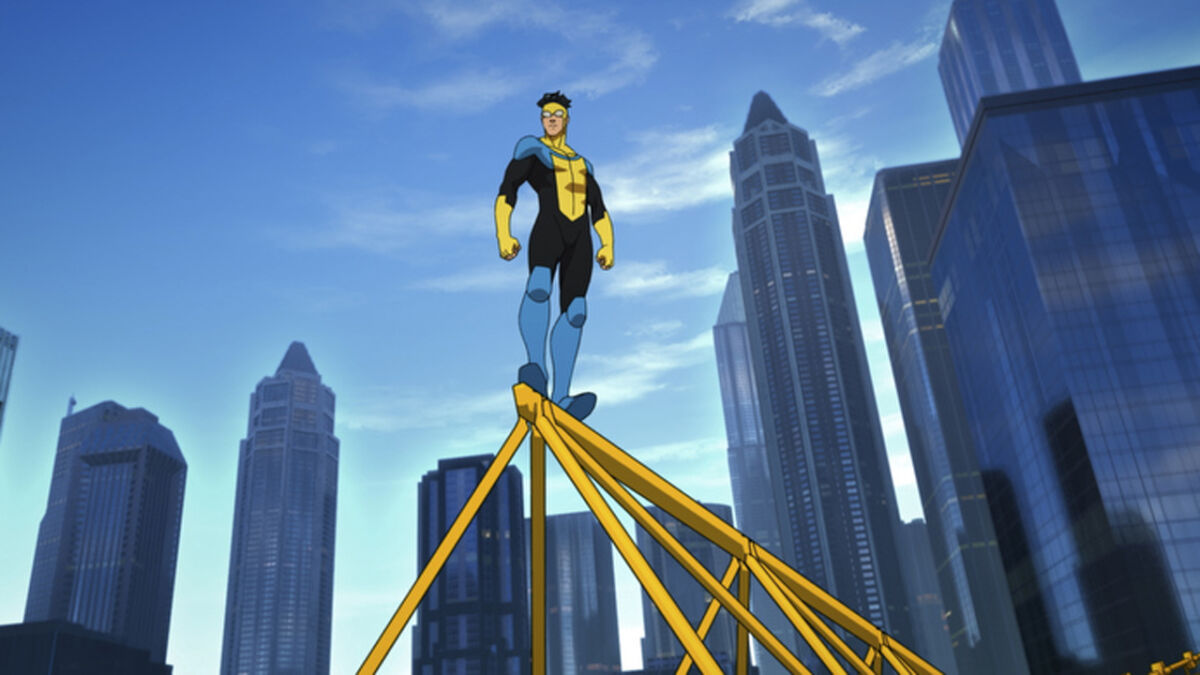 Comics readers have waited years for an on-screen adaptation of Invincible, a massive comic series by Robert Kirkman, Cory Walker, and Ryan Ottley that spanned 15 years. Invincible finally premiered as a weekly television show on Amazon Prime in early 2021. The adult animated superhero sci-fi show arguably surpassed its source material in some areas, modernizing outdated tropes and positively avoiding harmful stereotypes perpetuated in the comic series.
Invincible follows seventeen-year-old Mark Grayson (Steven Yeun) as he navigates his strange transition into a superhero. Son of Earth's alien superhero Omni-Man (J.K. Simmons), Mark strives to live up to his father's legacy whilst also masking his identity from his high school friends. However, Mark's life changes again when he learns he isn't the only one in his family concealing a tremendous secret.
Invincible possesses an incredible bravado, faithfully adapting its bloody, dramatic source material. The show translates comic artists Walker and Ottley's gratuitous depiction of gore on screen with the same staggering, visceral effect. Audiences received a gracious amount of superhero content in 2021 – but Invincible's all-star voice cast, nuanced commentary on superheroes, jaw-dropping plot twists, and dramatic violence pushed the show a notch above the rest.
4. Lupin
A French-language show retold the classic story of Arsène Lupin in 2021. High-octane heists and a cunning protagonist captured audiences' attention globally with Netflix's mystery thriller, Lupin.
Based on the tale of Arsène Lupin, equal parts gentleman, master of deception, and world-class thief, Lupin centres on Black Senegalese immigrant, Assane Diop (Omar Sy). As a child, Assane's father is wrongfully framed by his employers, the wealthy Pellegrini family, then incarcerated for stealing an invaluable diamond necklace. 25 years later, Assane follows in the fictional footsteps of the gentleman thief, inspired by the book his father gave him in childhood. Assane concocts elaborate heists to expose the Pellegrini families' crimes and seek justice for his deceased father.
Lupin thrills from its opening episode, where Assane enlists dangerous loan sharks to assist him during an expertly shot heist action sequence inside the Paris Louvre. Sy shifts smoothly between disguises as Assane – he transforms, inhabiting different identities while emoting Assane's raw vulnerabilities. The cinematography appears slick and immersive, integral to bringing innovation into the familiar heist genre.
Lupin has been universally praised as one of 2021's best new television shows for its polished visuals, satisfying action, and strong performances.
5. Odd Taxi
Odd Taxi, a Japanese anime about an anthropomorphic walrus taxi driver in Japan, drove straight into audiences' hearts in 2021. Streaming for free on Crunchyroll, the underrated anime warrants just as much recognition as any other show that dominated the discourse this year.
A middle-aged walrus named Odokawa (Natsuki Hanae) drifts through life unfazed, ferrying eccentric customers through the Japanese city in his taxi at night. Odokawa retreats from normalcy, not engaging with riders in the way they expect and bluntly pointing out their inadequacies without remorse. Suddenly, the police implicate Odokawa as a suspect in the case of a missing high school girl. The walrus taxi driver tries to elude corrupt cops and the yakuza to escape the mounting charges levied against him.
Cartoony animation juxtaposes the foreboding nature of the crime and violence underpinning Odd Taxi. These charmingly-drawn characters hold revealing discussions with Odokawa. Their interactions convey issues like addiction to fame and forsaking others in pursuits of happiness. Odd Taxi uses societal oddballs and radio station conversations as a vessel for social commentary. Social ills, the yakuza, and one enigmatic walrus make Odd Taxi especially memorable.
6. Only Murders in the Building
Only Murders in the Building probably takes the top spot as the years' most surprising standout amongst the bevy of television shows in 2021. Pairing two American comedy legends – Martin Short and Steve Martin – together with millennial actress/singer Selena Gomez sowed fertile soil for success. The murder-mystery show parodying true crime obsession bore the fruit of its labors and revitalized the comedy genre.
The first scene brings the show's three protagonists and the forthcoming murder victim together in an ascending New York City apartment building elevator. Young apartment renovator Mabel Mora (Selena Gomez), washed-up television actor Charles Haden-Savage (Steve Martin), and the optimistic but deeply indebted Broadway director Oliver Putnam (Martin Short) all share a love of true crime podcasts. When one of the Arconia apartment members dies by apparent suicide, the unlikely trio begins their own crime podcast as they work to uncover the truth behind Tim Kono's death.
This Hulu Original show critiques the obsessive and all-consuming nature of true-crime podcast listeners. Simultaneously, its clever pace and jolting cliffhangers trap its audiences into that exact attractive content consumption. Gomez demonstrates laudable range in her performance as the eclectic Mabel. Her comedic timing and performance never feel subpar by comparison to acting veterans Short and Martin. The antagonists' deaf son, played by deaf actor James Caverly, receives a solo episode without any spoken dialogue. This episode shines as one of the best half-hours in recent television history.
Only Murders in the Building is as entertaining and innovative as it is addictive.
7. Schmigadoon!
Part Groundhog Day, part Pleasantville, and part Crazy Ex-Girlfriend, Schmigadoon! is a wholesome American musical comedy series from Apple TV+. Short and succinct, the six-episode show parodies the Golden Age musicals that danced their way throughout the U.S. in the 1940s and '50s.
Two New York City doctors decide to embark on a couples' backpacking trip in a last-ditch attempt to reinvigorate their failing relationship. After hours spent arguing and trekking through an endless forest in the pouring rain, Melissa (Cecily Strong) and Josh (Keegan-Michael Key) cross a bridge, entering a seemingly idyllic town called Schmigadoon. Greeted by an ensemble of people performing a musical number, they decide to stay in town for the night. A leprechaun tells the two that they must find "true love" in order to escape Schmigadoon – a town where everyone sings and dances as if they are in a Golden Age-style musical number all the time.
Directly inspired by the 1940s Broadway musical Brigadoon, where two men find themselves in a magical Scottish village after becoming lost in the woods, Schmigadoon! hooks its viewers with catchy songs and modern commentary on this American musical era. Musical theatre fans will watch enthusiastically. Schmigadoon! is rife with musical theatre references (some that mainstream audiences may not catch), but overflowing with explicitly incisive jabs at the outdated themes perpetuated in theatre and film history.
Broadway veterans such as Alan Cumming and Kristin Chenoweth performances are seismic. Comedians Keegan-Michael Key and Cecily Strong more than pull their weight as the leads in this joyous show, where every single actor dances and sings with rousing intensity.
8. Shadow And Bone
Netflix's Shadow and Bone adapted the first part of author Leigh Bardugo's Shadow and Bone trilogy and weaved in characters from her Six of Crows duology. Television audiences were swept into the fantastical Grishaverse universe, where those with magical abilities are exploited for warfare and an unusual group pull off exciting heists. The American fantasy show sparked a new generation of Grishaverse fans and eclipsed expectations for Bardugo's long-established fandom.
Cartographer Alina Starkov (Jessie Mei Li) unleashes her secret powers to save herself and childhood friend Mal (Archie Renaux) when they are attacked by creatures on a boat. The cruel General Kirigan (Ben Barnes) recruits those exhibiting powers, the Grisha, as soldiers in the war-torn world. With Alina's prophetic powers no longer concealed, Kirigan thinks Alina could help him win the war. Meanwhile, in Ketterdam, a group of thieves devise a plan to kidnap Alina after they are offered a life-changing money reward for her capture.
Costuming, acting, VFX, and cinematography impress on every level in Shadow and Bone. The show expands on the characters well, and traverses mature themes not fully developed in the source material. Shadow and Bone should be venerated as a show where stylized fight scenes and gripping character dynamics produce magic. Immutable mystique and mounting adrenaline pull the narrative in multiple directions, making the episodes fly by.
9. The Shrink Next Door
An unappreciated contender for the best new TV show of 2021, The Shrink Next Door proved itself to be laudable media from the first episode. The Apple TV+ show adapts the true story of the exploitative relationship between a therapist and his client.
Based on journalist Joe Nocera's podcast of the same name, the psychological drama miniseries starts in 1980s New York. Awkward, anxiety-ridden, and prone to panic attacks, Marty Markowitz's (Will Ferrell) sister Phyllis (Kathryn Hahn) sets up Marty with a therapist her rabbi recommended. Marty swiftly forms an uneven dynamic with psychologist Dr. Ike Herschkopf (Paul Rudd). Easily gaslighted and manipulated, Marty's relationship with his sister fractures and he turns over control to Dr. Ike at the psychologists' goading.
Paul Rudd is cast as the villain in The Shrink Next Door, and his execution as Dr. Ike proves tremendously powerful. Boundaries between patient and therapist shrink immediately in Episode One, only enhancing the unease with each subsequent episode. Reviews trend negatively toward this show for several viable reasons. Some critics feel the subject matter is repetitive, lacking any positives to outweigh the malice winning out in each episode. Reviewers explain how the power imbalance between Marty and Dr. Ike makes Marty too much of a victim, leaving the show without a clear hero – which is accurate.
Despite the audience experiencing continual frustration and the upsetting victimization Marty endures, this underrated show features outstanding performances and provocative characters. Marty may not be partaking in a hero's journey, but we still root for him. The insurmountable odds Marty faces repetitively worsen as the show progresses. Yet, this is exactly why The Shrink Next Door can hook audiences. Every time Dr. Ike manipulates Marty further, we are continually shocked by how his vileness increases.
This story is based on truth. The Shrink Next Door visibly tracks how control can be slowly extracted without the victim noticing: a truth some may find hard to handle, but an important, enlightening truth to learn from and understand.
10. Squid Game
Love it or hate it, Netflix's South Korean survival drama Squid Game captured viewers' attention internationally. The show aired in September, probing Halloween costumes galore and inspiring memes across the internet. Squid Game broke records, taking the title of highest Netflix-streamed series on the platform at that time.
Squid Game revolves around a contest where 456 players compete to the death for a chance to win a multi-billion won price. Lee Jung-jae stars as Seong Gi-hun, a divorcee and highly indebted gambler who enters the competition since he cannot pay off his debts and stop his ex-wife from taking their daughter away to the U.S. Seong Gi-hun realizes the stakes are life and death. Alliances with other financially ruined players become critical if Seong Gi-hun wants to make it out of the deathly children's games on the remote island alive.
Although K-dramas have achieved rising popularity outside of South Korea, Squid Game served as a foray into the genre for new viewers. Most people exhibit a dueling repulsion and fascination toward fictional violence on screen. Squid Games unleashes grim violence on its characters. As a result, we are drawn to these morally ambiguous characters as they battle for their lives.
Although the show pulls from other battle royale media, the labyrinthine, magnificent set designs, razor-sharp social commentary about capitalism, and touching character moments justify its popularity.
11. Sweet Tooth
Artist and writer Jeff Lemire's beloved American comic book series adaptation about hybrid animal children and a deadly virus premiered on Netflix at an apt time. Sweet Tooth veers more heavily toward the "sweet" in its name than the comic series, but the show's heavy thematic material still commands a forceful bite.
A viral disease called the Sick decimated most of humanity. Simultaneously, half-animal and half-human hybrid babies suddenly emerged. Ten years later, a father (Will Forte) and his half-deer son Gus (Christian Convery) live on the outskirts of society in the post-apocalyptic world. But Gus's Pubba dies, leaving Gus isolated and fending for himself. Years pass, and Gus's life is uprooted when a solitary traveller agrees to take the hybrid child to Colorado, where Gus thinks he can find his mother.
The sci-fi drama series retains some of the brutal darkness from its source material, like Gus' father dying and the prejudiced, gruesome aftereffects of those still alive during a pandemic. However, the adaptation does not visibly show murder, gore, and sexuality on any comparable level to the comic series, engaging a wider family-friendly audience. Throughout, three stories intersect in a challenging and emotionally riveting approach. Gus and Big Man's (Nonso Anozie) personalities could not diverge more, yet their clear affection for one another is heartwarming.
Sweet Tooth is a satisfying visual and emotional treat amidst the lingering pandemic – both in the show and in our present.
12. WandaVision
Out of the many original shows Disney+ provided in 2021, none felt as satisfyingly original as WandaVision. Audiences were offered a show focused on two underdeveloped characters in the Marvel Universe and shook up audiences by breaking the usual Marvel-storytelling format.
WandaVision stars the chaos-harnessing Avenger Wanda Maximoff (Elizabeth Olsen) and formerly deceased android Avenger Vision (Paul Bettany). The two live in the suburban town of Westview together, despite Vision having died in the Avengers: Endgame timeline three weeks prior. Wanda and Vision act accordingly with old sitcom television tropes as they move through different decades in U.S. history each episode. Cracks eventually form in the facade. Wanda fights to uphold this vision of reality for herself and for the man she loves.
The exact techniques and storytelling vehicles that made WandaVision a sensation – parodying American sitcoms, MacGuffin devices, slow-paced episodes – alienated some viewers. Nevertheless, the show triumphed. WandaVision took chances in its experimental format. It also served as an antidote for the latent ideas the MCU introduced in regards to Wanda and Vision. WandaVision finally explored why their connection mattered, as well as illuminated how Wanda's grief and trauma over the death of everyone she loved affected her. Additionally, audiences were honoured with Kathryn Hahn's charismatic talent and an Emmy-award-winning song.
The show provided weekly talking points for ecstatic viewers everywhere. Regardless of some flaws, WandaVision pushed the envelope and earned its place among the best of 2021.
READ MORE: 21 Best Books Of 2021
Some of the coverage you find on Cultured Vultures contains affiliate links, which provide us with small commissions based on purchases made from visiting our site. We cover gaming news, movie reviews, wrestling and much more.